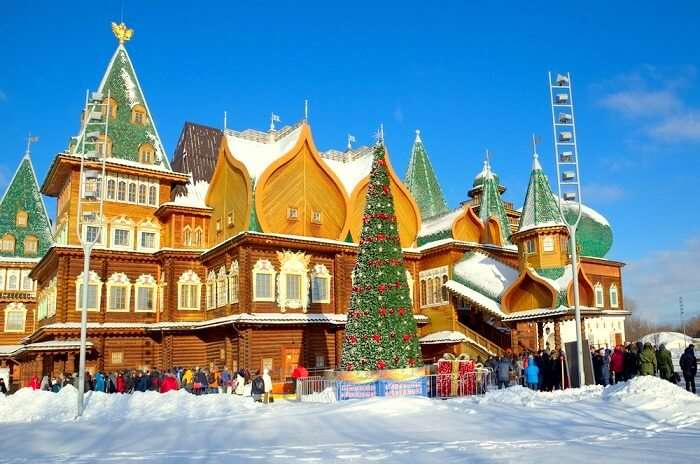 As the weather dips below zero degrees, the charm of certain places multiplies many-folds with a white blanket of snow gracing the surroundings. With winter tourism on the rise, a visit to one of these majestic snow castles in the world is sure to add a much-needed fairytale element to your memorable vacation.
Many countries around the world have castles that are royal, imperious, and stunning. Castles that have been intertwined with the history and culture of that specific land. Here are the 10 most beautiful snow castles in the world that every winter traveler must visit and explore-
1. Neuschwanstein Castle, Germany
Located in the Southern reaches of Germany near its border with Austria, Neuschwanstein Castle was built in the 19th century by Ludwig II of Bavaria and remained his residence until his death in 1886.
A part of a group of elite and aristocratic monuments in Europe, Neuschwanstein is arguably one of the most recognized snow castles in the world thanks to the inspiration taken by Disneyland to form the castle of 'The Sleeping Beauty'.
Timings: 8 am to 5 pm (all days)
Entry Fee: INR 1,040
Suggested Read: 14 Winter Hotels In India That Offer A Cozy Holiday In The Lap Of Luxury!
2. Wooden Palace of Tsar Alexei Mikhailovich in Moscow, Russia
A wooden palace constructed in 1665 for Tsar Alexei Mikhailovich is an important sightseeing hotspot for tourists visiting Moscow. The palace contains 270 rooms and 26 buildings within the complex interconnected with halls and corridors. Over the years, the palace started to disintegrate and only in the 1990s did the government decide to reconstruct the palace according to its original design.
As an added attraction, tourists can dress up for a photo shoot wherein they can choose any one of eight Russian aristocracy outfits that were inspired by the paintings of the 17th century.
Timings: 10 am to 6 pm (Tuesday to Sunday); Monday closed
Entry Fee: INR 285 (for Men); INR 230 (for women); INR 400 (Couple/combined ticket)
3. Matsumoto Castle, Japan
Considered as one of the important monuments in the history of Japan, Matsumoto Castle is a part of a handful significant snow castles in the world. Due to its black color from the outside, it is also referred to as 'Crow Castle'. In Japanese culture, Matsumoto is considered as a hirajiro (flatland castle) because neither is it on a mountain nor an in the middle of a river. The castle dates back to 1504 when it was constructed by Shimadachi Sadanaga.
In winters, a thick blanket cover of snow transforms this Castle into a magical paradise for all its visitors.
Timings: 8:30 am to 4:30 pm (all days)
Entry Fees: INR 360
Suggested Read: 22 Chilling Winter Destinations In Europe That'll Melt Your Heart
4. Hohenzollern Castle
Another regal fortress from the golden era of the Bavarian kingdom, Hohenzollern Castle is the ancestral castle of the house of Hohenzollern. Built in the early 11th century, this magnificent structure is located at the top of Mount Hohenzollern.
An interesting fact about this castle is that it was destroyed completely in 1423, only to be eventually reconstructed 31 years later.
Timings: 10 am to 5:30 pm (all days)
Entry Fees: INR 560
5. Hradcany Castle
More commonly known to tourists as Prague Castle, this 9th-century building is the office of the President of Czechia. Hradcany Castle has always been synonymous with power and authority since its construction over a thousand years ago.
The castle has previously been the seat of power for Kings of Bohemia, Holy Roman Emperors, and presidents of Czechoslovakia. It also holds a Guinness World Record to its name as the largest castle in the world with a total area of 70,000 square meters.
Timings: INR 1,100
Entry Fees: 9 am to 5 pm
Suggested Read: 47 Places To Visit In Winter In India Which One Cannot Miss!
6. Blair Castle, Scotland
A list of snow castles in the world without one entry from Scotland would certainly be incomplete. Constructed in 1269 AD by John I Comyn, Lord of Badenoch, Blair Castle is the ancestral home of Clan Murray and was earlier used to be the seat of the Duke of Atholl.
Open for tourists since 1936, tourists can view a wide variety of weapons, hunting trophies, rare souvenirs, paintings, furniture, and needlework collected by the Murray Clan over hundreds of years.
Timings: 9:30 am to 5:30 pm
Entry Fees: INR 1,100
7. Gamlehaugen Castle, Norway
A mansion belonging to the royal family of Norway and a residence for them in the city of Bergen. Compared to other famous castles around the world, Gamlehaugen is fairly recently constructed in 1900. During its initial years, the castle owned by a number of affluent people and then eventually it was transferred to the Royal Family of Norway.
A delightful retreat is possible here for families, as the grounds are open to the public where there is ample space to have a small picnic and even a recreational area for swimming.
Timings: 8 am to 10 pm
Suggested Read: Paris In Winter: All That You Can Do In This Winter Wonderland
8. Uchisar Castle, Turkey
Located in the Cappadocia region of Turkey, Uchisar Castle is another unique entry from the Orient. The castle is a towering landmark of the region that can be seen from any point in Cappadocia. However, once travelers make the climb up to the top of the hill- the panoramic view of the old-world Cappadocia will leave them short of superlatives to describe this amazing view.
Timings: 7:30 am to 7:45 pm
Entry Fees: INR 90
9. Inuyama Castle, Japan
Built on the banks of Kiso river in 1440, Inuyama Castle is one of the 12 original castles of Japan. Situated on top of a hill that is overseeing the Kiso River, Inuyama Castle has been a seat for Japanese emperors for 500 years.
The construction of the castle from the outside has been done entirely with wood and rocks. Whereas the interiors have been preserved perfectly to match the original material used to keep the authentic palace feel on the inside.
Timings: 9 am to 4:30 pm
Entry Fees: INR 330
Suggested Read: This Winter, Escape To The Best Honeymoon Destinations In Europe!
10. Rasnov Castle, Romania
Out of all the snow castles in the world on this list, Rasnov would probably take the title of being the most mysterious one. For seasoned travelers, it won't come as a surprise that the element of mystery, suspense, and intrigue is associated with a castle in the land of gypsies and vampires.
Built almost 800 years ago, Rasnow Castle was built keeping in mind the security of the Transylvanian villages from foreign invasions.
Timings: 9 am to 6 pm
Entry Fees: INR 180
With such deep-rooted history, fascinating natural beauty, and architectural brilliance backing up these snow castles in the world, it is hard for a traveler not to feel enchanted by their glorious old-world presence in today's modern age of technologically sharp and chic monuments.
---