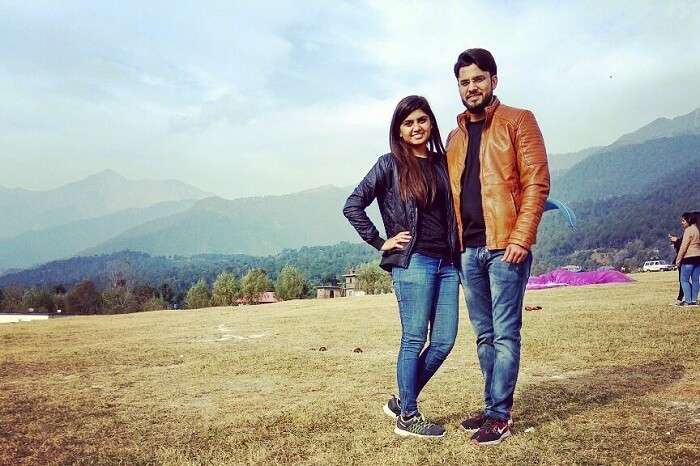 Who wouldn't want to experience the joys of paragliding like Yash did? He elucidates on his high-on-adrenaline trip to Bir Billing. He booked a tour package of 1 night 2 days to Bir Billing from TravelTriangle for two that included transfers, accommodation, meals, trekking and paragliding.
Trip type: Two friends seeking an adventure of a lifetime!
Duration: 1 night 2 days
Budget: INR 5,599/- (per person on double sharing)
Destination: Bir Billing
Inclusions: Transfers, accommodation, meals and an exhilarating session of paragliding.
I was surfing Facebook as usual one day when I came across TravelTriangle's advertisement of a weekend trip to Bir Billing. The image of paragliding caught my attention and I got an idea to turn my wildest dream into reality.
Without giving it any second thoughts, I booked a weekend package and within few hours, Akash from TravelTriangle got in touch with me. He explained the entire trip and proceedings very clearly and in no time, I couldn't believe that I was actually going on an adventure of my lifetime.
We've Only Just Begun!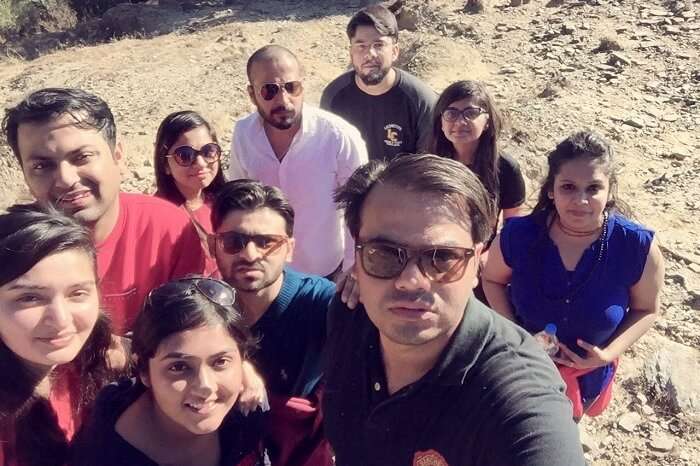 We took a bus from Majnu Ka Tila, a famous spot in Delhi in the evening around 8 pm and embarked on our journey. On our way, the driver stopped around midway and we had dinner at a local restaurant. As we continued our journey, I could see other travelers getting excited too. As we stopped for a tea break early in the morning, everyone started talking and sharing their excitement.
We reached at our homestay in Bir at about 11 am and quickly freshened up. After we had finished our breakfast, our trip coordinator Ankur surprised us with the news that we'll have to do paragliding on first day itself.
When Our Hearts Sank In The Surprise!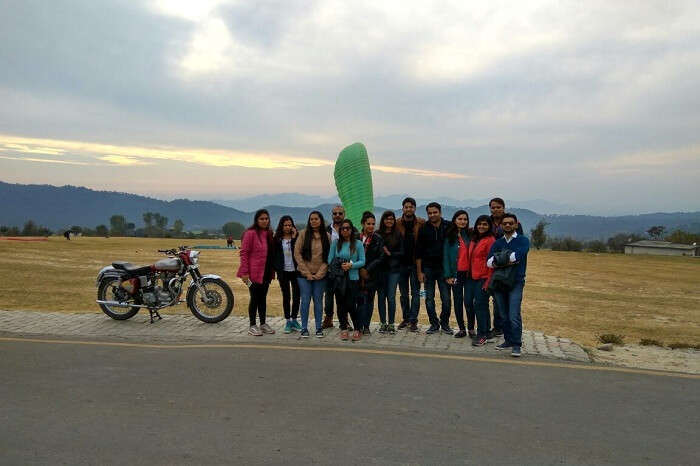 Originally scheduled on the second day, the paragliding adventure was preponed to first day as the weather conditions were changing and chances of the second day getting worse for paragliding were high.
Finally we were there at the paragliding site and my heart beats got faster as others went running towards the edge. Their screams were a mixed emotion of fear and excitement.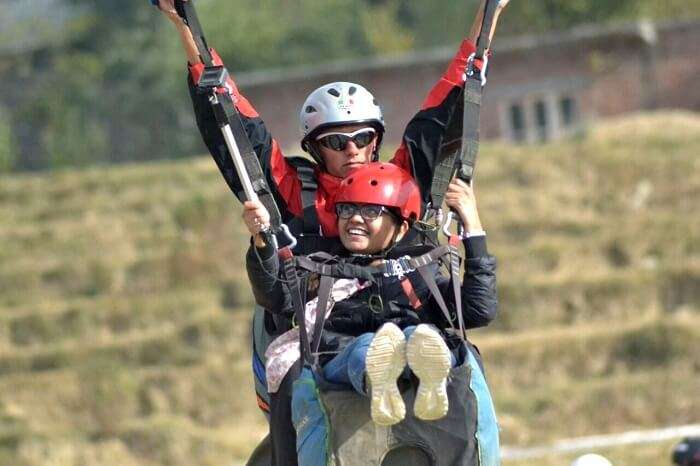 Suggested Read: 10 Terribly Overrated Destinations In Himachal & Where To Travel Instead
Since I was the second one in my group, Ankur made sure I was clear with the instructions as I put on the paragliding gears. My wingman looked super cool whereas I was still a bit shaky.
Without giving it anymore thoughts we ran towards the edge and the next moment, the wind brushed through my skin, I was in the sky and that was the moment when I understood the real meaning of being on top of the world.
Up Above The World So High!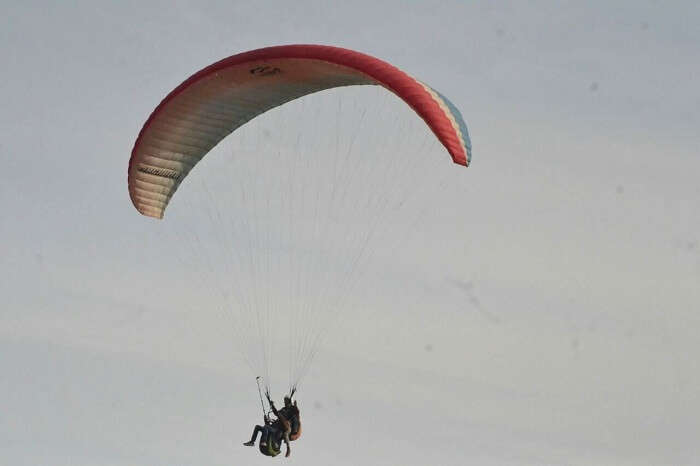 Incredible as it was, it was an awesome experience to feel up above the world so high and like a diamond in the sky (*Giggles*). Himachal looked so glorious from a height of 10,000 feet. Moreover, the fact that I completed my glide in the first run was even more exciting.
Flying Without Wings Be Like!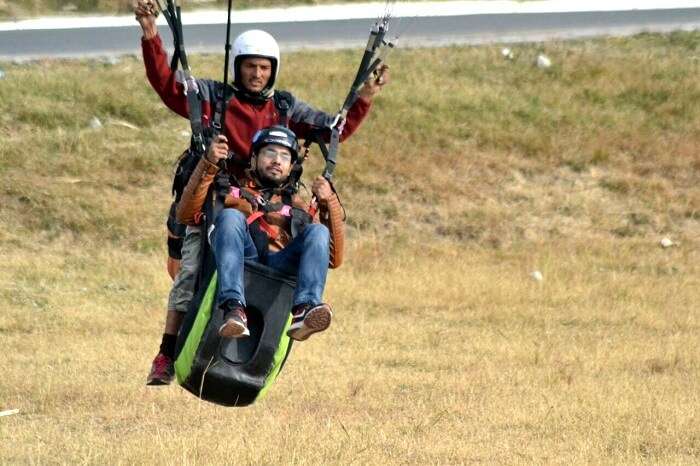 Enjoying some acrobat stunts while landing added to the joy of paragliding for 25 minutes in which we covered a distance of about 15kms by-road from Bir to Billing. This was an unforgettable moment and an awesome experience indeed!
The Incredibles!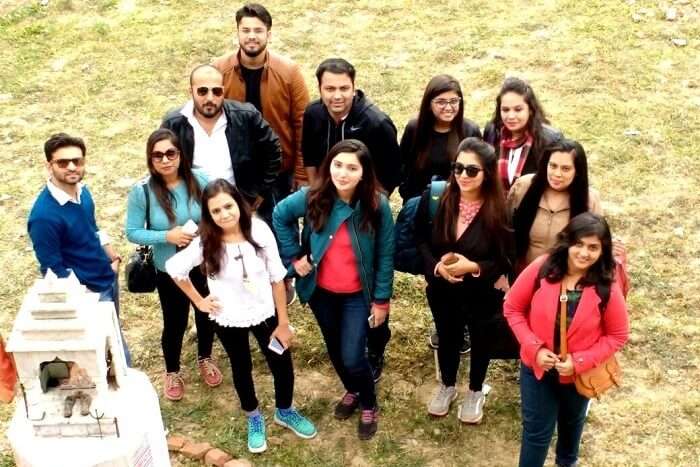 Suggested Read: Camping & Paragliding On A Trip To Bir Billing: Aman's Passionate Adventure Will Have You Daydreaming About The Hills
And Then Came The Paragliders Out Of The Sky's Closet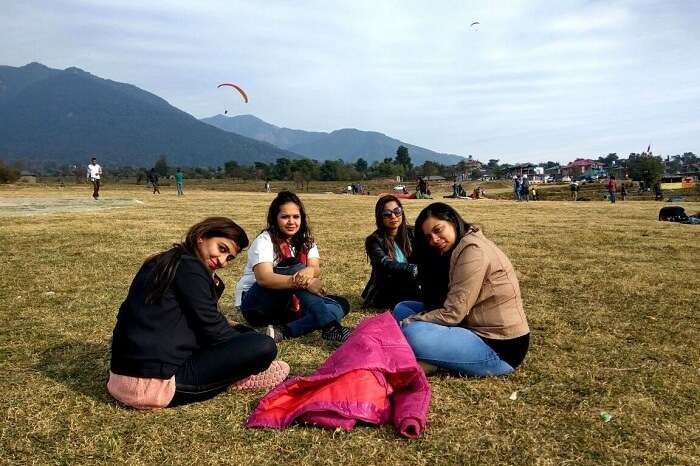 Still shivering due to our paragliding experience, I felt really hungry. After relishing a sumptuous lunch near the site with Manali Hills in the backdrop, we decided to go to the campsite via traveler and start downhill trekking next morning. All of us felt the same as it was already getting dark and plus, paragliding had beaten the hell out of us already.
Chilling Out At The Campsite!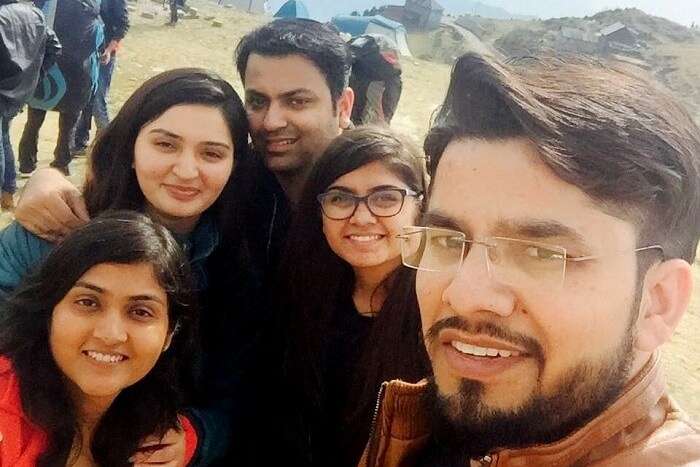 Taking A Chai Break!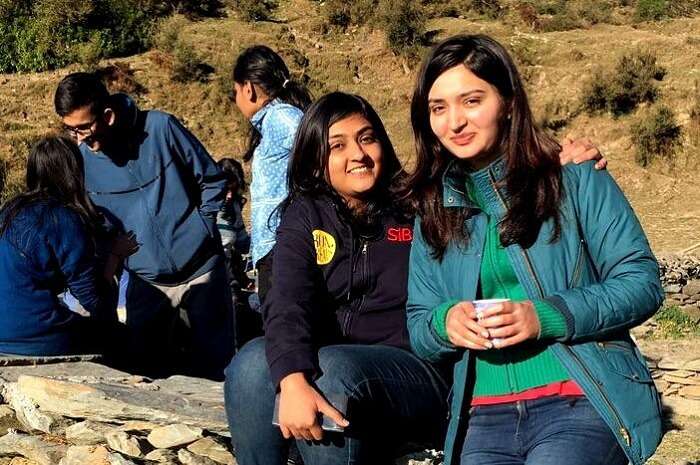 On reaching the campsite we all went to our allotted tents, put our warm clothes on and got ready to enjoy the bonfire. There was a lot of singing, dancing and fun around the bonfire.
Music, Dance, Bonfire And A Sky Full Of Stars!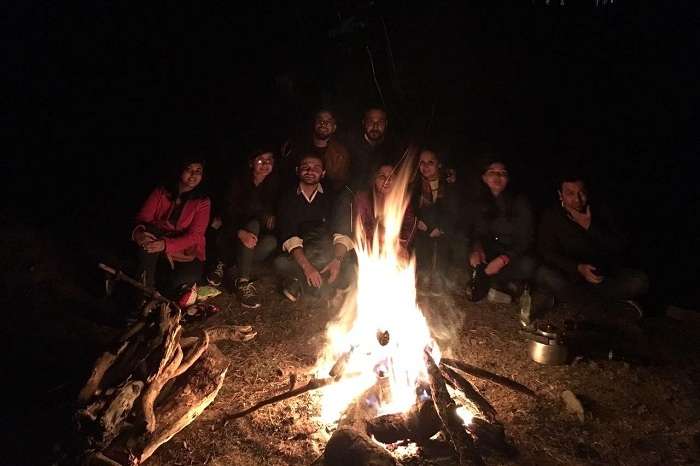 Everyone was so chilled out and feeling light after paragliding that it felt like a scene straight out of some clichéd Bollywood movie. All of us enjoyed the scrumptious dinner together with our new friends and rested for the night as we gazed at the sky illuminated by the stars.
Basking In The Morning Glory!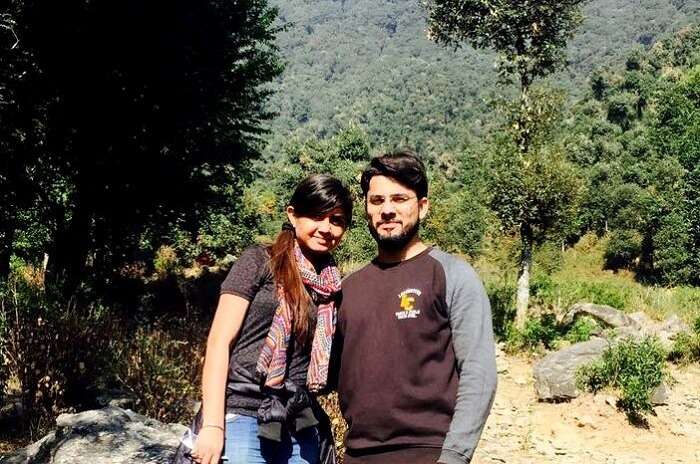 We woke up to one of the best mornings in our lives. With such astounding views of the valley, we could hear the shouts of joy and pleasure of people paragliding in the morning.
Soaking Solar Energy For Downhill Trekking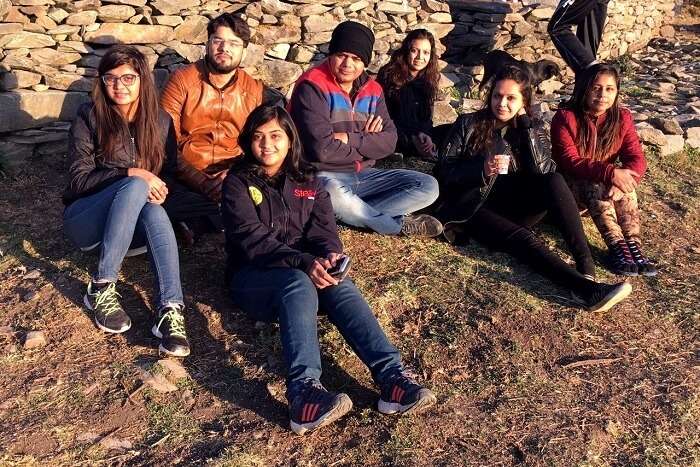 Suggested Read: Get A Bird's Eye View: 5 Splendid Destinations To Enjoy Parasailing In India
Later, everyone quickly freshened up and grabbed ourselves an early breakfast as our downhill trekking adventure was to begin by 9.30 am.
Happy Feet On A Journey Of Miles!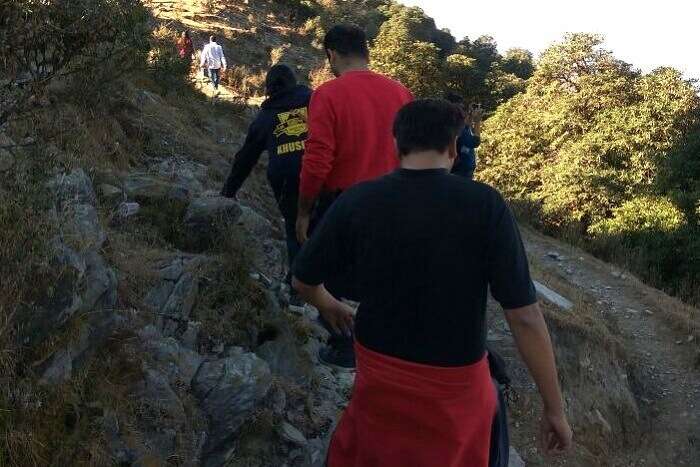 When Posing Became A Necessity!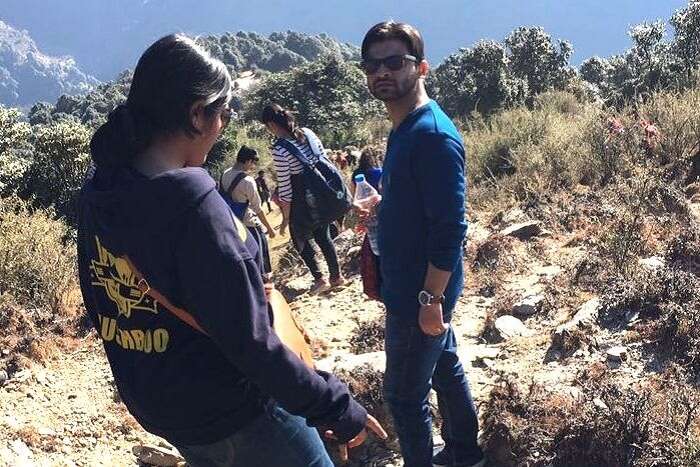 We trekked down the mountain through dense forests and tough tracks. I had never felt so close to nature like I did on the weekend trip. Nature was blooming with all its might and amidst the breathtaking views, we finished our trek of 8 to 9 kms in just 3 hours.
The Wonder Women!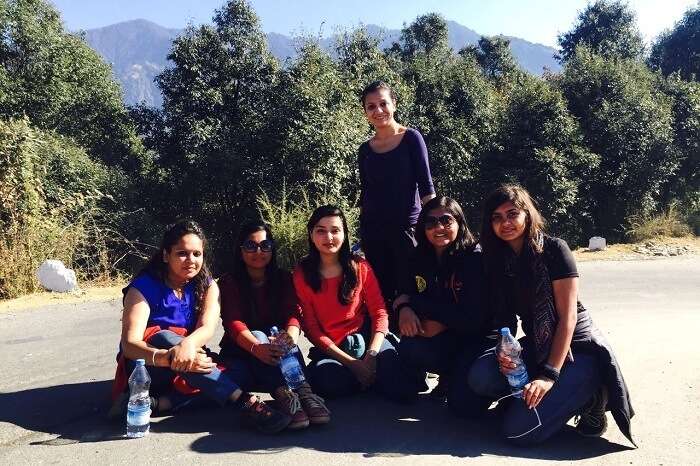 We enjoyed our last meal together as a group before we set off to return back to Delhi. An ultimate adventure had come to an end and the moments we enjoyed did send chills down the spine and allover.
To Many More Journeys To Come …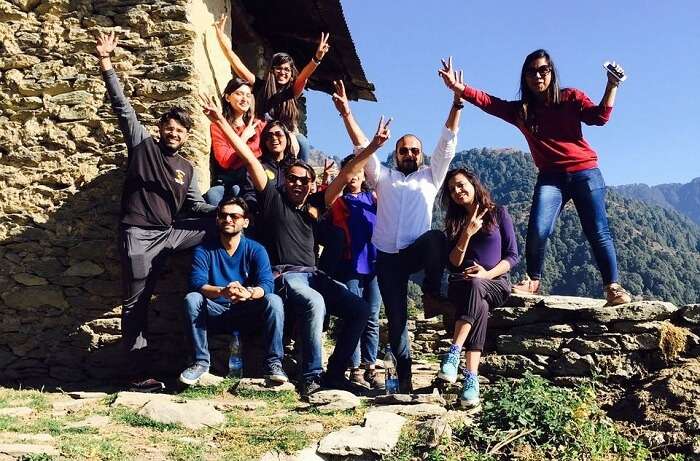 High Points:
To feel the cold wind against my face at a height of 10,000 ft. in the sky is a moment I'll cherish forever.
From meeting new people with similar interests to living it out in nature with limited resources and downhill trekking through rough trails, every moment was worth the experience.
Since it was a weekend trip, there were no low points as we enjoyed to the core in a very limited time period. In fact, I cannot wait to make the most of coming weekends with Travel Triangle!
Tips:
Don't leave out on your woolens thinking it's just a weekend trip. Weather can change anytime in the hills.
Paragliding is a must experience for everyone at least once and it is the best way to overcome your fears.
Our trip was worth every penny we spent. Make sure you book your weekend trips from TravelTriangle for value for money experiences.
Intrigued much? Fill your soul with some breathtaking experiences and ditch the monotonous city affairs with extraordinary weekend escapades. BOOK NOW with TravelTriangle!
Comments
comments