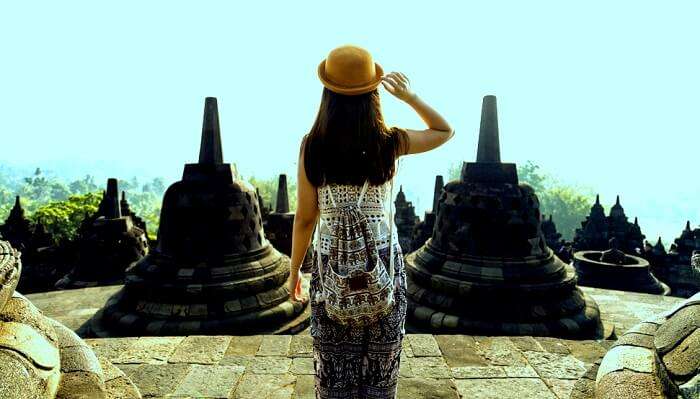 Often spelled and pronounced Jogjakarta or Yogya or Jogja, Yogyakarta is one of the most beautiful and exciting places in Indonesia. It's a favourite with backpackers and a quaint, little pretty place which makes it an ideal destination for honeymoon too. The best part about this place is that its cheap and offers so much to explore. The destination is a foodie's paradise and you will smell something cooking at every nook and corner. Yogyakarta in December is an absolute delight and visiting the destination in this particular winter month will give you an unforgettable experience because it's less on crowd and more on fun.
Weather In Yogyakarta In December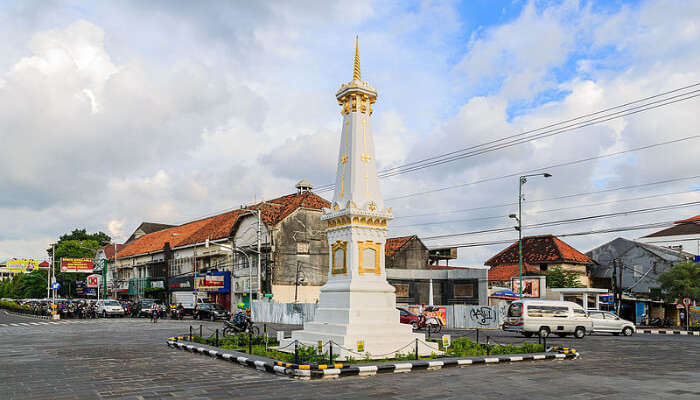 December is considered to be one of the best months to visit Yogyakarta as the daily low temperatures in Yogyakarta in December are around 75 degrees Fahrenheit (23.8 degrees Celsius) and hardly falls below 73 degrees Fahrenheit (22.7 degrees Celsius) and the daily high temperatures in Yogyakarta in December are around 86 degrees Fahrenheit (30 degrees Celsius) and rarely exceeds 90 degrees Fahrenheit (32.2 degrees Celsius).
3 Top Places To Visit In Yogyakarta In December
Yogyakarta is a very fascinating destination and any place is interesting because of what it offers and this destination offers many exciting places to visit. Here are some of the most interesting places to visit in Yogyakarta in December.
1. Prambanan Temple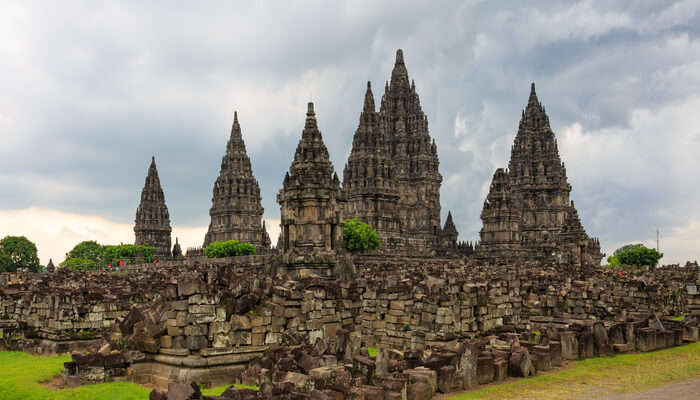 A UNESCO World Heritage Site, the Prambanan Temple is home to 240 temples and was built in the 9th Century and still stands strong and is as charming as it can get. There is a Ramayana Ballet with over 200 musicians and dancers, that is performed at this temple which is mesmerising and something you must attend. Dedicated to Trimurti or Shiva (the destroyer) or Brahma (the creator), this temple is 47 metres high and a must visit attraction if you are visiting Yogyakarta in December.
Location: Special Region of Yogyakarta
Must Read: 20 Things To Do In Yogyakarta To Explore The Best Of This Gem On Java Island In 2019!
2. Taman Sari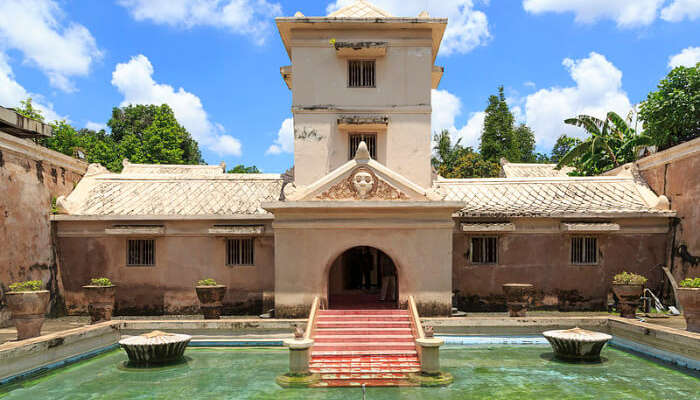 Ever heard of a water castle? Well, you can actually see one in Yogyakarta. One of the most fascinating places to visit in Yogyakarta, Taman Sari is a Water Castle. Fact check: Taman Sari was the Sultanate of Yogyakarta's former royal garden and it was here that his concubines would present themselves to him with the hopes of becoming one of his wives. Politically incorrect? Yes. But that is not a reason for you to not pay a visit to this very beautiful place. If you are planning to visit Yogyakarta in December 2019 make sure you don't miss out on Taman Sari.
Location: Wisata Taman Sari Jalan Tamanan, Patehan, Kecamatan Kraton, Kota Yogyakarta, Daerah Istimewa Yogyakarta 55133, Indonesia
Suggested Read: 5 Yogyakarta Temples Which Give A Glimpse Of Indonesia's Architectural Heritage
3. Borobudur Temple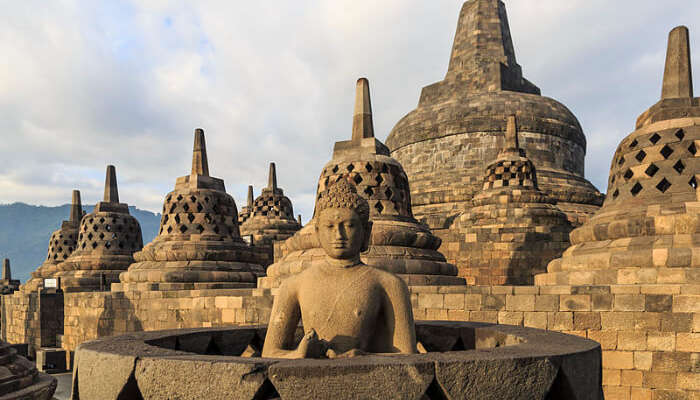 Mystical and mysterious, the Borobudur Temple is one of the most famous places to visit in Yogyakarta in December and very engaging and beautiful. Standing 113 foot tall, the high pyramid like structure of this temple was built in the 9th Century and is the world's largest Buddhist Temple. Consisting of nine stacked platforms, three circular and six square, this temple is nothing less than magical. A UNESCO World Heritage Site and an architectural marvel, the Borobudur Temple is something not to be missed.
Location: Jl. Badrawati, Kw. Candi Borobudur, Borobudur, Kec. Borobudur, Magelang, Jawa Tengah, Indonesia
Suggested Read: 10 Most Charming Places To Visit In Yogyakarta On Your Indonesian Vacation
3 Best Things To Do In Yogyakarta In December
Yogyakarta offers many exciting things to do, especially if you plan on visiting the destination in December as it's one of the best months to visit the destination.
1. Bukit Barede – Watch The Sunrise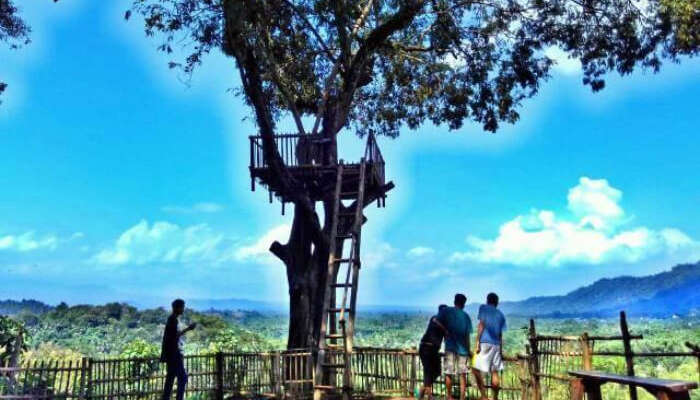 If you are a fan of watching sunrise then this is for you. Barede Hill offers some of the most beautiful views and is a place that you shouldn't miss. If you want those perfect pictures then too you shouldn't miss out on this spot. Try waking up early just for a day on your trip and enjoy the mesmerising views. Try climbing up the treehouse for an even better and more beautiful and vividly clear view.
Location: Sendaren 2, Karangrejo, Borobudur, Magelang, Central Java 56553, Indonesia
Entry Fee: IDR 30,000 (INR 152)
Suggested Read: Top 8 Indian Restaurants In Yogyakarta Serving Royal Indian Delicacies
2. Goa Jomblang – Spelunking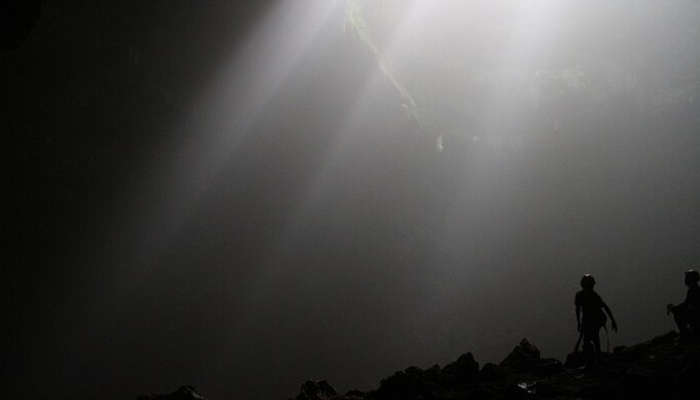 Ever heard of spelunking? Ever tried it? If you have, great. If you haven't, try it at Jomblang Cave. If you are an adventure junkie and plan on visiting Yogyakarta in December 2019 then spelunking in the Jomblang Cave is a must. Famous for its mystical and mysterious "Light of Heaven", the Jomblang Cave was formed by a geological process and is made up of three partes including a tunnel, a sinkhole and a Goa Grubog.
Location: Special Region of Yogyakarta
Entry Fee: Rp 450,000 (INR 2289)
Suggested Read: 12 Easy Indonesian Phrases To Enrich Your Traveling Experience
3. Mount Merapi – Hiking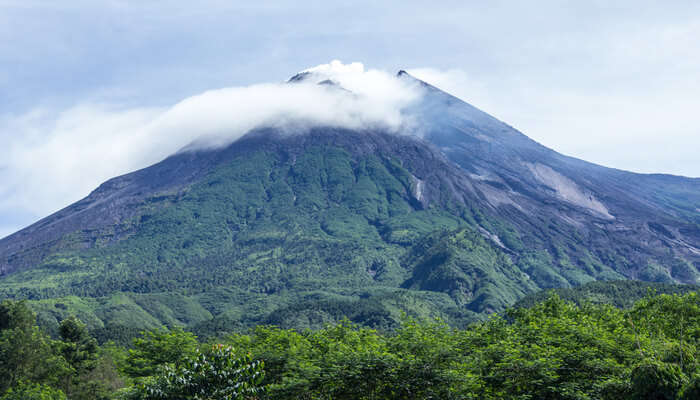 If your quest for adventure does not die away that easily and your adrenaline touches a new high every day, then hiking Mount Merapi in Yogyakarta in December is something you should not miss out on. Also known as Gunung Merapi, Mount Merapi is actually an active volcano just 29.5 kilometres away from Yogyakarta and is pretty famous. If you do plan on visiting the place, we bet you will have an amazing experience. Also, your drive is going to be the highlight of your day.
Location: Mount Merapi, Central Java, Indonesia
Entry Fee: NA
Suggested Read: 3 Alluring Cafes In Yio Chu Kang West To Try Authentic Indonesian Cuisine
Tips For Visiting Yogyakarta In December
It is suggested that you carry a pocket wifi device especially when you are visiting a country where there is a high possibility of facing language barrier.
Carry some extra cash to spare as foreigners have to pay extra at most of the places.
In Yogyakarta, and in Indonesia in general you will find Type C and Type F adapters so make sure you carry the right power adapters with you.
Don't forget your camera at home for you would obviously want to capture all your memories.
Pack right! This is one of the most important things as in December you can expect light showers so don't forget your umbrellas and waterproof shoes.
Further Read: 10 Places To Visit In Bandung On Your Backpacking Trip In Indonesia In 2019
We think Yogyakarta has all that you were looking for and we hope that all your doubts and queries were resolved. If you are already planning for your trip to Bali and you are looking forward to a great experience and are just want a hassle-free experience, then check out these customizable options for a trip to Indonesia and plan your trip with TravelTriangle.
People Also Read
Bali In December Malaysia In December Philippines In December
Comments
comments