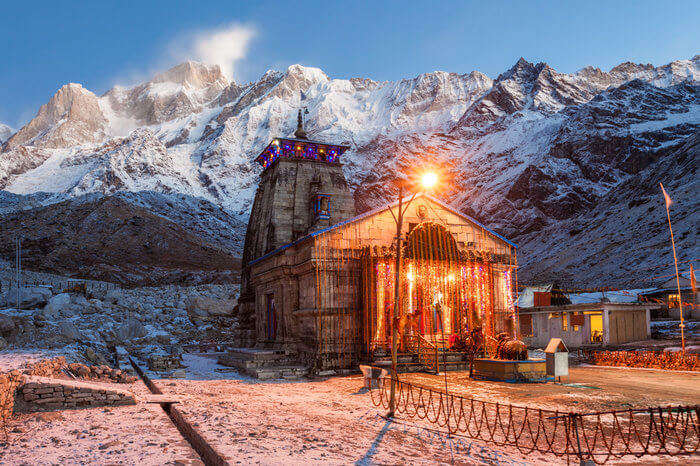 When you break the word "Jyotirlinga", it becomes 'jyothi', which means 'radiance' and 'linga, which means phallus. These Jyotirlingas are considered different manifestation of Shiva. There are 12 Jyotirlingas in India spread in strategic locations, and Hindu devotees from all across the nation visit each one of them on their spiritual journey. So if you too are planning to embark on a spiritual journey, then begin your spiritual journey with these jyotirlingas that are as divine as the presence of the almighty God itself.
Other than granting spiritual reckoning and blessings, these sanctums are utterly beautiful and peaceful. Whichever of these you choose to visit, you'll find that the 12 Jyotirlingas images don't do justice to the real deal!
Jyotirlingas In West India
Out of the long 12 Jyotirlingas list, find out where to head for your spiritual awakening in places like Maharashtra and Gujarat.
1. Somnath – Gir Somnath In Gujarat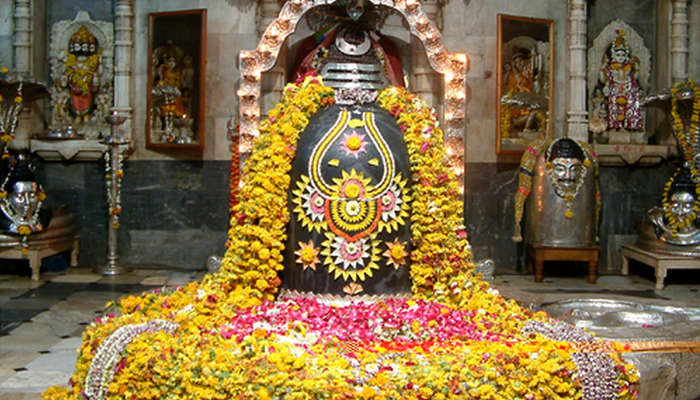 Image Source
This is one of the most famous Jyotirlingas in India. Somnath is regarded as the first among the twelve aadi jyotirlingas and one of the most worshipped pilgrimage sites in the country. The temple architecture resembles Chalukya style and Lord Shiva is believed to have appeared in this shrine, as a sizzling column of light. Shiv Purana tales reveal that Moon married 27 daughters of Dakshin Prajapati. But Moon was cursed by Prajapati for neglecting all his wives except one; Rohini. In order to get rid of the curse and regain his lost lustre and beauty, he worshipped Lord Shiva. The almighty granted his wish and resided here as Somnath eternally. Located in Kathiawad region, Somnath jyotirlinga temple was destroyed and rebuilt almost sixteen times.
Temple opening hours: Every day from 6 AM to 9 PM. Aarti takes place at 7 AM, 12 noon and 7 PM. The famous light and sound show; 'Joy Somnath' takes place every day between 8 to 9 in the evening.
---
Looking To Book A Holiday Package?
Book memorable holidays on TravelTriangle with 650+ verified travel agents for 65+ domestic and international destinations.
---
2. Nageshwar – Daarukavanam In Gujarat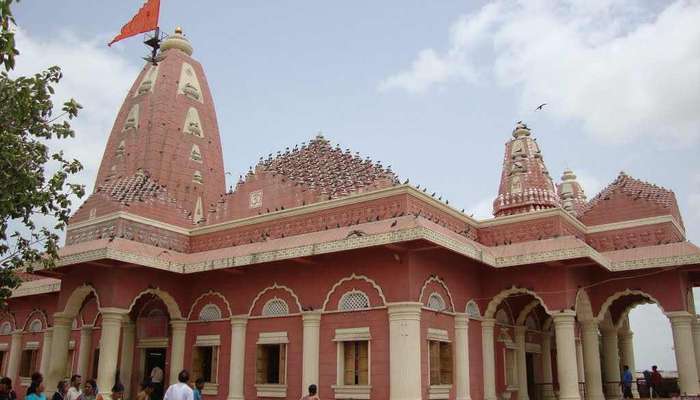 Image Source
Located on the coast of Saurashtra in Gujarat, between Gomati Dwarka and Bait Dwarka, Nageshwar is a popular jyotirlinga in India. Thousands of devotees visit the temple of Nagnath, round the year, to seek blessings from the holy shrine of Nageshwar Mahadev located in an underground sanctum. The 25-m tall statue of Lord Shiva, large garden and unobstructed views of the azure Arabian sea, fascinate the visitors. This is one of the most powerful jyotirlingas, which symbolizes protection of all types of poisons.
Temple opening hours: 5 AM to 9 PM, on all days of the week. Devotees can go for darshan between 6 AM to 12:30 PM and 5 PM to 9 pm.
Suggested Read: 15 Famous Festivals Of India To Bring Your Life Into A State Of Exuberance
3. Bhimashankar – Pune In Maharashtra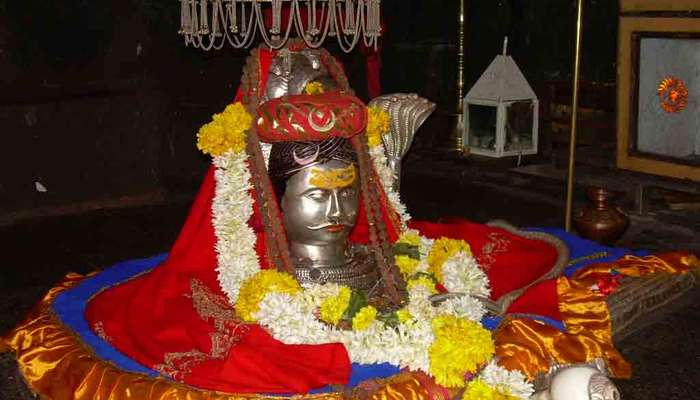 Image Source
On the banks of River Bhima there lies, Bhimashankar temple- a marvellous black rock structure, with Nagara architectural pattern. Surrounded by a wildlife sanctuary of the same name, the jyotirlinga here is believed to be built by Bheema- Kumbhakarna's son. Huge number of pilgrims visit this shrine, round the year, especially during Maha Shivratri. Devotees visiting Bhimashankar temple, also see Kamalaja temple- an incarnation of Parvati, located close by.
Temple opening hours: All days of the week from 4:30 AM to 12 noon and 4 PM to 9:30 PM. Darshan starts at 5 in the morning and continues till 9:30 in the night. In the afternoon, during Madhyan Aarti, darshan is closed for 45 minutes.
4. Trimbakeshwar – Nashik In Maharashtra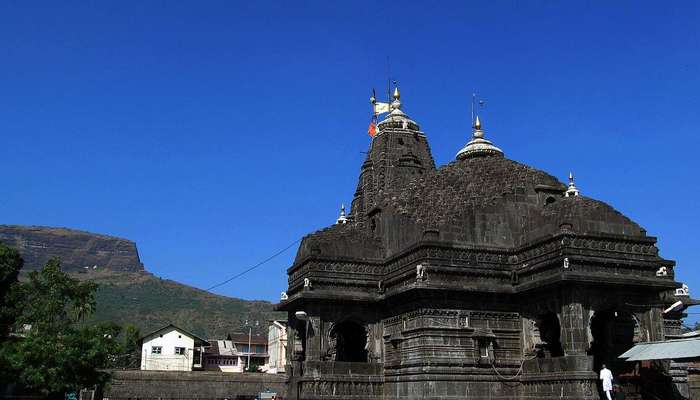 Image Source
Trimbakeshwar jyotirlinga is located near Brahmagiri mountain, the place of origin of Godavari River, also known as Gautami Ganga. According to Shiv Purana, Godavari River and Gautami Rishi pleaded Lord Shiva to reside here and hence the God emerged in the form of Trimbakeshwar. The most unique part of this jyotirlinga is its shape. Instead of a shrine, there is a void here with three pillars placed inside. The three pillars represent the three most powerful and authoritative Gods, namely, Brahma, Vishnu, and Maheshwar.
Temple opening hours: 5:30 AM to 9 PM, all days of the week.
5. Grishneshwar – Aurangabad In Maharashtra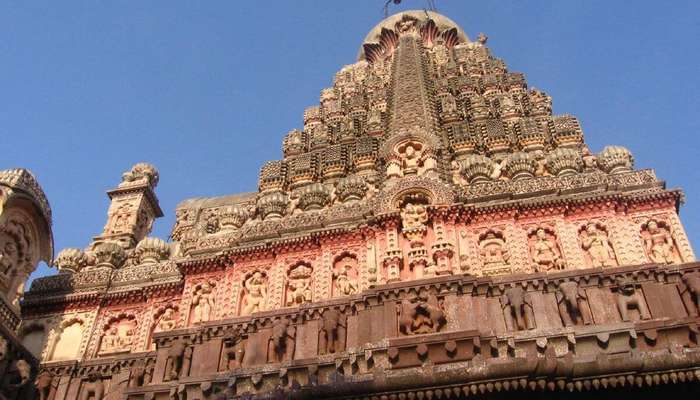 Image Source
With impressive red rock 5 storied Shikhara style structure, carvings of Gods and Goddesses and a huge Nandi Bull in the main court hall, Grishneshwar temple is one of the 12 jyotirlingas of Shiva Purana, located near the caves of Ajanta and Ellora. Built by Ahilyabai Holkar, this temple is also known as Gru Someswara and Kusum Eswarar. The sculpture of Vishnu's Dashavatar, carved on red rock is immensely impressive and fascinates each and every visitor.
Temple opening hours: For darshan and puja, visit the temple between 5:30 AM to 9:30 PM. During shravan, darshan is between 3 PM to 11 PM. Usually, darshan takes about a couple of hours. During the month of shravan, there are huge footfalls and it takes about 6 to 8 hours to complete darshan.
Suggested Read: 10 Best Places Of Indian Cultural Heritage
Jyotirlingas In East And Central India
Places like Jharkhand and Madhya Pradesh are known for being home to these famed 12 Jyotirlingas in India other than offering immeasurable scenic beauty:
6. Vaidyanath – Deoghar In Jharkhand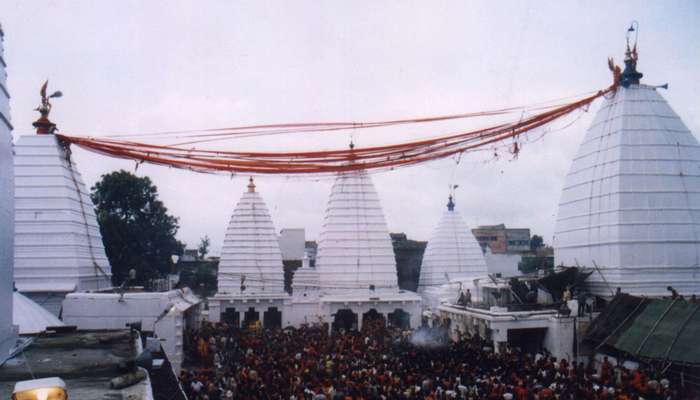 Image Source
As one of the most worshipped jyotirlingas in the country, Vaidyanath or Baidyanath or Vaijinath is also one among the 52 shakti pethas shrines of Sati of Hindu religion. Mythological stories believe that Ravana revered Shiva for years and invited Shiva to Lanka. Shiva showed up as shivalinga and ordered Ravana to not to put down anywhere until he reaches Lanka. Vishnu interrupted Ravana in between and influenced him to keep the shivalinga at rest for sometimes. Thus, Ravana disobeyed Shiva and since then he resides as Vaidyanath, here in Deoghar. The month of Shravana receives maximum footfall here as people believe worshipping this shrine of Shiva will help them to get rid of all miseries and attain moksha and salvation.
Temple opening hours: The temple is open on all seven days from 4 AM to 3:30 PM and from 6 PM to 9 PM. During special religious occasions like Maha Shivaratri, darshan timings are stretched.
7. Mahakaleshwar – Ujjain In Madhya Pradesh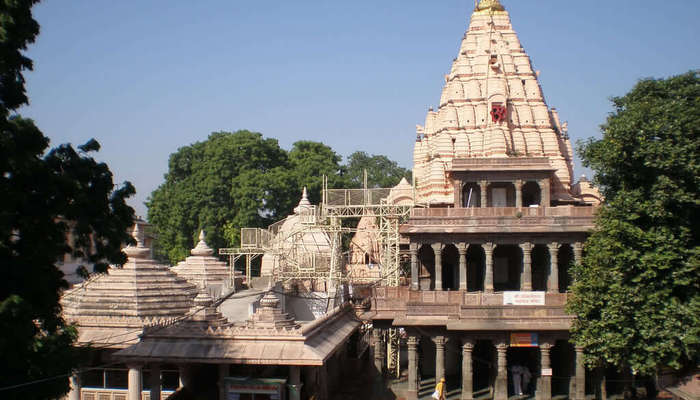 Image Source
Surrounded by dense Mahakal forest, the jyotirlinga of Mahakaleshwar temple, Ujjain is another sight of immense spiritual significance. As one of the popular jyotirlingas of central India, the shrine at Mahakaleshwar is believed to be set up by a five-year-old boy Srikar, who was inspired by the devotion of King Chandrasena of Ujjain. Located by the banks of Kshipra River, Mahakaleshwar jyotirlinga is also among the seven mukti-sthal in India; the place that can liberate a human being to eternity.
Temple opening hours: 4 AM to 11 PM. Devotees can experience darshan 8 AM to 10 AM,10:30 AM to 5 PM, 6 PM to 7 PM and 8 PM to 11 PM.
Suggested Read: 15 Charming Places To Visit In January In India
8. Omkareshwar – Khandwa In Madhya Pradesh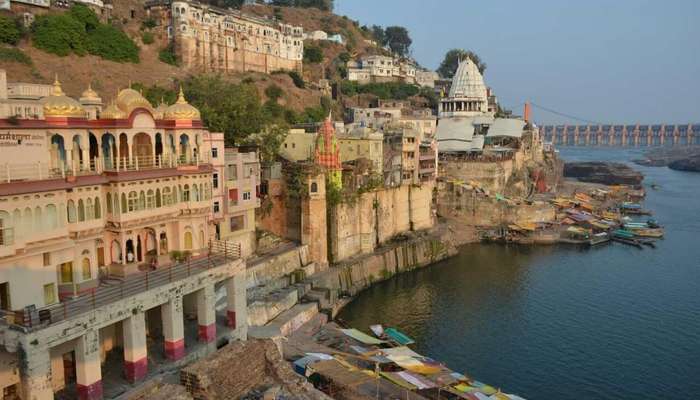 Image Source
Omkareshwar, translating to 'Lord of the Om Sound', is one of the most sacred places in India. Situated in an island called Shivapuri, on the Narmada River, this temple has immense mythological significance too. People believe that once there was a war between Devas and Danavas, and the devas prayed to Lord Shiva for victory. Satisfied with the prayer, Lord Shiva appeared as Omkareshwar and helped the devas to achieve triumph over the evils.
Temple opening hours: Open on all days of the week from 5 in the morning to 10 in the night. Darshan is between 5:30 AM to 12:20 PM and 4 pm to 8:30 PM.
Jyotirlingas In North India
See where the 12 Jyotirlingas are situated in Uttar Pradesh and Uttarakhand that you can visit during your trip there:
9. Kashi Vishwanath – Varanasi In Uttar Pradesh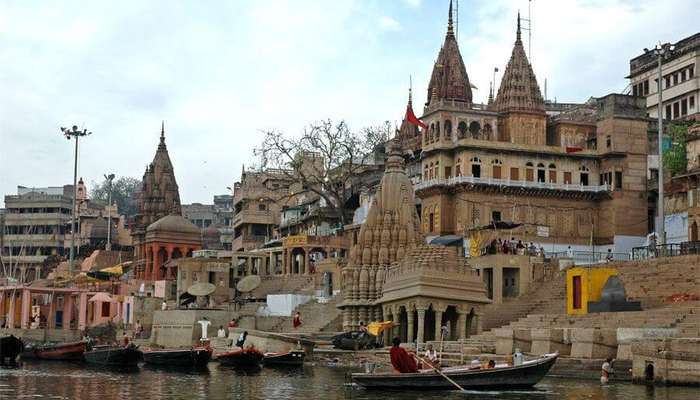 Image Source
Renowned as Golden Temple in Varanasi, Kashi Vishwanath is a popular Jyotirlinga in India. Constructed in 1780 by Maharani Ahilyabai Holkar- a Maratha Monarch, this Jyotirlinga is a significant religious place for the Hindus. Devotees believe that Lord Shiva resided here and offered liberation and happiness to all. It is also considered as one of the first Jyotirlingas in the country which showcased its power over other Gods, broke through Earth's surface and moved towards heaven. It's among the most sought after 12 Jyotirlingas in India.
Temple opening hours: The temple opens every day from 2:30 AM for 11 PM. Read below for the daily puja rituals and darshan timings.
Mangala Aarti: 3 AM to 4 PM
Sarva Darshan: 4 AM to 11 AM
Bhog Aarti: 11:15 AM to 12:20 PM
Sarva Darshan: 12:20 PM to 7 PM
Sandhya Aarti: 7 PM to 8:15 PM
Shringara Aarti: 9 PM to 10:15 PM
Shayana Aarti: 10:30 PM to 11:00 PM
Suggested Read: 20 Places To Visit In Varanasi: The Best Of Culture, History, & Spirituality
10. Kedarnath – Kedarnath In Uttarakhand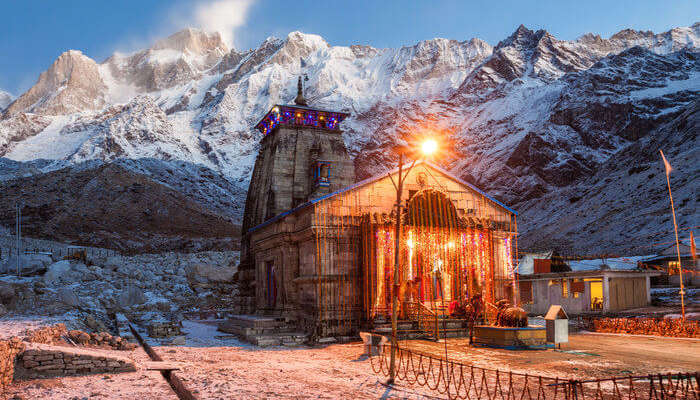 Image Source
Situated in the Rudra Himalayan Range, at an altitude of 1200 feet, Kedarnath Jyotirlinga is also considered as one of the 4 dhams of Hindu religion. Due to extremely cold weather and snowfall, the temple remains closed for 6 months during winter and is open only from May to June. Pilgrims on their way to Kedarnath, first visit Gangotri and Yamunotri to take holy water, which they offer to Kedarnath shivalinga. People believe on visiting Kedarnath temple and bathing the jyotirlinga, one can get rid of all unhappiness, ill luck, and misfortunes. Trekking up to Kedarnath is moderately difficult and people use walking sticks or ride on mules or dolis. The Samadhi of Shankaracharya- the famous Hindu saint is located just behind the main Kedarnath temple.
Temple opening hours: 4 AM to 12 Noon and 3 PM to 9 PM
Jyotirlingas In South India
Scroll down if you are looking for any of these 12 Jyotirlingas with locations in Tamil Nadu and Andhra Pradesh:
11. Rameshwaram – Rameswaram Island In Tamil Nadu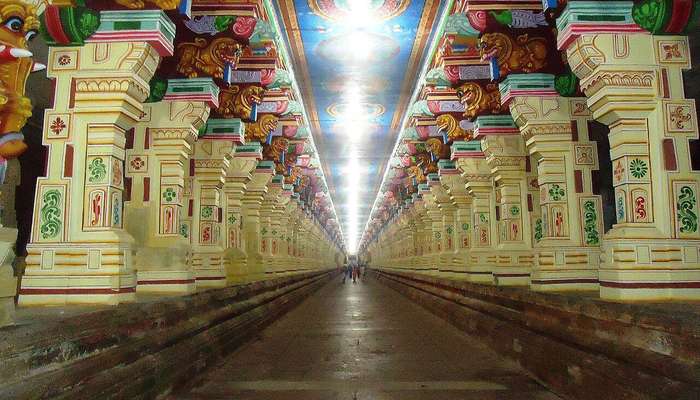 Image Source
Rameshwaram Jyotirlinga is believed to be worshipped by Lord Rama, after his phenomenal victory over Ravana. Known as the southernmost jyotirlingas in the country, the temple is surrounded by sea and boasts of its beautiful architecture, decorated corridors, and 36 theerthams. Popular as 'Varanasi of the south', Rameshwaram Jyotirlinga is also one of the most visited holy places in India, approached via Madurai in Tamil Nadu. Devotees visiting this jyotirlinga, also visit Dhanushkodi beach, from where Lord Rama had built Ram Setu up to Lanka, to save his wife. This is also one among the char dhams of India.
Temple opening hours: 5 AM to 1 PM and 3 PM to 9 PM. Darshan is permitted till 8 PM.
Must Read: Char Dham Yatra: A Quest For Moksha
12. Mallikarjuna – Srisailam In Andhra Pradesh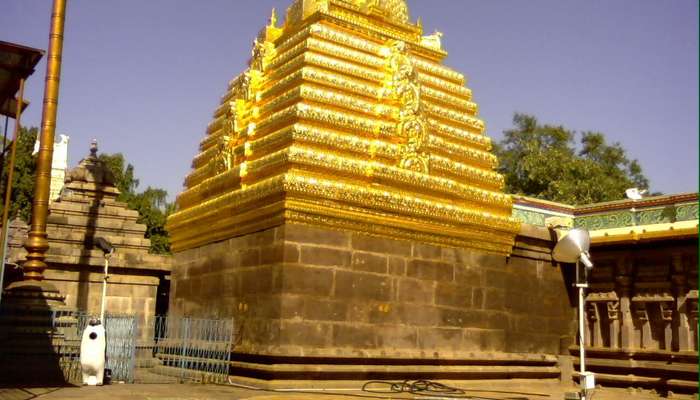 Image Source
Popular as Kailash of the South among the other 12 Jyotirlingas in India; Mallikarjuna jyotirlinga temple is located atop Shri Saila Mountain, on the banks of River Krishna. With beautiful architecture and sculptures, decorated pillars known as gopurams and mukha mandapa hall, the temple of Mallikarjuna consists of deities of Shiva and Bhramaramba or Parvati and is listed as one among the 52 shakti peeths of Sati. Mallikarjuna jyotirlinga is unquestionably, one of the greatest Shaivite shrines of the country.
Temple opening hours: The temple is open from 4:30 AM to 10 pm every day. Darshan is between 6:30 am to 1 pm and 6:30 pm to 9 pm.
Further Read: 20 Most Famous Historical Places In India: You Think You Know Them Well Enough?
We bet you didn't know all these 12 Jyotirlingas names before. Now, are you already excited to explore the divine jyotirlingas of India? Let us help you customize your tour for an incredible journey.
---
Looking To Book An International Holiday?
Book memorable holidays on TravelTriangle with 650+ verified travel agents for 65+ domestic and international destinations.
---
Comments
comments