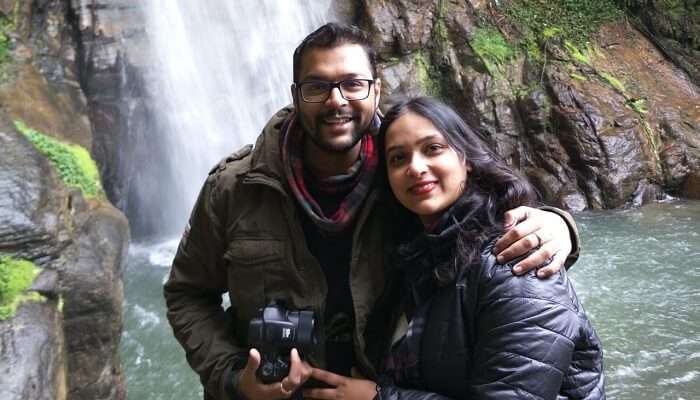 I had visited Sikkim last August on a couple's trip and could not get enough of the breathtaking beauty of the Northeast. The lofty mountains, scenic surroundings, and lively streets, everything about Sikkim is lovely. So, when it came to choosing a destination for a family trip, we zeroed in on Sikkim again. Only this time, we had a different yet amazing experience. While in August we got to see the lush greenery of the mountains, we experienced a snowy wonderland in December. While pondering over how to plan Sikkim trip, we came across TravelTriange where we could see numerous packages and discounts. Right away, we picked one that suited our budget. Needless to say, my 5 days trip to Sikkim with my family in December was astounding.
Trip Details of 5-Day Trip To Sikkim With Family
Trip Type: Family
Trip Duration: 6D/5N
Trip Cost: INR 41,500
Inclusions: Breakfast, Sightseeing, Accommodation, Transport
Exclusions: Airfare, Entry Fee, Lunch & Dinner
Sikkim Itinerary For 5 Days
Day 1: Arrival In Gangtok
Day 2: Drive To Lachung
Day 3: Head Back To Gangtok
Day 4: Gangtok Day Tour
Day 5: Explore MG Road
Day 6: Back to Bagdogra
19 Places To Visit In North Sikkim To Witness The Magic!
Weather In Sikkim In December

As obvious, the weather in Sikkim in the month of December was very cold. In fact, the temperature in Lachung was below zero-degrees Celsius. The quaint town of Lachung was covered in snow. Unfortunately, the roads to Nathula and Gurudongmar Lake in December were blocked due to heavy snowfall. However, Gangtok did not experience any snowfall since it's the main city.
Things To Do In Sikkim – Highlights
There were plenty of things to see in Sikkim but some of these places and experiences touched our hearts more than others. Here are the highlights from our 5 days trip to Sikkim with my family.
1. Snowfall In Lachung





First times are precious. I had never seen snowfall before. So, this episode was really a treat to my eyes and soul. In no time, Lachen had turned into a white wonderland. I am going to take this experience to my heart as it was my first time. I instantly realized that our Sikkim trip plan is going to be awesome. 
2. Exploring Cafes On M. G. Road


My husband and I both love momos and northeastern food in general. So, M.G Road was an outlet of foodie experiences for us. We enjoyed the hot, steaming Thukpa and momos. We also visited two bakeries for the love of baked treats and delicious food. One of these bakeries – Baker's Cafe, was very old and famous.
3. Gangtok Tour




We spent two days sightseeing in and around Gangtok. We went to Rumtek Monastery, Hanuman Mandir, and Chango Lake which are touted as some places to visit in Sikkim. Our time at the lake was stupendous. We were lucky to have some sunshine on this day. The half-frozen lake looked ravishing. There were yaks by the lake that added to the scenery. We also visited Baba Mandir and gardens in Gangtok. All in all, it was a fun time in Gangtok.
Check Out These 14 Places To Visit In Namchi, The Culture Capital Of Sikkim!
Accommodation On Our 5-Day Trip To Sikkim With Family

1. Cardamom Residency – Gangtok
We stayed atCardamom Residency for the entire time in Gangtok. We had booked a deluxe room in this hotel for three nights and, I must say I really enjoyed the hospitality here. The staff was very accommodating. Our rooms were comfortable and equipped with all kinds of necessities.We found it to be the best hotel in Sikkim in terms of budget and comfort.
2. Floret Sukhim – Lachung
Our accomodation in Lachung gave us an experience of a homestay. Both the owner and cook were nice people. We really enjoyed the home-cooked meals. It was an amazing stay overall.
Food & Shopping


Since our love for food is eternal, we decided it was best to take back some baked goodies from our Sikkim trip. Also, it was during the time of Christmas, so getting plum cake for our friends felt like the sweetest thing we could ever do. We also bought some decorative trinkets for our Christmas tree like bells and stars.
As far as food was concerned, here are a few obligatory dishes to try on your Sikkim trip. We know we loved it.
Thukpa
Momos
Lafing
Brownies & Cakes
Darjeeling Tea & Coffee
Mountaineering In Sikkim: A Handbook To Give You An Insight Into It
What To Pack Sikkim Tour With Family

Since it was winter, we made sure that we had packed enough woolens to keep us warm through the chilly weather. We had forgotten to pack snow boots but to our delight, the boots were available on rent in Lachung and we could enjoy walking in the snow.
How To Reach Sikkim
We began our Sikkim tour from Delhi. We had already booked flights from New Delhi to Bagdogra Airport. We covered the rest of the journey to Gangtok via road. We had booked transport from the airport to the main city via TravelTriangle. It was a long ride from Bagdogra to Gangtok, a scenic one nevertheless.
A Brief Guide To Trains From Delhi To Sikkim For First Time Travelers To North East India
Tips For Travelers
Keep your itinerary flexible. Give yourself a day off if you are taking a detour to the North Sikkim region like Lachung.
Carry warm clothes if you are visiting in the winter season.
If you do not have snow boots, then you can rent a pair in Lachung for INR 100 per pair.
Most of the places in North Sikkim are inaccessible in winter because of heavy snowfall. So, plan your itinerary accordingly.
Overall Experience With TravelTriangle
This was our first experience with TravelTriangle and we have no complaints. We got an amazing package. The agent assigned to us was very helpful and understanding. He accommodated last minute changes due to constraints.
12 Gorgeous Hotels In Sikkim That Are Your Getaway To Rejuvenation
If you too loved Anubha's 5 days trip to Sikkim with family in December, then you should take one too. Plan an enchanting family getaway to Sikkim to enjoy the ravishing beauty of the Himalayas and vibrant nightlife of Gangtok. Keep aside enough days to enjoy sightseeing at
For our editorial codes of conduct and copyright disclaimer please click here. 
Frequently Asked Questions About 5 Days Trip To Sikkim With Family
What is the best time to visit Sikkim?
There are two best seasons to visit Sikkim; March-May and October-December. While the former season boasts of blooming valleys and lush greenery, the latter season lets you enjoy clearer skies and chilly weather.
Is it difficult to breathe in Nathula Pass?
Since it is located at a height, the oxygen levels are quite low. People with breathing problems should be careful and take precautions.
How can I go to Nathula Pass?
The only way to reach Nathula Pass is via car or cab. You could either hire one from MG Road in Gangtok or ask your agent to arrange one for you.