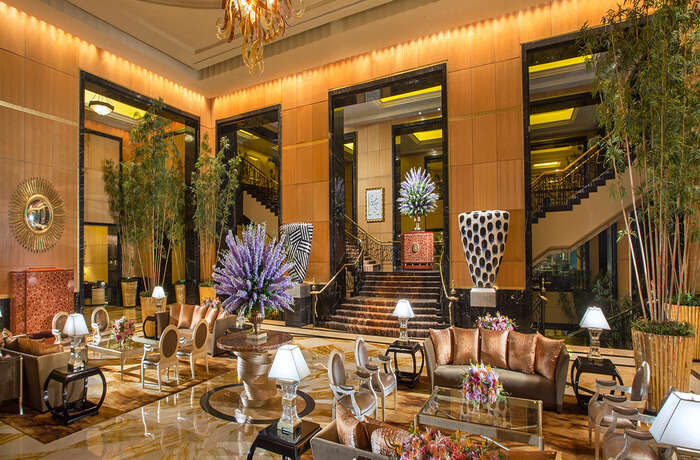 Overview
This vacation book a flight to the province with Dutch remains which is Jakarta and have a fantastic time at its hotel. In this article, travelers will discover the best 5 star hotels in Jakarta to make the experience more special. Jakarta is also known as the "Special Capital Region of Jakarta" in Indonesia. It is located on near the coast of Java, one of the most popular and crowded island. Here, one can find not only several art lovers but also find several business associates as well. Hence, there are not just hotels for wanderlusts but also business people as well. It can be considered an Indonesian archipelago, province, city, or all of the three. So, book one of the hotels in the region and get to avail numerous unique experiences, facilities, and dining. Go on tours in the morning and come back evening to relax at the most comfortable hotels. Hurry up and reserve a room at the 5 star hotels in Jakarta.
Special Experiences
The 5 star hotels in Jakarta have a complete package for unique experiences waiting for their guests. The hotels have vast pools which are jacuzzis, rooftop pools, or infinity pools. They are surrounded with music systems so that one can rejuvenate the mind to same calm beat. The hotels also have customized itinerary packages that take customers on trips across the region. These trip come with guide and transport facility. The hotels also have relaxation areas which have steam and sauna baths, bubble baths, aromatherapy, and reflexology. The hotels also have artsy performances conducted for entertainment purpose as well. For instance, the JW Marriott Hotel has excellent pool facilities or children and adults.
Facilities
The 5 star hotels in Jakarta are also famed for their wide range of facilities. After entering the hotel, customers will be welcomed with a fresh drink. Then, they will be taken to their rooms for accommodation. These hotels have friendly and courteous staff who respond to any discomfort immediately. They also have rooms that are well-furnished and well-designed to give them the best feel. The hotel is provided with access to the internet, reception, parking, storage, laundry, and dry cleaning services. Customers can also hire a private chef service and car hire service too. The Grand Mercure Hotel is well-known for its rooms and room services.
Dining
The 5 star hotels in Jakarta are renowned for their meals. The meals at the hotel are prepared by the best chefs in the world who have worked in various top-rated hotels. The chefs have considerable experience in serving the best food on time. The food is nutritious and splendid. Hence, customers have a delightful time at the most excellent restaurants at these hotels. There are also bars where bartenders are well-experienced. They exhibit a great display of flame throws and also serve a great mix of alcohols for instance. The Shangri-La hotel is popularly known for its restaurant and club while the DoubleTree hotel is known for its open restaurant services.
FAQs
Q1. Are the hotels in Jakarta pet-friendly?
A. No, these hotels are not pet-friendly. Some hotels can be exceptions, though, which a guest would only know of, once they have personally checked with the hotel about the same.
Q2. Is it a good idea to hotels in Jakarta after reaching Jakarta?
A. Yes, guests can book the hotels after reaching Jakarta but it is not a great idea. Sometimes, one may not find the room of their choice not making the experience cherishable. Therefore, it is always preferred to book hotels in Jakarta beforehand.
Q3. Why is it a better idea to book hotels online?
A. Booking hotels online can save a lot of money due to exclusive deals and offers, much more than booking hotels on the stop or directly on call. Book online and save big.
Q4. Are currency exchange services available at the hotels in Jakarta?
A. Yes, for the ease of the guests, one can find currency exchange services as well as ATM services inside the hotel itself. Sometimes, the currency exchange services within the hotel can be a tad costly, therefore, guests can look out at the currency exchange outside the hotels- in the vicinity.
Q5. Do guides and hotel staff speak English in Jakarta?
A. Yes, the guides and hotel staff do speak English in Jakarta owing to the number of guests they host each year.
The 5 star hotels in Jakarta hotels have extraordinary experiences that are unique and excellent. The hotels have great swimming pools which are Jacuzzi's, rooftop pools, or infinity pools. The hotels also have travel package so that customers can view great and world famous locations. The hotels also have centers with steam, sauna, and bubble baths along with massage sessions. Customers are welcomed with fresh juice and are accommodated into their rooms which are well-furnished and well-designed. The hotels also have services which include access to the internet, reception, parking, storage, laundry, dry cleaning, private chef, and car hire. The hotels also provide great meals to savour. The meals at these hotels in Jakarta are prepared by chefs who have worked in world-class restaurants. They provide clean, nutritious, and splendid meals. There are also bar services which are taken care by the well-trained bartenders. Here, one can watch some exotic flame throws and sip on cocktail fusions. Make this vacation the best by availing the excellent services provided at the 5 star hotels in Jakarta.