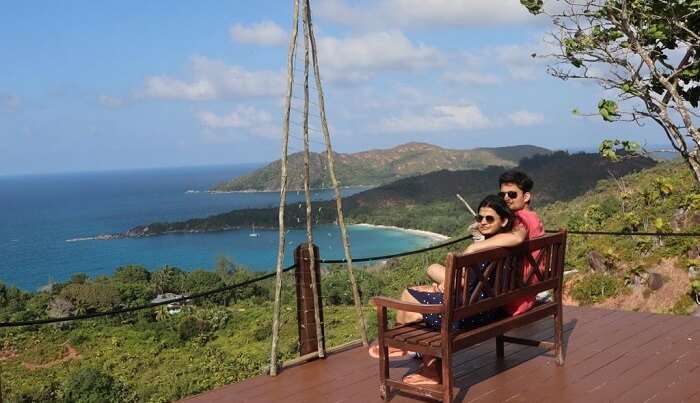 The tiny dot in the Indian Ocean is what Seychelles looks like on the map, but we all know that this beautiful island nation holds hundreds of islands and is the perfect destination for a peaceful holiday. Set up on one of the most isolated and dreamy locations, travelers never deny to idea of a vacation in the Seychelles. The tropical lush gardens, the clear blue waters and sky and the golden beaches, are you already lured by its beauty? Well, there is so much to add to it but what better idea that visiting the island nation all by yourself for a real life experience? This is exactly the thought this couple who planned to spend their wonderful days of honeymoon together had in their minds. TravelTriangle helped them plan an unforgettable holiday because that is what exactly honeymoons are supposed to be!
Our honeymoon was really special for us. After all the hustle of our wedding we finally got a chance to spend some time together and so we were considered destinations that offered immense peace and pleasure. Our list of honeymoon destinations included Santorini, Seychelles, South Africa and Mauritius. We needed a relaxing and peaceful trip. After some research, we concluded that February is a good time to visit Seychelles and that it isn't as crowded as other places under our consideration. Therefore Seychelles it was! Here is our 8 days itinerary for Seychelles.
Details Of Our Seychelles Holiday Package
Trip Type: Honeymoon
Cost: INR 11350
No. Of People: 2
Duration: 7 Nights 8 Days
Inclusions: – Accommodation, Meet & Greet at Airport, 24 x 7 assistance during the whole trip, Daily Breakfast in Mahe and Praslin island, Return Ferry tickets, La Digue Boat & Bike Tour
– 50% Discount on Traditional Massages @ Le Meridien
– 2 Complimentary Sunset Sparkling cocktail on the Pontoon on one evening @ Le Meridien
– One romantic turn down on the 1st night @ Le Meridien
– 15% off in an Indian restaurant @ Mahe
– 20% off on Scuba & Snorkeling @ Mahe (With our Vendor), Visa on Arrival, All Taxes
Exclusions:Tips, Lunch & Dinner, Anything not included in Inclusions, Otional tours
Itinerary Of Our Honeymoon In Seychelles
Day 1: Arrival in Mahe and Transfer to Praslin
Day 2: Sightseeing
Day 3: Boat and bike tour to La Digue Island
Day 4: Hike to Anse Lazio via Mont Plaisir
Day 5: Return to Mahe
Day 6: Sightseeing
Day 6: Departure to Mumbai
Seychelles Visa For Indians: Applications, Requirements And More
Weather In Seychelles
Seychelles being a tropical country is hot and humid. Mornings and evenings are pleasant though. The months between April to November is a good time to visit Seychelles.
Experiences Included In Our 8 Days Itinerary For Seychelles
We lived in Ajmer and therefore we drove to Jaipur, from where we boarded our flight to Mumbai. Our flight from Mumbai to Seychelles was the Emirates and it was a comfortable flight to Mahe. The moment we stepped into Mahe, we got into our vacation vibes. Here is all that we cherished on our honeymoon in Seychelles.
1. Exploring The Island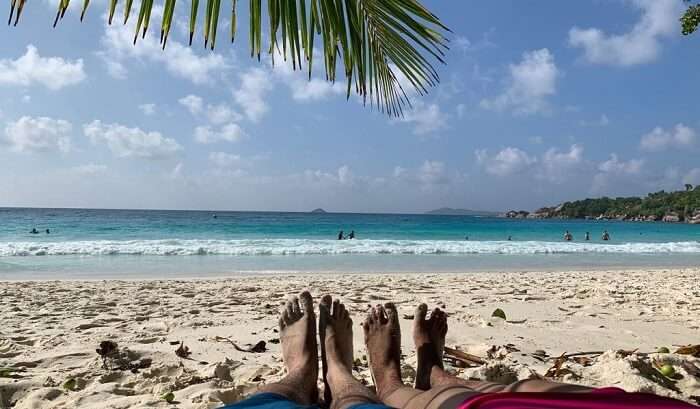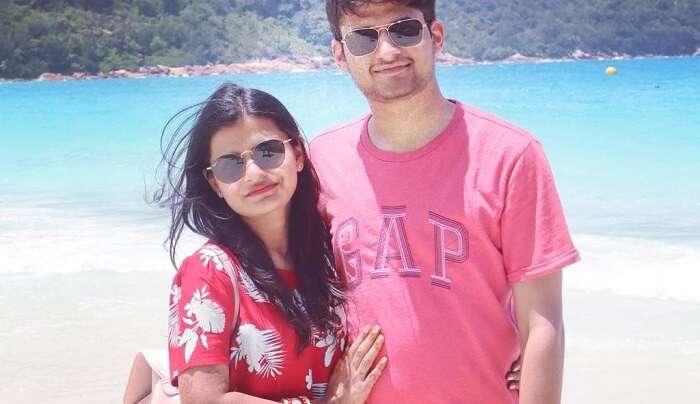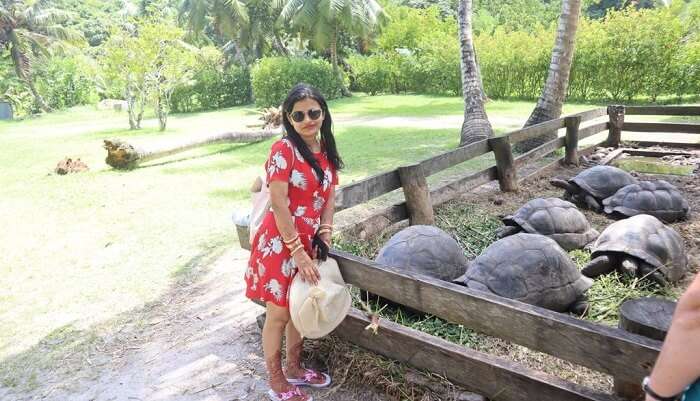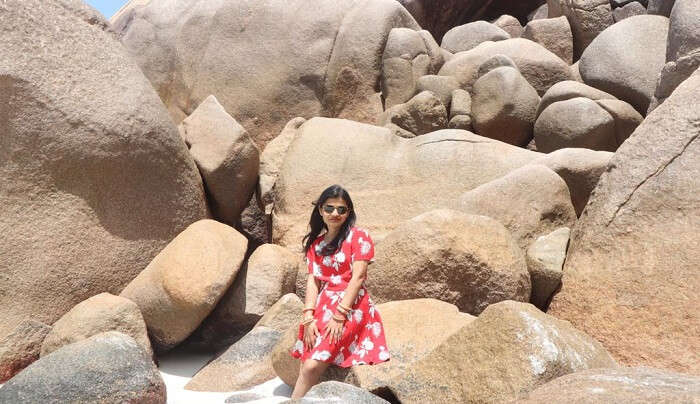 One of the best parts of our trip was that we got to explore a lot of beaches. On one of the days, we rented a self-drive car and visited the Cote D'or and Anse Lazio beach. The mesmerizing views of the island were breathtaking and we really loved every part of this drive. One of the most popular beaches of the island, it is lined with a number of shops, restaurants and other adventure activities. We went for diving in the waters of the sea.
2. Boat And Bike Tour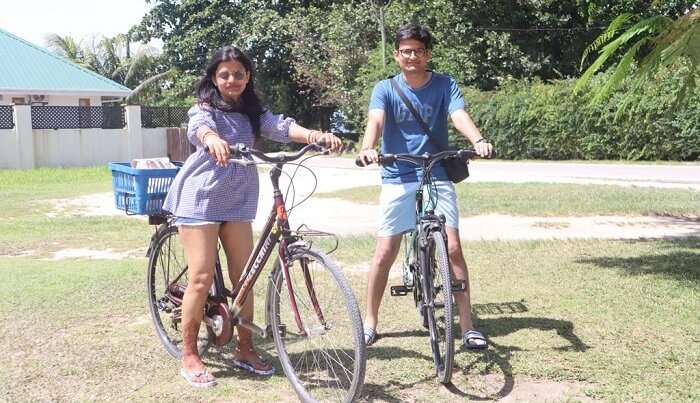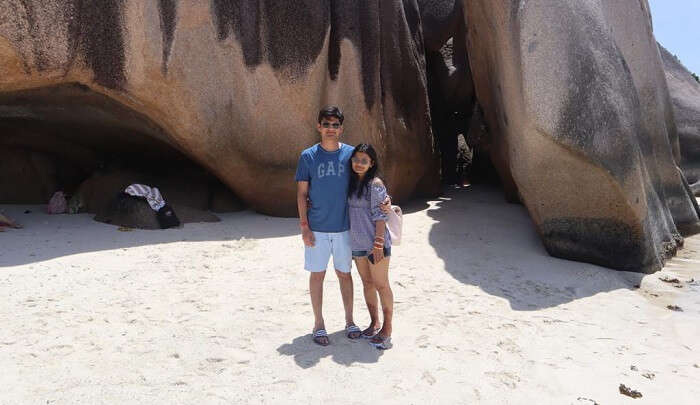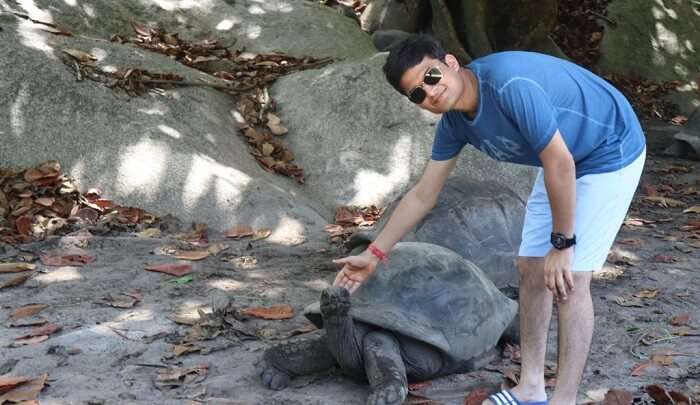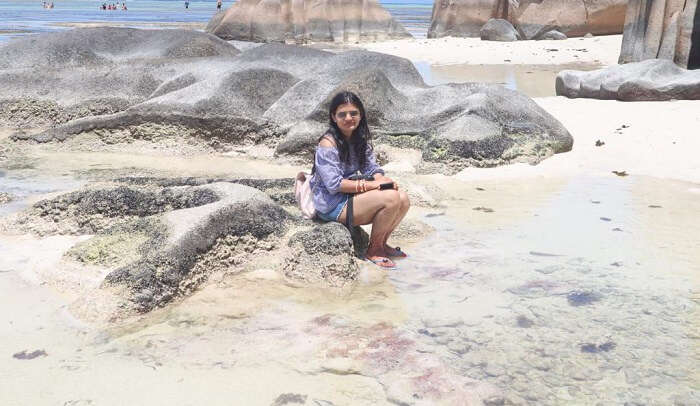 Next day, we took a boat and bike tour to La Digue Island that was included in our 8 days itinerary for Seychelles. When we arrived at the island jetty, we met our guide who gave us our bicycle to explore the island at our own pace. On our island tour, we visited the L 'union estate and the Anse Sourcebeach D'argent. Here we decided to take a swim and relax on the warm sand. We also stopped at a local church, took a lot of pictures and set exploring again. The refurbished colonial plantation house was yet another commendable place to visit on the island. In the evening and spotted some of the most beautiful and rare birds. The setting sun, cool breeze and melody of the birds chirping exactly matched our desire of a dream honeymoon.
15 Best Hotels In Seychelles For A Perfect 2022 Tropical Holiday On The Beach
3. On A Walking Trail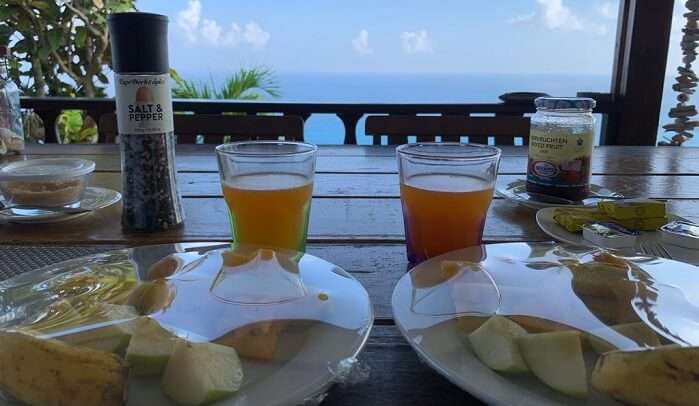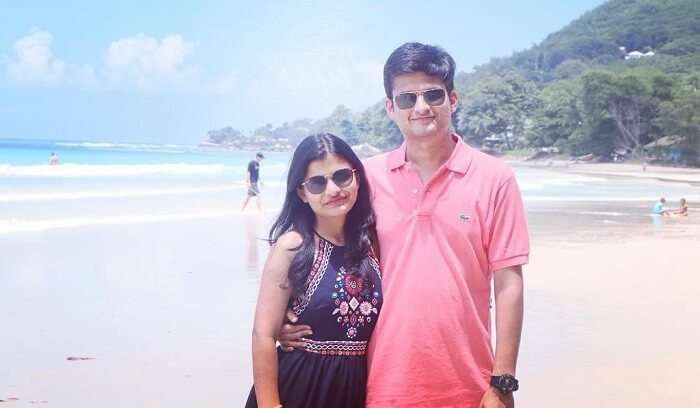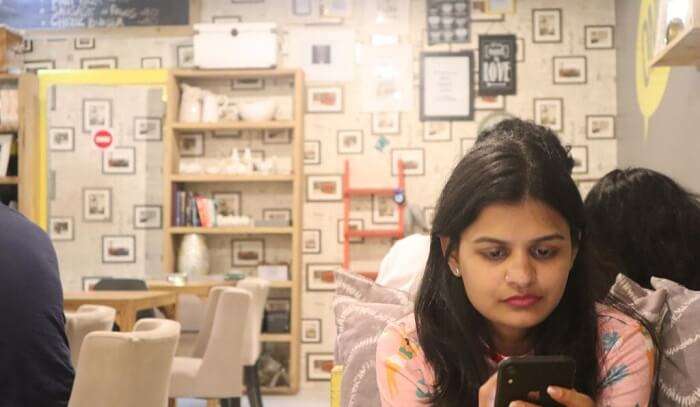 This nature's trail was yet another memorable experience. The guided nature trail began from Anse Lazio. On our way we got to discover the endemic flora and fauna of Seychelles. We loved the panoramic view of Anse from the hilltop. The tour was approximately an hour long. After the walk, we stopped at the Bonbon Plume Restaurant where we enjoyed delicious Creole lunch. Anse lazio is known for it famous snorkeling site and it was a wonderful experience.
4. City Tour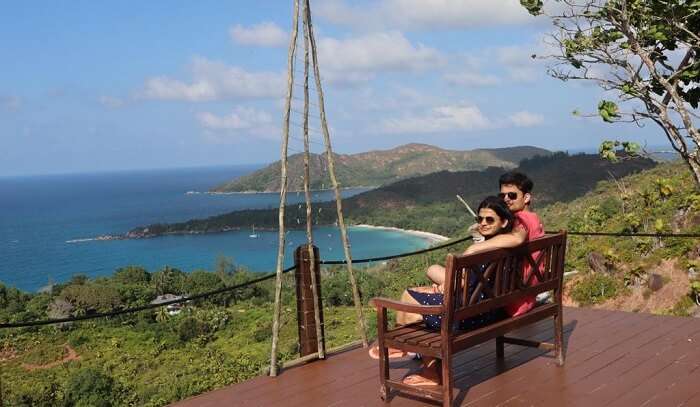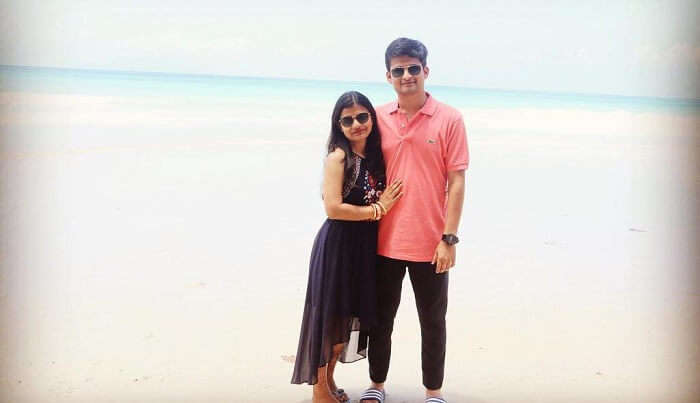 After a trip of Praslin, we returned back to Mahe. In Mahe, a city tour was well-planned for us in advance. Here after, we visited the Botanical Garden. Here we discovered coco de Mer, giant land tortoises and fruit bats. We also went to the souvenir kiosks at the Esplanade and we also went to see the National Library. Later, we proceeded to Eden Island where we came across sophisticated mansions and apartments with elegant Marina and malls, casinos. On our way back, we also stopped at the view point to admire the stunning views of Victoria and the neighbouring islands.
5. Trip To The Southern Part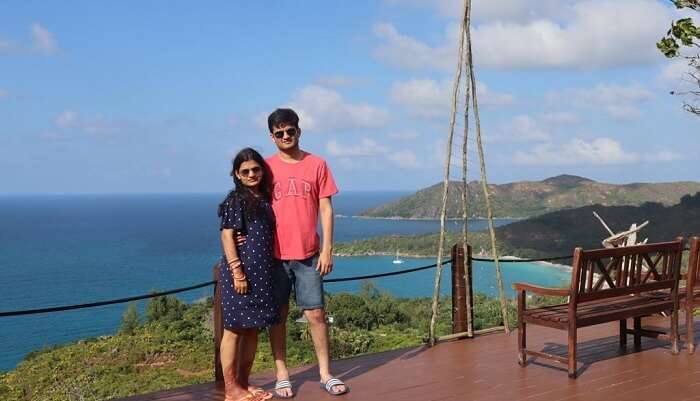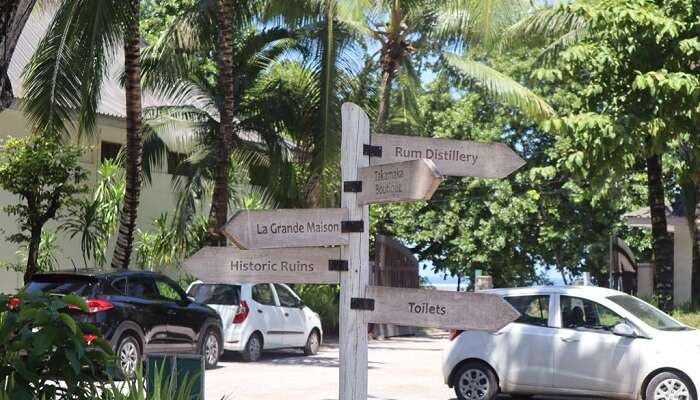 On one of the amazing days of our trip, we got a chance to explore the southern part of the island including Anse Intendance, Anse Soleil, local rum Distillery and Victoria City market. It was a beautiful experience to come across the history and culture of the city and enjoy a wonderful vacation here.
Where To Stay In Seychelles
On our 8 days itinerary for Seychelles, we stayed for a total of 7 nights. 4 nights in Praslin and 3 nights in Mahe. In Praslin we stayed in Terrasse Sur Lazio, an Airbnb property that is on the top of Mont Plaisir that offers out of the world view of Anse Lazio. It turned out to be our best time in Seychelles. In Mahe, we stayed at Le Meridian Fisherman's Cove in an Ocean view deluxe room. The property is situated on Beau Vallon Beach. Offers great services and is in the heart of the city with a lot of places accessible on foot. The room is literally 15 meters from the ocean and offers amazing views. Although well maintained, it is one of the oldest 5-star properties there and is starting to show its age. (Be sure to ask for Ricky if you stay there. He is a porter cum water sports instructor cum waiter and is hospitable and helpful)
Shopping
There isn't much to shop. There are some souvenir shops in Victoria, Mahe that offer better prices than other places.
Food
Seafood in Seychelles is heavenly, but us, being vegetarians, didn't have many options. We carried a lot of snacks with us. Meal for 2 in Seychelles usually costs around 30-40 Euros and there are many restaurants in Seychelles to choose from.
Praslin: We got our food cooked by out caretaker in the Airbnb villa.
Ristorante Da Luca Gelateria near Cote D'Or beach: The place a very few places that offer vegetarian food in Seychelles but offers decent pizza.
BonBon Plume at Anse Lazio beach: again, very few vegetarian options. Had fries and shakes there.
La Digue: Enjoyed our lunch at Le Repaire. This probably was the best food we had on our trip. It is a must visit. The Italian Chef there makes out of the world wood fired pizzas and is an interesting person to talk to.
Mahe: Since we stayed close to Beau Vallon beach, we had ample options to eat here.
Copper Pot: 10 mins walk from our resort; the place is run by a south Indian family and offers dosas and idlis at unbelievable prices. Not to be missed.
Mahek: located right on the Beau Vallon beach in Coral Strand resort, it is an Indian restaurant.
Baobab Pizzeria: again, right on Beau Vallon beach, the place serves nice pizzas. It is always crowded so expect a 30-40 mins waiting time during lunch hour. But it is worth the wait.
Maharajas: A unique and classy Indian dining experience in Eden Island right by the sea where you can feed fishes with the leftovers as well. A must visit.
Chatterbox café: A café in Eden Plaza, Eden Island. Offers a wide range of quick bite options.
Monsoon In Seychelles: A Handy Guide To Explore The Country In The Rainy Season
Dos And Don'ts
Do stay at Praslin. Carry your Indian license. The best way to explore is to hire a self-drive car.
Go hiking in Praslin to Anse Lazio and Anse Georgette.
Do negotiate: For car rentals, taxis etc.
Do visit La Digue for a boat and bike tour. Not to be missed.
Do visit Sunset beach in Mahe.
Avoid leaving hotel premises after sunset.
Tips For Travelers
Carry Euros. Exchange the same with Seychellean Rupees at the earliest otherwise you end up paying the exchange difference everywhere.
Book well in advance to get the best prices.
In Mahe, try staying near beau Vallon. Other places are away from the city center and commutation is a challenge.
Don't visit Eden island on Sundays as everything is closed.
What To Pack
Light cotton clothes and glasses
Swimwear
Sunscreen
Beach bag, beach towels
Snacks if you are a vegetarian
Our Experience With Travel Triangle
Booked the trip with Holidays box. Poulami has a lot of knowledge about the place and was helpful. Was a satisfactory experience overall.
Here's Your First Time Guide To Seychelles By Sandesh Kumar
Seychelles with its natural beauty and beautiful surroundings attracts one and all. If planning a trip to Seychelles is in your mind, then TravelTriangle can help you plan your 8 days itinerary for Seychelles for a vacation to the islands.
Common Queries
Does it rain much in Seychelles?
Though it rains in Seychelles every year, a more than average rainfall is experienced between the months of November and January. The rain lasts for less than a minute and travelers tend to experience short showers.
What is the best month to visit Seychelles?
The best time to visit the Seychelles in the months of April, May, October and November. The weather in these months are the transition times between the hot and cold winds and travelers can experience an awesome weather.
Is food and drink expensive in Seychelles?
Yes, food and drink options are a little expensive in Seychelles. It is best to go for budget-friendly restaurants and cafes.
Is Seychelles better than Maldives?
Both the Seychelles and Maldives are known for their beautiful beaches and peaceful island life. Both have their own uniqueness and travelers can enjoy something different in both the destinations.
Comments
comments