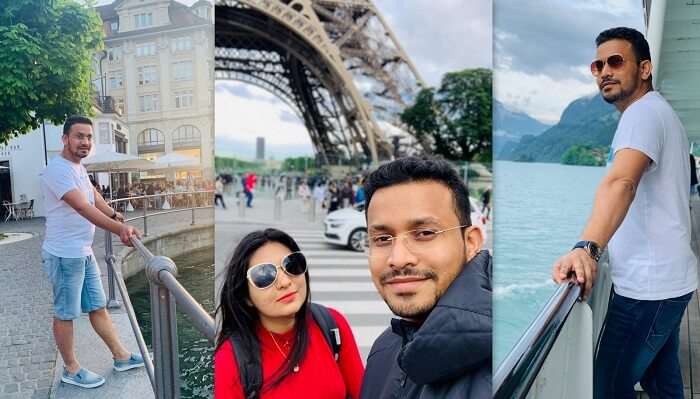 After wandering amid the tropical destinations of the world, Priyank and Mitali decided to head to the cooler places next. With a desire to witness snow and some brilliant European architecture, this traveler duo decided to spend 9 days in Switzerland, Amsterdam, and Paris. Let their charming journey tell you how to plan an awesome-sauce holiday in Europe for yourself!
My wife and I are very fond of nature and winter. We have been to many beaches before and this time we planned to witness snow. This is why we had selected Europe for our next getaway.
I had traveled via TravelTriangle 4 times before, so I obviously reached out to them for this trip as well. They helped a great deal in planning an executing my trip, and making it so wonderful and memorable!
Details Of Our Trip To Switzerland, Amsterdam & Paris
Trip Type: Family
Trip Cost: INR 3,46,720/-
No. Of People: 2
Trip Duration: 8 Nights 9 Days
Inclusions: Breakfast, airfare, airport transfers, accommodation, sightseeing, Amsterdam HOHO tour, Eiffel Tower ticket, travel insurance
Exclusions: Lunch, dinner
Highlights Of Those 9 Days In Switzerland, Amsterdam, Paris
Day 1: Amsterdam Canal Cruise
Day 2: Amsterdam Hop-on Hop-off City Bus Tour
Day 3: Transfer from Amsterdam to Paris by train
Day 4: Eiffel Tower and the Seine Sightseeing Cruise
Day 5: Transfer from Paris to Lucerne by train
Day 6: Panoramic views from Jungfrau
Day 7: Interlaken tour
Day 8: Rhine Falls
Day 9: Departure
 Top 20 Things To Do In Switzerland On Your Europe Holiday In 2022
Weather In Europe
May marks the onset of the summer season in Europe and is a rather pleasant time for sightseeing and engaging in various activities in Europe. The average temperature at this time stays at around 23 degree Celsius.
We really enjoyed the weather. It was totally awesome! There was soothing rainfall one moment, and lots of sunshine the next. We could also play in the snow as we had wanted, and enjoy cool windy evenings. At the high altitude areas like Mt Titlis and Jungfrau, the weather was much like the ideal Switzerland weather in winter!
Best Experiences Of Our Trip To Switzerland, Amsterdam & Paris
We would like to share the most awesome experiences we had our tour so that you don't miss out on them when you're taking your own trip to Europe.
1. Amsterdam Canal Cruise


We totally enjoyed the canal cruise on the evening of our arrival in Amsterdam. All you do here is simply watch the lit colorful European houses and streets pass you by and you sail calmly over the water. But that too has a charm of its own. It's an utterly relaxing and peaceful activity and will give you gorgeous views of the city from a great perspective. It's a must-try for all those visiting this city, especially the first-timers.
Hiking In Switzerland: A Guide For Embarking On A Journey With Splendid Views In 2022!
2. Amsterdam Hop-On Hop-Off City Bus Tour


This is a great option for those who like to explore at their own pace. With our HOHO Bus (or Boat Pass), we could hop on a bus (or boat) from the designated HOHO stops and tour the city leisurely and comfortably. The bus took us to various attractions around the city Frank House Museum, Jewish Cultural Quarter, Artis Royal Zoo, Rijksmuseum, Stedelijk Museum, Madame Tussauds, and many more. We had the option to conveniently get down at any stop and get on another bus from the same stop once we were done with that particular attraction. This bus also has an audio guide for all the attractions it covers in 18 different languages. It's the best way to tour this amazing city!
3. Eiffel Tower Tour In Paris

We were blown away by the outstanding views of Paris from the top of this world-famous tower. The whole city looks just mesmerizing from up here, and we could see for miles into the distance. We could admire the views of many attractions from the top, including the River Seine, the Medieval Notre Dame Cathedral, Montmartre District, the stunning Sacre Coeur Church, and some beautiful bridges in the distance. We also clicked plenty of attractions against this massive structure when were at the bottom. We just couldn't get enough of the beautiful Eiffel Tower.
4. Seine Sightseeing Cruise


This is another fabulous cruise ride that we undertook, and loved every bit of it! The Seine Cruise took us in the heart of Paris and let us bask in the exceptional views of the bridges and monuments of this fascinating city while it glittered at night. Just like Amsterdam, Paris too comes to life at night and we had the best views of all the action from our lavish seats on this enormous cruise ship. It was one of the best things we did during our 9 days in Switzerland.
 Hiking In Switzerland: A Guide For Embarking On A Journey With Splendid Views In 2022!
5. Panoramic Views From Jungfrau Glacier


We were totally excited about our tour to Jungfrau and for seeing the snow, and needless to say, it was way more beautiful than we had expected! We got to understand why being surrounded by the Swiss Alps is one of the best feelings in the world! With our Swiss Pass, we took a train to the scenic town of Kleine Scheidegg, and then another train from there to get to the most magnificent mountains of Jungfrau that sit at an elevation of 4,158 meters in the Bernese Alps. We had a great time playing in the snow and clicking hundreds of pictures. The beauty of the snowy views from up here cannot be described in words!
6. Rhine Falls Boat Ride

The boat ride under the Rhine Falls takes you under this gigantic waterfall for just a moment or two, but that is enough to get you completely drenched! Thought the boat ride didn't last that long, the experience was overwhelming, and the beauty of this place left us speechless! If you do not wish to go boating here, you can simply watch the waterfall from the viewing platforms or the elevator, and its beauty will still blow your mind. This tour too was a part of our Swiss Pass.
7. Train Rides Across Europe

We could easily commute by train from one city to another in Europe with the help of our Swiss Pass. but it's not just the ease of travel that made this an awesome experience for us, but also the comfort and stunning views of Europe that we were blessed with en route. From the charming European houses and architecture of the cities to the gorgeous countryside, we never got tired of the surreal vistas wherever the trains took us. Eurail took us past postcard-perfect rural settings, rolling fields that looked like carpets of green, wooded houses adorned with flowers, black and white cows grazing peacefully, shimmering rivers, snow-capped mountains, neat rows of tall pine trees, and so much more that is forever etched in our minds!
 Treat Your Taste Buds With Luxury At These 10 Best Restaurants In Switzerland!
Our Accommodation In Switzerland, Paris & Amsterdam
Hotel Ramada Amsterdam – this is located very close to the city center so it was pretty easy for us to go around and check out the places nearby. The rooms were awesome and provided us with fabulous views of this city. We have not seen such clean rooms in our entire lives! The hospitality was great and the staff was quite helpful. They even provided me printouts of my tickets upon request.
Hotel Paris Louis Blanc – This is located right in front of the metro station and the market, which was very helpful for us. Though the rooms were small and not up to the mark, the hospitality was great and totally made up for it!
Hotel Drei Könige Lucerne – Again, the location was perfect since the property is located near the train station. Through the rooms were very small, they gave us such beautiful views of the city! The staff was very helpful, but we feel they should be a little flexible with their policies. There were limited options in food.
Apart-Hotel By Hilton Zurich – This property is located right next to the airport and the rooms are very nice. The staff was very helpful and friendly. However, the food here isn't up to the mark.
Food In Europe
You will easily be able to find Indian food in Switzerland and the other two cities at every nook and corner and the taste will be good. The food in Europe is generally costly but the variety and taste will surely make up for it. No matter where you choose to dine – restaurants, cafes, food trucks, roadside vendors – you will always find that the food is of great quality, superb taste, and very hygienic. And while European food may be dominated by meat, you will find endless options of good vegetarian food at every corner. There are a great many Indian restaurants in Amsterdam, Paris, Switzerland, and other cities of Europe.
 13 Astounding Things To Do In Interlaken In 2022, The Adventure Capital Of Switzerland!
Our Shopping Experience In Europe
If you're looking for the best things to buy from Europe, you must head to Zurich and Paris which are two amazing shopping destinations. You will be able to grab quality goods like clothes, perfumes, cosmetics, bags, and much more at considerably generous prices.
What To Pack For A Switzerland Trip
The weather in Switzerland can get unpredictable even in May. And while it will be generally cold there with frequent rain and sunshine, the weather in Paris and Amsterdam will be slightly warmer than that of Switzerland. So, don't forget to pack the following items for spending 9 days in Switzerland, Paris, and Amsterdam.
Sunglasses
Hats or caps
Full-length bottoms
Clothes that can be worn in layers
Light-weight long sleeve shirts
Scarves or stoles
A jacket, sweatshirt, or coat
A sweater
Umbrella or raincoat
Some Paris, Amsterdam, And Switzerland Travel Tips
We have some advice for people traveling to Europe. Sticking to these can make sure you have a smooth and comfortable holiday experience there.
Do not litter.
Carry some amount of packaged food with you.
Don't use your card to withdraw money from any ATM. They charge a very high rate.
Gloves and a winter jacket are a must for mountain expeditions.
Keep your Swiss Pass handy at all times.
Do not overstuff your luggage. Plan your clothing for each day and only pack what you'll need.
Prefer hotels that are near to the city centre.
Beware of pickpockets and thieves in Paris. Do not leave your belongings unattended and do not stop to sign for any cause as it could be a trick to steal your belongings.
Keep your important travel documents handy, especially your passport. Make sure you have pictures or scanned copies of all your travel documents on your email.
Don't carry too much cash.
Don't forget to get your phone recharged for international roaming. You will need the internet for figuring out directions, nearby restaurants, and much more.
English isn't a widely spoken language in various towns and cities of Europe, so you will have to rely on Google a lot.
Our Experience With TravelTriangle
Other than a misunderstanding with the agent and confusion at the time of airport transfer during departure, everything else was fine. We would like to suggest that the travel agents should always stay in touch with the traveler even regarding the smallest of things, and take all actions only after the approval of the traveler, especially when it involves confirming the visa interview dates.
 Our Trip To Europe In May Was Nothing Less Than A Dream Come True!
Now that you know how much fun this lovely couple had during those 9 days in Switzerland, when will you be planning yours? All that you have to do is get in touch with TravelTriangle's experts and let them plan a kickass vacation in Europe for you and your loved ones that is well within your budget. And once you're back, don't forget to write to us about your fabulous trip experience!
Common Queries We Had While Planning Our Holiday
We had a small number of doubts while we were planning our holiday and considering what we should do in 9 days in Switzerland and other places. Now that we're back, we would like to answer them to help others book their trip comfortably.
Is Switzerland expensive to visit?
Yes, Switzerland can turn out to be an expensive destination for Indian travelers. The food as well as commuting within the country is in itself a costly affair, especially around the peak season between March and June.
How much does a meal cost in Switzerland?
The food in Switzerland tends to be costly, especially if you're eating in a proper restaurant. A meal for 2 people in a mid-range restaurant in Switzerland can cost somewhere between INR 4,000/- to INR 7,000/-. In order to cut down on your cost of food in Switzerland, make sure you carry some packaged knick-knacks for small hunger pangs in between meals. The street food in Switzerland is absolutely hygienic, delicious, and of great quality no matter which part of the country you're in. So, you can buy food from roadside vendors and food trucks too instead of sitting in lavish restaurants that will also charge you for the service and comfort they provide.
What is the cheapest thing to buy in Switzerland?
You can buy souvenirs in Switzerland for a really low price. Items like fridge magnets, key chains, t-shirts, postcards, cow miniatures, decorated pine cones, hats, mugs, Swiss bells, and shot glasses won't cost you much. Even the original and authentic Swiss cheese can be bought at any grocery store or food market for dirt cheap rates. However, the typical and popular Swiss goods like Swiss knives, watches, and chocolates, they can turn out to be a little expensive.