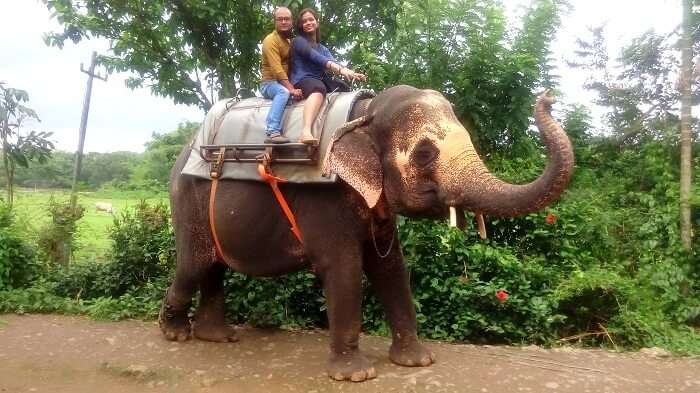 Experiencing the best of lush topography, lively culture, and intense heritage, Abhilasha elaborates on how her trip to Kerala that she took with her husband left an unforgettable impression on her mind. She booked their package from TravelTriangle for INR 20,000 and it included their transport, breakfast, hotel, and houseboat. Let us hear her story.


My husband and I wanted to take a refreshing vacation in the background of lush greenery and cool weather. Since Kerala was a mix of both hills, seashore, and greenery, we chose it as our holiday spot. Decided on our destination, all that was needed now was a package to Kerala.
Fortunately, this is where TravelTriangle stepped in. We found TravelTriangle on the internet and liked their system of connecting us to various local agents of the place for best prices, packages, and customization. Subsequently, we filled in our details and true to their promise, were contacted by their representatives regarding our trip details. We chose the best package from one of their agents and were all set for a vacation in the lush green ambience of Kerala.
The countdown for our vacation had just begun.
Day 1: Arriving in Kerala- the land of lush greenery!
We boarded our flight for the beautiful Kerala from Mumbai and arrived at the Kochi international airport on a bright sunny day. Our excitement level reached the zenith as soon as we witnessed the eternal greenery of this state.
Soon, we were picked up by our driver cum guide, Jinu, who was assigned to us by the travel agency. He proceeded to take us to Munnar with stoppages at various other alluring places en route.
The scenic views on our way were enchanting and we stopped by at some places to catch sight of beautiful waterfalls.
The rush of these waterfalls was a gentle reminder of the beautiful things that were yet to be witnessed. Suddenly, we were all joyful and happy and looked forward to witnessing the beauty of God's own land!
On our way to Munnar, we stopped at a spice garden to broaden our knowledge on various kinds of spices and in the evening as we were about to reach our destination – watched the famous Kathakali Show.
This show was a perfect mix of amazing dance moves and facial expressions, especially of eyes and mouth. Soaking in the artistic culture of Kerala, we continued our journey and later reached our hotel.
Our hotel – "Estate Residency" was built on the top of a hill slope and looked as if it was straight from a picture book.
The finest part of this hotel was that there was a garden in front of our room so that we could spend quality time in serenity. Also, we loved the whole arrangement and service that the hotel staff delivered.
Later, we had our dinner and called it a night.


Day 2: Munnar- Enjoying the serenity of the tea town
Suggested Read: 12 Festivals In Kerala To Experience The Rich Traditions Of God's Own Country
We knew that the real beauty of Kerala was yet to be explored for the captivating Munnar still awaited us. So, we woke up with a feeling of excitement and then proceeded for a delicious breakfast at the hotel.
Soon we were ready for Munnar and were picked up by our driver for rejuvenating tour of the city.
Our first stop was a Tea Garden that had lush green plantations which had a refreshing effect on us. Post the tea garden tour, we went to our next stop – Dreamland spice park.
This was an adventurous park where we could choose from exciting activities like river crossing, badminton, rope climbing, net crossing among others, and have fun. We indulged in a few of them and had a thrilling experience.
Thereafter, our driver took us to catch a sight of an extraordinary waterfall. The sound of plunging water invoked a deep sense of pleasure to our ears and spending memorable moments with my husband here was a cherishable experience for me.
Later, the driver took us to a flower garden which was a delight to our eyes since it was filled with different colors of flowers. The fragrance here was mesmerizing and soothing to our senses.
The visit to flower garden was followed by the Mattupetti Dam, where we could witness the extent of the large dam. Standing here in the background of water, we felt peaceful and calm.
Next on our list was the famous –Echo point, where one could scream as loud they wanted and then wait for a few seconds to hear the echo. This place had a rejuvenating calming aura and we felt refreshed amidst the cool breeze and beautiful greenery.
Munnar turned out to be a great experience for us for there were tea plantations and floating clouds all around. This was a land beckoned for the nature lovers like us! And, it was perfect!


Day 3: Thekkady- Exploring the culture of Kerala
Suggested Read: 15 Gorgeous Waterfalls In Kerala That Will Enthrall You
We woke up early in this morning to an enthralling view outside our room. Breakfast was done quickly and soon we were all set to take the road trip from Munnar to Thekkady.
Munnar had raised our expectations higher and we were now even more excited for our trip to Thekkady.
We reached Thekkady as per schedule and checked into our hotel – Karar Garden Residency. Post this, we explored our luxurious room and other parts of the property. Like our previous hotel, this one too had a well-maintained garden and we loved the whole serene ambience that this place offered.
Soon, we settled in our room and relaxed for a while before proceeding on for sightseeing. Later, our driver picked us up for the same.
Our first stop was the Elephant Junction, where we could indulge in a thrilling elephant ride. This ride was an awesome experience and we were also able to witness the elephants taking a bath in the river.
We clicked many pictures with the elephants and out of all of them, our favourite ones were named Leela and Veena. All of this was so entertaining that we did not even realize how time flew so soon.
Post this, we did our lunch and it was a delicious affair.
Suggested Read: 13 Best Kept Secrets of Kerala That Locals Have Been Keeping To Themselves
Our evening time was reserved for a Kalari Martial Art show which gave us a glimpse of the Indian art of battles. This was an uplifting experience for our senses for it picturised the true spirit of Indian explorers and soldiers. It was an exciting show and we loved it!
Next was the Musical fountain show, which was a mesmerizing experience since it was a mix of fountains and beautiful colors complimented by soothing music.
Having spent the entire day enthusiastically, we returned back to our hotel, had a delectable dinner and called it a day!


Day 4: Alleppey- Best ever houseboat stay
Feeling more than excited for a full day houseboat stay in Alleppey, we checked out from the hotel after a quick breakfast and boarded our cab with great enthusiasm.
Going downwards from the hills to the seaside, we noticed that Kerala had very clean roads that were so well kept that everything simply looked fabulous. We were truly impressed and awestruck by the attention to detail regarding EVERYTHING in Kerala.
We reached Alleppey on time and saw dozens of houseboats lined on the shore, each one, with unique architecture. I had never anticipated that a boat could have such grand architecture and look so beautiful. Soon enough, we were allotted our pre-booked houseboat and we were now ready for a tour into the backwaters.
Our dream to stay at a houseboat had come true, finally! Soon we began our trip to the backwaters and were awestruck by the greenery and refreshing ambience that this place held. Rejuvenated and refreshed, we realized how the scenic views of the ride had soothed our senses and given us a free of cost nature therapy!
The whole experience of this serene place cannot be described in words and in the end, we will always cherish the memories we made here.
Post a romantic dinner at the houseboat, we went to bed and had a good night's sleep in the lap of nature.


Day 5: Sightseeing, Beach, and Departure
Suggested Read: 57 Best Places To Visit In Kerala For A Vacation To Remember
This last and final day of our tour started off with a delicious breakfast post which we packed up our bags and checked out from the boat. We boarded the cab and on our way to the airport, visited interesting places like tea factory, museum, church, and a picturesque beach.
Afterwards, our driver dropped us at the airport and we boarded our flight back to Mumbai.
Our trip ended on a happy note since my husband and I had a great time in Kerala. We were in the lap of nature and spending quality time with each other was a privilege. We loved every bit of Kerala, its friendly people, marvelous nature, lakes, sceneries and more. Kerala will always be special for us and we would definitely want to come back to the paradise once again!
High Points:
Since we are vegetarians, our guide took us to the best vegetarian restaurants for lunches and dinners.
Munnar was an amazing experience and we loved every bit of nature and sightseeing we did.
The houseboat stay in Alleppey was a glorious experience for us.
Tips for future travelers: Kerala offers an amazing mix of nature, culture, and wildlife and is a must-visit destination for all those wanting a perfect retreat in the lap of nature.
Experience the best of nature, wildlife, and culture on a trip to Kerala! Have a peaceful retreat in the tropical ambience of Kerala! Book your package now!