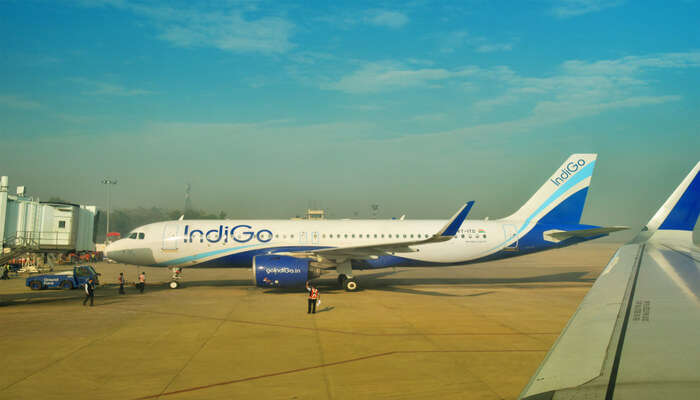 The city of Varanasi is where the river Ganga flows which is absolutely staggering. This city was previously called 'Banaras' and is older in history as well as in tradition. Varanasi city is considered as the spiritual city of India. This city is almost 3000 years old and has many temples situated here. One of the most-visited places in Varanasi is the Ganga Ghat which is why the place is always packed with tourists and locals. There are many ways to reach Varanasi and one of them is via airways. If you are planning a getaway to Varanasi and looking for the fastest way to reach the destination then this list of airports in Varanasi will help you plan better.
5 Airports In Varanasi
These airports in Varanasi are well-equipped with the basic facilities. Going Varanasi by air is one of the fastest ways to reach this destination. So, here is the list of the airports that are in or near Varanasi.
1. Lal Bahadur Shastri Airport
The nearest airport near Varanasi is Lal Bahadur Shastri Airport situated in Babatpur, which is 26 km away from the city of Varanasi. This airport is named in the year 2005 October under Lal Bahadur Shastri who is our country's second prime minister. This airport provides all the required facilities for the passengers. This airport has good connectivity of buses, autos, cabs and different taxi services to the city and also protection by local police is well organized. Most people prefer railways to visit Varanasi but airways are also at very reasonable and also the fastest way to reach the city. It has connections to almost all the major cities of India. There is a direct flight to New Delhi also every day. Sometimes there are indirect flights that may take a long time but are relatively less price when compared to direct flights. The distance from the airport to the city is also very less and mostly saves time. There is tight police security that helps tourists to feel safe at this airport.
Must Read: 39 Places To Visit In Varanasi In 2022 For The Best Of Culture, History, & Spirituality
2. Allahabad Airport
Allahabad Airport is one of the nearby airports of Varanasi apart from the well-known Varanasi Airport. The aerial distance from Varanasi and Allahabad is just 112 kilometers away. You can have all types of transport like cars, buses, and trains to reach Varanasi. The driving distance between Varanasi and Allahabad is just 124km which can be reached in 2 hours by road. There are also many trains from Allahabad to Varanasi city in a total of nearly 31 direct trains. It is almost 119km if we travel through trains. There are also different taxis and cab facilities where we can reach Varanasi from Allahabad airport.
Suggested Read: Choose The Best Travel Insurance In India In 2022 With Our Guide
3. Patna Airport
Every week nearly 32 flights with all different airlines take off from Patna city to Varanasi. You can have both direct and indirect flights offered by some reputed airlines. Indirect flights may involve more travel time, but they usually cost lesser than direct flights. It is recommended that you book a round-trip since it always works out to be more economical. Jai Prakash Narayan International Airport i.e. Patna Airport is situated 5km away from the city. The distance between Patna and Varanasi is 245 km away and the flight time taken is just 20 minutes. So you can opt for Patna airport if you wish to travel to Varanasi.
Suggested Read: Raneh Falls: A Detailed Guide On Exploring The Grand Canyon Of India!
4. Bhairawa Airport
Bhairahawa Airport is also known as Gautam Buddha Airport. It often serves the municipality of Siddharthanagar which is situated in the Rupandehi District of Nepal. The distance between Bhairahawa and Varanasi is just 248 km away from each other. The road distance is just 294.2 km. Indian Railways has a train from Bhairahawa to Varanasi twice a week which is very helpful because most of the tourists prefer rail journey to Varanasi. Tickets cost is around 180 rupees to 200 rupees and the journey takes nearly 7 hours. Every day there is a flight that travels from Bhairahawa to Varanasi once through Buddha airways. Drive from Bhairawa to the city just takes nearly 4 hours. But the cheapest way is only by train. Spice jet, Nepal Airlines, Buddha Air Ltd and Indigo Airlines offer flights from Varanasi Airport to Bhairawa Airport.
Suggested Read: Top 12 Summer Festivals In India You Shouldn't Miss In 2022
5. Lucknow Airport
Chaudhary Charan Singh Airport is an international airport situated in Lucknow. It is the capital city of Uttar Pradesh. It is situated in an area called Amausi and was earlier known as Amausi Airport before being renamed after Chaudhary Charan Singh, the fifth prime minister of India. You can get the best airfare of Rs 5880 when flying from Lucknow to Varanasi. There are 69 flights flying from Varanasi to Lucknow every day. The first train from Lucknow to Varanasi is BE BSB Express with departure at 00:15 from Lucknow Railway Station (LKO). The fastest way to reach Varanasi from Lucknow takes you -11h 0-40m, which is to take Ljn Bcy Exp from Lucknow to Varanasi.
Further Read: Go Karting In India: A Thrill Ride Awaits At These Exciting Venues Across The Country In 2022
So, here is the list of all the airports in Varanasi where you can land to if you are planning a vacation. These airports offer all the basic facilities that are required at such places. So, what are you waiting for? Plan your hassle-free trip to Varanasi with TravelTriangle and get a personalized trip. Convince your friends or surprise your family with a vacation to Varanasi this year and fly to it quickly.
Disclaimer: TravelTriangle claims no credit for images featured on our blog site unless otherwise noted. All visual content is copyrighted to its respectful owners. We try to link back to original sources whenever possible. If you own the rights to any of the images, and do not wish them to appear on TravelTriangle, please contact us and they will be promptly removed. We believe in providing proper attribution to the original author, artist or photographer.
Please Note: Any information published by TravelTriangle in any form of content is not intended to be a substitute for any kind of medical advice, and one must not take any action before consulting a professional medical expert of their own choice.
Frequently Asked Questions About Airports In Varanasi
What is Varanasi famous for?
Varanasi is famous for silk and muslin fabrics, designer ivory items, scented bottles, and diverse cultures. It is also well-known for its old history and traditions. It has 2 large temples for Vishnu and Lord Shiva which attracts many tourists. The main attraction of this city is river Ganga and Ganga Ghats which bring more serenity and beauty to this city. You can see the Mughal architecture and oldest forts and courtyards all over the city.
How can I go to Varanasi?
You can get to Varanasi by air, road or railways. All the possible transport systems are available in this city. The airport in Varanasi is linked to all the major cities of India. It also provides bus facilities and taxi facilities all over the city. You can find the railway station in the city which has trains to almost every important state and city. You can also self-drive and such facilities are also provided.
What are the places to stay in Varanasi?
While planning for a stay, it is always recommended to book hotels or lodging which has the view of river Ganga and also which is easy so that we can walk to all the major temples. High-end hotels are near the cantonment area of Varanasi. Reviews for hotels near Dashashwamedh Ghat are mostly preferred by tourists. Avoid staying in the main town if you are not willing to have noise.
What is the best time to visit Varanasi?
Varanasi is supposed to have a very tough summer. So, people usually do not prefer to visit Kashi during the summer season due to its high temperatures. Not only summer but Rainy season from months of July to September there would be heavy rains where it becomes difficult for the tourists to explore the city. From beginning of October until the end of March would be the monsoon season which is the best time to visit the city. During this time they conduct different festivals and some pious rituals to make the tourists have a pleasant and joyful time.
Are Kashi and Varanasi the same?
Varanasi or Benaras or Kashi all are only one city. They are named differently as time passed by. Currently, it is known as Varanasi.
What is the name of Varanasi Airport?
Varanasi airport has been constructed in Babatpur which is popularly known as Lal Bahadur Shastri Airport. This airport is named under the second prime minister of India. This airport's IATA code is VNS. It is almost 26 kilometers northwest of the city Varanasi.
How many airports are there in Uttar Pradesh?
There are only 2 main international airports present in Uttar Pradesh. They are named as Chaudhary Charan Singh International Airport which is situated in Lucknow and Lal Bahadur Shastri International Airport which is in Varanasi.
Do we have any hotels near Varanasi airport?
There are many attractive deals that are available on hotels near Lal Bahadur Shastri International Airport. The hotel price starts from INR 203 near to this airport. You can find many hotels, OYO rooms and expensive suits around the airport which you can book on different sites according to your budget and requirement. They have a very clean and hygienic rooms with all basic amenities.
How far is Varanasi airport from the city?
The distance between Varanasi city and Varanasi Airport is nearly 18.9 Km. This Airport is situated to the north-west side of the center of the city Varanasi. Varanasi is well connected with all the major cities of India like Delhi, Mumbai, and Lucknow. There is also a direct flight that travels daily from Varanasi Airport to New Delhi.
What are some of the things that are must to do in Varanasi?
You cannot miss the Holy Water of Ganga when you visit Varanasi. Varanasi is best known for its Banarasi silk sarees. They are woven here and transported to all over India. So don't miss to purchase them. Take a mandatory Bath in Ganges river. You cannot miss the sunset that can be seen near the Ghats. Sightseeing Tour of Sarnath is one of the famous trips. Another major thing is the Aarti ceremony that is performed at the Varanasi temple at the Ganga river is worth watching. People come from distance just to watch this ceremony.
People Also Read:
Airports In Tamil Nadu Airports In Karnataka Airports In Kerala