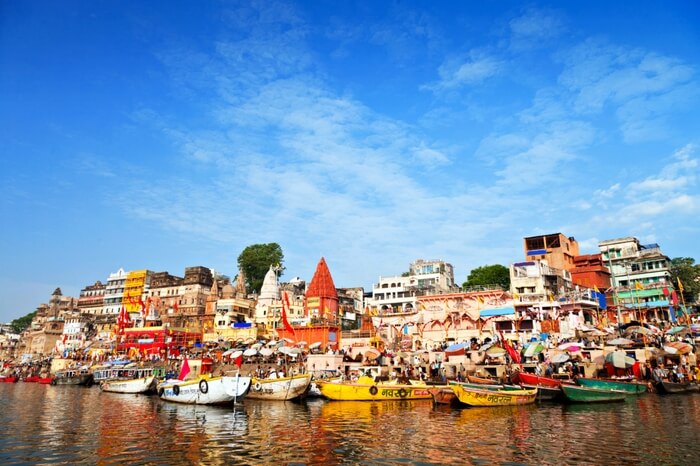 One of the seven holy cities for Hindus, Varanasi is a sight to behold. It is an exhausting, liberating, and uninhibited experience; all at the same time. The colossal temples & ghats and the other popular places to visit in Varanasi attract millions of tourists year after year. Not only is it a popular destination among the Indian travelers, foreigners love it too.
Although the city is known for its ghats, temples, and music (yes, the music too), there are many other famous places in Varanasi that must be seen and experienced on your Varanasi trip.
Best time to visit Varanasi
October to March is the ideal time to visit Varanasi. A five-day festival called Ganga Mahotsav is celebrated in November every year and is a star attraction in Varanasi.
How to reach
By air: Lal Bahadur Shastri International Airport in Varanasi is well connected to other Indian cities
By rail: The Varanasi Junction railway station is connected to all major cities in India
By road: Buses are available from Delhi and adjoining cities in Uttar Pradesh
Where to stay
Luxury hotels: Some of the finest luxury hotels in Varanasi are Hotel Clarks, Radisson Hotel, and Ramada Plaza JHV
Budget hotels: You can pick from a range of budget hotels such as Hotel Park Inn, Hotel Alka, and Hotel City Inn. Alternatively, you can also stay in guesthouses and ashrams.
Must Read: Top 12 Religious Places In India: Redefining Spirituality For Gen Y
---
Looking To Book A Holiday Package?
Book memorable holidays on TravelTriangle with 650+ verified travel agents for 65+ domestic and international destinations.
---
Top tourist places in Varanasi
Famous ghats in Varanasi
1. Assi Ghat – A magnet for those seeking spirituality
Located far south, Assi Ghat is where pilgrims pay homage to Lord Shiva by worshipping a huge lingam situated under a peepal tree. This ghat is a lively space, rippling in chaos and commotion and one that vividly captures the ancientness of Kashi. Among the most famous religious places in Varanasi, Assi Ghat is a must visit. The alluring sight of the arti here makes Varanasi one of the most beautiful cities in India.
2. Dashashwamedh Ghat – The most vibrant Ghat in town
The main ghat in Varanasi on the Ganges river, Dashashwamedh Ghat is a flamboyant place known for its spiritual transcendence. It is common knowledge that Lord Brahma sacrificed 10 horses in a yajna here, and thus the name. Dashashwamedh Ghat tops the list of tourist places in Varanasi as it is a compelling space to dawdle in this small town. Be here for the Agni Pooja or Ganga aarti, as it is popularly called.
Note: Special aartis are held every Tuesday and on religious festivals.
Suggested Read: 38 Most Colorful Places In India That Will Make Your Heart Skip A Beat
3. Manikarnika Ghat – The prime cremation Ghat in Varanasi
Considered to be an auspicious place to be cremated, Manikarnika Ghat is among the pivotal places of interest in Varanasi. This ghat is an exasperating and startling experience in itself as absolutely nothing is considered sacrilegious here. The setting sun and the glowing pyres along with candle-lit flower bowls floating down the holy river Ganga make Manikarnika Ghat a sight to behold.
Suggested Read: 20 Places To See Stunning Sunsets In India
Popular temples in Varanasi
4. Kashi Vishwanath Temple – The only Jyotirlinga in Uttar Pradesh
The list of places to visit in Varanasi would be incomplete without including the famed Kashi Vishwanath Temple. Dedicated to Lord Shiva, this temple is one of the 12 Jyotirlingas and has also been referred to in the holy scriptures. The temple structure as it stands today consists of a series of smaller shrines located in the Vishwanath Galli.
Timings: 3 am – 11 am, 12:30 pm – 08 pm, & 09 pm – 11 pm
5. Tulsi Manas Temple – The place where Ramcharitmanas was written
Among the many sightseeing places in Varanasi is the Tulsi Manas Temple, the place where Tulsidas wrote the Hindu epic Ramayana in an Awadhi dialect of the Hindi language. The temple was funded by the Birla family and constructed in white marble in 1964. Verses and scenes from Ramcharitmanas are engraved on the mandir walls.
Timings: 5 am – 12 pm & 04 pm – 09 pm
---
Planning your holiday but confused about where to go? These travel stories help you find your best trip ever!
Real travel stories. Real stays. Handy tips to help you make the right choice.
---
6. Durga Temple – The fabled old world legend
Also called the monkey temple, this mandir is among the mythical places to see in Varanasi. Built in the 18th century by a Bengali Maharani, the temple is painted red with ochre. It is believed that the idol of Goddess Durga in the temple was not constructed, it appeared on its own.
Sightseeing places in and around Varanasi
7. Gyan Vapi Well – The well of knowledge
The Gyan Vapi well is located within the Gyanvapi Mosque, which was constructed by the Mughal emperor, Aurangzeb, on the site of the demolished Kashi Vishwanath Temple. During the British regime, the well was considered to be holier than the Ganges and was among the important places to visit in Varanasi as it contains the Shiva lingam.
8. Ramnagar Fort & Museum – The Mughal era fortification
Located opposite to the Tulsi Ghat, the Ramnagar Fort is an 18th-century crumbling ruin in dire need of restoration. However, the crimson sunset as viewed from inside this enclosure is reason enough to give Ramnagar Fort a spot on the list of places to visit in Varanasi. This old rampart is also home to a vintage museum that is famous for its rare collection of old American cars, ivory works, medieval costumes, and a huge astronomical clock.
Timings: 10 am – 05:30 pm
Entry fee: INR 20 for Indians | INR 150 for foreigners
9. Chunar Fort – A spooky little rampart
Situated in the Mirzapur district of Uttar Pradesh, the Chunar Fort is located approximately 23 km southwest of Varanasi. The earliest recorded history in Chunar is from the 16th century, traced to a garrison of the Mughal emperor, Babar. The tombs of some of his soldiers are still venerated here. The fort is believed to be divinely blessed and is among the popular places to visit in and around Varanasi in one day.
10. Sarnath – The famed historical ruin
Located 13 km northeast of Varanasi, Sarnath is among the famous Buddhist pilgrimages in India. It is a popular place to visit around Varanasi for those seeking peace and solitude after jostling their way through the frazzled ghats and gullies of Kashi. After achieving enlightenment at Bodhgaya, the Buddha came to Sarnath seeking his former companions and thus gave his first sermon here.
Popular sightseeing places in Sarnath include the Dhamekh Stupa & Monastery Ruins, the Archaeological Museum, the Chaukhandi Stupa, the Ashoka Pillar, the Mulagandha Kuti Vihar, and the Chinese & Thai Temple and Monastery.
Suggested Read: These 9 Mysterious Temples Of India And Their Weird Rituals Will Amaze The Hell Out Of You
Other places of interest in Varanasi
11. Bharat Kala Bhavan Museum – The hub of art and culture
A distinctly classical sound, characteristic of an endless stream of madness rings through Varanasi. And the Bharat Kala Bhavan Museum located within the prestigious Banaras Hindu University bears testament to this rippling clangor. The museum was set up in 1920 with Rabindranath Tagore as its honorary chairman and is among the foremost tourist places in Varanasi today. The museum showcases miniature paintings, sculptures, and local history displays. It also has an art gallery dedicated to the Russian artist, Nicholas Roerich.
12. Man Mandir Observatory – The Varanasi heritage
Located on the Man Mandir Ghat, this masonry observatory is established atop the Man Singh Palace. It was built in 1737 by Sawai Jai Singh II, the founder of Jaipur city. The observatory consists of 4 main astronomical instruments and is among the heritage places to see in Varanasi. The Man Mandir Observatory is now under the Archaeological Survey of India and needs to be refurbished.
Timings: Sunrise – sunset
Entry fee: INR 5 for Indians | INR 100 for foreigners
13. Alamgir Mosque – Reminiscent of the Mughal era
Built on the site of a desecrated Vishnu temple in the 17th century, the Alamgir Mosque is among the famous religious places in Varanasi. The mosque as it stands today, dominating Panchganga Ghat is proof of the ludicrous methods adopted by the Mughal emperor, Aurangzeb. Non-muslims are not allowed to enter the mosque.
Cafes in Varanasi
14. Brown Bread Bakery – The first organic bakery and restaurant in Varanasi
Situated near the Dashashwamedh Ghat, the Brown Bread Bakery is a rooftop restaurant known for its European Breakfast buffet. The organic shop at this cafe includes palatable cheese, cookies, and cakes; making it one of the most popular Varanasi tourist places. It is thronged by Indians and foreigners alike.
Timings: 7 am – 10 pm
Average cost for two: INR 500
15. Lotus Lounge – The most famous terrace lounge
Among the ultimate Varanasi tourist places, the Lotus Lounge is a comfortable, relaxing space perched right over Mansarowar Ghat. Replete with lounge cushions and tatami mats, their terrace makes for a lovely place to destress after spending an entire day soaking in the atmosphere of Banaras. Sit here contemplating eternity while sipping on your Hot Chocolate.
Timings: 8:30 am – 10 pm
Average cost for two: INR 600
16. Open Hand Shop & Cafe – A lively modern space
Located near Assi Ghat, the Open Hand Shop & Cafe is among the famous tourist places in Varanasi. The best part about this cafe is its remodeled space and furnishings that make it a perfect chilling spot. Selling captivating handicrafts made by the local community, Open Hand Shop & Cafe is mostly thronged by foreign tourists.
Timings: 8:30 am – 10 pm
Average cost for two: INR 450
Shopping in Varanasi
17. Godowlia Market – The busiest shopping junction in town
The biggest and the busiest market in town, Godowlia is among the popular tourist places in Varanasi. It sells everything from daily household items to glass bangles and trinkets. The smell of camphor that wafts out of every second shop in this market will surely get you drunk on the divine.
18. Chowk & Vishwanath Gali – The real essence of the city lies here
Two of the most popular street markets in town, Chowk and Vishwanath Gali are the quintessential places to visit in Varanasi. Famous for their silk items and ornate jewelry, these markets are always full of life, whether it is in the sweltering summer or the foggy winter. Head here to experience the real Banarasi mizaaj.
Tip: Don't forget to binge on the street food.
19. The Banaras Silk Emporium – For the love of Banarasi silk
The Banaras Silk Emporium is a leading manufacturer, wholesaler, and exporter of traditional silk sarees, stoles, and bed covers offering reasonable prices and impeccable quality. Situated on the Cantonment Road, this place is a must visit for everyone looking to splurge on Banarasi silk.
Suggested Read: Top 11 Shopping Destinations in India
20. Shri Gandhi Ashram Khadi Bhandar – For natural and organic products
The Shri Gandhi Ashram Khadi Bhandar is situated on the Sankat Mochan Road. Selling saris, kurta pajamas, shirts, and head scarves, this place should be visited by all the fans of the homespun fabric.
Timings: 10 am – 7:30 pm
Wonder how many times we value what we have or what we get. If you too, are looking for answers or just seeking some new experiences in life, Varanasi is where you should be headed.
Further Read: 20 Beautiful Places To Visit In North India
---
Looking To Book An International Holiday?
Book memorable holidays on TravelTriangle with 650+ verified travel agents for 65+ domestic and international destinations.
---
Comments
comments