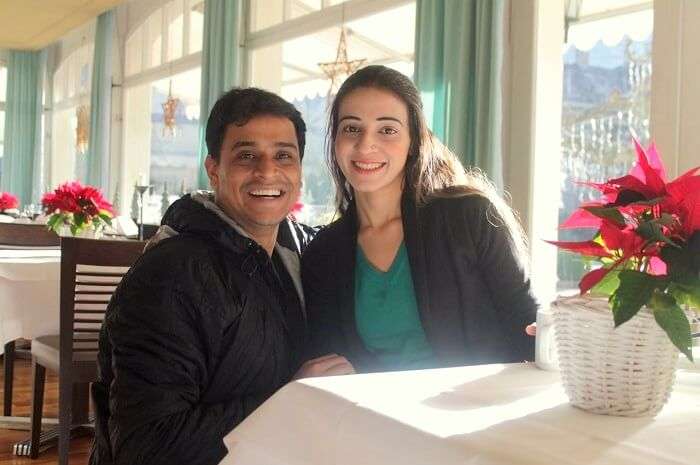 A charming old-school honeymoon vacation is a rare sight these days. Read about Akshay's 10 night/11 day honeymoon trip to Europe that was filled with love, beauty, adventure, delicious food, and a penchant for train rides.
Trip Duration: 10 nights/ 11 days
Total Trip Cost: INR 1,74,000
Inclusions: Transfers, accommodation, sightseeing tours, rail pass, and breakfast
Month of travel: December
Weather: -3 degrees to 12 degrees celsius
While searching for honeymoon packages on the internet, I landed on the TravelTriangle website. We were already decided on the places we wanted to visit in Europe. The option of customizing the package according to your need, is what got me interested.
I submitted a query, and Rishab from TravelTriangle gave me a call back and assisted with the booking process. He connected me to various agents and I selected the package given to me by 'Clearship Travels & Tours Pvt. Ltd'.
We sailed smoothly through the booking process, as a multiple destination honeymoon trip to Europe was easily planned and coordinated. My wife and I were excited to travel with each other to all these fabulous destinations and bring forth a new chapter of our lives.
Here is a brief itinerary of the places we visited on our trip to Europe
Day 1: Arrival in Zurich at 6 am- transfer to Montreux by rail – check in at 2 pm – explore local market
Day 2: Breakfast – city sightseeing tour – return to hotel
Day 3: Breakfast – check-out from montreux – arrive in interlaken – check-in at noon – sightseeing in interlaken – return to hotel
Day 4: Breakfast – day trip to Jungfrau – return to hotel at 5 pm
Day 5: Breakfast – train to Venice via Milan – arrive in Venice at 4 pm – check into hotel
Day 6: Breakfast – sightseeing in Venice – return to hotel
Day 7: Breakfast – train to florence – arrive at 2 pm – check out – walkabout florence – return to hotel
Day 8: Breakfast – Cinque terre tour – return to hotel at 5 pm
Day 9: Breakfast – check-out from Florence – arrive in Rome at noon – check-in – leisure time
Day 10: Breakfast – sightseeing HoHo tour – evening dinner outside – return to hotel
Best Train journeys for a trip to Europe
There were many options for us to travel within Europe on our honeymoon. Some were faster than the option we took, and some were cheaper. However, we believed that the best way to discover Europe would be to cut through its valleys, pass by its plains, and ride along its rivers.
Here is the selection of our train journeys we took that made our trip to Europe memorable:
Journey 1: Zurich to Montreux
And so we began our journey, from the Zurich airport straightaway to our first destination in Switzerland. A quaint, hilly, lake-side town that encapsulates a micro-climate within Switzerland.
Distance: 208 km
Time taken: 2hr 38 mins
Frequency: Every 1 hour
Cost: Interrail Switzerland 8-day pass (EUR 90 per person)
Europe Tour: The True Essence Of Europe Captured In A Span Of 8 Days
Map:
Highlights of Montreux:
Exploring the christmas markets in Montreux was a complete delight.
Tried the brilliant coffee and sandwiches on offer in Montreux cafes.
Winter evenings with the early sunset were pretty charming. The town lights up quite beautifully.
Visited the elegant Montreux palace.
Hotel review of The Grand Hotel Suisse Majestic:
The Grand Hotel Suisse Majestic was a very good hotel. The service was exceptional and the hotel staff were willing to help us. As for the structure, it reminded us of the aristocratic glory for which Swiss history is renowned.
My Rating: 4/5
Journey 2: Montreux to Interlaken via Lausanne
After spending a delightful Christmas in Montreux, we moved north towards the mountains in Interlaken. We wanted to experience the beauty of the snow-laden Alps in a traditional Swiss region.
Distance: 148 km
Time Taken: 2hr 41 mins
Frequency: Every 15 mins
Cost: Interrail Switzerland 8-day pass (EUR 90 per person)
Map:
Highlights of Interlaken:
Tried their local speciality of hot wine. A popular drink for Swiss people during the cold and harsh winter months.
Interlaken was mostly earmarked as a resort town for people traveling to Jungfraujoch. However, the food in the cafes was extremely delicious
Journey 3: Interlaken – Jungfraujoch (return journey)
Next up for us, was the daunting heights of Jungfrau. Reaching the mountain peaks of Swiss Alps was an exciting prospect. This leg of our journey was the shortest, yet most scenic part as the train went right up the mountains.
Distance: 18 km
Time taken: 2 hours
Frequency: Every 30 mins
Cost: Return ticket EUR 97 per person (after showing Interrail pass)
DO NOT Leave For Europe Without Packing These 8 Things
Map:
Highlights of Jungfrau:
We arrived at the top of Jungfraujoch with the cogwheel train. The journey to the top of the mountain was incredibly scenic.
The weather at the top was beautifully set up with a mixture of snow and sun.
Hotel review of Beausite Hotel:
The hotel booked in Montreux was better than the Beausite Hotel in Jungfrau. All the facilities were present, but there was nothing new or extravagant to woo the travelers.
My review: 3/5
Journey 4: Interlaken to Venice via Milan
On from the chills and dizzy heights of Switzerland, we traveled to the below sea-water lying city of Venice. It was a drastic switch from mountain tops to a city that would eventually drown in a hundred years. Italy, with it's culture and food, was on top of our list of places.
Distance: 554 km
Time Taken: 6 hr 41 mins
Cost: EUR 52 per person
Frequency: Every 60 mins
Kaushic's Trip To Europe: The Perfect Vacation For A Family That Loves To Travel
Map:
Highlights of Venice:
It took us a while getting used to the concept of traveling on a public transport system wherever you want in a water taxi or a gondola through the canals of Venice.
Took the hop on hop off water transport and covered the major sights of Venice like St Mark's Basilica, Doge's palace, and Grand Canal.
The city felt like of another time with its winding canals and narrow alleyways. A memorable place on our trip to Europe.
We opted out of taking the private Gondola ride as it was EUR 150 for 20 minutes.
Hotel Review of the Hotel Albergo Cavalletto And Doge Orseolo:
The vibe in Venice was pretty cold. When we reached the Hotel Albergo Cavalletto And Doge Orseolo, the staff was pretty cold and kept on point. Would have liked slightly more friendly and proactive hosts.
Hotel review: 2.5/5
Journey 5: Venice to Florence
After finishing up in Venice, we traveled south towards the young and vibrant city of Florence. The charm of Florence in Italy is unmatched. Coupled with beautiful structures and rich history, Florence has something to visit for all ages.
Distance: 258 km
Time Taken: 2 hr 33 mins
Cost: EUR 19 per person
Frequency: Every 15 mins
Map:
Highlights of Florence
I tried the local fish in Cinque Terre, which was delicious.
Visited the beautiful village of Cinque Terre. It was a treat for our eyes with its colored houses on a beautiful coastline.
We weren't interested in visiting monuments, so we just explored the streets of Florence and enjoyed spending time in the Piazza della Signoria.
Hotel review of Hotel Ginori Al Dumo:
Our stay at the Hotel Ginori Al Duomo was nice and comfortable. The hotel was centrally located to the places we wanted to visit. The hotel had a nice restaurant with delicious authentic Italian cuisine.
My review: 4.5/5
Journey 6: Florence to Rome
The final stop of our journey led us to the capital of Italy- Rome. We wouldn't have left Italy without visiting probably the most historical city in the World. A big item on our check-list got crossed, as " when in Rome, do what the Romans do".
Distance: 286 km
Time Taken: 2 hr 3 mins
Cost: EUR 17 per person
Frequency: Every 20 mins
Suggested Read: Honeymoon Destinations In Europe: Explore The Lesser Known Gems In 2022
Map:
Highlights of Rome:
We arrived in Rome on our trip to Europe on New Year's day. Not much was open on the first day, but the empty streets gave us a chance of exploring Rome minus the hustle bustle.
Another chance for me to do some photography, as there weren't many people around.
On the penultimate day, we took the hop on hop off bus service and covered all the major monuments of Rome like the Colosseum, Trevi fountain, Roman forum, and the Pantheon.
Hotel review of Best Western Mondial:
Hotel Best Western Mondial had a very luxurious condominium type of feel to it. It was styled in a retro-fashion that made the place charming and endearing.
My Review: 4/5
Out of all the places we visited on our trip to Europe, we liked Florence the best out of all the cities. It was warm with regards to temperature and people. A lot of places to visit for all ages and most importantly a vibrant food scene that made us foodies enjoy to the maximum.
My wife and I felt truly blessed to have explored the length and breadth of Europe with each other. A romantic beginning to the next phase of our lives that we will cherish for a long time to come. A special token of thanks to TravelTriangle for helping us in planning our trip.
Best moments of our trip:
Visiting the christmas market in Montreux.
Getting to see the picturesque village of Cinque Terre.
Low points:
Upon arriving in Venice, we got to know that we had to reach the hotel on our own by public transport.
Dreaming of traveling the length and breadth of Europe? Book your Europe honeymoon package  and share this journey with your loved one!
---
Looking To Book An International Honeymoon?
Book memorable honeymoon on TravelTriangle with 650+ verified travel agents for 65+ domestic and international destinations.
---