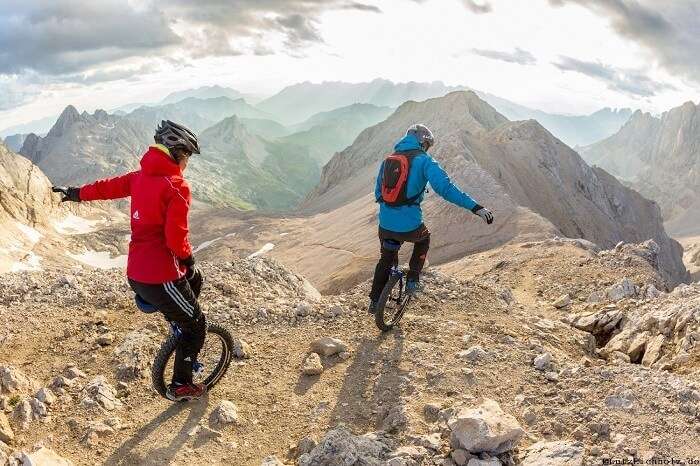 There are two kinds of people in this world. First are those who love amazing adventures and are happy when they take part in it. The second ones, however, are a bit tricky to please for their desire for the thrill is too high and these are the kind of people who indulge in offbeat and xtreme sports. And yes, more often than not, these ultimate adventures are deadly and this blog is exactly about that! So presenting a list of 10 best adventure sports and activities for all those daredevils who love danger.
10. Air Kicking – a real life human catapult adventure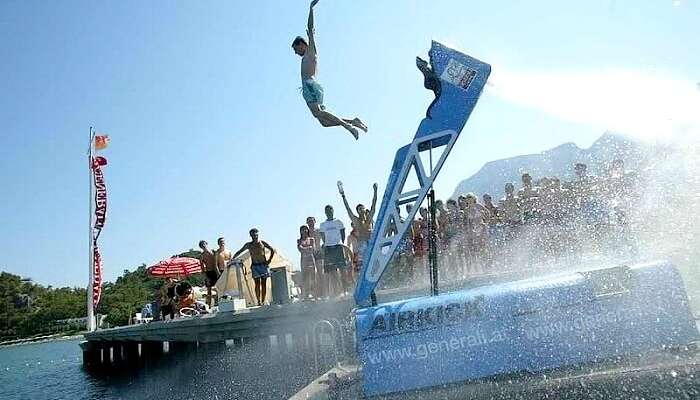 This extreme sport is weird but great fun. It involves a human catapult that launches people more than 26 feet in the air into a foaming pit or swimming pool. The distance of travel is calculated and one needs to sit on a specially constructed seat at the back of the catapult arm for an adrenaline pumping liftoff. Around 60 liters of water is then pumped through a rocket nozzle and bam! in no time, you're up in the air kicking the air as you fall into the swimming pool or the foaming pit. Too much fun, we'd say!
9. Powerbocking – super human adventure abilities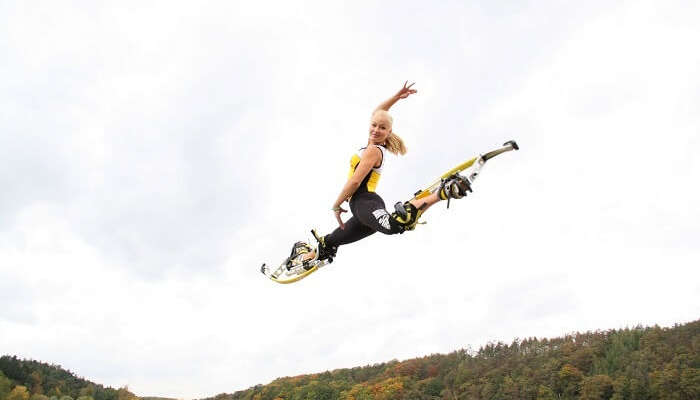 Adding super human grace to its user, Powerbocks are a mix between a pogo stick and a trampoline. They allow its wearer to run extra fast, jump extra high, and stride in a grand manner. Also known as jumping stilts, spring stilts, and kangaroo boots among others, these offer a thrilling adventure experience like none other. So if you are one of those who desires a bionic super human feel and wishes to perform acrobats, powerbocking is the ultimate adventure for you.
8. Street Luging- faster, better & more thrilling than car racing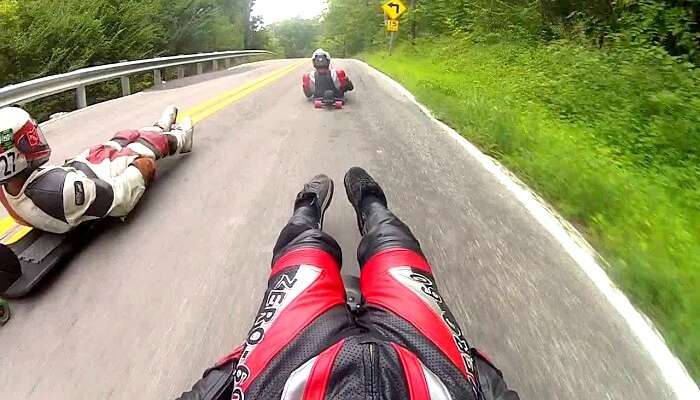 Suggested Read: 8 Thrilling Adventure Sports In Pune & Around
It has long been a fact that man is attracted to speed and Street Luging offers just that. The xtreme adventure sport involves lying low on a modified skateboard, two inches from the tarmac and swooping down the hills at unimaginable speeds. One would need racing leathers, army shoes, a highly protective helmet, a decent private road, and a lot of courage to do this. And yes, in the end, it is all worth it.
7. Mountain Unicycling – treading the hills on one wheel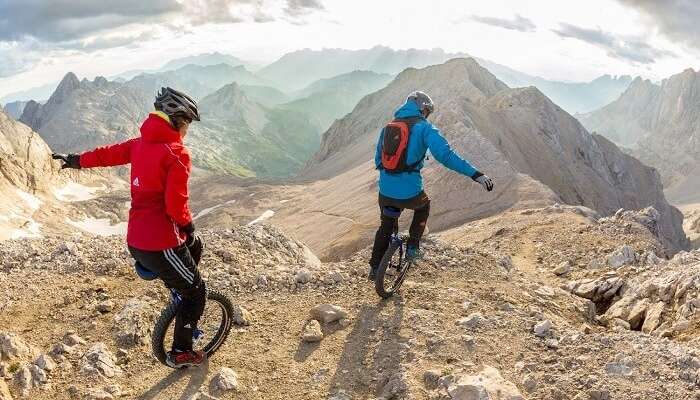 Suggested Read: 10 Extremely Dangerous Adventure Sports Only For The Daredevils
Mountain Unicycling is no piece of cake but once you learn it, there is no going back for the thrill on the stake is unimaginable. A perfect adventure sport for those who like to travel the roads less taken, one can literally traverse a mountain train on a cycle with one wheel. Now, this is one the best amazing adventures one can have!
6. Train Surfing – daredevil alert!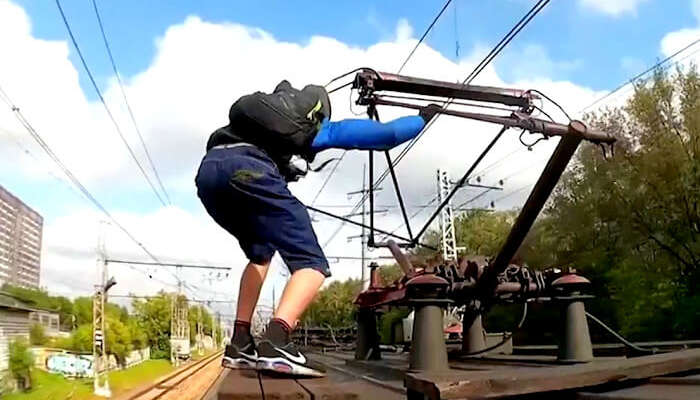 Train surfing is ILLEGAL and we recommend you never try this. It involves a person to climb up to the side of a moving train to eventually reach the top and "surf". Sometimes people also do it from "car to car" but no matter how thrilling it is, there is extreme danger in it. Nonetheless, daredevils from all over the world do it.
5. Cliff Diving – the jump you'll never forget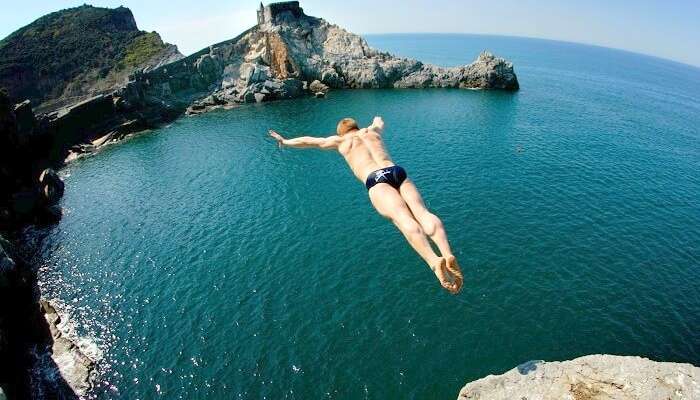 Suggested Read: 10 Mind Blowing Water Sports In Bali For The Thrill Seeker In You
One of the most exciting and least complicated extreme sports, Cliff Jumping offers amazing adventures to those who seek it. One can do it from exotic locations around the world and from dizzying heights exceeding 80 feet (that is approx an eight storied building). It is one of the world's cheapest adventure sports and also one of the most exciting. But that doesn't mean, it's for the faint hearted!
4. Creeking – a face to face challenge with the river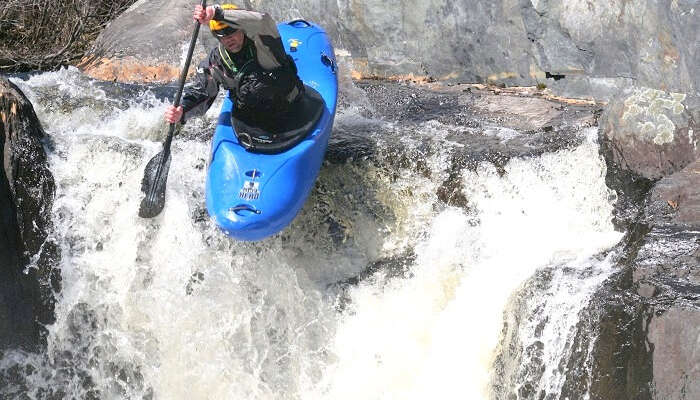 A branch of canoeing and kayaking, Creeking is much more thrilling than the latter two. Performed in specialized canoes, it involves descending very steep low-volume whitewater. The canoes and kayaks used in this adventure sport offer better performance and improved maneuverability but that doesn't mean it isn't dangerous. There are many factors like steep rocks, waterfalls, fast tides, and balancing that need to be taken care of in this sport and in all truth, this is exactly why it among the craziest adventures one can have.
3. BASE Jumping – this is what crazy looks like!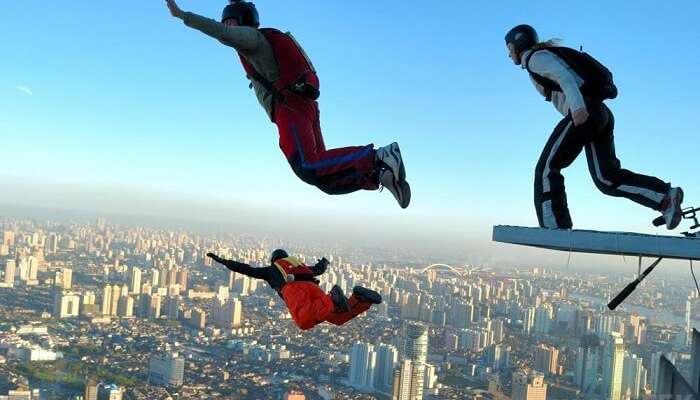 One of the world most popular adventure sports, BASE Jumping (Building, Antenna, Span, & Earth) offers one hell of an adventure to adrenaline junkies. BASE Jumpers usually wear a wingsuit and a parachute to slow their descent and maneuver as long as possible in the air. Sometimes they glide between buildings, sometimes mountains and so on and so forth, depending on their choice of jumping platform. This is one of the most extreme adventure sports in the world and we recommend you take proper training before doing it.
2. Highlining – from one mountain to another, one a single rope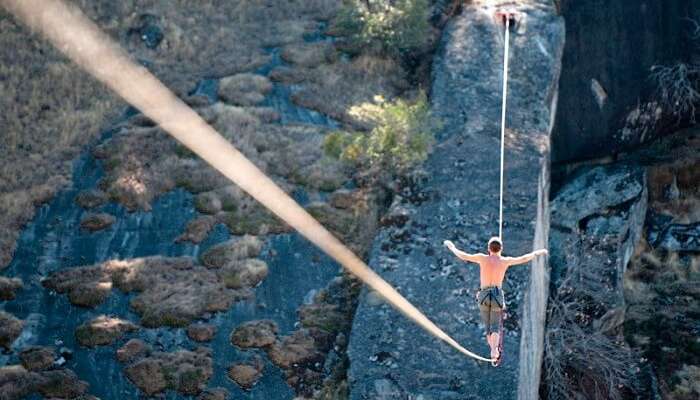 An extreme sport taken to even higher level. Highlining is basically tightrope walking but between two mountains and over a one-inch thick rope. And not only this, high liners also don't use any safety net or balancing bar to traverse from one point to another. Yes, they do hook themselves up with a safety harness but that is about it. But there are those who don't even use this. Now, this is one kickass adventure, not many can do.
1. High Altitude Acrobatic Sky Diving – sky's the limit!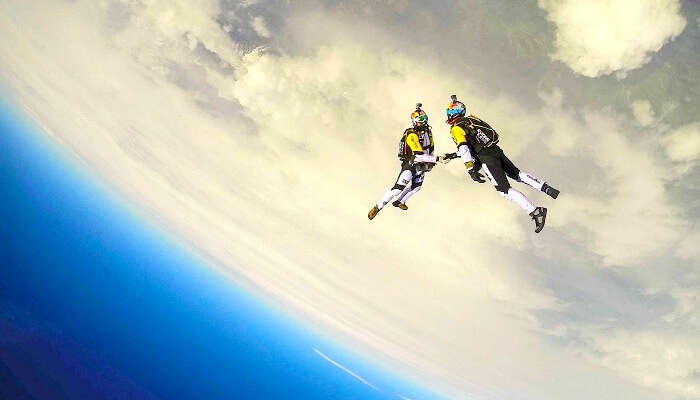 Further Read: 14 Watersports In Goa That You Must Add to Your Bucketlist
High Altitude Acrobatic Jumping (yes it is quite a mouthful) is not for the faint hearted. In fact, only a few people in this world have been able to do it and among such people is the duo Frederic Fugen and Vincent Reffet (also known as Soul Flyers) who prepared for one and a half years for it. They were dropped at an altitude at 33,000 feet in -50 °C over the Mont Blanc without a pressure suit. Despite the freezing temperature, they were able to perform acrobats and swoop down successfully in what was thought to be an unimaginable feat!
We are sure all of these adventure sports have set your heart racing and your adrenaline pumping! So what are you waiting for? Go do it and share your experiences with us!
---
Looking To Book A Holiday Package?
Book memorable holidays on TravelTriangle with 650+ verified travel agents for 65+ domestic and international destinations.
---