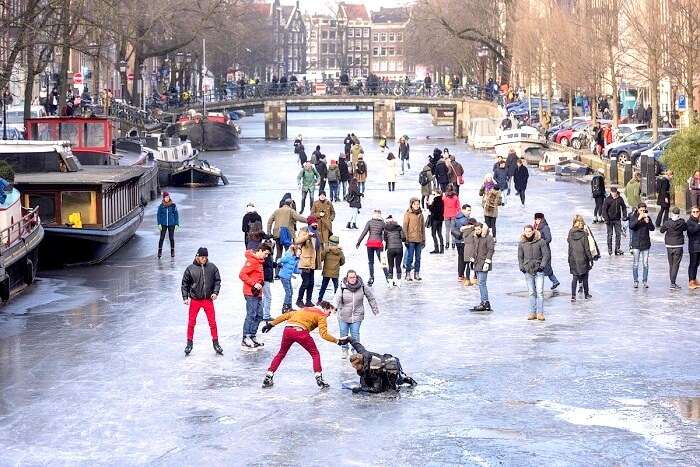 From the first ever snowfall in Saudi to inches of snow in the Russian region, our planet has witnessed roaring changes in climatic conditions, this winter season. The European continent has primarily witnessed various ups and downs in the climatic conditions which have led to extreme snowfall in some countries. But these climatic changes have not stopped the people from enjoying the winter chill.
Our happy planet did not fail to extract the positives out of the harsh winters, and the cheerful pictures from different corners of the world, taking rounds on the internet, are the proof of that.
Suggested Read: Sizzling Nightlife In Amsterdam: 10 Best Clubs & Bars
The latest news has come from the Dutch land, Amsterdam, where the temperatures have dropped to such lows that the canals running across the city have frozen. This event of Amsterdam canals freezing has occurred for the first time in the past six years. Such adverse weather conditions did not stop the Dutch people from celebrating, and enjoying the winters as the canals have frozen to such an extent that they have become a playground for adventure activities.
The common public, and numerous ice skaters have come out in large numbers to skate over the frozen canals. Here are some surreal pictures of the city and its incredible scenery that has recently been adorned by the winter season:
Suggested Read: 25 Best Things To Do In Amsterdam: Adventure, Food, Nightlife, And More
And if images weren't enough to dazzle your eyes with joy, here's a video of the absolue fun that the Dutch are currently enjoying:
Stunning, isn't it? With the Amsterdam canals freezing, here's an opportunity for you to plan a European vacation to cherish the winter vibes. So, pack your bags and take off for the Dutch land to witness this charming sight till it lasts.