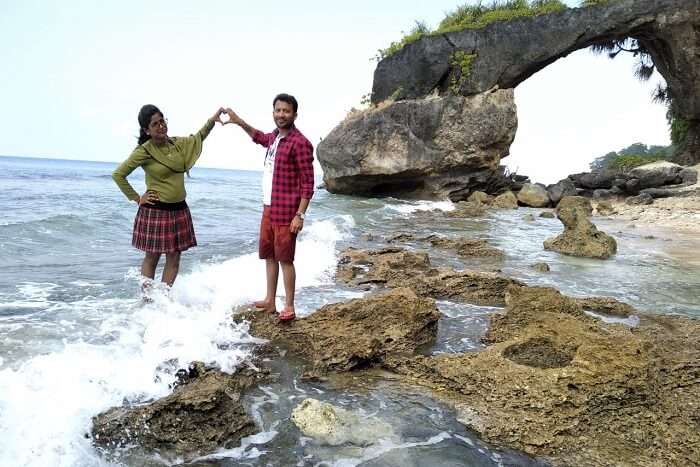 Andaman has different reasons for pulling tourists towards itself. Port Blair, Radhanagar beach, Havelock island, to name a few. Not only does it offer incredible places to visit but also thrilling things to do that will fill you up with joy from head to toe. There is so much to witness in Andaman that you will want to visit again and again. From the walls of Cellular jail that speak its history to white sandy beaches which offer solace, Andaman is a complete package of fun and entertainment. And this is what made Anil and his wife travel to the beautiful and picturesque island!
Planning a honeymoon was not really an easy task, while there were a lot of destinations that came to our mind, we were stuck between Goa and Andaman. When I asked my wife to choose one amongst Goa and Andaman for our honeymoon, she selected Andaman, for, natural beauty and serenity was her preference. And thanks to her smart mind, it was the best decision. It could not be a more surreal experience. For us, Andaman was great fun, individually as well as together. We chose February for our honeymoon as we knew it was a good time to indulge in as many activities as we could!
Table Of Content
Details Of Our Andaman Trip From Kolkata
Trip Type: Tour Package
Trip Cost: INR 32700 – INR 34200
Trip Duration: 6 Days
Inclusions: Breakfast, Airport Transfers, Ferry Transfers, Private Cab, Water Sports, Accommodation
Exclusions: Lunch, Dinner, Airfare, Taxes
Itinerary Of Our Andaman Trip From Kolkata
Day 1: Arrival in Andaman and leisure
Day 2: Transfer to Havelock and excursion to Radhanagar beach
Day 3: Snorkeling tour
Day 4: Transfer to Neil island and Sightseeing
Day 5: Transfer to Port Blair and visit to Ross island
Day 6: Departure
Weather In Andaman In February
The month of February is the winter season in Andaman. It is a good time to witness the beauty of the place. The temperature of Andaman during February remains from 20-degree celsius to 30-degree celsius. It is quite pleasant to explore the charming city and get a blissful experience.
5 Best Experiences Of Andaman Trip In February
From blissful places to heart-rending experiences, our Andaman trip from Kolkata was a dreamy affair. Here are some details about the trip!
1. Knowing The History Through Cellular Jail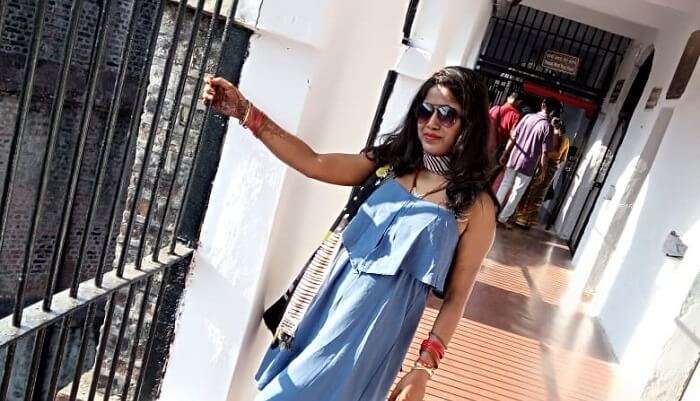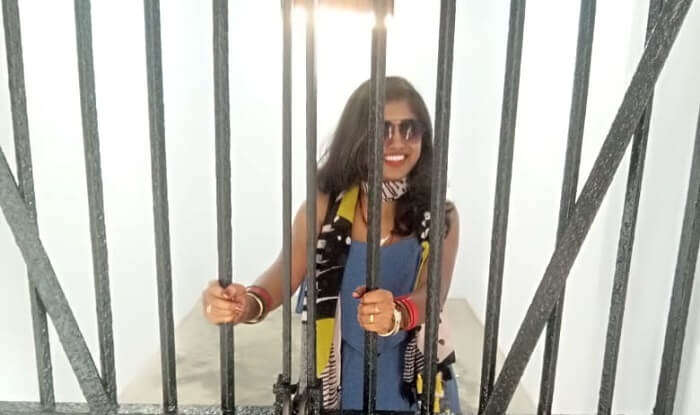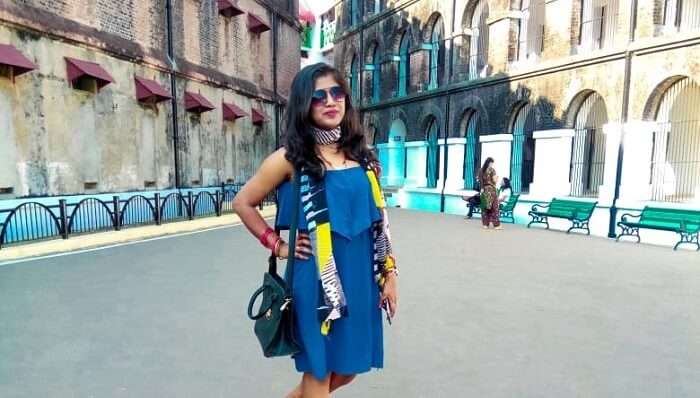 Standing as the epitome to all the suffering that occurred during the colonial period, Cellular jail was really an important place for us to visit. We found the place very impressive in terms of history. There is a cell inside the jail where Veer Savarkar was kept in custody in the past. It was quite amusing for us. Apart from that, the roof of the jail offered scenic views of the city.
2. Having The Best Quality Time At Radhanagar Beach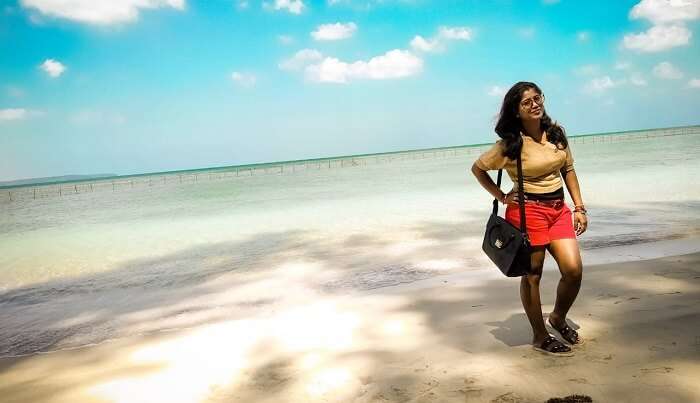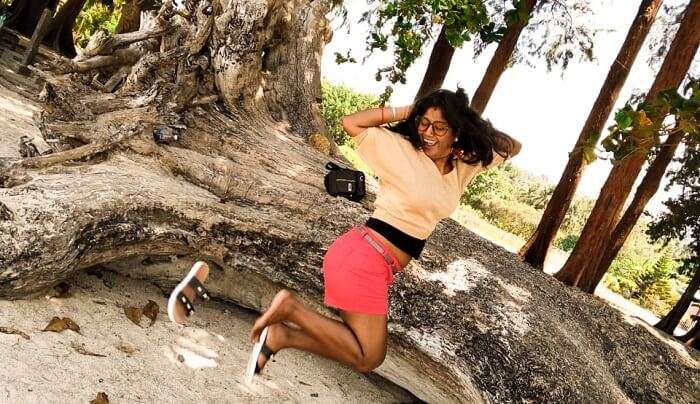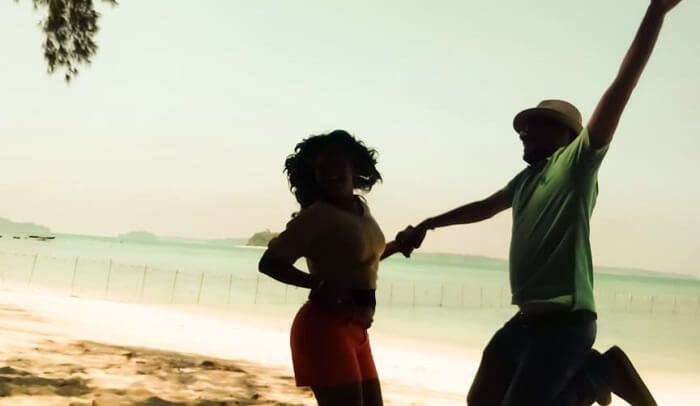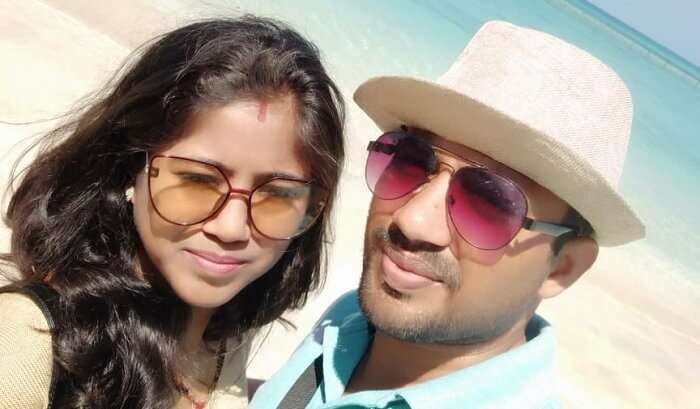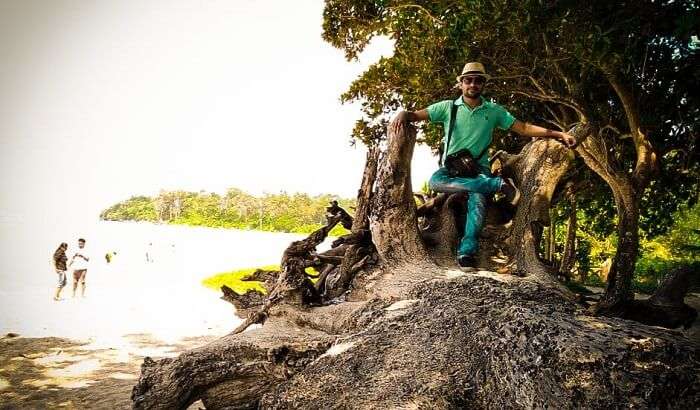 Our Andaman trip from Kolkata became all the more exciting when we went for a tour of the beautiful and awe-inspiring Havelock island. One of the most famous beaches on the island is the Radhanagar beach. The beach is known for white sandy shores and palm trees that offer the perfect setting for a romantic day out. Straight out of a paradise, it is very popular amongst couples. We enjoyed it a lot and clicked great pictures. This was one of the best parts of our Kolkata to Andaman honeymoon trip.
3. Lifting Our Spirits While Snorkeling At Elephant Beach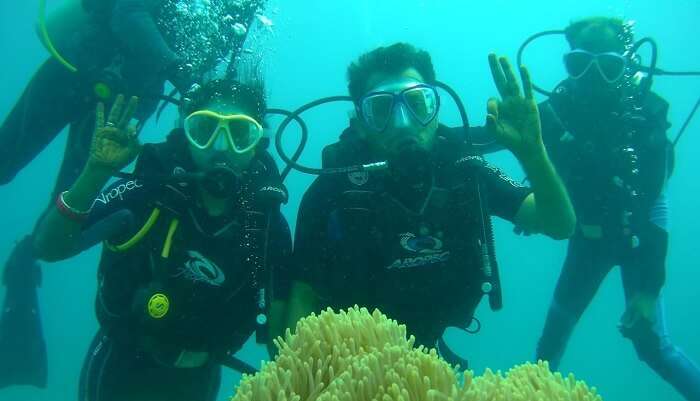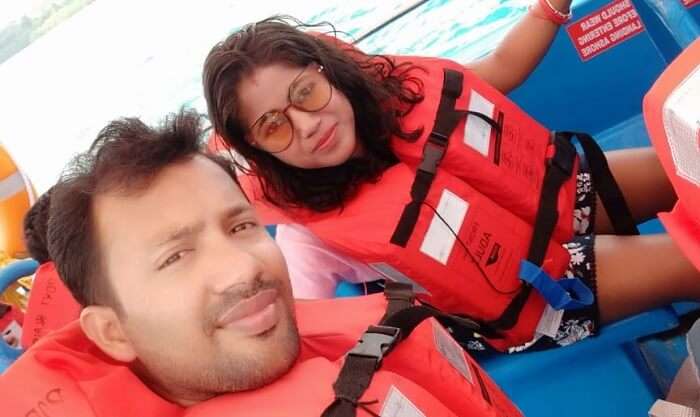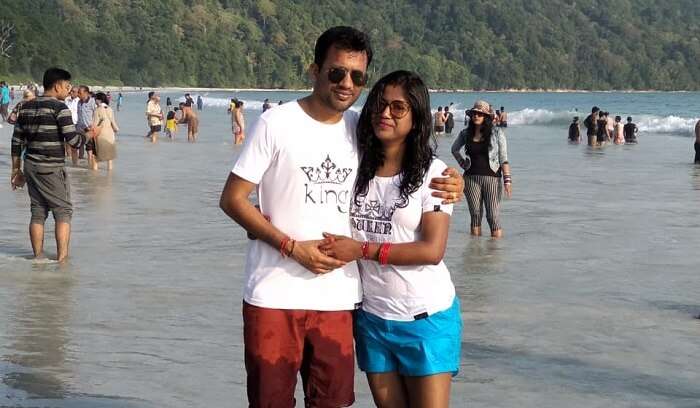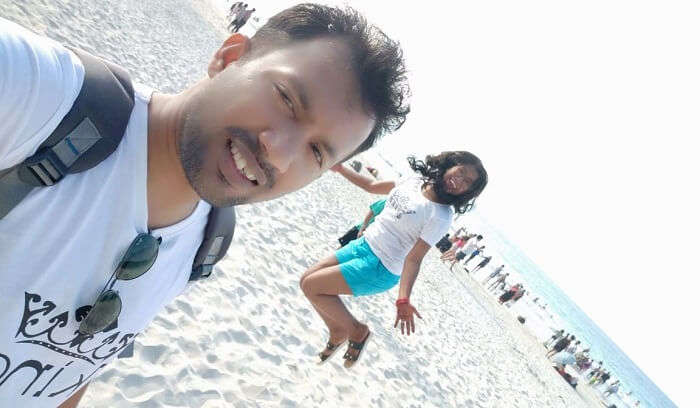 Since Elephant beach is known for offering crazy experiences of water sports, we were really excited about it. While the water was as clear as crystal, the underwater scene was even more heart-throbbing. It has a rich marine life and so we saw a lot of coral reefs while snorkeling. The experience was completely unique and memorable. The journey all the way from Kolkata to Port Blair was worth it, thanks to such good places and heart-throbbing experiences.
4. Being Mesmerized By The Natural Bridge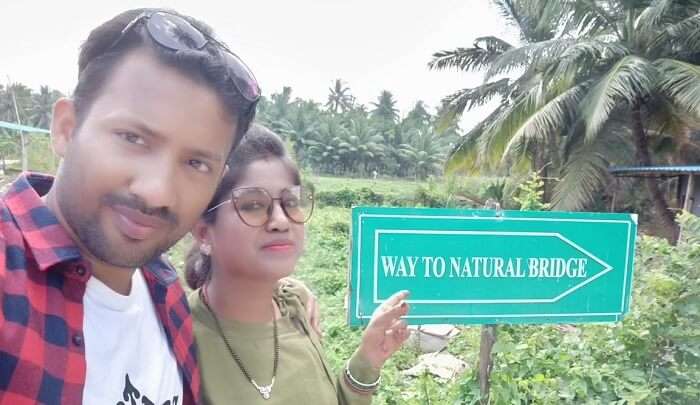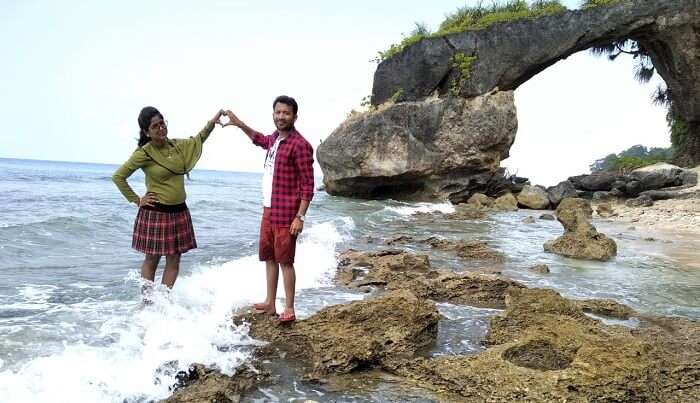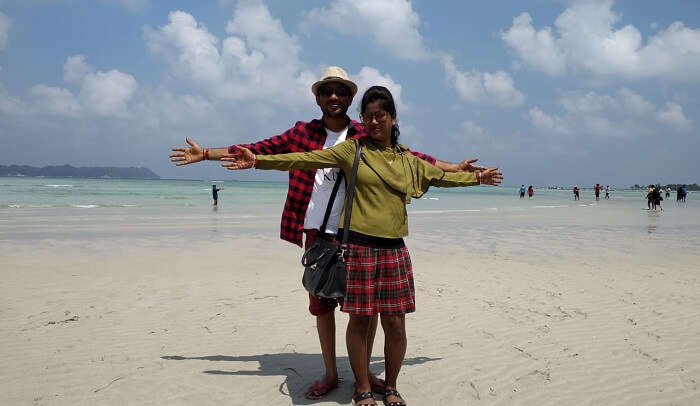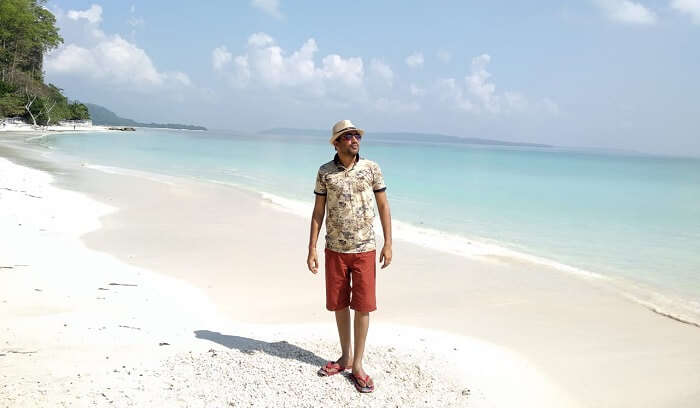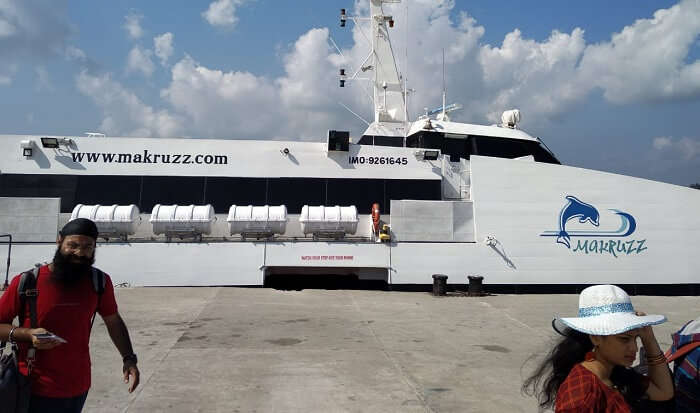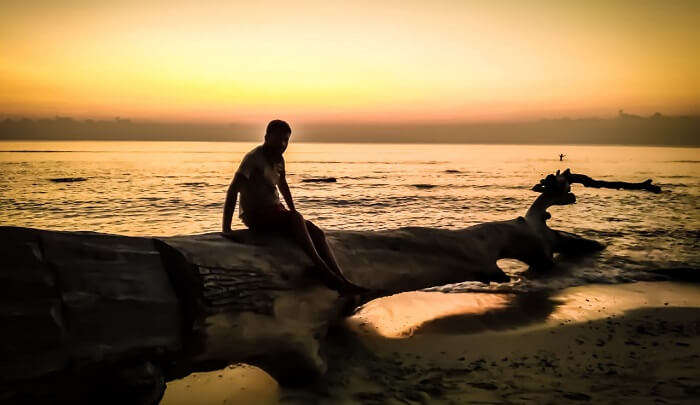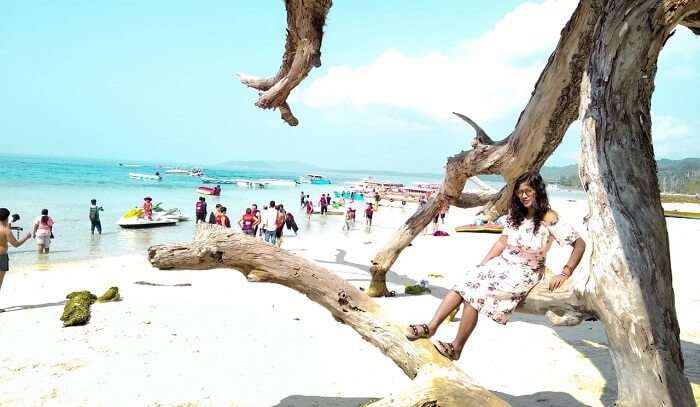 As we reached Neil island, we were left awestruck by the beauty of the island and realized that planning an Andaman trip from Kolkata turned out to be a real bliss for both of us. While Bharatpur beach and Laxmanpur beach were amazing, the natural bridge had a woo factor in it that made us love the very idea of it. It is a bridge-like rock formed naturally. It gave us a really enthralling experience. We were told that the bridge is also known as the Howrah bridge.
5. A Perfect Date Night At Love Garden Cafe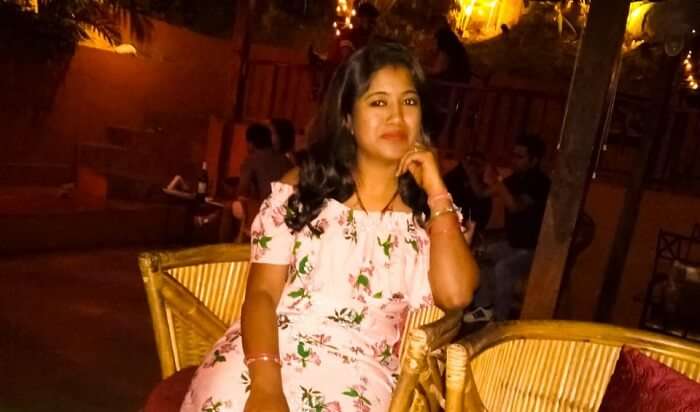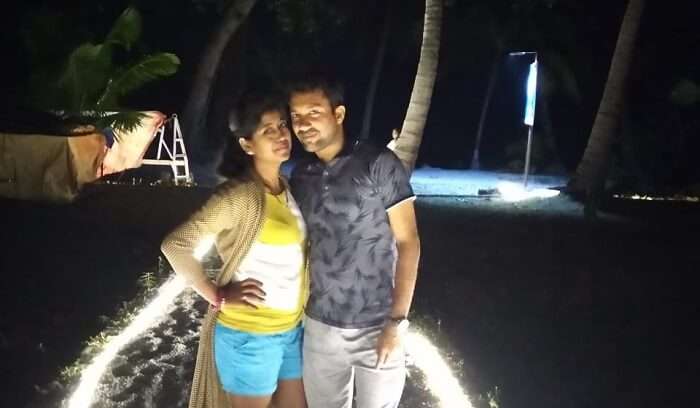 These 5 days in Andaman were the best days of our lives. As we enjoyed each and every part of the trip, we got to know each other well, our best qualities came forth and it strengthened our bond. Saying goodbye was difficult but before that, we had the most romantic date at Love Garden cafe that made us even more close and nostalgic too. The food at the cafe was very delicious and the views too. We talked, laughed and ate our hearts out!
Our Hotels In Andaman
One of our major concerns while traveling from Kolkata to Port Blair was whether the hotels were up to our expectations or not. And to our glee, they were absolutely what we wanted! The rooms of the hotels were clean and mostly equipped with the necessary amenities.
Airport Hotel
Our first hotel was quite a convenient place as it was nearby the airport and offered great views. The rooms were pretty clean. The staff was also friendly. We liked the in-house restaurant as well. Upon our request, they decorated our room which looked flawlessly beautiful.
Radhakrishna Beach Resort
This was one of the most blissful places to stay during our trip to Andaman from Kolkata. The cottages seemed like bamboo huts and gave great beachy vibes. The resort was nearby the beach and market. The resort offered lush greenery and peaceful stay.
Pearl Park Beach Resort
For us, this was the best resort on our whole trip! Aptly located near the Laxmanpur beach, the resort provided world-class facilities. From the shack area to the in house restaurant, everything was simply amazing.
Hotel Landmark
The rooms of this hotel were quite lavish and the location was good too. However, they needed a few improvements. Otherwise, our stay experience in this hotel was also great!
Shopping In Andaman
We didn't do much shopping on our Andaman trip from Kolkata. However, if you are in Port Blair, Aberdeen bazaar is one of the best markets from where you can buy souvenirs. We also found Cellular jail's market a good place to buy souvenirs. In comparison to that, the markets at the islands that we visited were very costly. For instance, on Havelock island, we found everything too costly. Even on Neil island, the items were a bit expensive, though we did buy a few things. You just need to have very good bargaining skills and you are good to go!
Andaman Travel Tips
If you are traveling to Andaman, you just cannot miss out on Scuba diving.
If you are a non-vegetarian, you must try the seafood of Andaman.
Try to visit a cafe for a unique experience.
Travel with Makruzz ferry for a cheaper and hassle-free experience.
Carry the print outs of your bookings with you.
Do not go very deep into the sea.
Do not litter on the beaches.
Avoid carrying a lot of luggage with you.
Do not rely on the internet and ask the locals instead of guiding you to your destination.
BSNL and Airtel sims work better in Andaman.
What To Pack On An Andaman Trip
Sunscreen or sunblock to avoid harmful UV rays
Cap, bandana or hat for shade from the sun
Flip-flops, open shoes, and silders
Any general medication for precautionary measure
Cash & loose money
Light cotton/linen clothes, bathing suit, sarong
Our Experience With TravelTriangle
Our experience with TravelTriangle was commendable. Our holiday planner was Sunita ji. She gave us the best-budgeted package which could be no better. We got all the facilities at a good price. She was very friendly and catered to all our needs. We didn't come across any hassle during our stay in the hotels or while getting the cabs. Thanks to TravelTriangle for making our Andaman trip from Kolkata memorable and extraordinary!
Our honeymoon in Andaman was a combination of adventure and bliss and we are sure that we gave all the necessary information to make yours too. There are some simple rules to follow in the beautiful city and you are ready to have the most extraordinary trip. We would recommend everyone to take a Andaman trip from Kolkata and treat themselves with something unique and interesting. There is so much to explore in Andaman that you will never find it enough! And to get the best deals for your vacation, do look at the customizations available for a trip to Andaman with TravelTriangle.
Common Queries For A Trip To Andaman From Kolkata
What is the best time to visit Andaman?
The best time to visit Andaman is between October and May.
What to wear in Andaman?
You should carry sunglasses, light clothes, sliders or open shoes in Andaman.
Is it safe to visit Andaman?
Yes, it is very safe to visit Andaman.
Which is the best place for a honeymoon in Andaman?
Havelock island, Port Blair and Neil island make it a good combination for a memorable honeymoon in Andaman.
What is famous in Andaman?
Abedeen bazaar is the most famous place in Andaman where you find the best souvenirs.
How much does it cost for a trip to Andaman?
It all depends on what inclusions do you want to have on your trip and from where your traveling. If two adults are traveling for 5-6 days, then it might cost them approximately INR 35000.
Is Uber available in Andaman?
Unfortunately, Uber is not available in Andaman. However, there are several tour operators from where you can prebook Taxis.
Which network is best in Andaman?
Vodafone, BSNL, and Airtel are the three main mobile networks that work fine in Andaman.
Looking To Book A Holiday Package?
Book memorable holidays on TravelTriangle with 650+ verified travel agents for 65+ domestic and international destinations.
---
Comments
comments