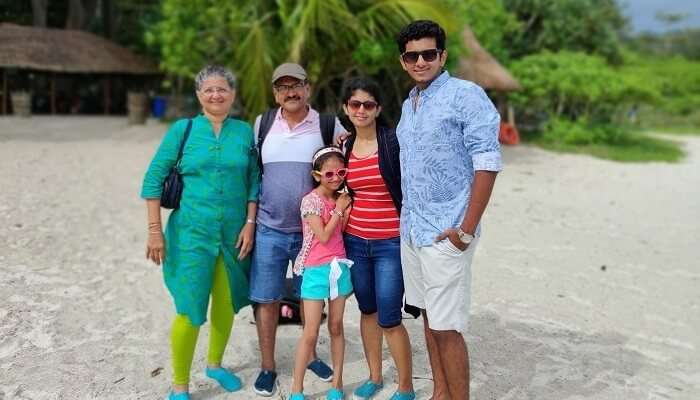 It was a family trip with parents and a kid so we wanted it to be leisure so mountains were not an option plus andamans had great beaches, the best in India, so we chose the place.
It was a very special trip. It was our first family trip after my wedding,It was my first wedding anniversary and also my husband's birthday in the same week. My sister-in-law had come from Singapore to India after one year. Every day every hour and every minute was special. From boarding flights, hotel stay to having super fun at the beaches to having romantic time with my husband and spending quality time with family on an island, it was all awesome! It is a memory strongly etched in my brain for a lifetime!
Trip Details – Family Trip To Andaman
Trip Type: Family
Trip Duration: 7N/8D
Trip Cost: INR 102,750
Inclusions: Airport transfers, Ferry transfer, Breakfast, Cruise, AC Cab
Exclusions: Airfare, watersports
No. of persons: 5 Adults, 1 kid
Itinerary – Andaman With Family
Day 1: Arrive in Port Blair
Day 2: Ferry to Ross Island
Day 3: Havelock Island
Day 4: Elephant Beach
Day 5-7: Neil Island
Day 8: Shopping in local market
 12 Happening Things To Do In Andaman In January On Your Vacation In 2022
Andaman Weather In June
We went there in the last week of June and almost all the travel agents warned us about the unpredictable weather. June is usually the month of monsoon. But we were lucky. The weather was pleasant all the time. However, the best time to travel to Andaman would be November-January if you want to avoid monsoon rains.
Trip To Andaman With Family – Best Experiences
Most people visit Havelock island and enjoy sightseeing around Port Blair but not us. We decided to explore the offbeat islands in the archipelago.
1. Neil Island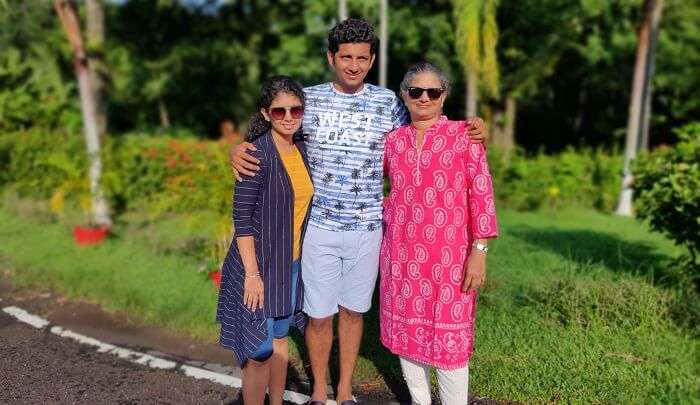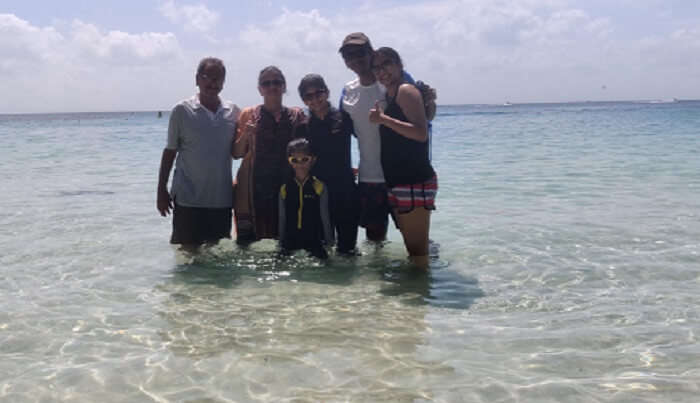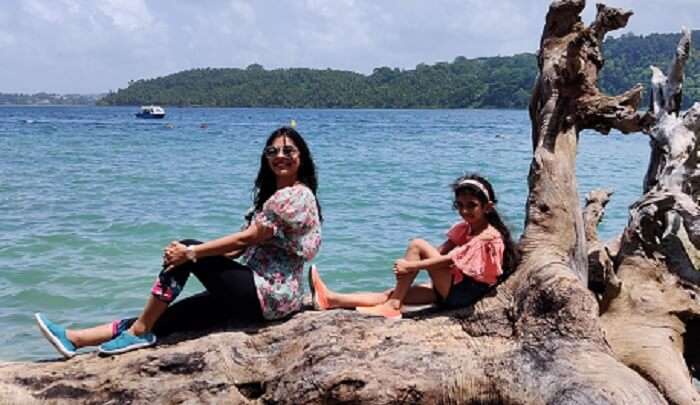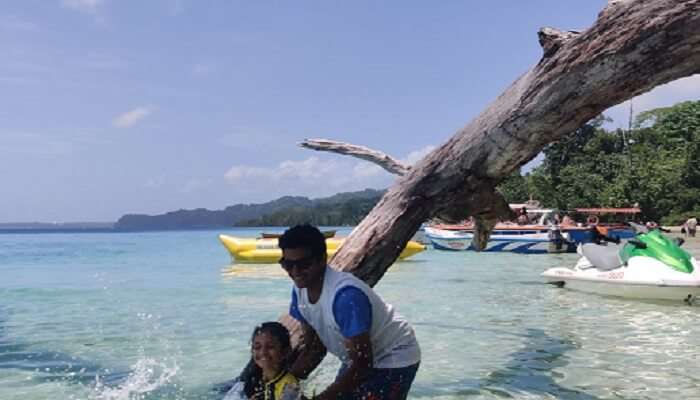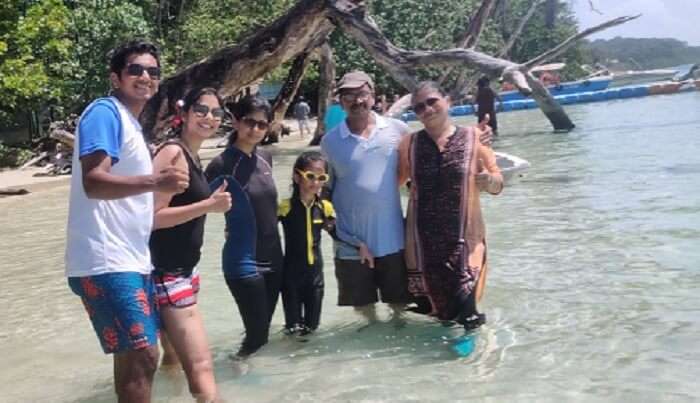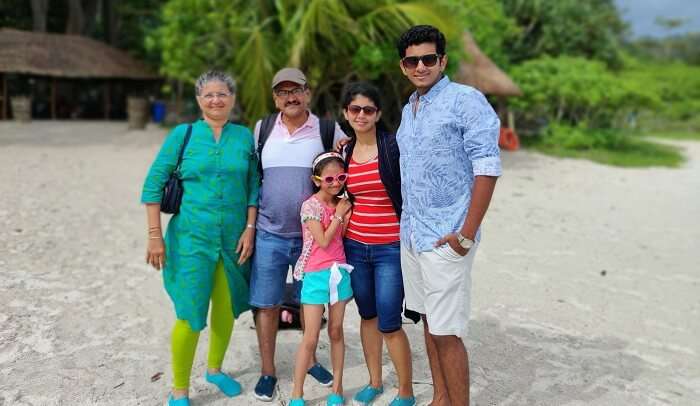 Neil Island was really the highlight of my trip to Andaman with family. My husband and I took a couple's trip to the island where our family joined us later. We enjoyed the views of breathtaking sunsets on the island. The turquoise blue ocean was teeming with colorful fish and coral reefs. It really is a wonderful place.
2. Ross Island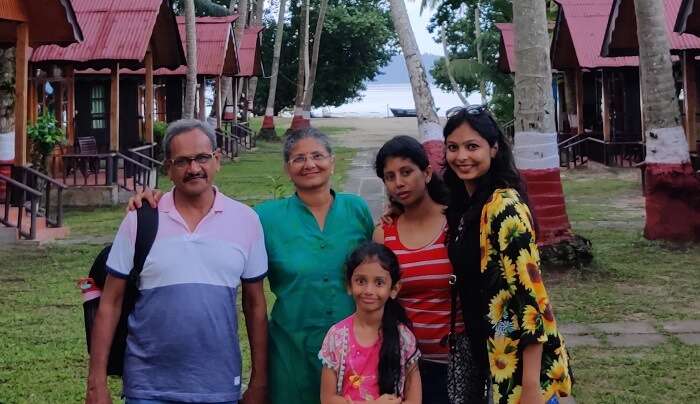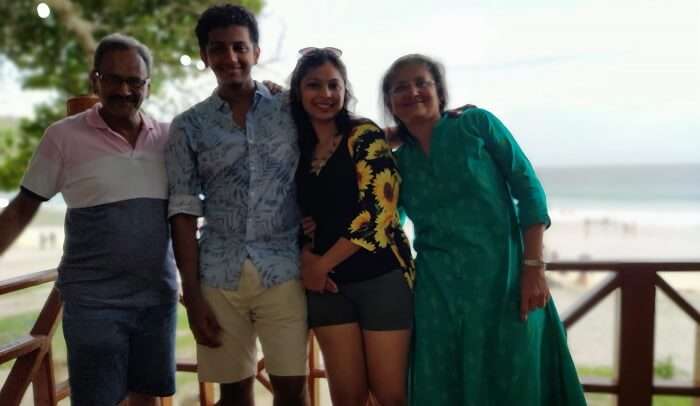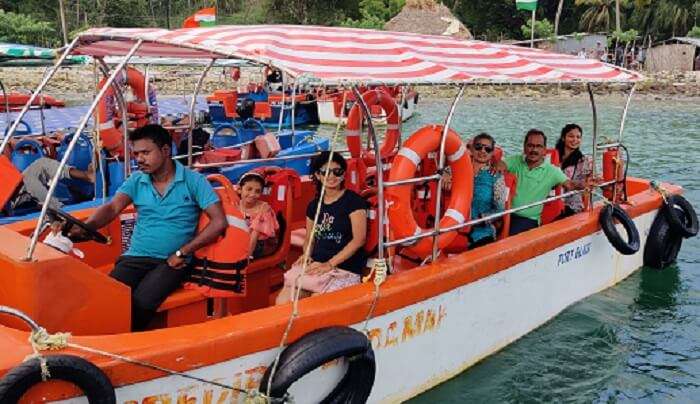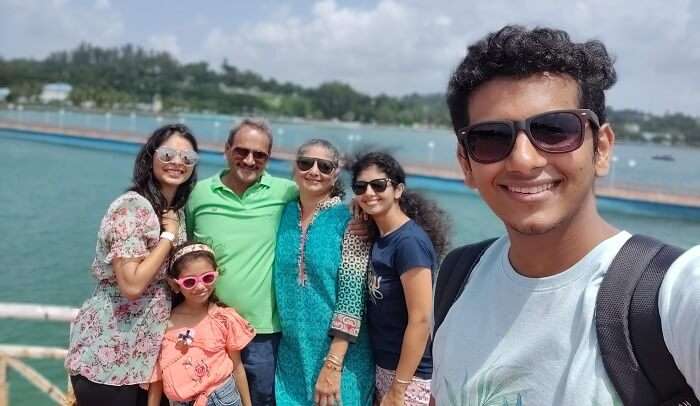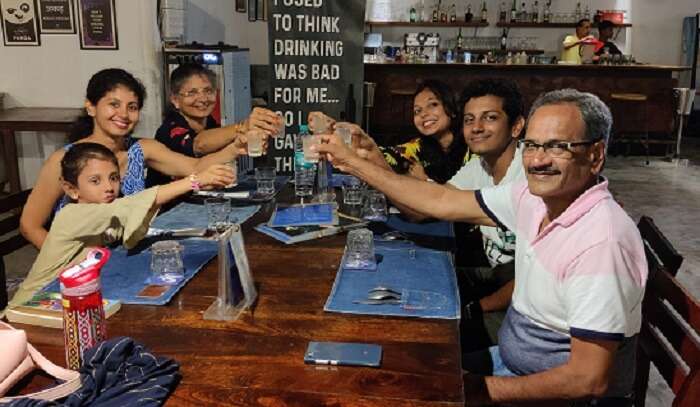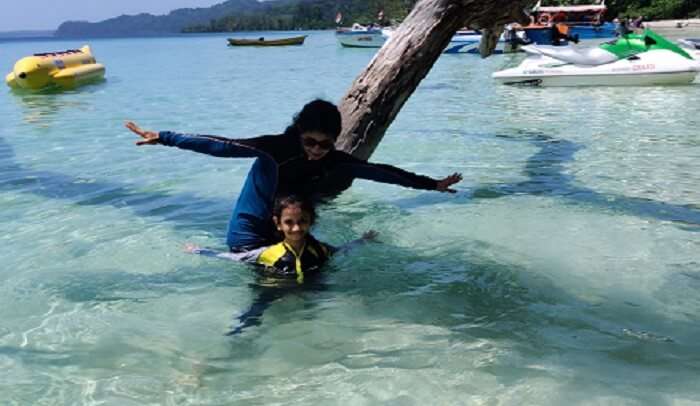 We took a ferry ride to the Ross Island that is also known as Netaji Subhash Chandra Bose Island. It is famous for its historical sites and ruins. The century-old trees and the colonial British headquarters on the island make this place worthy of a visit.
Winter In Andaman: A Guide To An Awesome Vacation In 2021-22!
3. Elephant Beach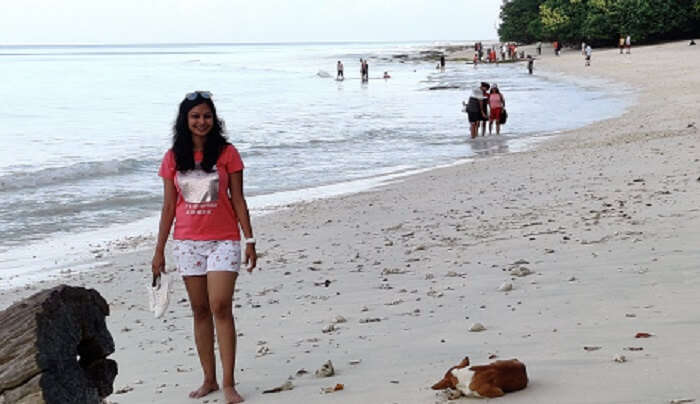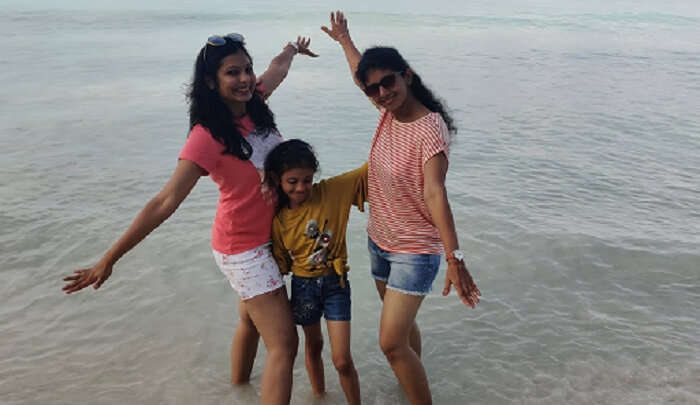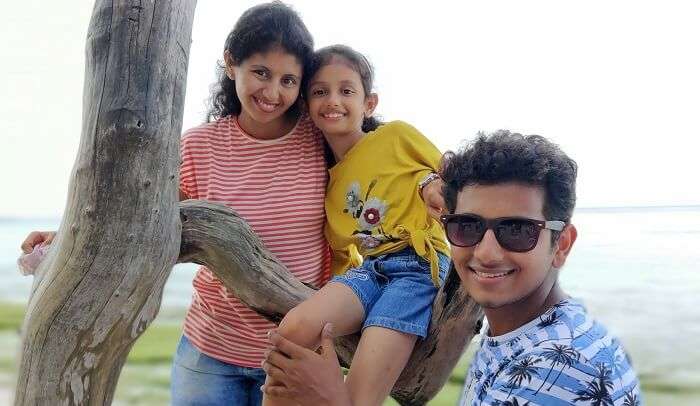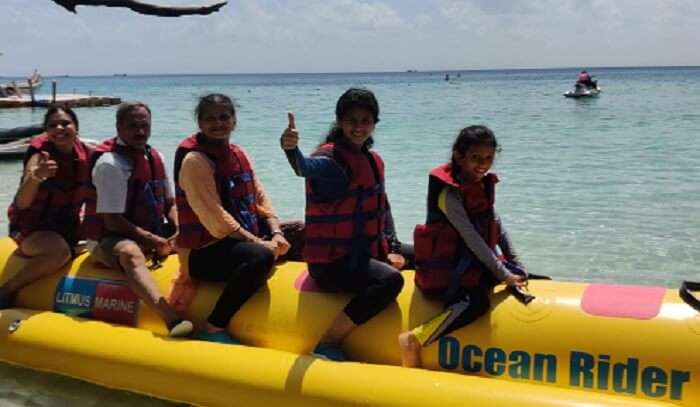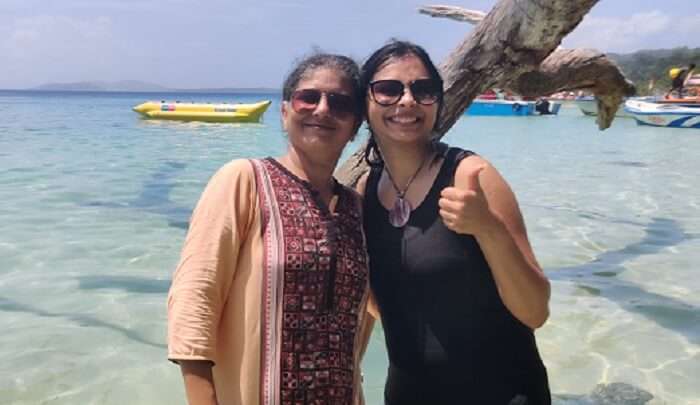 There are so many wonderful beaches in Andaman. We enjoy banana boat ride on the Elephant Beach. It was so much fun all of us together frolicking on the waters. The water was clear. Elephant Beach offers a variety of water sports such as jet skiing, snorkeling, scuba diving, etc. However, you won;t find the activities in the off season i.e. during heavy rainfalls. Thankfully, we didn't have to face such problems.
Accommodation
All the properties where we stayed on our family trip to Andaman were really good. It was well suited for people from all age groups. We are a Jain Family and our parents strictly have Jain food (no onion and garlic).So, I was really worried about the availability of Jain food. Though to my surprise we found plenty of options in our hotel itself. The rooms were spacious, comfortable and the hospitality was amazing. Here are the names of the property where we stayed:
Port Blair – Megapode
Havelock – Symphony palms
Neil Island – Pearl Park beach resort
Andaman Food
We went to 'Something Different' as I had heard and read a lot about this place. It totally is a must-visit place in the Andamans if you wish to have an amazing dining experience. They sent a chauffeur driven car for our pick up at our hotel. The staff was extremely courteous. We were given welcome drinks and the food was also amazing.
Shopping In Andaman
We got a lot of fashion jewellery which were easily available around the beaches. There was Sagarika Emporium which sold similar stuff but you could find better quality and more variety there. And of course magnets
 Celebrate New Year In Andaman For A Blissful Retreat & Good Vibes!
What To Pack For Andaman Trip
I received a check list of things to carry from travel triangle which was nothing short of being perfect. Thanks for that. In case you are wondering what to wear in andaman trip, you should carry light colored cotton clothes. Here is what all I carried in my suitcase:
Sunscreen
Shades
Aqua shoes (SUBEA) by Decathlon
Frisbee
Swimming costume
Shorts
Andaman Travel Tips
From my experience in Andaman in June, I would like to recommend below things to the fellow travelers who are also visiting Andaman.
Neil Island is a must-visit.
Do not spend a lot of time in Port Blair.
Rent a bike if you are alone or a couple.
Be in water all the time. There are a myriad of water sports to partake in Andaman.
There are a lot of pristine beaches in andamans go where there are not many people.
14 Thrilling Water Sports In Andaman That All Adventure Enthusiasts Must Try In 2022!
How To Reach Andaman
We took a connecting flight to Hyderabad as there were no direct flights from Bangalore to Port Blair. A flight is the only way to reach Port Blair.
Overall Experience With TravelTriangle
Planning a trip for my entire family was a huge responsibility. Also, I wanted to surprise my husband with a vacation. It just had to be super special because it's not everyday that we travel together. So, I had super high expectations even the smallest things like timely arrival of our cab driver. Everything had to be perfect. To my surprise, TravelTriangle did a fantastic job with customizations and planning. The best part was that if ever I needed any help, Travel triangle was just one WhatsApp away. My tripadvisor provided me with super quick resolution to all my issues. It was very convenient.
53 Best Places To Visit In Andaman In 2022 For A Mesmerizing Holiday Experience
Ankita's holiday in Andaman with family was a spectacular experience. We are sure you must have realized by now that Andaman is not just a place for couples and honeymooners. More and more families are preferring to tae a vacation in Andaman. What about you and your family?
Commonly Asked Questions
Is Andaman good for the family?
Yes, Andaman is amazing to take a family vacation. You can enjoy sightseeing in Port Blair with your family and spend a couple of days on Havelock.
How can I go to Port Blair from Chennai?
You can take a direct flight from Chennai to Port Blair. Spicejet, Indigo, Go Air, and Vistara has its flights running on this route.
How many days are sufficient for Andaman?
You need at least 4-5 days to explore the famous hotspots in Andaman. You may wish to extend your trip to as long as possible.
Which is better; Maldives or Andaman?
If you want a domestic vacation that will provide you an experience of a foreign holiday, then there is no better place than Andaman. If you wish to fly overseas and willing to extend your budget, then you can go to the Maldives in that case.
Which is better; Kerala or Andaman?
Both Kerala and Andaman have their own USPs. While Andaman is known for picturesque islands and lush environs, Kerala is a place where you can enjoy all three terrains in one holiday. You got beaches, rolling hills, and backwaters in Kerala.