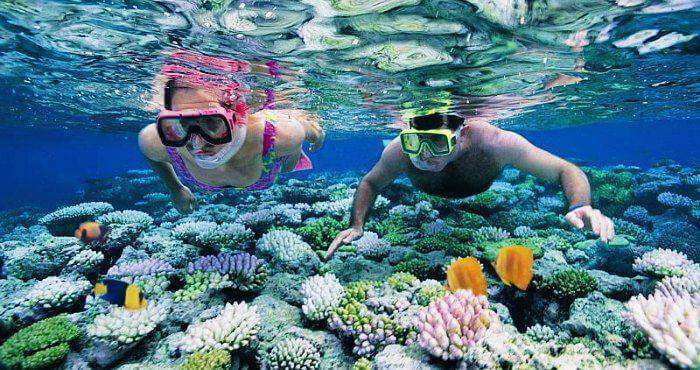 What fun is it for a non-swimmer in Andaman, you'll only end up watching all your friends splashing into the water, while you sit and sulk, right? Wrong! 'Cause what if you can't swim, if you have the heart you can have as much fun in the waters as a pro swimmer can. There's a trove of adventure sports in Andaman that wouldn't require mastery in swimming, however, you have to have the heart to plunge into the sea with your life jacket on. Don't worry there'll be someone to save you if you see that big fin coming towards you! So, here are some of the famed water sports in Andaman that you can try (no swimming required).
Top 13 Water Sports In Andaman Islands
The Andaman Islands are popular amidst adventure seekers due to the variety of water sports one can enjoy here. No one can get bored as this place has a multitude of activities available for one and all. Here is a list of the exciting water activities along with cost of water sports in Andaman:
Banana Boat Rides
Snorkeling
Scuba Diving
Parasailing
Undersea Walking
Jet Skiing
Speed Boating
Sport Fishing Or Angling
Glass Bottom Boating
Seaplane Ride
Swimming
Kayaking
Mangrove Kayaking
1. Banana Boat Rides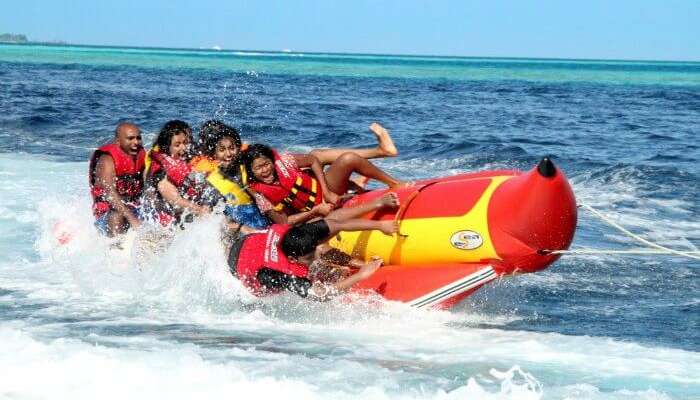 Out of all adventure activities in Andaman, banana boat rides are splendidly fun and exciting. At a time six people can ride these boats that are shaped like a banana and are tied behind a speed boat to gain rush. They are perfectly safe as you're given life jackets and the instructor is always sent along on the trips. So, don't hold yourself back, but jump on the banana boat ride in Andaman and enjoy the ride. This is the best kind of adventure in Andaman.
Best place: Havelock Island and Rajiv Gandhi Water sports complex
Cost: INR 250 per person
---
Andaman Holiday Packages On TravelTriangle
Indulge in snorkeling or scuba diving to see magnificent coral reefs or stay in beach resorts at Havelock island. Visit Port Blair, Ross Islands, Neil Islands, Gandhi Marine Park, and Cellular Jail. Book memorable holiday packages on TravelTriangle.
---
2. Snorkeling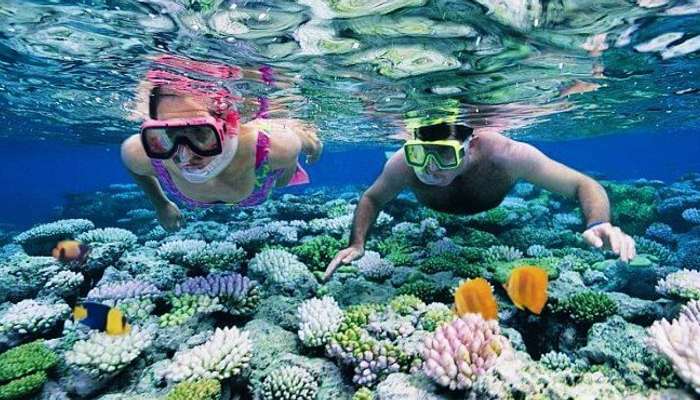 If you haven't tried snorkeling before, give it a go and you'll know what you've been missing. As the colorful reefs of Havelock Island shimmer through your goggles you'll know what made Ringo Starr sing "Octopus's Garden". See the underwater marine life and view the rarest of corals while enjoying one of the best water sports in Andaman at the North Bay Island. We bet that it won't leave you disappointed.
Best place: Elephant beach, North Bay and JollyBouy
Cost: INR 600 – INR 4000 per person
Must Read: Best Things To Do On A 6 Day Honeymoon Trip To Andaman
3. Scuba Diving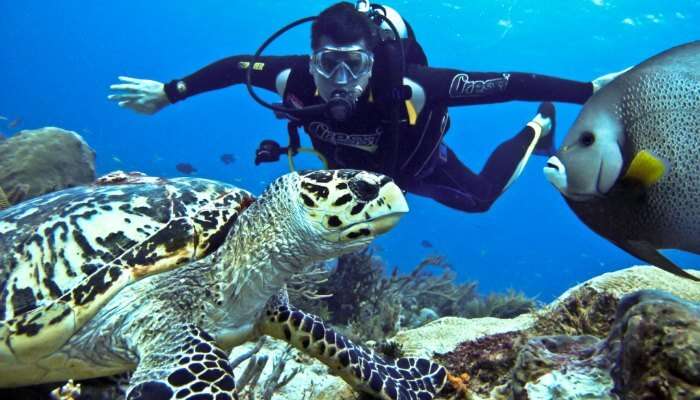 Image Source
There are numerous scuba diving centres in Andaman from where you can get your PADI certificate and no, you don't have to know swimming for that. For other tougher levels and to go into open waters you have to be a little skilled in swimming but not for PADI. So, what are you waiting for, those colourful corals and enchanting water life is waiting for you. It is after all one of the best water sports in Andaman and Nicobar Islands. Scuba diving in Andaman for non swimmers is an excellent water sports.
Best place: Elephant beach
Cost: INR 3500 – INR 6500 per person
Suggested Read: Port Blair Honeymoon Guide 2020: A Must-Have For An Experience As Unique As Your Love Story!
4. Parasailing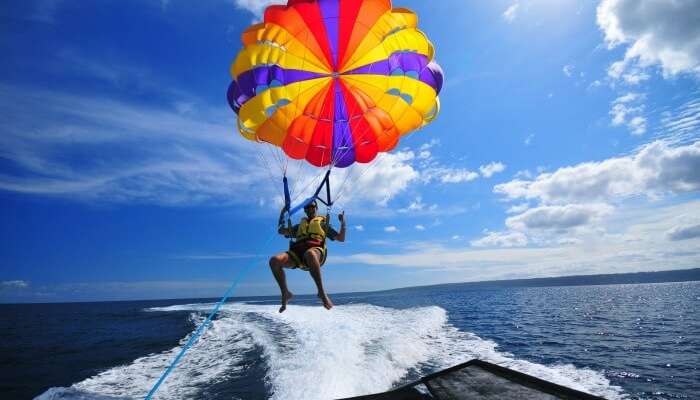 Another one of the incredible water sports in Andaman that non-swimmers can enjoy. Parasailing is a sport that is a wonderful mix of water and airborne adventure. You're tied behind a motorboat while harnessed in a parachute. So, you fly like a kite behind the boat as it speeds off into the sea. Superbly thrilling it is! And you might get to dip into the water too, while parasailing.
Best place: Rajiv Gandhi Water Sports Complex
Parasailing cost in andaman: INR 3000 – INR 4000 per person
5. Undersea Walking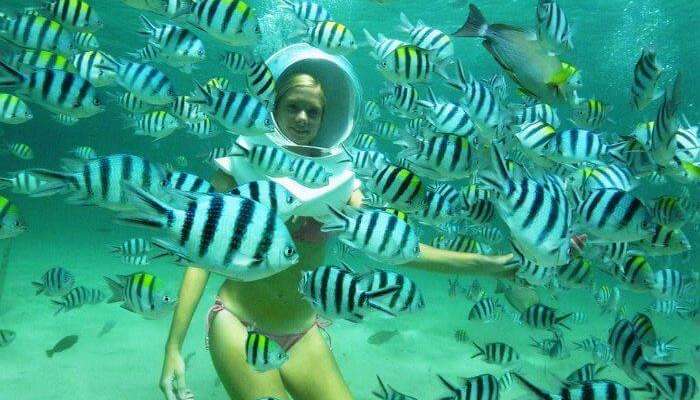 Undersea walking is another superbly fun adventure sport in Andaman. Absolutely no experience required, no complicated equipment to handle and you get to walk on the smooth and clean sand of the seafloor with a helmet which offers a close-up view of the underwater world without any hassle. No wonder it's one of the most popular water sports in Andaman and Nicobar Islands. Are you excited to try Underwater SeaWalk in Andaman?
It's perfectly safe as well because the instructors are constantly available. Also, you could keep your glasses or contact lenses on and your fancy hairdo wouldn't mess up either. One of the best places for SeaWalk in Andaman in Elephant Beach.
Best place: Elephant beach
Cost: INR 350 per person
Suggested Read: Top 12 Places To Visit In Andaman
6. Jet Skiing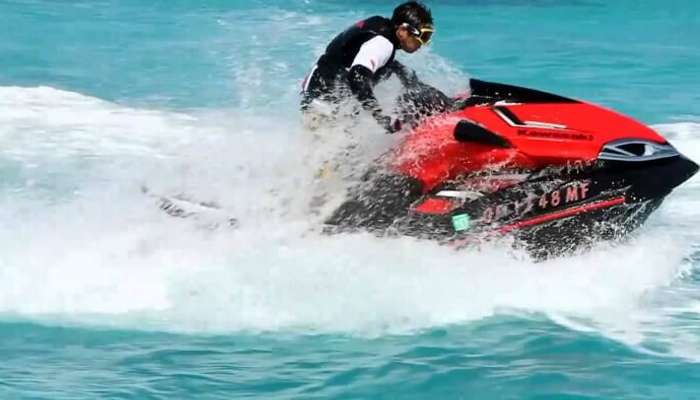 Image Source
Out of all the adventure activities, jet ski ride in Andaman definitely stands out! However, the sport is best enjoyed during good weather only. During heavy downpour or during a storm, jet ski in Andaman could be dangerous. So, check the weather conditions before you head out to enjoy this water sport.
Best place: Rajiv Gandhi Water Sports Complex
Cost: INR 600 per person
---
Planning your holiday in Andaman but confused about what to do? These Andaman travel stories help you find your best trip ever!
Real travel stories. Real stays. Handy tips to help you make the right choice.
---
7. Speed Boating
Image Source
Ok, so you want to be in the waters but don't want to get in; want to experience the thrill but still be secured- Don't worry we've just the sport for you. Be inside the safety of a speed boat as it splashes through the waters at pulsating swift. It's one of the coolest water sports activities in Andaman that you just can't miss, swimmer or otherwise. Are you ready to enjoy this water ride?
Best place: Rajiv Gandhi Water Sports Complex
Cost: INR 2250 per person
Suggested Read: 30 Places To Visit In India Before You Turn 30
8. Sport Fishing Or Angling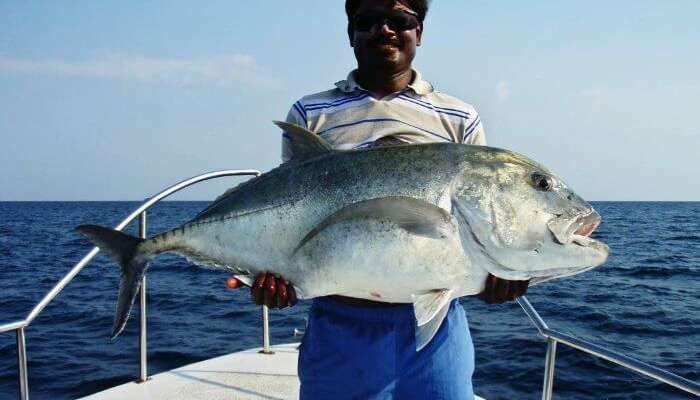 Not all water sports require you to get drenched. One of these is sport fishing, which is one of the most popular water sports in Andaman. Go on a fishing trip in one of the swanky yachts. Mostly these trips begin in the afternoon, post-lunch. Oh, and yes, you can cook and eat the prizes you catch on your fishing trip. Isn't it pretty exciting?
Best place: Anarkali Colony, Shyam Nagar, Havelock, Andaman and Nicobar Islands 744211
Cost: INR 13,000
Suggested Read: It's All About Likes: 20 Indian Destinations For That Killer DP
9. Glass Bottom Boating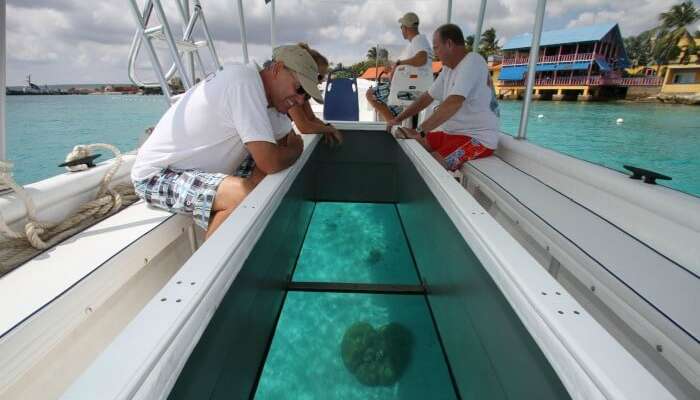 Tiny boats with glass bottoms for you to have a glimpse of the water life as it sails through the sea, that's glass bottom boating for you. This water sports in Port Blair is very popular. You can take glass bottom boat rides from Water Sports Complex to North Bay Coral Island or Port Blair to Jolly Buoy Island. It is definitely an amazing experience and one of the finest sea sports in Andaman. So, do not miss out on the Glass Bottom Boating when you are at the Andaman Islands.
Best place: Opposite Premier Industry, Dairy Farm Road, Port Blair – 744103
Cost: INR 2250 per person
10. Seaplane Ride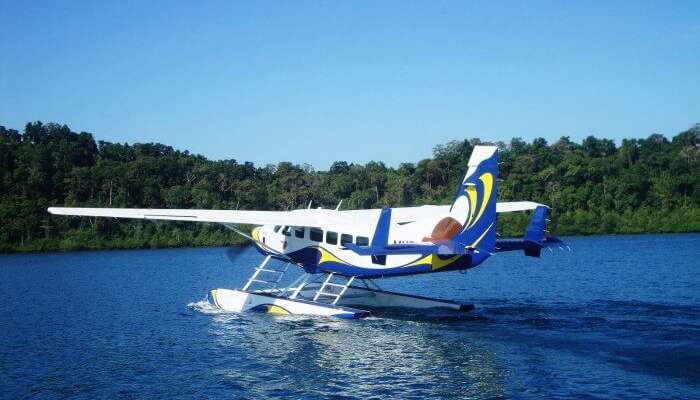 Andaman is the first place in India to recently introduced, commercial Seaplanes. A ride in one of those is something you just can't miss; it is easily one of the best adventure sports in Andaman. These seaplanes can carry 9 passengers at a time and ply between Port Blair and Havelock Island. The ride takes only 15 minutes which otherwise by ferry would take 2 hours. So, why not take the seaplane ride?
Best place: Port Blair
Cost: INR 2500 per person
Suggested Read: Fragments of History: 10 Fascinating Shipwreck Diving Sites Worldwide
11. Swimming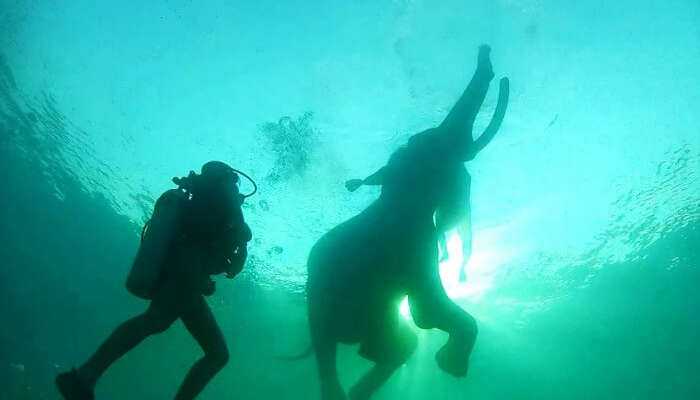 Snorkeling or diving with superstar Rajan is one of the coolest water sports trip in Andaman and Nicobar Islands that you can enjoy. He is 63 years old and like any other elephant is friendly and loves the company of people. Diving or snorkeling with Rajan needs to be booked ahead of time so that the bookings can be sorted. Do not miss out on this amazing experience which you can only enjoy during your vacay to the Andaman Islands. And this activity doesn't even cost much if you were worried about the water sports price in Havelock Island.
Best place: Port Blair
Cost: NA
12. Kayaking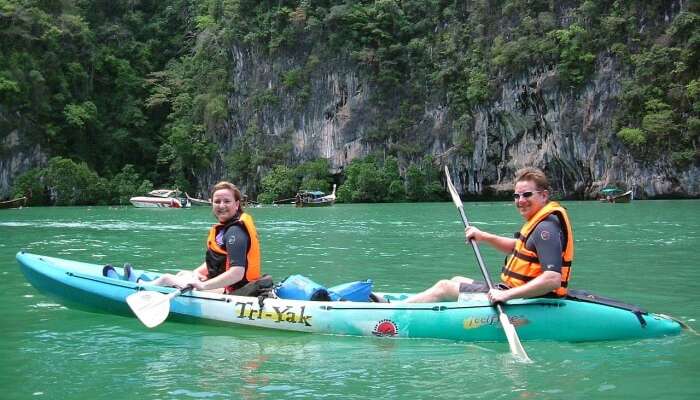 Kayaking is one of the best water sports to experience while in Andaman. As the destination is surrounded by streams and seawater, this place can be best explored by peddling a kayak and sailing amidst the dense jungles and isolated islands. Through kayaking, the travelers can also take a glimpse of the natural rock formations. It's one of the best water sports in Andaman in October for water babies and beach bums to try.
Best place: Havelock Island
Cost: INR 2400 per person
13. Mangrove Kayaking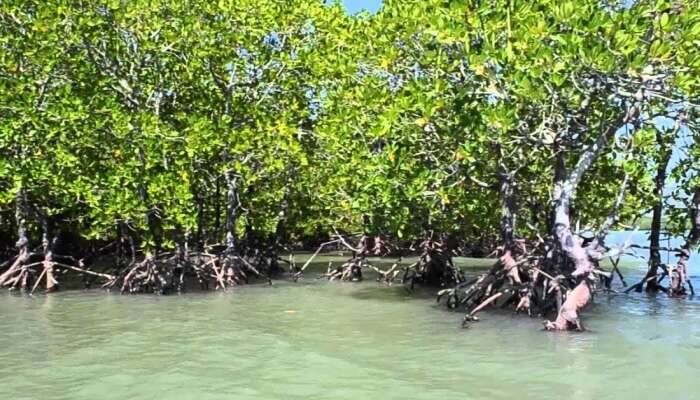 Image Source
There are various kayak tours offered in Andaman and for the first time travelers, this will be an incredible experience. Sea kayaking in Andaman is another thing which makes this town a must visit place in Thailand. It is a specific kind of kayaking which gives a chance to explore the vastness of the sea sitting on a kayak and witnessing the exotic views on the way.
Best place: Mayabunder
Cost: INR 3500 per person
Further Read: 9 Best Hotels and Resorts in Andaman For Every Budget
Intrigued? We are sure, that you are already checking the dates to book your vacation to the Andaman Islands. Head there and have a great time enjoying the water sports in Andaman. October till January is the best time to plan your trip to the heavenly islands as the weather is salubrious. Since it is a peak season, make your bookings in advance to avoid paying higher prices.
Frequently Asked Questions About Water Sports In Andaman
Q. Is scuba diving safe in Andaman?
A. Yes, scuba diving in Andaman is absolutely safe. In fact, even deep-sea diving in Andaman is absolutely safe if you're accompanied by a trained diving instructor and are wearing quality equipment.
Q. Can non-swimmers do scuba diving in Andaman?
A. Introductory scuba diving does not require swimming thus, non-swimmers can also do scuba diving in Andaman.
Q. How much does scuba diving cost in Andaman?
A. Depending on the season and the course opted by the customer, the price for scuba diving in Andaman ranges from INR 3500 to INR 6500.
Q. Which beach is best for scuba diving in Andaman?
A. Havelock Island and Port Blair are the two main places for scuba diving and also famous for other water sports in Andaman.
Q. What is the best place for parasailing in Andaman?
A. Look no further than Corbyn's Cove Beach in Port Blair for best parasailing in Andaman.
Q. Is sea walk safe in Andaman?
A. Anyone from the age of 7 to 70 can opt for sea walk as it is safe. People with heart conditions, asthma, and pregnant ladies are not allowed to underwater sea walking.
People Also Read:
Water Sports In Galle Water Sports In Ho Chi Minh Water Sports In Nusa Dua
Comments
comments