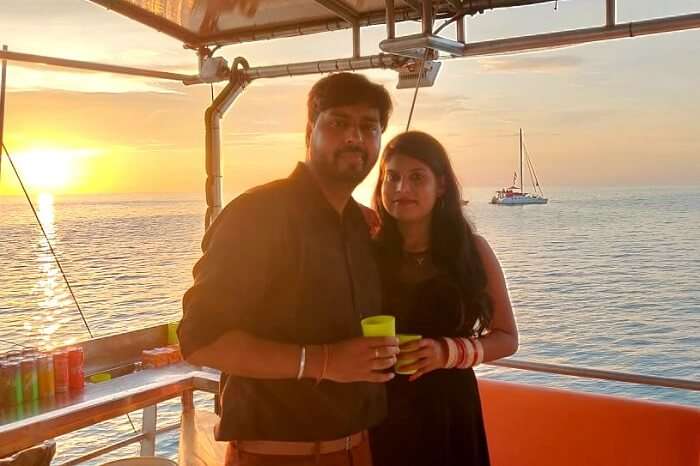 Work. Save. Travel. Repeat: As much as we love the quote, we strive to stick to it too. My wife and I are IT professionals working in Pune. And being extremely workaholics, we direly need to get off the hook sometimes. When we ponder over travel, we rightly get into another magical world. From exploring new places to diving into various cultures and to witnessing the beauty of nature, travel is a sure short power booster to recharge our body, mind & souls. Its so exciting see what nature has hidden since eons and we even in the 21st century can actually have a closer look to it.
Like every other Indian, we were also passionate about going abroad. Since it was going to be our first international trip together, we didn't want to take any risk. We both were looking for a country which will suit our budget and match our travel needs as well. Honestly, deciding upon the location was much like a task for us as the more countries we were researching about, the more reasons we were coming across to eschew those. Maldives, Seychelles, Srilanka, Thailand, Malaysia, we evaluated all, but finally, our plan escalated when we stumbled upon "Langkawi". Since we could take pleasure of both scenic mountains & warm sandy beach & crystal-clear waters, and most likely it is not crowded during December, we unanimously settled on Langkawi. While we were looking for a perfect location for a couple retreat, we also had eyes on the best travel planner. Fortunately, TravelTriangle made its way through Google and we were astonished to find that we could actually customize our package as per our needs. What a sigh of relief it was!
And here I am penning down all the memories of our lovely trip to Langkawi, Malaysia:
Romantic Trip To Langkawi (Malaysia)
Trip Type: romantic
Cost: INR 55900
Duration: 4 Days
Inclusions: Breakfast, Langkawi Island Hoping, Sunset Dinner Cruise, Return airport transfers, Cable Car (Oriental Village), Skydome, Skyrex, 3D Art Langkawi & Skybridge w/Transfers
Exclusions: Personal expenses, Lunch, Dinner, Mediclaim Charges
21 Malaysia Islands You Must Visit In 2022 For Having The Best Vacation Ever
Day 1: A Day Spent at Leisure

With sheer excitement, we reached Langwani airport where the driver assigned to us was already waiting for us. He dropped us to our pre-booked resort and also nicely explained about the plan for the next day. Being quite jet-lagged and exhausted of traveling all through the night, we decided to get cozy only at the resort. Our resort, Taj by Vivanta -Rebak which is located on an isolated island was a perfect accommodation for us to be around quaint and peaceful ambiance. Also to upgrade our stay, we opted for a partial sea view room overlooking the azure expanse of the sea. Like the name Taj, the services provided by the hotel staff were also top-notch.
Day 2: The captivating Sunset Dinner Cruise



We didnt' want to miss the breakfast served at the resort, so we got up early and went ahead with devouring the scrumptious for breakfast. It was a truly delicious morning treat to keep us full till at least lunchtime. Upon enjoying our morning delights, we reached the resort port from where we took the jetty to head towards Port Cenang. Like various complimentary services, the jetty ride was also extended to us at no extra cost by the resort. Later, the driver drove us for the island hopping tour. The tour was simply breathtaking with flora and fauna all around offering the glimpse of nature at its best. He also showed us four islands-pregnant maiden, geoforest park, private beach, and eagle point. A leisurely walk through the Dayang Bunting Marble Geo-Forest Park led us to this beautiful freshwater lake. While climbing stairs around the lake of pregnant maiden, we were a little cautious as we heard monkeys there are quite notorious and steal tourists' stuff. Further, enjoying a nice waterfront setting, the photogenic eagle statue was worth taking pictures around. After a fun-filled island tour, our driver dropped us back to the resort port.


Now was the time to get the taste of the icing on the cake. The much-awaited part of our trip was going to begin: "The Sunset dinner cruise". We boarded the ship to dive into the tranquility of the scenic beauty and luxury of the dinner cruise. We were truly mesmerized by the charms of nature and the emerald green ocean, also the magnificent mountains were enough for leaving us spellbound. The reflection of The Sunrays was laid down on The Ocean as if the colors of the rainbow are spread all across. The mountains were also visible inverted in the crystal clear water. The cordial ship attendant explained all the security measures to be taken in case of an emergency. Later to treat our hunger pangs, we were served sizzling drinks coupled with some flavorsome starters. Adding the perfect touch to the whole awe-inspiring aura, the ship was sailing with a slow pace in the harmony of the music around. We hardly realized how time flew and there we reached back to the shore with still swooning over the perfect settings. Post that we headed towards our resort to enjoy a good night sleep.
12 Malaysian Street Food Dishes That You Should Try In 2022
Day 3: Time to Challenge Heights





Followed by a sweet dream-like day, we geared up for some adventure on day 3. Touted as one of the unique engineering marvels, Skybridge was eagerly waiting for us. The driver already handed over the tickets for the ride and without wasting even a minute we took skycable to reach the skybridge. Since I and my wife both love heights, we were basking in the glory of the apex on our skyride, but honestly, the thrilling experience gave us goosebumps too. Witnessing beautiful scenic locations from an eagle's eye amidst pleasantly-cool breeze made our day. Luckily, we were able to click some amazing pictures but sadly the ride was over and we came down from the sky cable. But, there was another experience waiting for us at the SkyDome. The impressive sensory experience with a short roller coaster ride showed us a 3D animated movie, and it was indeed a perfect end of the eventful day.
A heavy Goodbye to heavenly vibes


We didn't have anything planned for the last day as our flight was booked for the afternoon. But before leaving, we really wanted to get the last scrumptious breakfast at the resort. Right after we finished our meals, the cab came to drop us to the airport. With happy faces and countless memories in our hearts, we flew back to our town. Thankfully, we made the right choices for the location and for choosing our travel partner as well. We're so much glad to realize that this trip turned out to be one of our most-loved relationship milestones.
Malaysia In March: A Mini-guide To Know Everything Before Your Trip In 2022
Perfect moments of our trip
The magnificent Skybridge offering exhilarating views of mountains & the sea below and venturing off on a sunset dinner cruise were the highlights of our trip. Needless to mention, the incomparable services at Taj by Vivanta -Rebak Island surely added charm to our entire stay.
Any low points of our trip
Fortunately, there is no negative point we could come across during our trip. All the inclusions were superbly handled by Tomorrowland.
Things we missed out on
Since our trip was going so smooth and hassle-free, we wish we could extend it a bit and relax there for some more days.
Our experience with Travel Triangle
Travel Triangle was indeed the cornerstone of our trip. They made sure that everything was perfectly organized and we do not come across any hurdle during our stay. Such amazing services really surprised us. Kudos to the management!
A quick tip to future travelers
Don't forget to try alcohol here if you want to chill and relax. Just like Goa, alcohol is pretty cheap here as well.
25 Honeymoon Destinations In Malaysia To Visit In 2022 That Will Surprise Your Partner
Do you also want to make your trip as surreal as ours? Choose from our customizable romantic packages and let TravelTriangle help you make a collection of blissful memories.