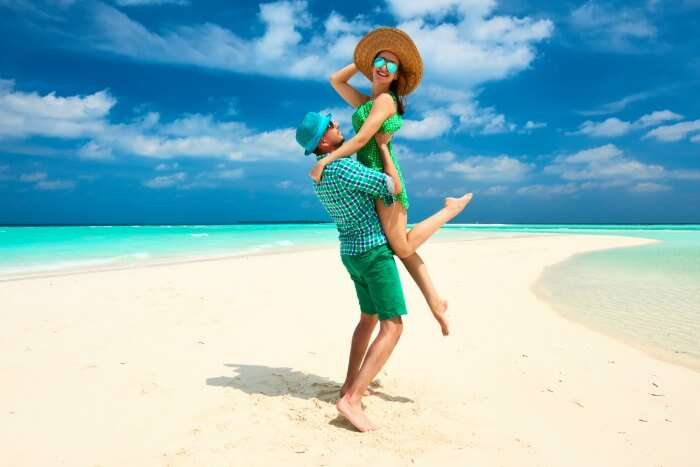 As cliché as it may sound, the honeymoon sets the pace for a new life together. This stardust-sprinkled time is the most memorable and what makes it more so is the destination one chooses to visit. Honeymoon destinations in Malaysia seem to have all the ingredients to make this experience truly fantastic.
Quick Links
Reasons For Visting Malaysia On Your Honeymoon
Malaysia is a country of romantic wonders. The modern infrastructure, the natural scenic beauty, wildlife, people, culture and food makes it a great destination. And the prices make it a suitable destination for the newlyweds to kick-start their married life with a great honeymoon tour experience. Here's why you must head to Malaysia for a honeymoon:
Pocket-friendly: one of the most economical holiday destinations in Asia
Traveling inland is pretty cheap and there are a lot of affordable honeymoon destinations in Malaysia.
English is commonly spoken, so getting around and being understood is easy
Perfect for luxury travelers as well as backpackers
Climate is wonderful, except the monsoon months (July – Mid September)
A blend of modernity and Pan-Asian cultures
Offers sun, sand, rainforests, hills and adventure
The food is mouthwatering- a motley mixture of various Asian cuisines
How much will a honeymoon in Malaysia cost?
Currency: 1 INR = .06 MYR
Ideal Duration: 6 Nights 7 Days
Approx package cost: INR 30000 per person
Airfare: INR 34000 round trip when booked two months in advance
What kind of honeymoon traveler are you? Choose your type and select your dream location from our list of the best Malaysia honeymoon places.
Secluded Honeymoon Getaways In Malaysia
There is nothing better than sitting in silence, with only stillness for company that connects two souls together. Malaysia understands this perfectly.
1. Tioman Island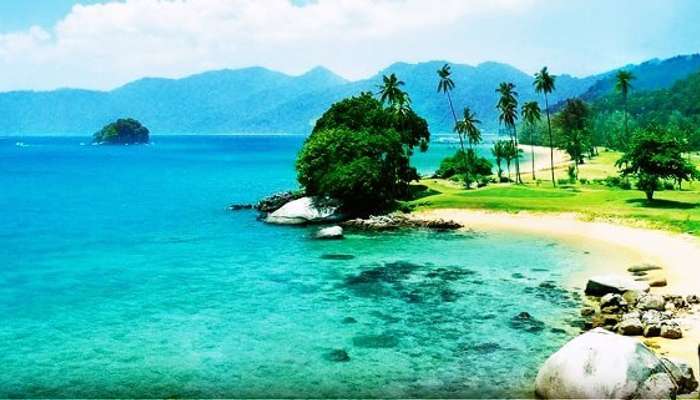 Image Source
In the shape of a dragon, Tioman island is an enchanted place with its roots in a legend of a dragon princess resting here on her way to visiting her prince. One of the amazing Malaysia honeymoon places, it's a heady mixture of lush tropical jungles, innumerable mountain streams, pristine beaches and a spread of exotic marine life.
How to reach: Easy to access by ferry from Mersing on the east coast of Peninsular Malaysia, it also boasts of an airport on the island itself.
Best resorts for honeymooners:
Luxury: Japamala Resort
Mid range: Minang Cove Resort
Budget: Paya Beach Spa and Dive Resort
Ideal duration for honeymooners: 2- 3 days
Best time to visit for honeymoon: March to October
Things to do in Tioman:
Enjoy the beaches- laze around or try some aqua sports like kayaking, surfing and jet-skiing
Get the best underwater experience, dive and snorkel to your heart's content
Go Island hopping in speed boats
Take in the breathtaking beauty of the Asah waterfall and other smaller ones all around the jungle and trek through the lush rainforest
It's a duty-free island….shop on!!
Must Read: 15 Best Honeymoon Destinations In Asia In Summer Of 2019
---
---
Malaysia Honeymoon Packages On TravelTriangle
Go on a romantic escapade to Malaysia. Explore it's lush green landscapes, tropical rainforests, or magnificent underwater world. Book customized packages Inclusive of airport transfer, cab, resort, sightseeing, and meals from expert agents on TravelTriangle. Book Now!
---
2. Pulau Langkawi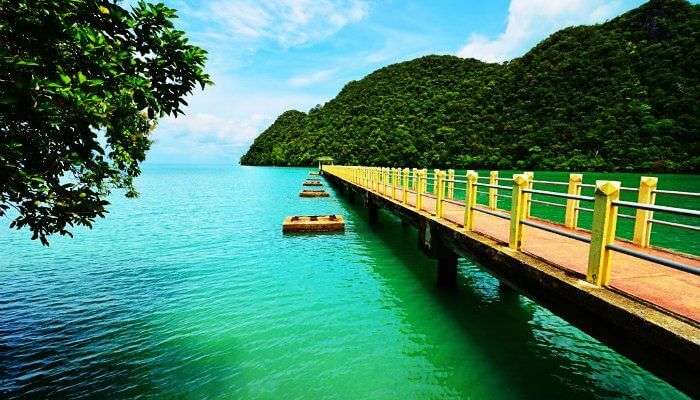 Imagine staying on one of 104 exotic islands in the Andaman sea, simply surrounded by white sand beaches and turquoise blue waters. Langkawi, also known as the Jewel of Kedah, offers is the best place for Malaysia honeymoon. While the sea allures you, the inland with the green paddy fields and quaint picturesque villages are just as enticing.
Best resorts for honeymooners:
Luxury: The Andaman
Mid range: Berjaya Langkawi Resort
Budget: Tropical Resort
Ideal duration for honeymooners: 3-4 days
Best time to visit for honeymoon: Practically the entire year
Things to do in Langkawi:
Take a dip at the Seven Wells waterfalls
Glide in the cable car to the summit of Gunung Matchincang
Venture onto other islands and if you are adventurous enough, maybe do a little eagle feeding
Sail across to the Pulau Payar Marine Park and catch a glimpse of life under water
Spend a romantic evening on the Stardust BBQ Sunset Dinner Cruise- if you are lucky you might even spot some spinner dolphins or flying fish
Experience the mangroves in the mangroves safari
Visit the Underwater World, one of the largest marine and fresh water aquaria in Southeast Asia.
Or just step out of your resort and sample traditional Malaysian food on the streets
Suggested Read: 15 Most Affordable Yet Amazing Beaches of South-East Asia
Beach Honeymoon Destinations In Malaysia
Fun on the beach, waves lapping up the shore, white soft sands, cool breeze blowing from the sea, chasing little crabs to their tiny homes, collecting pocket full of colourful shells together. Isn't this a vision right out of a romantic novel? In Malaysia, this becomes a reality.
3. Batu Ferringhi Beach (Foreigner's Rock)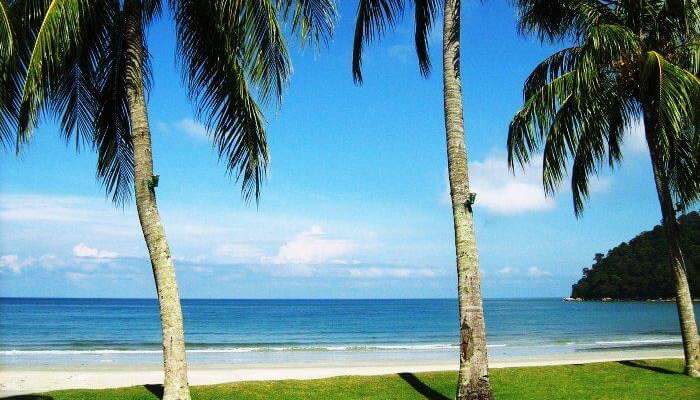 One of the most popular beaches in Penang on the west coast of Malaysia, this honeymoon destination is ideal to just chill on the beach and enjoy the sea. It is characterized by miles of soft white sand stretching on both sides and a long-winding road, Jalan Batu Ferringhi.
Best resorts for honeymooners:
Luxury: Shangri-La's Rasa Sayang Resort & Spa
Mid range: Park Royal Penang Resort
Budget: Holiday Inn Resort Penang
Ideal duration for honeymooners: 2-3 days
Best time to visit for honeymoon: December to September
Things to do on and around Batu Ferringhi Beach:
Sun bathe on the beach & enjoy a relaxing Thai body and foot massage
Have a fun-time with beach buggy, horseback riding, para-sailing and jet-skiing.
Try out some fruit tasting at the Tropical Fruit Farm
Go for a jungle trekking or camping at the Teluk Bahang
Experience the open air bazaar-the night market &shop for curios and souvenirs
Explore the streets in a trishaw
Sample some amazing Malaysian food like ikan bakar, the Malaysian style of grill fish
Suggested Read: 23 Killer Budget International Trips Which Will Cost You Less Than An iPhone
4. Pangkor Island, Perak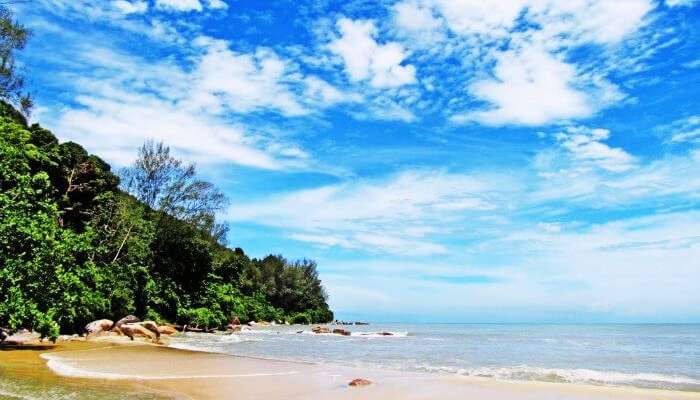 Just a short ferry ride from Lumut, this island has some of the most beautiful beaches in Malaysia. Nipah Beach and the Coral Beach are perfect beaches for honeymooners to head for. Small islets with amazing corals, fish and sea cucumbers add to the sparkle of this island. It is one of the most magical Malaysia honeymoon places. Enticed to book your honeymoon package Malaysia already?
Best resorts for honeymooners:
Luxury: Pangkor Laut Resort
Mid range: Anjungan Beach resort and Spa
Budget: Pangkor Sandy Beach Resort
Ideal duration for honeymooners: 2-3 days
Best time to visit for honeymoon: All the year round
Things to do on Pangkor Island:
Experience the scenic beaches and beautiful sunsets on the beach
Feel the enchantment with a night swim surrounded by glowing blue planktons
Enjoy numerous water sports on Nipah and Bogak beaches like banana boat rides and Jet-ski
Parasailing at it's best- take-off and land on a parasailing winch boat
Take a romantic motorbike ride around the island
Or if you prefer, cycle around up and down the streets
Don't miss the hornbill feeding
For those who enjoy invigorating treks, there is a jungle trek too
Suggested Read: 30 Most Romantic International Honeymoon Destinations for Every Budget
5. Mabul Island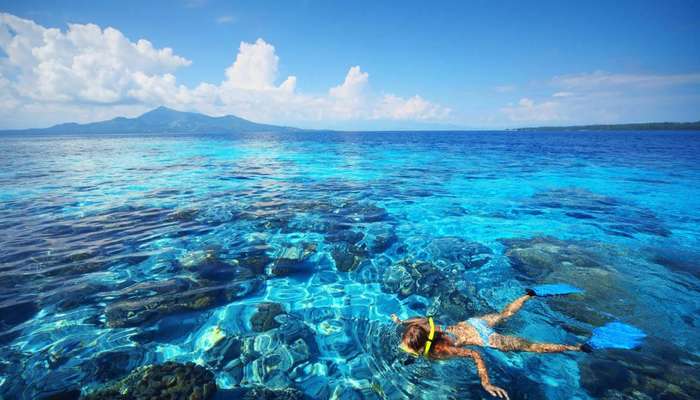 Featuring pristine beaches with coconut trees, soft white sand, and emerald water, this hidden island in another best place for honeymoon in Malaysia who are looking for for a non-cliche experience. The lack of tourism at this place would guarantee absolute privacy and make your trip one-of-its-kind.
Best resorts for honeymooners:
Luxury or Mid range: Mabul Water Bungalows and Sipadan Mabul Resort
Ideal duration for honeymooners: 2-3 days
Best time to visit for honeymoon: March to October
Things to do in Mabul:
Explore the island in a transparent kayak
Visit the Bajau Laut Village and explore it like a local
Witness and capture the gorgeous golden hues of the sunrise
Witness the beautiful coral reef while snorkeling
Visit the Tun Sakaran Marine Park for an adventurous escape
Lie down on the soft white sand and enjoy stargazing
Suggested Read: 7 Invaluable Malaysia Travel Tips For First-time Visitors
6. Kapas Island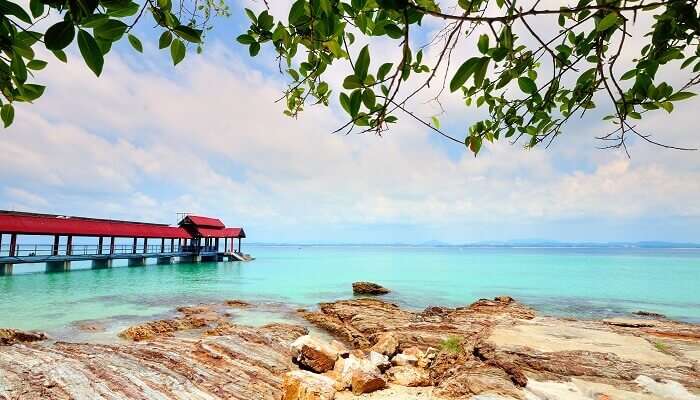 Not that popular, but Kapas is definitely one of the top Malaysia islands for a surreal honeymoon. Soft white sandy beaches, palm trees, and colorful flora & fauna, it has got all the marvels of nature. Its laid-back ambience would make it an ideal retreat for your trip. Make sure you addd this attraction to Malaysia honeymoon places.
Best resorts for honeymooners:
Luxury: Kapas Coral Beach Resort
Mid range or Budget: Kapas Island Resort
Ideal duration for honeymooners: 3 to 4 days
Best time to visit for honeymoon: April to August
Things to do in Kapas:
Indulge in Turtle spotting, which is very famous on the island
Enjoy snorkeling and scuba diving with your partner
Go for jungle trekking and treat the adventurer in you
Be spellbound by the grandeur of the Crystal Mosque
Hang on the beaches and spend quality time together
Capture beautiful pictures together against the picturesque beaches
Suggested Read: 10 Cardinal Places To Visit In Kuala Lumpur: The City Of Lights
Honeymoon In Malaysia Amidst Rain Forests
When all you hear upon opening your eyes in the mornings is chirping of birds and rustling of trees, it feels like paradise. Malaysia has on offer beautiful rainforests and amazing safaris for those couples who would rather be in the lap of nature than anywhere else.
7. Cameron Highlands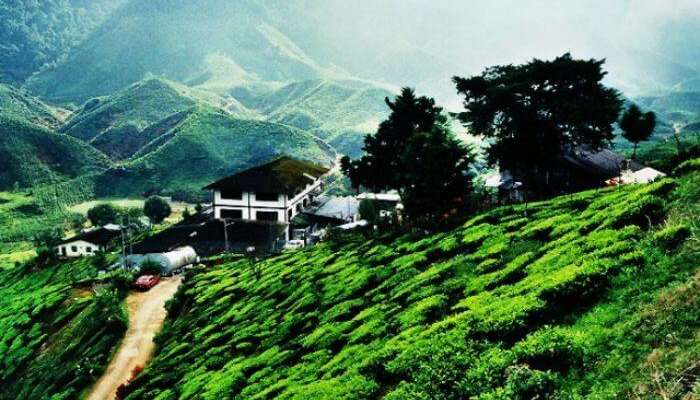 Cameron Highland is an ideal hill honeymoon destination dotted with tea plantations, strawberry farms, lush valleys and hillslopes. The cool climate is a welcome change from the heat in the other parts of Malaysia. It is also the seat of a wondrous ecosystem which is a dream come true for nature lovers.
Best resorts for honeymooners:
Luxury: The Lakehouse
Mid-range: Strawberry Park Resort
Budget: Hillview Inn
Ideal duration for honeymooners: 3-4 days
Best time to visit for honeymoon: All the year round
Things to do in Cameron Highlands:
Visit the tea plantations and pluck some strawberries to be had with tea in front of the fire place
Wander the Mossy forest covered in mist and moss
Go for jungle treks, wonder at the huge pitcher plants
Get atop Mount Brinchang for a spectacular view of valleys covered with tea plantations
Gaze at the beautiful butterflies and other insects at the Butterfly garden
Suggested Read: 10 Best Places To Visit In Malacca That Bring Out The Other Side Of Malaysia
8. Sabah River Safari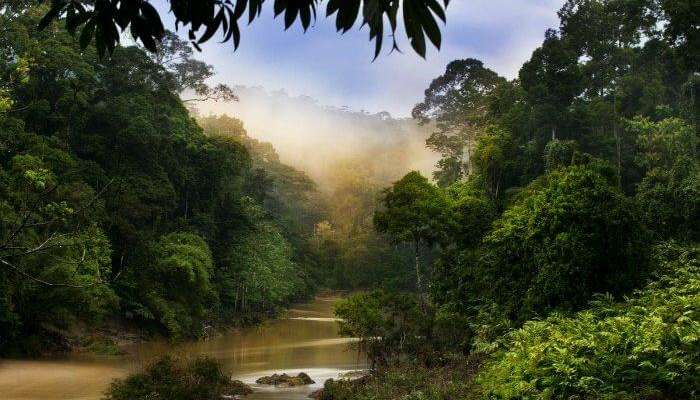 For those newly-weds who want to experience nature in an unconventional way, this river safari fits the bill. Take on a tantalizing river safari down River Kinabatangan and experience wildlife and nature in its full glory. Of all the Malaysia honeymoon places, you ought to visit this one. Sabah River Safari takes you through some of the really exotic honeymoon places in Malaysia.
Ideal Durations and resort to stay for honeymoon: 3D/ 2N in Nature Lodge, Kinabatangan
Best time to visit for honeymoon: All the year round
Things to do in Sabah:
Spot primates of 10 kinds, including OrangUtan and Maroon Langur
Crocodiles, Hawks, Eagles, Hornbills, Kingfishers, Sumatran rhinos, Asian elephants and a wide variety of reptiles and insects
Enjoy simple natural living in the Nature Lodge amidst the rainforest
For a more thrilling experience, take on a night safari to catch the nocturnal wildlife
Take a visit to Turtle Island
Suggested Read: 10 Top Festivals In Malaysia To Witness Its Vibrant Culture And Rich Traditions, All At Once!
9. Taman Negara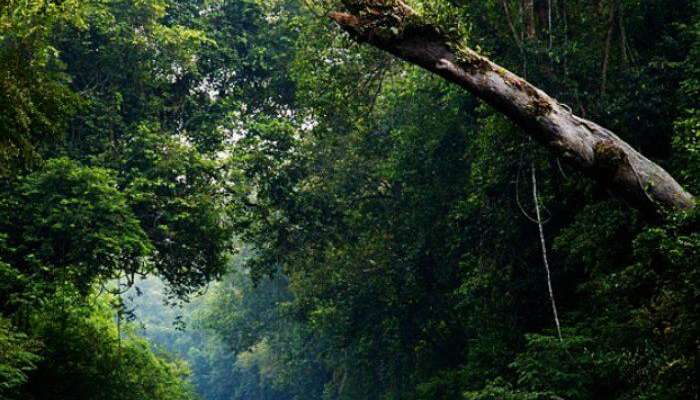 Want to experience tropical rainforest to the fullest with your beloved-welcome to Taman Negara-the 130 million years old virgin rainforest. It is one of the breathtaking honeymoon places in Malaysia where you will have the best of nature. Enjoy moments of solitude amdist nature with your spouse.
Best resorts for honeymooners:
Luxury: Mutiara Taman Negara Resort
Mid-Range: A range of local village resorts
Ideal duration for honeymooners: 2-3 days
Best time to visit for honeymoon: February to September
Things to do in Taman Negara:
Go on jungle treks
Walk across the longest Malaysian suspension bridge in the world
Visit the tribal villages of Orang Asli
Marvel at flowers that only bloom at night water dragons, glow in the dark fungi and other nocturnal wonders during the night safari
Travel upstream in boats on the Sungai Tembeling battling the rapids
And if nothing, bird watching is ever present
Suggested Read: Singapore Vs Malaysia Honeymoon: Which One Would You Like To Be On Your Cards?
Honeymoon Wandering In The Lanes Of The City
Simply exploring the surroundings together can itself be so exhilarating, it is almost like getting to know one another one step at a time. In Malaysia, there is no dearth of little alleys and lanes to do just that, both on land as well as on water.
10. Kuala Lumpur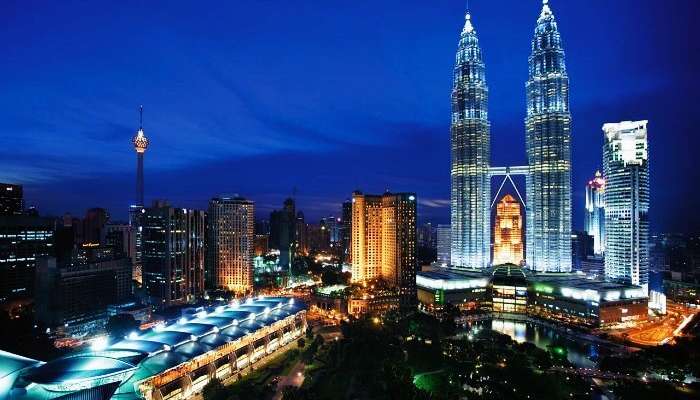 The lit city of Kuala Lumpur is one of the most romantic honeymoon destinations in Malaysia. The capital of Malaysia, KL, as it is often called, is perfect to get "lost" into. As the locals say, "it all happens in KL": a vibrant city with a multitude of things to explore.
Best resorts for honeymooners:
Luxury: Villa Samadhi
Mid-range: The Maple Suite
Budget: Hotel De'Grand Orchard
Ideal duration for honeymooners: 2 -3 days
Best time to visit for honeymoon: All the year round
Things to do in Kuala Lumpur:
Wander randomly through the lanes
Shop till you drop, in the malls or on the streets of Chinatown
Or eat till you burst, uncountable eating options
Go up the majestic, architectural wonder, the Petronas Towers
Visit the Batu caves, if you are upto some rock climbing together
Head for some foot massage in the Golden Triangle or Chinatown
11. Georgetown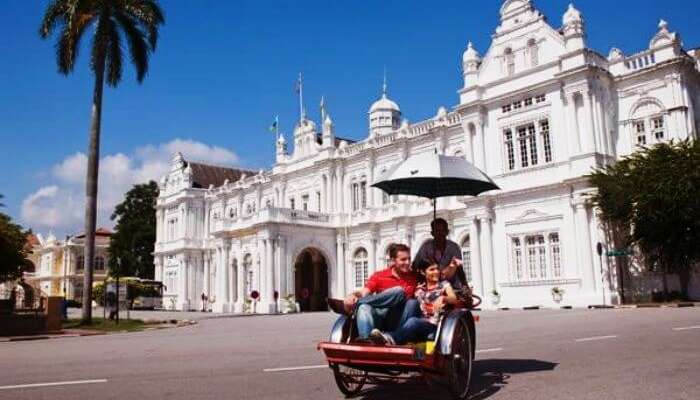 Georgetown has some of the best honeymoon spots in Malaysia for those couples who love you explore places. The rustic charm of the city makes it one of the best honeymoon destinations in Malaysia. For those history-loving couples, Georgetown, capital of Penang, is what the doctor prescribes. A sleepy town, this destination lets you take each day at your own pace.
Best resorts for honeymooners:
Luxury: Seven Terraces
Mid Range: Museum Hotel
Budget: Chulia Mansion
Ideal duration for honeymooners: 2-3 days
Best time to visit for honeymoon: All the year round, November and February being the best
Things to do in Georgetown:
Walk the streets of Georgetown and take in the colonial and local flavours
Eat away at street corners or sit-in restaurants-there are enough of those araound
Rent out a motorbike and vroom through the city
Enjoy a bit of the city's nightlife on Upper Penang Road at the clubs and pubs
Look in at the Little India or Chinatown markets for local buys
Suggested Read: Best Hotels In Malaysia: For Those Who Love Living Life To The Fullest
Adventurous Honeymoon Destinations
Now, for the adventurous, thrill-seeking couple- who bond over activities that gives them an adrenalin rush. Plenty of adventure sport options available for these kindred souls in Malaysia.
12. Sipadan island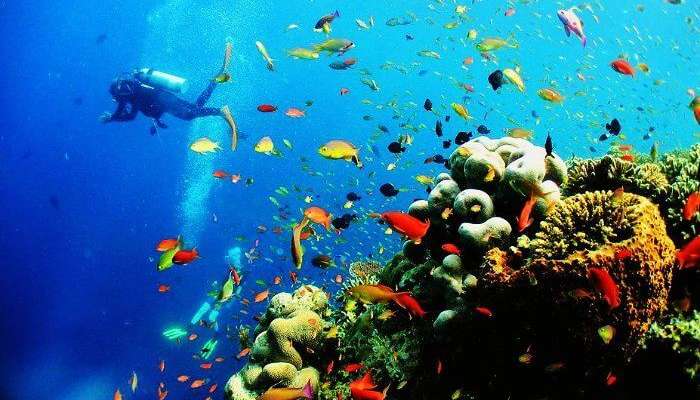 Of the east coast of Malaysian Borneo, in Sabah, this island is considered one of the best scuba diving places in the world. Stay at the nearby islands and take a boat to the island to experience the underwater sights.
Best resorts for honeymooners:
Luxury: Pulau Mataking Reef Dive Resort
Mid-range: Seaventures Dive Resort
Budget: Sipadan Inn in Semporna
Ideal duration for honeymooners: 3-4 days
Best time to visit for honeymoon: March to October
Things to do on Sipadan Island:
Scuba diving at it's best
Just chill on the beaches and enjoy the sea
Snorkelling in the coral reefs for those who don't want hard core diving
While you are at it, try to spot sharks, barracudas, turtles and manta rays.
Suggested Read: 20 Beaches With Water So Clear You Would Want To Splash Right In!
13. Kota Kinabalu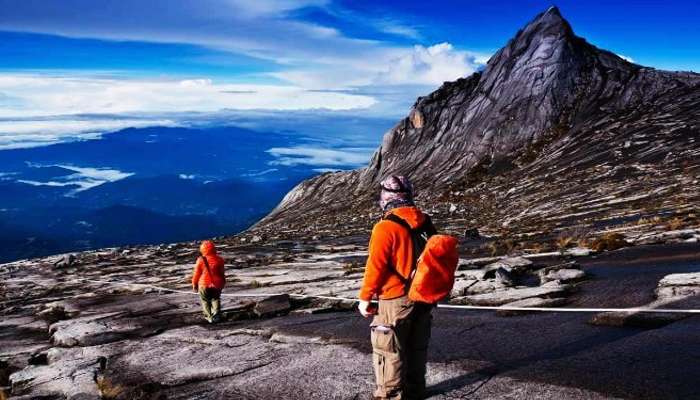 Kota Kinabalu is one of the top honeymoon destinations in Malaysia when it comes to the offbeat places. The state of Sabah is a great adventure package. Kota Kinabalu, the capital, offers a plethora of thrilling experiences for the dare-devils.
Best resorts for honeymooners:
Luxury: Shangri-La's Rasa Ria Resort and Spa
Mid-range: Promenade Hotel
Budget: Mandarin Hotel
Ideal duration for honeymooners: 4-5 days
Best time to visit for honeymoon: January to March
Things to do in Kota Kinabalu:
Indulge in the adventures of rock climbing
Have a go at scuba diving, leisure diving or snorkeling or try some deep sea fishing
Have a time of your life white water rafting on the Kiuli River
For further adventure there is sea kayaking as well
Embark on the Wetland river cruise in the Klias Wetland Mangrove Forest reserve
Or simple enjoy nature in all its diversity
Suggested Read: Fun & Adventure Meet Romance: My Honeymoon Trip To Singapore & Malaysia
14. Perhentian Islands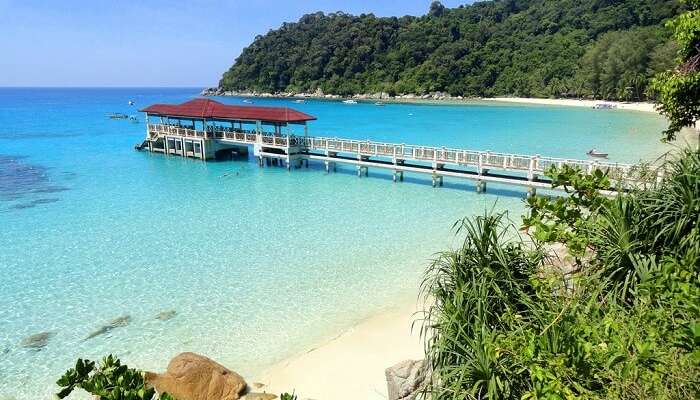 Perhentian Islands is one of the highly romantic honeymoon places in Malaysia. This island is an ideal hideaway or the perfect spot for honeymooners, given the fact that it is home to utterly gorgeous beaches, and really cheap accommodation. There are so many experiences for you both that you may run out of time, but not of the things to do here.
Best resorts for honeymooners:
Luxury: Alunan Resort
Mid range: Perhentian Island Resort
Budget: Ombak Resort Perhentian Island
Ideal duration for honeymooners: 3 to 4 days
Best time to visit for honeymoon: March to November
Things to do on Perhentian Islands
Go for scuba walking and witness the gorgeous coral reef
Chill at the Tupai Beach Bar for a memorable evening with your loved one
Go spot whale sharks & octopuses while diving in the Turtle Bay
Explore the beaches and take a romantic stroll along the coast during the sunset
Capture innumerable memories of your experiences so that you can cherish them later
Suggested Read: 13 Romantic Places To Visit In Singapore For Your Honeymoon
15. Selingan Turtle Island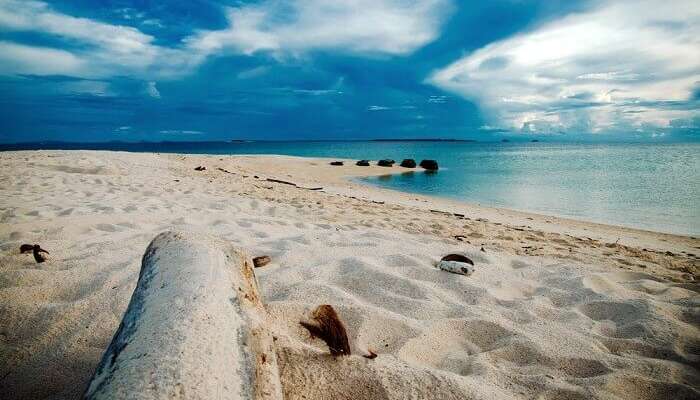 Selingan Island is one of the best honeymoon destinations in Malaysia. Located around 40 kilometers from Sandakan, the Selingan Island is the perfect place to celebrate the beginning of your married life. With unique experiences and exceptionally gorgeous attractions, it has a lot to offer. If you both are turtle lovers, you'd love this place after seeing the little turtles swimming around the beaches.
Best resorts for honeymooners:
Luxury or Mid range: Selingan Turtle Island Chalet
Ideal duration for honeymooners: 2 days
Best time to visit for honeymoon: March to July
Things to do in Selingan
Witness the turtles laying their eggs, which this island is most famous for
Indulge in scuba diving & snorkeling and treat the adventure love within
Spend time at the beaches and have heart to heart conversations
Go for island hopping and explore the other beautiful places near Selingan
This country is a perfect 'Chicken Soup Destination' for every kind of Honeymooner…So, got your list of romantic places in Malaysia sorted?
Further Read: New Malaysian Visa Policy For Indians: Get Free E-Visa For A 15-Day Stay, That Too Within 48 Hours!
Are you excited to visit and explore all these places to visit in Malaysia with your partner? If yes, then what are you waiting for? Plan a trip to Malaysia and make lovely memories of the beginning of your new life.
Frequently Asked Questions About Honeymoon Destinations In Malaysia
Q. Is Malaysia expensive to travel?

A. If you are planning your honeymoon and are thinking to explore the best honeymoon destinations in Malaysia then you will be glad to know that traveling to this country is quite affordable.

Q. Is Thailand bigger than Malaysia?

A. Yes, Thailand is bigger than Malaysia.
---
Looking To Book An International Honeymoon?
Book memorable honeymoon on TravelTriangle with 650+ verified travel agents for 65+ domestic and international destinations.
---
People also read:
Honeymoon destinations in north east India Honeymoon destinations in north India Honeymoon destinations in India
Comments
comments