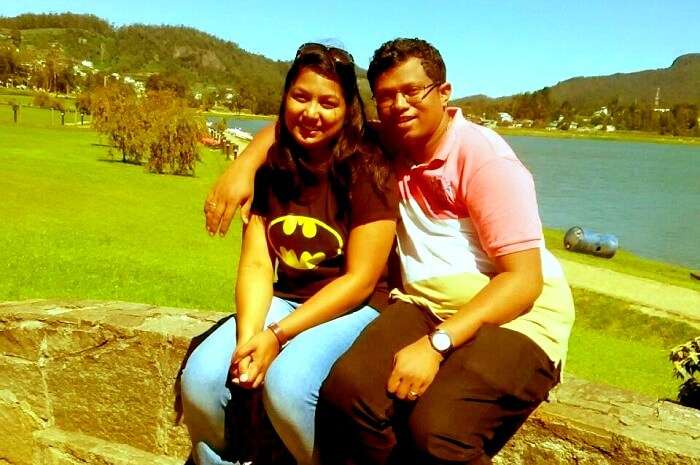 The best adventures are often found in the places you least expect them to. Arjun discovers eternal beauty and divinity in a charming couples trip to Sri Lanka. The trip cost him a total of INR 2,44,000 which included their transfers, accommodation, sightseeing, and meals.
My friends and I wanted to plan an international vacation together. After weeks of discussion and planning, we finally closed in on Sri Lanka as the destination we all would love to explore. I landed on the TravelTriangle website while browsing the internet for group packages to Sri Lanka.
I liked the option provided by TravelTriangle to customize the tour package according to our needs. I submitted a query with them via email and got a revert from their travel representative. Aakarsh understood my requirements and connected me to different agents providing me with various offers for the same package.
I selected the best package provided to me by 'Elegant Vacations' agency. Organizing a trip for 14 people at first, looked like a pretty tedious task. But, thanks to the patient and methodical booking procedure of TravelTriangle, it all sailed smoothly and pretty soon we were ready to fly out.
Day 1: Arriving in Colombo
We boarded our flight from Chennai and arrived in Colombo at 9 am. Upon our arrival, the driver was present to receive us. After completing all the formalities, we started our journey to Sigiriya. Enroute Sigiriya, the first stop we made was at the Pinnawala Elephant Orphanage. A unique effort made by the Sri Lankan people to save Asian elephants. Meeting the humble giants in an open zoo in Pinnawala was incredible and unforgettable.
Moving on, the next stop was the quaint and rustic town of Dambulla. All of us had lunch and afterwards we visited the Golden Rock cave temple. I was impressed by craftwork the golden statues of Buddha inside the caves.
After an hour later, we moved onwards and arrived in Sigiriya at 6 pm. We checked into the Kasapa Lion's Rock Hotel and stayed in for the night to rest and recuperate.
Day 2: Sweet time in Kandy
Must Read: Jaswanth's Adventure Trip to Sri Lanka Will Make You Fall In Love With The Emerald Island
We woke up the next morning rejuvenated for our next adventure. Post breakfast, we checked out of the hotel and proceeded to Sigiriya Rock Fortress.The natural rock was used as a fortress by the empires in the ancient times and was nestled in the jungle, 200 ft tall, lying for the amazement of all.
Afterwards, we straightaway drove to Kandy. Enroute, we stopped by at the spice plantations. The endless green mountains around prompted us to stop and admire this beautiful scenario. We stopped by at a small town called Matale where we had lunch.
Post lunch, we arrived in Kandy at 5 pm. After checking into the hotel, we got ready to visit the Tooth Relic temple. Once we entered Kandy, I felt an air of calmness and tranquility that was hard to describe but it was present. I felt blessed visiting a city which believed in the core values of Buddhism.
Later on, we enjoyed the Kandyan Cultural dance at the Kandyan Arts & Cultural Centre. After the dance performance, we proceeded back to the hotel had dinner and called it a night.
Day 3: High tea at Nuwara Eliya
The next morning, we were scheduled for a half day city tour. We checked out and At 9 am, the driver was present to start the tour with us. First up, we drove around the scenic Upper Lake drive. It was one of posh and completely secluded neighborhoods of Sri Lanka which had plenty of greenery and scenic views.
Next, we visited an art and craft center and a gem museum. Over there, we saw a variety of rare gemstones that are commonly found in Sri Lanka. Our stay in the Kandy ended with a visit to the Royal Botanical Garden.
Post lunch, we departed for Nuwara Eliya. Enroute, we stopped by at a tea farm and factory. The factory took us on a tour and showed how they make the world's best tea. After having a cuppa on the tour, I became a fan of their tea. Later on, we took blessings from the Sri Bhakta Hanuman Temple. We arrived at the hotel in Nuwara Eliya at 6.30 pm. After checking in, we had a tasty local meal for dinner and rested for the night.
Day 4: To the Southern tip of Sri Lanka..
The next morning, we had breakfast and got ready to drive to the coastal city of Yala. On the way, we stopped by at the beautiful bridge called the Nine Arch Bridge. Straight out of a scene from a Harry Potter movie where the train would take the passengers to Hogwarts.
A bridge built during the British era, it's charm was evident to see as it cut through the lush green landscape between two hills. On our way, we stopped by at a major stop at the Ramayana Trail. The Rawana Waterfalls, a scenic waterfall has an interesting history behind it. According to legend, Lord Ravana hid Goddess Sita after abducting her behind this waterfall.
We arrived in Yala, greeted by a cool breeze blowing in from the sea at 5 pm. Afterwards, we decided to stay in the resort and relax for the evening. Post dinner, my wife and I called it in early because we felt very tired.
Day 5: Safari in Yala
Suggested Read: Perfect Family Bonding On A Trip To Sri Lanka
We woke up early at 5am to get ready for the Safari in Yala National Park. Along with a packed breakfast, the entire lot of us left to view some wild animals in their natural habitat. It was an adventurous safari in which we were lucky enough to see wild asian Elephants, Tigers, Deers and rare species of birds.
After a three-hour long safari, we moved back to the hotel to check out and proceed for Galle with the driver assigned to us. Enroute Galle, we saw a unique method of stilt fishing in Weligama. We also indulged in some fish therapy wherein the we dipped our toes in a fish pond and they nibbled the dead skin off our feet.
Post lunch (both for us and the fishes), we drove to Bentota. Our first stop in the evening was the Turtle Hatchery in Bentota. Yet another day where we saw an amazing creature to be graced on this planet being protected and revered in Sri Lanka. Finally, we checked into the hotel at night, had dinner and rested for the night.
Day 6: Circling back to Colombo
We woke up a little later than usual as there was not much planned for us during the day. In the afternoon, we checked out of Bentota and took a two-hour drive on the West Coast back to Colombo.
As we arrived in Colombo, we did a small city tour in which we covered some significant monuments like National Museum, Independence square, and Gangarama Temple. The tour got over at 4 pm giving us plenty of time to shop. The ladies had been waiting for this moment from the first day.
After a long and exhausting shopping session, we checked into the hotel at Colombo. With barely enough resolve and energy left in the tank to have dinner, we filled our bellies and retired for the night.
Day 7: Flying back home
On the final morning, we checked out of the hotel at 8 am and were driven to the airport. We were heading back home with fond memories. Or were we really heading back home?
In my week in Sri Lanka I realized that home is merely a feeling. A place where you'd feel welcome, loved and appreciated. Small country with a big heart. Sri Lanka filled my heart with fond memories to the brim and a longingness to return at the first opportunity.
High Points:
Safari in Yala National Park was truly memorable.
The positive vibes in Kandy was something I've been yearning a lot for.
Low Points:
Communication with the driver was a tussle as his English wasn't upto the mark.
Tips To Travelers:
A minimum of one week in necessary to truly understand the vibrant and beautiful country of Sri Lanka.
Looking to explore natural beauty at a fantastic budget? Book a trip to Sri Lanka and bask in the everlasting beauty of the emerald Island.
---
Looking To Book An International Honeymoon?
Book memorable honeymoon on TravelTriangle with 650+ verified travel agents for 65+ domestic and international destinations.
---