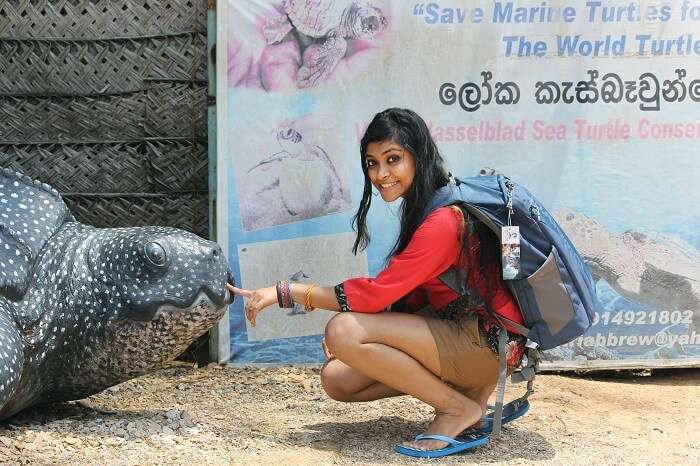 Kanika Saxena talks about her family trip to Sri Lanka and tells us why it is an amazing destination to spend some quality time with your loved ones. She booked her 8 Nights 9 Days Sri Lanka package from TravelTriangle and it included their hotel, sightseeing, breakfast, and transfers – all for a cost of  INR 135449. Let us go through her journey.
I did not get enough time to spend with my parents (corporate life) so when I finally started planning for a trip to Sri Lanka, I was more than happy to take it with my family. A holiday that would grant us peace and serenity and would take us away from all the hustle and bustle.

I already knew about TravelTriangle thanks to Facebook and decided to book our package through them. My reason for choosing TravelTriangle was that they offered us customization and competitive quotes, something which no other website did.
So, after filling in my details on their website, I was soon contacted by their travel representative who took in my requirements and connected me to relevant travel agents on board. The whole process of customization and choosing my package after this was an easy affair and I soon booked our package to Sri Lanka.
Checklist for Sri Lanka
Carry Sunscreen
Keep all your documents in a secure place for convenience
Read a do's and dont's list before you take the vacation
Carry a great camera or a smartphone with a great camera for you would want to capture the mesmerizing sights you see.
Our 8 Night 9 Day Sri Lanka trip itinerary was customized as per our wishes and had everything we wanted!
Day 1: Arrival in Colombo- an exciting start of our journey

Suggested Read: 14 Best Waterfalls in Sri Lanka That Unveil The Country's Bewitching Landscapes
We took our flight from Delhi and after a long journey reached Colombo. Excited and happy, we met the agent's representative at the airport who took us to a nice restaurant for food, and then all the way to Bentota.
"The Sri Lankan food was delicious and we thoroughly enjoyed our meal".

Our hotel in Bentota was a sea-facing one and I loved the amazing view from here.
Post dinner, we all settled down in our rooms and were soon asleep in the background of the rolling sea waves!
Day 2: Watersports with some adventure in Bentota

Suggested Read: See The Best Of Sri Lanka: Ramayana Tour & Beyond
We woke up early this morning and were ecstatic to witness the grand ocean and amazing weather! And so after spending some time at the beach, we proceeded for a delicious breakfast at the hotel. After getting ready, we soon left for our day's adventure in Bentota.
Bentota was the hub of all water activities and we enjoyed many here like jet ski, banana boat ride, and speed boat ride. It was a thrilling experience and all of us had a blast doing them!

Out of all the water activities that we did, the best one was the "Boat safari" since during this one, we passed through a Mangrove forest! With trees and lush greenery all around, it was a very soothing yet exciting experience for us.
Post this, we indulged in some photography and then proceeded for lunch.

Later resuming our adventure, we went on to see many reptiles like monitor lizards and got our pictures clicked with baby crocodiles. It was electrifying!
Bentota was a nature and wildlife lover's delight!
Later, we headed back to our resort to catch the mesmerizing sunset by the ocean.
Day 3: Turtle hatchery and journey to Yala

This day we set off to visit the turtle hatchery and it was an interesting and adorable experience. We learnt a lot about the lives of turtles here and my family and I even got a picture clicked with a baby turtle.
The guide there also showed us a hundred-year-old turtle and it was fascinating to see such an old creature going about its business in a calm and peaceful manner!

Thereafter, we proceeded to check out the famous Dutch Fort in Galle, where me and my dad got ourselves clicked with a Python around our necks!

Next was lunch, post which we proceeded for Yala. We reached our destination on time and checked into our resort which was once again, a beautiful one. It had tree houses, a grand swimming, and an overall exotic vibe to it.
We soaked in the beauty of the resort for a while and then called it a night.
Day 4: The Nuwara Eliya hill station

Suggested Read: 30 Best Beaches In Sri Lanka To Visit That Will Make You Go 'Wow'!
As decided, we woke up early in the morning, got ready, and reached Yala National Park. Although we were supposed to see big animals like leapords, elephants, and more here but we could not spot them (hard luck!)
However, we did spot some amazing creatures like alligators, huge monitor lizards, and the national bird of Sri Lanka. It was still amazing!

Another good thing about spending time in the park was that even though it was extremely hot, we could still enjoy sightseeing comfortably. Also, the whole park was well maintained and clean. We were really impressed!
We stayed in the park for a few hours and then returned to our resort by 11 AM. By this time, we were all really hungry and requested the hotel for some breakfast. It was delivered promptly.

Post the breakfast, we packed up our things and got ready for our next stop – Nuwara Eliya hill station.
On our way to the hill station, we stopped by to see waterfalls on the way and I loved them since I could capture their pristine beauty through the lens of my camera.

Apart from the waterfalls, we also visited Seetha Amman Temple which is believed to be the place where Sita was kept when she was abducted by Ravana in Ashok Vatika. We took blessings from this temple and even saw the footprints of Lord Hanuman here.

Later on our way, our guide cum driver told us about Sri Lankan cuisine and even made us try some Sri Lankan fruits.
In the evening, on our way, we visited a tea factory and found out about how tea is processed. There was also a restaurant nearby and we tried the Sri lankan tea here. It was quite good but for Indian masala chai addicts like me, it was a bit of a disappointment.

Tired but happy, we finally reached our hotel in Nuwara Eliya which was once again incredible.
Day 5: Kandy – lost in the spirituality of Kandy!

Suggested Read: 43 Most Beautiful Places In Sri Lanka You Must Visit
After a hearty breakfast, we went out to explore the city of Kandy. On our way, we immersed ourselves in the surreal beauty of the Victoria lake nestled in layers and layers of green hills. On checking in to our hotel in Kandy, we set out to witness the Sri Lanka's traditional folk dance. We passed by the Kandy Lake, whose beauty was magnified when when the moon shone over it. It was a larger than life experience and captivated us completely.
We thoroughly enjoyed the cultural dance show of Sri Lanka and were entertained by the amazing skills and bright, colourful costumes of the dancers.

Next on our list was a pilgrimage site – a Buddhist temple situated near the lake which featured the tooth of Lord Buddha. Just like Hindu temples, this temple also had a long queue for catching a glimpse of the pious tooth.
There is a strong belief that visiting this holy place creates a good fortune in a person's life and we were more than happy to spend time at this divine place.
Afterward, we went on to explore some of the shops in Kandy which are famous for their gems. We found out a lot about the gems here and how they were found and why they are so popular in Sri Lanka.
We went to a store here called the Hemachandra's gem store which had good quality gems at fair prices and my mother bought a few pieces of jewelry from here.

Later on, we were also lucky to witness a Sri Lankan wedding at the hotel itself and got an in-depth glimpse of the culture in Sri Lanka. This wedding was similar to a Christian wedding but was complimented by glittery and bright attires.
We then proceeded to our next destination – Sigiriya and reached there in 2 hours. Our resort here was in a jungle kind of an area and had amazing natural vibes to it.
Day 6: Exploring Sigiriya and Elephant orphanage in Habarana

We were pretty excited to visit Dambulla cave temple and Sigiriya rock this day, so post the breakfast at the resort we reached the Sigiriya rock. This is a huge rock which we could climb via stairs. It wasn't easy though since there were more than 1200 footsteps and by the time we reached on top, we were huffing and puffing.
Once on top, we could see the beautiful landscape of Sri Lanka and could enjoy the panoramic views from here. There was a Buddha statue on one side and a lake on the other – and it looked amazing.

Next on our list was
the Dambulla cave temple
but due to some miscommunication with the guide, we were not able to make it.
Nonetheless, we recovered from the situation and proceeded on to our next destination – Habarana!

We went to an elephant orphanage here and it was one of the best experiences – to look at the adorable baby elephants.
We had a lot of fun witnessing their hilarious activities – baby elephants shaking their heads adorably, stealing food from their partners, spraying water and pulling each other by the tail! We all had a good laugh at their naughty pranks and loved the fact that they were truly happy and carefree in this place.

We stayed here till evening post which we went back to our hotel in Sigiriya and had a great overnight stay.
Day 7: Shopping in Colombo!

After vacating our resort room in Sigiriya, we were now all set to have an amazing shopping experience in Colombo. Upon our arrival in Colombo, we were excited to see the great buildings here like the parliament house.
Later, we went to the House of Fashion mall for some shopping, but left too soon, disappointed. However, after a lot of hunting, we finally came across a handicraft store and bought tonnes of handicraft items, clothing pieces, and souvenirs from here. Run by women as a self help center, this was a nice store that offered us great deals and quality products.
Day 8: Negombo- My most awaited destination

Usually, it happens that the excitement level starts dropping as you proceed towards the last day of your journey, but with me, it was quite the opposite since I was charged up to see the beautiful Negombo beach.
Post the breakfast, we left for our destination in the morning and reached there in the evening. The sun was about to set so I left all my stuff at the reception with my parents and ran to the beach since I couldn't afford to miss the sunset.

In the end, I managed to capture the beautiful sunset and it was one of the best I had ever seen. Post this, we returned to our hotel which was again a grand and exotic one.
We rejuvenated ourselves here by spending some time at the pool post which we went for dinner. Later on, my father and I also went for a refreshing walk on the beach where the sea snatched away my slippers!
After various failed attempts at grabbing it back, we returned to the room, laughing. We settled in for a refreshing sleep and called off the day.
Day 9: Taking leave from Sri Lanka

We bid farewell to the amazing resort and beautiful beach of Negombo and, of course, to Sri Lanka! We left for the airport at around 6 in the morning to catch our flight to India scheduled at 8.
Sri Lanka offered us a very peaceful and calming experience that was complimented by beautiful resorts and properties. The natural and cultural charm of this place was amazing and in the end, it gave us a perfect escape from the daily hustle and bustle. Spending time in this beautiful country with my parents was a cherishable experience and I am happy that this destination brought smiles to our faces.

High Points: Negombo beach, Pinnawala Elephant Orphanage, Yala National Park, Sri Lankan food, shopping in Colombo, sea-facing hotel, and exotic resorts among others.
Low Points: We missed the Dambulla cave temple because of some miscommunication with the guide. It is supposed to be a must visit place in Sri Lanka!
Tips for the travelers:
One should definitely try the local Sri Lankan cuisines and fruits.
Many people tend to skip Negombo but I highly recommend to include it in your itinerary and go dolphin spotting, apart from relaxing on the mesmerizing, laid back beach.
If you have to buy gems, explore Hemachandra's store in Kandy- it is govt. Certified and deals with accurate prices.
Admire Sri Lanka, the Emerald of the South. Enjoy the charming tranquility and humble ambience of Sri Lanka. Book your package to Sri Lanka now!
Frequently Asked Questions About Trip To Sri Lanka
What all should one carry on their trip to Sri Lanka?
Since Sri Lanka is a tropical country, one must be aware temperatures are bound to rise, so always carry a sunscreen.
Is Sri Lanka photography friendly?
Sri Lanka has a lot of places to visit however some of them might charge you for clicking pictures, therefore it is advisable to always check before you do so.
What kind of a destination is Sri Lanka?
Sri Lanka is a tropical destination that has a lot of places to visit. These include forts, beaches, temples, rocks, and a lot more. However, if you want to soak in the full charm of the place, be prepared to travel a lot by road since all these attractions in Sri Lanka are a few hours away from each other.
---
Looking To Book An International Holiday?
Book memorable holidays on TravelTriangle with 650+ verified travel agents for 65+ domestic and international destinations.
---