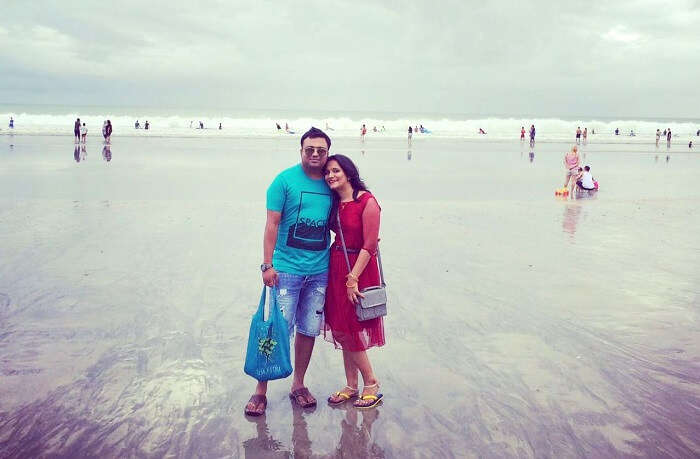 In the past few years, travelers have shifted their focus from covering as many sightseeing place as possible to relaxing at a destination. One such couple left no stones unturned in their quest to enjoy a 6 nights 7 days luxury honeymoon in Bali that was filled with romantic dinners, dolphins, and spa sessions.
Suggested Read: Here's How We Planned A Perfect Romantic Vacation In Bali
Details of our luxury honeymoon in Bali
While I was searching on multiple websites for good quotes for a Bali tour package, my sister recommended that we try TravelTriangle. Looking at reviews of their application and Facebook page gave me confidence that I should try a new holidaying experience with Travel Triangle.
Trip Cost: INR 66,000
Trip Duration: 6 nights/7 days
Agent Name: Shoes on loose
Inclusions: Transfers, accommodation, breakfast, sightseeing, watersports, spa, and candlelight dinner
Exclusions: Flights, meals, and travel insurance
Itinerary of our Bali honeymoon tour package
I got our package planned from Shoes On Loose in such a manner that we won't be in a hurry to explore any place. We wanted to spend most of our time with each other on our luxury honeymoon in Bali.
Day 1: Flight from Mumbai to Bali- arrive in Denpasar- check into Samaja Kunti Villa- candlelight dinner at villa
Day 2: Breakfast- leisure day- candlelight dinner
Day 3: Breakfast- water sports at Nusa Dua beach- visit to turtle island- spa at Bali Orchid Spa- return to villa- dinner
Day 4: Dolphin sightseeing- checkout from villa- check into ramayana resort in seminyak- sightseeing visit to Gitgit waterfalls, Taman Ayun temple, and Tanah Lot- return to hotel
Day 5: Breakfast- leisure day
Day 6: Breakfast- leisure day
Day 7: Breakfast- checkout from Seminyak- transfer to airport- flight back to India
5 ways in which you can enjoy a luxurious honeymoon in Bali
Suggested Read: 6 Romantic Things To Do In Bali That Will Turn Your Honeymoon Into An Epic Affair Like Ours!
With its tropical landscape and laid-back people, Bali gave us the vibes of a very chilled-out place. On our luxury honeymoon in Bali, we found out many ways in which we could relax, unwind, and simply leave behind all the hassles and troubles persisting in our usual lives.
Here is a list of things to do in Bali on a honeymoon for an unforgettable experience:
1. Candlelight dinner
On the first two days of our luxurious honeymoon trip in Bali, we had two candlelight dinners for ourselves. The first one was like a welcome dinner on the beach with beautiful decorations accompanied with a lovely evening breeze.
The next day, we traveled to the Grand Mirage Resort for yet another candlelight dinner which turned out to even better. The ambiance of that place was stylish and elegant.
2. Rejuvenating Couples Spa Sessions
If our spirits were uplifted by unforgettable dinners in Bali, the source of physical rejuvenation and replenishment came through couple's spa sessions on two different days. On the second day, just before our dinner at Grand Mirage, we had a relaxing spa session complimentary from the people at Samaja Villas Kunti.
The very next day, we visited the Bali Orchid Spa for yet another two-hour couples spa session. The aroma of the scented candles and the soothing music played inside took us into a completely magical trance!
Bali Orchid Spa: INR 3,550 per person (Orchid Angel Spa)
Suggested Read: Our Singapore Bali Honeymoon Was A Romantic Adventure
3. Royal life at a private villa
Contrary to popular belief, we found out that living in a luxurious villa all to ourselves was cheaper and better than a room in a 5-star hotel. The perfect accommodation for our luxury honeymoon in Bali, Samaja Villas Kunti offered us a top-class modular kitchen, private swimming pool and amazing interiors for an amazing holiday experience.
Suggested Read: I Had Fun Breaking Stereotypes. Here's How I Traveled An Entire Week In Bali On A Budget!
Samaja Villas Kunti: INR 11,000 per night
4. Shopping in Kuta
Thanks to an excellent recommendation by our agent, the villa that we chose to stay in was within walking distance of all the major markets in Kuta. This helped us save a lot of money we would have used for cabs to reach the market everyday.
We visited a lot of interesting shops on Sunset Road, and undoubtedly the best one was Krisna Souvenir shop. It was the ideal shop for people who wanted to shop for shirts, wood carvings, and souvenirs.
5. Exploring Cafe's and bars in Kuta
Since the final two days of our itinerary were free, we had the liberty of exploring the nightlife of Bali a little more than the average tourist. On the second night, we visited the post happening club in Bali called Sky Garden Club. Even on a weekend, the place was absolutely bouncing and people were lining up to get in.
On the fifth day of our luxury honeymoon in Bali, we visited the Hard Rock Cafe in Bali and Potato Head Beach club. We enjoyed a delicious meal at Hard Rock and sipped on a few eccentric cocktails at Potato Head Beach club.
Suggested Read: Places To Visit On A 8 Day Honeymoon Trip To Bali
Over the past week, my wife and I might not have explored Bali like most people advised us to, but we enjoyed our time in Bali doing something much better. We breathed in the luxuries Bali had to offer and spent precious time with each other that we will cherish forever.
A luxury honeymoon in Bali was definitely a great idea, as it gave the best of luxury, romance, sightseeing, and a cultural experience.
High point:
Candlelight dinner at the beach was the most romantic moment of our luxury honeymoon in Bali.
Tip to travelers:
It is better to book water sports packages in advance as cannot ascertain if you will get a better deal in Bali, where there is no fixed price for water sports offered by hundreds of agents.
Experience the tropical haven that is Bali. Book your Bali honeymoon package and enjoy an unbelievable mix of beaches, temples, and culture!