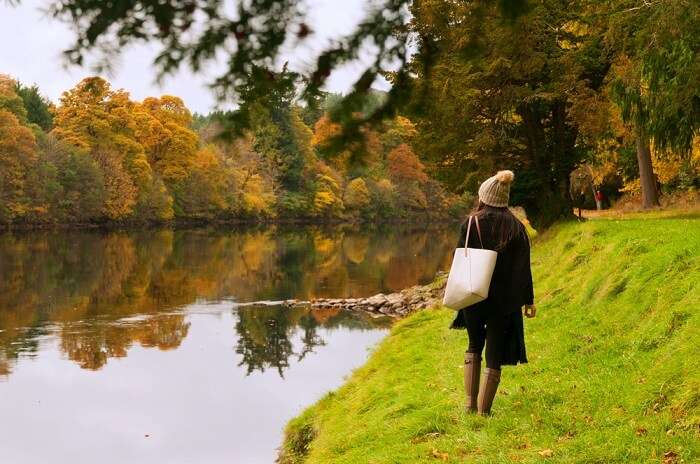 New Zealand's capital city is known for its perpetually racing mind and the Māori heritage filling its heart! Wellington stands at the crossroad of the history of the Pacific Islands and the modern and upbeat city life. Despite being one of the most remote capitals in the world, autumn in Wellington will have a long coast-line fringed with coconut trees, dense forests, and sanctuaries with native songbirds and exotic bushes and mountains of Remutaka Range. Whether you are looking for some breathtaking trekking shots or just want to flaunt that beach body, Wellington makes it to the getaway planner either way!
Autumn In Wellington

Image Source
As the temperature begins to drop in the Northern hemisphere, Wellington watches its tulips bloom around the city. With clear skies and temperature scale bouncing around 15°C, Autumn in Wellington feels like Spring. With the start of Daylight Savings Time in October and the weather in check, step out into the sunlight with a smirk and loads of swag this autumn!
10 Things To Do During Autumn In Wellington
Planning to visit Wellington in autumn? Here are ten things you must try during your trip to Wellington in the autumn season for sheer enjoyment with friends and family.
Porirua's Saturday Market: Take a stroll
Space Place: Adopt a star
Te Whanganui A Tara: Explore the Wellington Harbor
New Zealand Cricket Museum: Take a back foot
Customs House: Let the customary caffeine kick in
Red Rocks: Greet happy seals
Te Papa Museum: Get some old school vibes
Massey Memorial: Remembering the Prime Minister
Otari-Wilton's Bush Native Botanic Garden: Get lost
Forresters Lane: Enjoy the nightlife
1. Porirua's Saturday Market - Take A Stroll

Image Source
If your idea of Saturday mornings is staying in bed until noon or waking up to black coffee or breakfast in bed, this is sadly not for you. The locals in Porirua are early birds and like to start their commerce at the break of dawn; even on Saturdays. Hard to believe? Head to the Saturday Market that starts at 4 AM and discovers beats of Kiwi music, native nibbles, handmade crafts and even fresh produce, after all, we know that the early bird catches the worm, right?! Start your Saturday with an all-natural smoothie for a change?
Location: Waitangi Rua Shopping Mall rear car park, Waitangi Rua, Porirua City
Timings: 4 AM - 12 PM (Saturday)
Must Read: Wellington In March: Tick These 10 Things Off Your 'To-Do' List On Your Visit
2. Space Place - Adopt A Star

Image Source
Look up at the night sky and name the constellations you know. Well, that is tougher than it seems, right? How about star names? How many can you remember? Now, what if you could have a star named after you? Sounds out of the world? Well, it is! And it is possible! With a certificate of dedicating for the selected star, co-ordinates and instructions to locate it and some background information, the Space Place definitely earn a five-star on our autumn recommendations.
Location: Carter Observatory, 40 Salamanca Rd, Kelburn, Wellington
Starting price: Approx. INR 4000
3. Te Whanganui A Tara - Explore The Wellington Harbor

Image Source
As one of the oldest modes of transportation, the history of the Pacific sails on via the Wellington Harbour and waterfront. Wake up to a day in the life of the Māori man, rowing across the current in a waka (Māori canoe) or watch the sunset by the waterfront. For an engaging experience, you can learn the ancient style of paddling or just get lost in the stories of the Pacific locals by the waters. Strike up a friendly chit-chat with a stranger and who knows where it might lead you.
Location: Taranaki St Wharf, Wellington
Suggested Read: 14 Things To Do In Wellington For An Impeccable And Exciting Vacation
4. New Zealand Cricket Museum - Take A Back Foot

Image Source
While history is created on the field, the mementos and memorabilia are preserved off-field at the New Zealand Cricket Museum. Following its establishment in the late 20th century, this museum has seen cricket gurus relive the triumph and tragedy through these glasses over after over. As New Zealand's oldest active Test cricket ground, watching a match here will definitely tick one thing off your bucket list!
Location: Museum Stand, Basin Reserve, Wellington
5. Customs House - Let The Customary Caffeine Kick In

Image Source
Starting a day without coffee is just ARRRGGHH! More so, in the coffee capital of the country. Customs is a modern day American kitchen nestled in one of the busiest streets of Wellington providing a not just a warm cup of coffee but also welcoming vibes (and doughnuts on the weekend!). To know what's brewing in the coffee country, head to Customs and get caffeinated this autumn in Wellington.
Location: 39 Ghuznee Street, Te Aro, Wellington City
Timings:
7:30 AM - 4 PM (Monday to Friday)
8:30 AM - 4 PM (Saturday and Sunday)
Suggested Read: 10 Beaches Near Wellington For The Most Spectacular Landscapes And Pleasant Waters
6. Red Rocks - Greet Happy Seals

Image Source
The coastal area of Wellington was more than just a fishing ground in the Maori history. The distinct rocks scattered along the Southern coast are a result of several underwater volcanic eruptions about 200 million years ago. The iron oxide released from these eruptions is the reason the coast is called Pari-Whero and continues to be infamous for its red rocks. Another unique sighting is the colony of fur seals that are known to come out during the months of May to October. With unique geography and wildlife, why not discover autumn in Wellington?
Location: South Coast, Owhiro Bay, Wellington
Timings: 8 AM - 6 PM (Monday to Sunday)
7. Te Papa Museum - Get Some Old School Vibes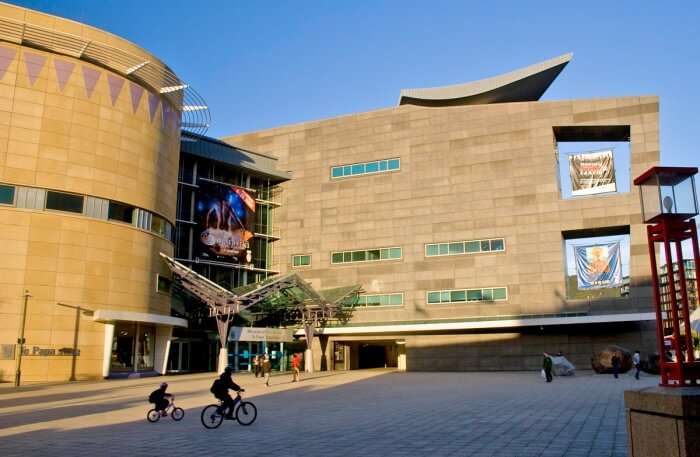 Image Source
Autumn in Wellington is incomplete without a visit to its iconic Te Papa museum. At the convergence of New Zealand's social, political and economic life stands this building displaying the vivid experiences of the people of Wellington in New Zealand. Pieces of art by both iconic artists and budding Kiwi prodigies are on display across various dedicated rooms. A number of on-going events throughout the year make it a must-visit if you want to ditch the textbook and hear some good ol' history tales from those who were there.
Location: 55 Cable St, Wellington
Timings: 10 AM - 6 PM (Monday to Sunday)
Suggested Read: 8 Best Restaurants In Wellington For Savouring The Best Dishes It Offers
8. Massey Memorial - Remembering The Prime Minister

Image Source
Under the clear blue sky, shy from the city life lies the mausoleum of William Massey and his wife. A short walk from Shelly Bay Road, at the Point Halswell, the Prime Minister and his wife relish the sound of the Kau bay set against the setting sun, painting the sky with hues of autumn - reds to orange and yellows to gold. Whether you are looking for a peaceful place for your morning run or want the perfect setting for your Instagram stories, the Massey Memorial is open at all times and hardly disappointing.
Location: Point Halswell, Miramar 6022, Wellington
Timings: 6 AM - 8 PM (Monday to Sunday)
9. Otari-Wilton's Bush Native Botanic Garden - Get Lost

Image Source
Otari-Wilton's Bush is an international award winning park and botanic garden housing native plants of the Wellington peninsula. With various trekking tracks designed for both the beginner and the best, enjoy your time with nature, chirping birdies and abundant oxygen supply. While you are at it, find the oldest tree of Wellington aged a whopping 800 years old on the Blue Trail. Remember to snap pictures or we won't believe you!
Location: 160 Wilton Road, Wilton, Wellington
Timings: 6 AM - 8 PM (Monday to Sunday)
Suggested Read: 10 Interesting Spots For Shopping In Wellington To Splurge Your Money At!
10. Forresters Lane - Enjoy The Nightlife

Variety is the spice of life and the barmen at Forresters Lane take this very very seriously! With easy-going vibes and clever mixing choices, this cocktail bar knows how to get the party started. Step in here for seasonal special or just add a twist to your sangria. Laura, the head mixologist, boasts of the weekly changing menu of cocktails based on seasonal fresh produce. Yo! Bar-hopping starts here!
Location: No 2, Forresters Lane, Wellington
Timings:
5 PM - 12 AM (Monday to Friday)
6 PM - 12 AM (Saturday and Sunday)
Further Read: 10 Hostels In Wellington For Staying In The City With Utmost Luxury
With the cold winds setting in, why not head out for some sunshine? Get your bags packed for this autumn in Wellington and explore all that it has to offer when you visit this wonderful city in New Zealand. Get in touch with the expert trip planners at TravelTriangle who'll be more than happy to whip up a thrilling escapade to New Zealand for you and your travel buddies!
Frequently Asked Questions About Autumn In Wellington
Q. What is the wettest month in Wellington?
A. The wettest month in Wellington, New Zealand is May that experiences 50mm of rain on an average.
Q. Does it snow in Wellington NZ?
A. It doesn't really snow in Wellington, as the Winters here aren't extreme.
Q. How cold does it get in Wellington New Zealand?
A. Frosts in Wellington rarely occur and Winter does not last for long. The minimum temperature that Wellington experiences are between 6-degree Celsius and 9-degree Celsius.
Q. What is the best time to visit New Zealand?
A. The best time to visit New Zealand is during the Spring that arrives in September and lasts till November.
Q. How many days do you need to see New Zealand?
A. If you want to explore northern as well as southern islands via road, then at least 14 days would be required.
Q. What is the coldest month in Wellington?
A. July is the coldest month in Wellington.