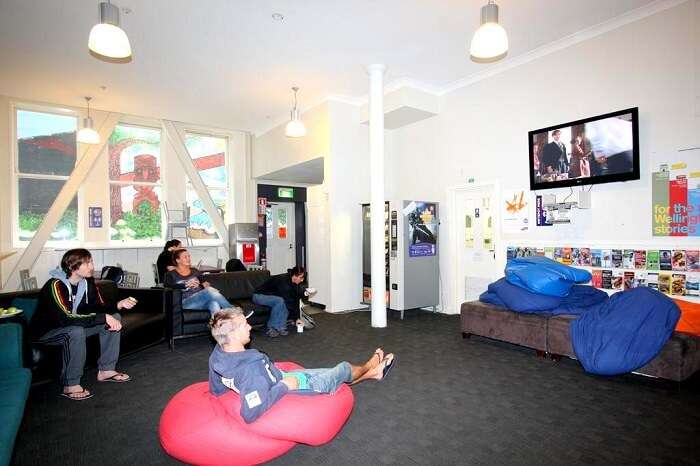 Wellington, which is the capital of New Zealand is a beautiful city and the second most populous city after Auckland. The city has so much to explore and is surrounded by beautiful sandy beaches, gardens, colourful timber houses and many more natural and man-made beauties that will leave you awestruck. The weather in Wellington is moderate throughout the year and is perfect for vacations with family and friends.
There are so many places to visit in Wellington which is the obvious reason for tourist attraction. Lots of people visit Wellington to explore the nature which requires appropriate lodging and boarding. All thanks to the city's infrastructure, Wellington has got some amazing and comfortable hostels for people to stay in a quiet and peaceful environment. كوتشينة
10 Best Hostels In Wellington
If you are budget constrained, the below list of cheap backpacker hostels in Wellington will definitely be a great help. Let's have a look at them.
1. YHA Wellington Hostel

YHA Wellington has a wide range of comfortable and spacious accommodations which are well equipped with all the modern amenities which you ever want in a hostel. The YHA hostel has two large well equipped kitchens and a spacious lounge which makes this place perfect for the backpackers as well as for the group accommodations. The guests who stay in this hostel get 2GB of free Wi-Fi every day so you are connected to the world all the time. With a 5-star Gold Qualmark rating, you will never know that you are staying in a hostel.
Ratings:: 4/5
Location: 292 Wakefield Street | Te Aro, Wellington 6011, New Zealand
Must Read: 14 Things To Do In Wellington For An Impeccable And Exciting Vacation
2. Nomads Capital Hostel

Nomads Capital Hostel in Wellington is a five star rating hostel located in the heart of the Wellington city. The hostel is a 5 minutes walk from the famous Cuba Street and the award winning Te Papa Museum. The hostel is well equipped with all the modern amenities and the friendly staff suggests and guides you through the Wellington city which helps you to explore various places. The affordable rates and comfortable environment makes this hostel a perfect place to stay.
Ratings:: 3.5/5
Location: 118-120 Wakefield Street | PO Box 11-247, Wellington 6011, New Zealand
3. Base Backpackers

If you are looking for a place to stay that is more than a hostel, Base Backpackers is a perfect place for you to stay. The quiet time you will spend in their luxury rooms will be a treat for you and you would want to come back again and again to this hostel. The amenities include Tea & Coffee, TV with HDMI Cable and Ensuite Bathroom. There are a lot of day time activities happening every day of the week which entertains you throughout the week and helps you find new friends.
Ratings:: 3/5
Location: 21-23 Cambridge Terrace, Wellington 6011, New Zealand
Suggested Read: Desserts In Wellington: Get Ready To Sink Your Teeth In A Fingerlicking Delight!
4. Laneway Backpackers

Laneway Backpackers is a great place to stay and a perfect location to explore Wellington's waterfront. It has a swipe card access to all the rooms which makes it secured and safe. The hostel also gives you cooking facilities, shared bathrooms, spacious lounge areas, and lockers to keep your belongings safe and secured. A comfortable and nice ambience adds to your amazing experience at the Laneway Backpackers. السلوت
Ratings:: 1.5/5
Location: 107 Manners Street, Level 1 Wellington 6011, New Zealand
5. The Marion

The Marion is located in the heart of the New Zealand near Cuba Street. If you want to have an unforgettable stay in New Zealand this place is best to stay in. When you come to the hostel after a daylong travelling and discovering the culture of Wellington this hostel will give you the feel of home. كيفية لعب بلاك جاك The ambience is very clean, attractive and relaxing and also you will get free WIFI, and every bed has its own power plug, light, etc. The staff is very knowledgeable about the city and will help you in planning and booking a further journey around New Zealand.
Rating: 5/5
Location: 13 Marion St, Te Aro, Wellington 6011, New Zealand
Suggested Read: Day Trips From Wellington: 10 Stunning Places To Visit From The Windy City
6. Trek Global

Trek Global is a fun backpacker hostel situated in the heart of Willington. They will make you comfortable in the same way you feel at your home. You can stay with your friends or family or alone as per your preference and the team Trek Global always tries to make your trip memorable. You can also take advantage of the extensive facility given here such as free in-house activities. The staff feels obliged in offering all possible services and advice. They will also arrange your travel booking and other help if required or if you ask.
Rating: 3.5/5
Location: 9 O'Reilly Ave, Te Aro, Wellington 6141, New Zealand
7. The Dwellington

This is the luxurious property in New Zealand and it is a perfectly homely, cosy and stylish place to stay. This place has many attractions such as chef's style kitchen, impressive five-meter long redwood dining table, tennis court, game room, outdoor spaces and many more options for entertainment. You can use free unlimited WIFI and free breakfast every day during your stay. You will find the variety of rooms here such as twins, triples, a family room, 4-bed dorms, 8-bed dorms which you can select as per your need and preference.
Rating: 5/5
Location: 8 Halswell St, Thorndon, Wellington 6011, New Zealand
Suggested Read: 9 Cafes In Wellington That Treat You To The True Flavors Of New Zealand
8. Wild Zebra Backpackers

In the Wild Zebra, you will find everything which you need because this place is all in one for all your needs. you will find café, coffee shops, bar, gym, and shopping. This hostel is located in the heart of downtown and many nightclubs and restaurants are located at a walking distance of 2 minutes only. It is located at a short distance from the train station for which they provide free unlimited WIFI & parking facility. There are many other attractions available at the nearby places such as botanical garden, famous mount Victoria lookout, the reading cinemas and many more.
Rating: 2/5
Location: 58 Tory St, Te Aro, Wellington 6011, New Zealand
9. Worldwide Backpackers

This place is very friendly and offers you the best services as it is clean, homely and provides free WIFI connection. Beds are very comfortable and hot water is available all the time. There is the facility of heaters in all the rooms and if you feel like cooking there is a large, big well-equipped kitchen for guest use only. You can also do free phone calls in local areas also there are many famous attractions located at the nearby places where you can visit easily. Nice place to stay with family and feel the real air of New Zealand.
Rating: 3/5
Location: 291 The Terrace, Te Aro, Wellington 6011, New Zealand
Suggested Read: 10 New Zealand Restaurants To Taste The Country's Culinary Masterpieces In 2022
10. The Setup On Dixon

It is located in the central Willington. The Setup on Dixon offers you free unlimited WIFI services. All the famous restaurants, café, and shops all are available at the nearby places. The comfortable rooms include good linen, radio, refrigerator, and desk. Most of the rooms have flat screen TV and a lovely view of the city from the window. Airport and Tea Papa museum are located at the near places you can reach easily by walking for 10 to 15 minutes.
Rating: 3.5/5
Location: Level 3/15 Dixon St, Te Aro, Wellington 6011, New Zealand
Further Read: New Zealand In October 2022: Fall In Love With The Colours Of Spring
The above hostels are some of the best hostels in Wellington where you can stay. From normally budgeted hostels to the 5 star and 3 star rating hostels, the list has everything you want to know. So, plan a trip to New Zealand and explore the beautiful city of Wellington.