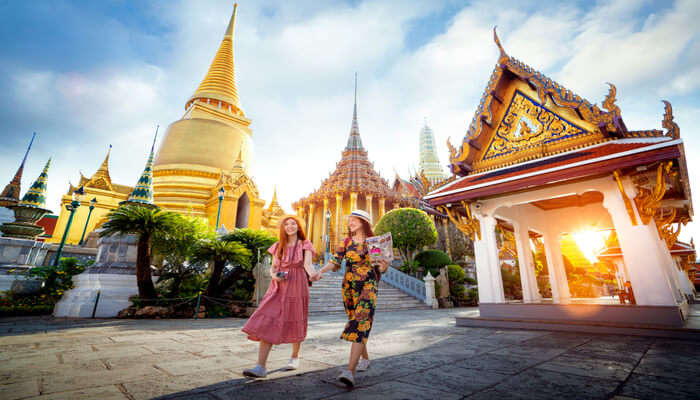 Bangkok, the capital of Thailand is an exciting, fascinating and extraordinary city that a tourist should visit on his trip to the country. Like other capital cities, Bangkok never sleeps. You will find lots of activities as people keep working round the clock in various professions. With more than 8 million inhabitants residing in the city, you will encounter people from all walks of life. They all come together as one city and feel at home.
Weather In Bangkok In August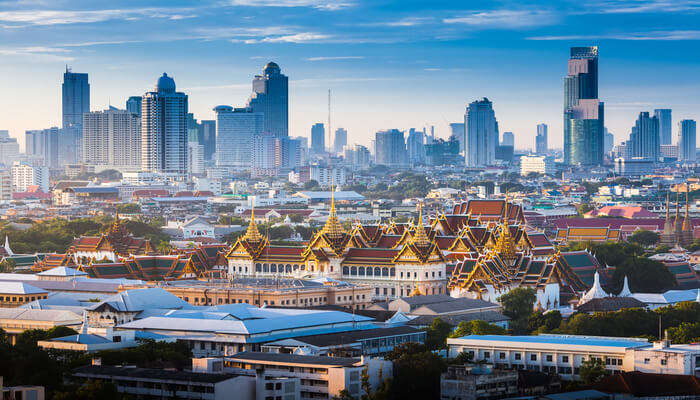 It is hard to say when the rainfall season starts in Bangkok as it keeps varying in line with the southwest monsoon's arrival, but it starts mostly at the end of May. When June arrives, the city is typically truly underway. August has considerably higher rainfall levels. Temperatures stay hot in August, almost similar to July.
Anticipate seeing the street getting flooded in August especially subsequent to a pouring downfall. Humidity levels are high as well and average around 74%. You must take an umbrella with you and be ready to take your shoes off and walk through occasionally besides taking small breaks in the sunshades to stay away from the scorching heat. The average high temperature is just about 32-33 degrees Celsius.
Reasons To Visit Bangkok In August
There are some amazing popular annual celebrations that will make your Bangkok visit interesting. Top festivities include :
1. Queen's Birthday Celebrations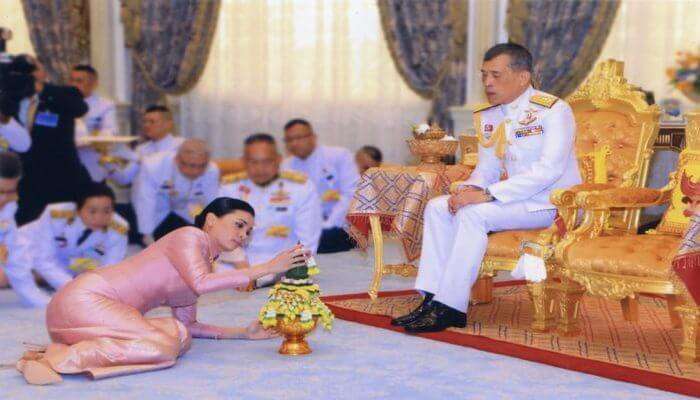 Queen Cirkit's birthday falls on August 12. It is commemorated as mother's day as well. People dress up in light blue costumes to show their admiration and respect since the queen's birthday falls on a Friday. You will see people holding candles and lightings on Thanon Ratchadamnoen and the citywide shrines.
Must Read: 5 Most Enthralling Zoos In Bangkok You Must Visit To Explore Thailand's Wildlife!
2. Phuket Por Tor Festival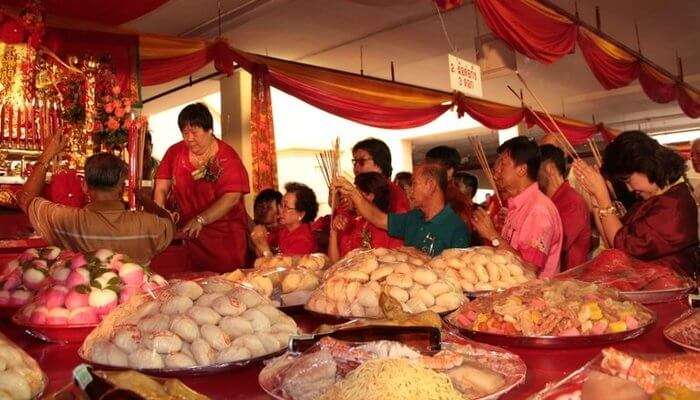 The inhabitants of Phuket respect the Chinese minority traditions and this acknowledgement of the Chinese culture in the neighbourhood created a social tolerance between the two countries. This festival symbolizes the Hell Gate opening and the freedom of the restless ghosts. The families bring offerings to their family members who passed away.
Suggested Read: 42 Best Places To Visit In Bangkok That Will Change Your Opinion About The City
3. It Is Less Expensive To Travel Bangkok In August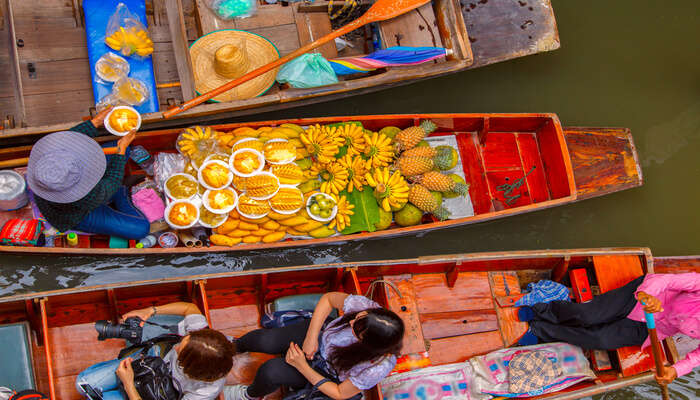 Regardless of the rainfall, visiting the city in August has its own benefits. To begin with, it does not pour all day, each day. There might be extended light rain periods. Heavy downpours might last around 30 minutes only. Some days it might not even rain but the weather will be humid. There are very few tourists visiting Bangkok in August and so there will be less demand for services, tours and accommodation. You can easily find some of the best deals on all the above things. If you are someone who also likes it better in a tranquil atmosphere, August is the month that you should choose to go to Bangkok.
Suggested Read: Bangkok In May: A Guide To Planning A Budget Trip
Popular Places To Visit In August
1. Wat Pho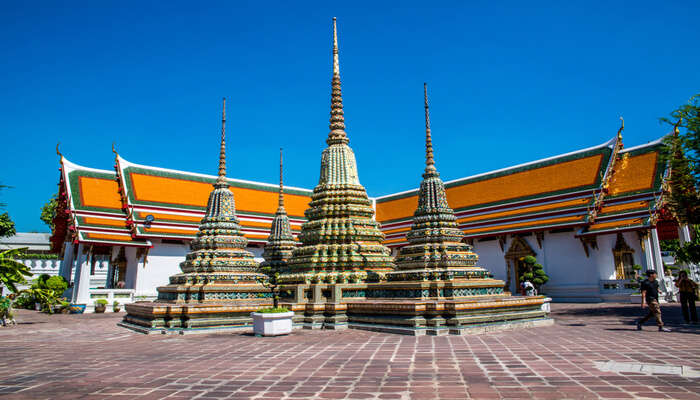 This is a must-visit for any tourist who comes to the city. It has the reclining Buddha statue that stands at 46 metres long and 15 metres tall. The entire statue is enveloped in gold leaf and appears incredible when you see it up close. There are around 108 bowls inside the temple. On your way to the temple, you can purchase coins to be put in these bowls. Buddha accomplished 08 positive deeds on his path to becoming a perfect human being.
Suggested Read: Bangkok In June: Explore Bangkok On A Shoestring Budget
2. Bangkok National Museum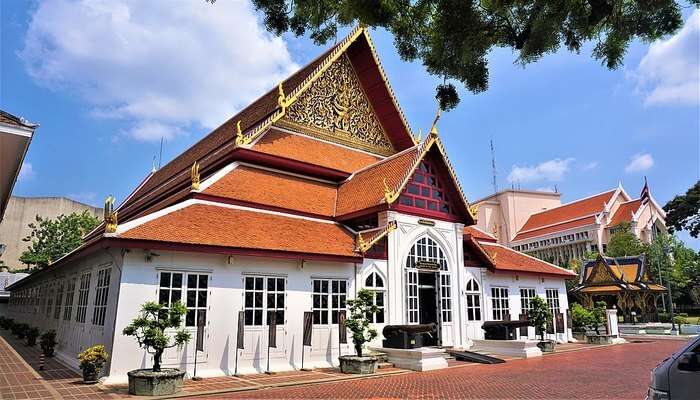 This museum is home to the biggest assortment of artefacts in Thailand. It was opened first by King Rama V to boast all the presents his father bought him. There are numerous interesting things to observe at this museum such as precious stones, Chinese weapons, clothing, Khon masks and puppets. If you visit this museum on Thursdays, you will be offered an English tour to provide you a good insight into everything that is in the museum.
Suggested Read: These 7 Amazing Cafes In Bangkok Is Every Food Connoisseur's Ultimate Dream!
3. Khao San Road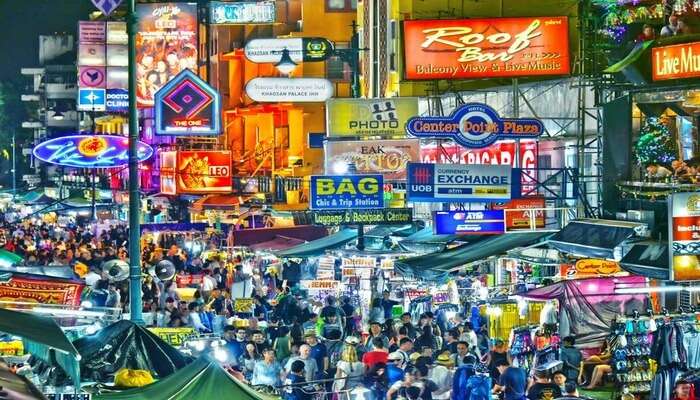 This is a small street but is most likely renowned street in the entire city which makes it a must-visit. If you are free in the evening and wondering how to spend your time, you should try this place. It is welcoming and possesses a relaxed and fun atmosphere because of the friendly locals. If you wish for backpacker accommodation that is cheap, you should visit this place. There are several buses from here to reach other parts of the country.
Suggested Read: 6 Best Amusement Parks In Bangkok Where You Can Be A Kid Again
4. Lumpini Park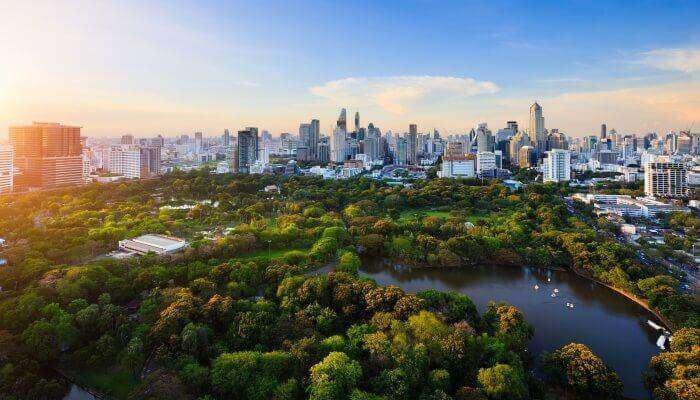 This park is just like what Central Park is to America's New York. This largest public park in Bangkok is one of the very few places in the city centre where you can visit to take pleasure in greenery and open spaces, stay away from traffic congestion, crowded streets, fumes and noise. You can paddle around by renting boats and walk the length of 2.5 km of the parks.
Suggested Read: Top 3 Places For Skydiving In Bangkok That Will Offer You An Adventure Of A Lifetime!
5. Wat Arun (Temple of Dawn)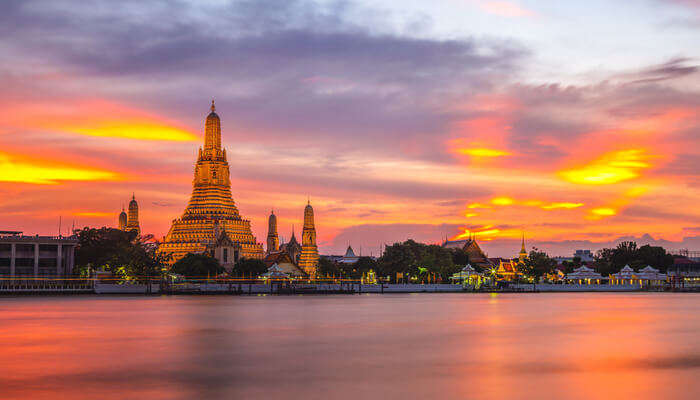 Wat Arun is a popular temple in the country situated in Bangkok. It is identified by its small title "Temple of Dawn ". The tall golden tower is a beautiful sight particularly when the sun sets. It is located on the other extreme to the Grand Palace and you can take a boat ride from Saphan Taksin boat pier to reach pier 8. You can then opt for a shuttle boat to reach across the river. You should at least let yourself one hour time to visit the site fully since there is an assortment of astonishing architecture to observe at Wat Arun.
Suggested Read: 4 Churches In Bangkok That Tell You The City Is More Than Nightlife
6. Sea Life Bangkok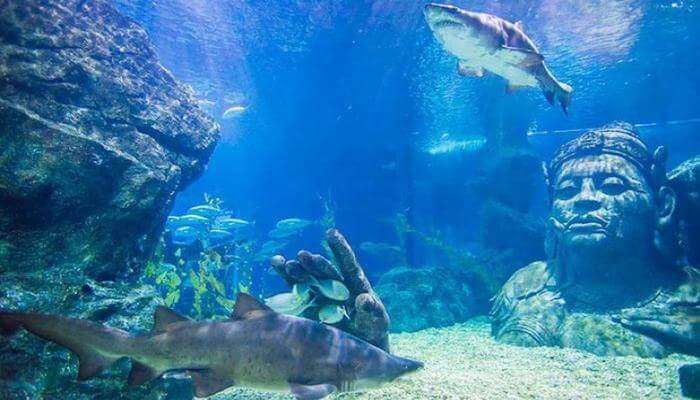 Sea Life Bangkok, Southeast Asia's biggest aquarium is a pleasant break from the crowds and heat of the city. The admission price is steep if you stay just for an hour, however, you are likely to get it's worth if you stay a bit longer. Also ensure that you upgrade the ticket to incorporate a ride over the glass bottom boat in the shark tank, which is the closest you will get to see a shark. This is the best place to visit with your kids.
Suggested Read: 7 Festivals In Bangkok That Will Take You On A Train Of Traditions!
Things To Do In Bangkok In August
Being a wet month August may not be ideal for adventure sports in Bangkok but it is a great month for sightseeing. Here are some very intersting things one can participate in the month of August :
1. Travel on the Chao Phraya River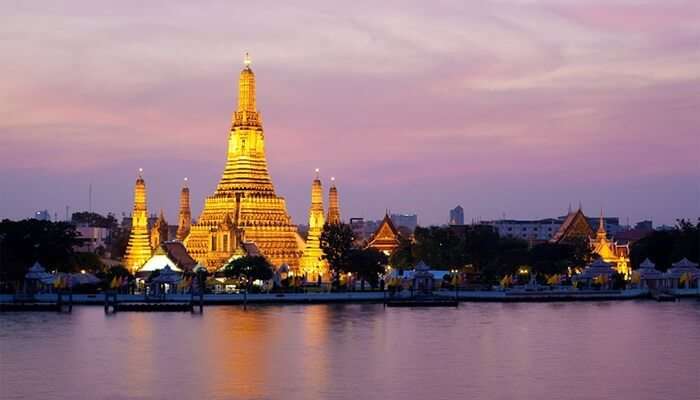 This river strolls its way through the centre of Bangkok and enhances the appeal and charisma of the bustling metropolitan city. You can get out on the river to get away from the heat. River ferries keep going to and fro between landmarks and hotels and so you can take a rapid trip from one end to the other easily. The ideal way to catch a glimpse of this attraction is to take a river cruise or rent a boat.
Suggested Read: Choose Bangkok Tuk Tuk Tour For An Experience Of A Lifetime In This City
2. Shop at Chatuchak Market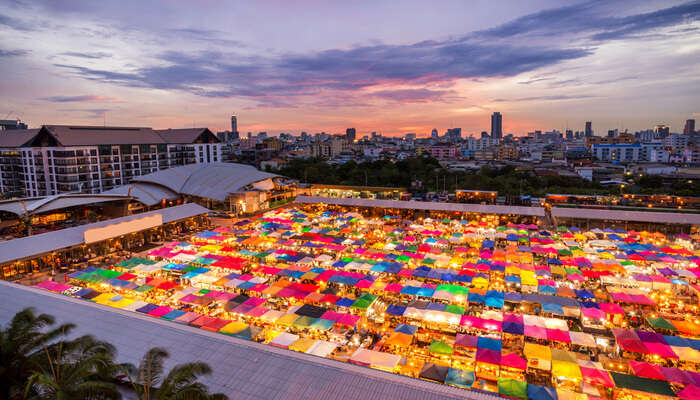 If you are a shopaholic you should visit this place. With more than 8000 stalls satiated in over 27 acres of land, the Chatuchak market is one of the biggest markets globally. The market is open on Saturdays and Sundays and attracts almost 200,000 visitors every day. You will see that there is no lack of products to buy at sale here at local prices. It is worth getting a map prior to visiting the market to avoid getting lost for hours.
Suggested Read: 24 Exciting Things To Do In Bangkok
3. Get A Thai Massage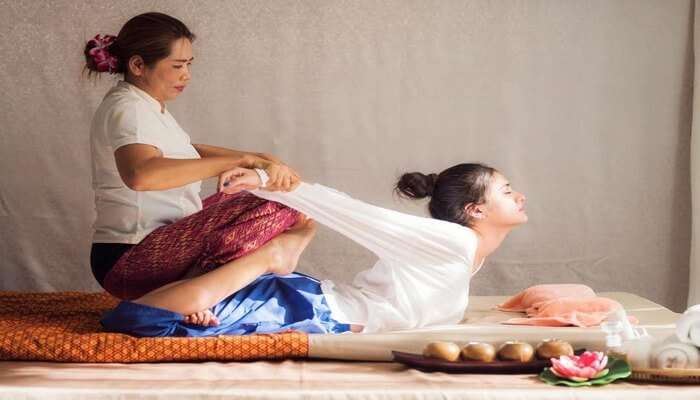 No matter which country you originate from, you are sure to have heard about the Thai massages. However, you cannot experience a conventional Thai massage in the manner it is done in Bangkok. The massage experience will make you feel energized and invigorated. There are several parlours everywhere in the city and so you can do your research to discover the best one situated near your accommodation.
Suggested Read: 8 Best Bangkok Night Tours: Discover The Energy Of Bangkok After Sunset
4. Relish your favourite delicacies in ChinaTown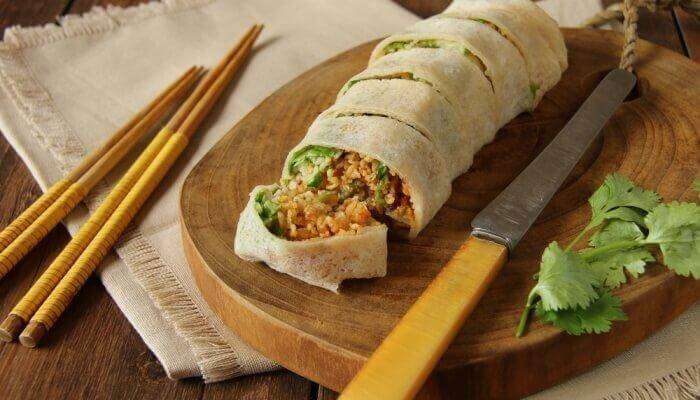 Every chief city will have a China Town; Bangkok has one too. You will know that you have arrived as you stroll through the traditional Chinese gates. The place is packed with restaurants and street stalls and so you have an endless choice of places to choose to eat. You will not find another place like this in the entire city to try so many varieties of Chinese food, particularly at affordable rates.
Further Read: Only Have 4 Days In Bangkok? Here Are All The Places You Can Visit On Your Thai Trip!
There are lots of things to carry out when you are travelling to Bangkok You can gladly fill numerous weeks in the city and still not observe everything. The capital city offers something for everybody, from its shopping malls and markets to temples, palaces, museums, and astonishing architecture. Low season in Bangkok comes in the monsoon season which paves the way for short periods of severe rain. If it rains, you can enjoy a variety of indoor activities, such as visiting aquariums, temples, entertainment centres and several shopping complexes.
For our editorial codes of conduct and copyright disclaimer, please click here.
Frequently Asked Questions About Bangkok in August
How should I plan honeymoon package to Bangkok in August?
If you are planning for a honeymoon package, start with the type of travel you want to undertake (luxury, adventure, staycation) and then list out the best places to visit and things to do during the month of August. Depending on the number of days you want to spend, spread out the places and activities along with some time to drink and dine.
How do I plan a trip to Bangkok?
The best way to plan a trip to Bangkok is by starting with the number of days, budget, number of people and type of travel (luxury adventure, staycation). Depending on your interests, list out all the relevant places you want to see and prepare your itinerary accordingly.
How do I plan a budget trip to Bangkok from India?
Bangkok is one of the most sought after budget destinations from India and the best way to plan a trip would be to map out the number of days, find a hostel close to the city centre and make a list of all the places you want to visit along with information about the public transport system that can help you get there.