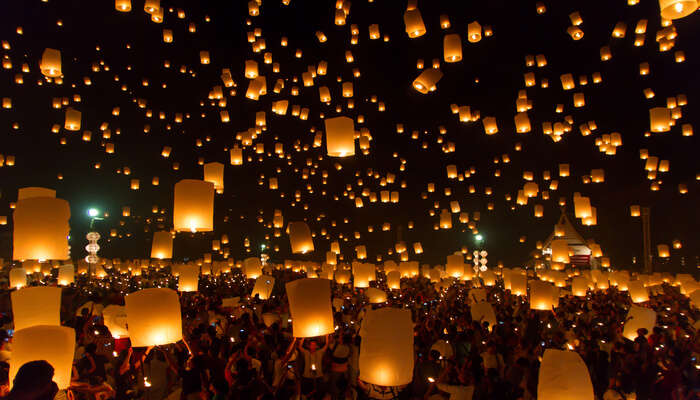 Bangkok is Thailand's capital. It is known for its beautiful landscapes, heritage, and culture. There are many places to visit that have a historical significance and have magnificent architecture. You can soak into the Buddhist culture, scenic boat trips, vibrant festivals, relish Thai cuisine and get a Thai massage. You can also attend festivals in Bangkok to immerse into its beautiful culture like never before. Bangkok is known for its many nature and adventure activities. Beaches are serene and have turquoise waters.
This place is known as 'The Land of Smiles' and the 'Venice of the East' because the river runs throughout the city. Festivals are the most joyous celebrations in the city. When you visit Bangkok during these months you can indulge in the festive mood with the locals and participate in activities during the festival. You can take great pictures of these vibrant festivals and bring home joyous memories and souvenirs.
7 Festivals In Bangkok
Here is a list of the most popular festivals in Bangkok that will take you closer to its culture and satiate your hunger for it. Take a look for your next escapade!
1. Songkran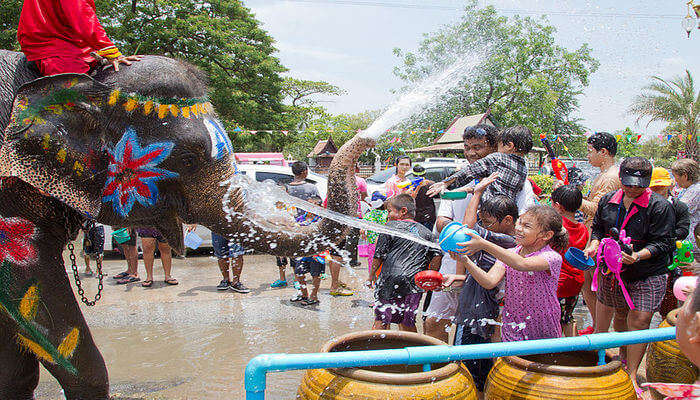 This is Thailand New Year that is celebrated with great furor in April. It is celebrated by splashing water at each other. This festival falls between April 13th to 15th. Locals splash buckets of water at each other. Foreigners will enjoy the summer splash and gain a unique experience participating in this festival. Locals roam on the streets forming crowds and throw water using pistols and buckets filled with water.
Locals also visit their older relatives and show appreciation on this day. In Buddhist temples in Thailand water is thrown on the Buddha idols as well as monks to show respect. This festival lasts for a week. On the first day of the festival, processions are taken on the roads having Buddhist images. On April 13th the water throwing ceremony starts.
On the 14th of April, the Wan Nao festival is celebrated as a part of the New Year celebrations. Many rituals and ceremonies are maintained on this day. One of the rituals is to go to the Buddhist temples and build a sandcastle that resembles the Buddhist temple. Visit Chiang Mai to watch the biggest celebrations, eat traditional foods from the street stalls, watch colorful processions and performances.
April 15th is the final day of the New Year celebrations. There are many events celebrated across Thailand on this day. Many local visit temples. Foreigners can visit the Khao San Road to watch the colorful events that take place on this day. You can watch street performances and relish traditional foods prepared for the festival. The Patong beach, as well as Phuket, can be visited to enjoy the vibrancy of this festival.
Festival dates: April 13 to April 15 2022
Must Read: Islands Near Bangkok That Will Let You Enjoy A Heavenly Vacay!
2. The King's Birthday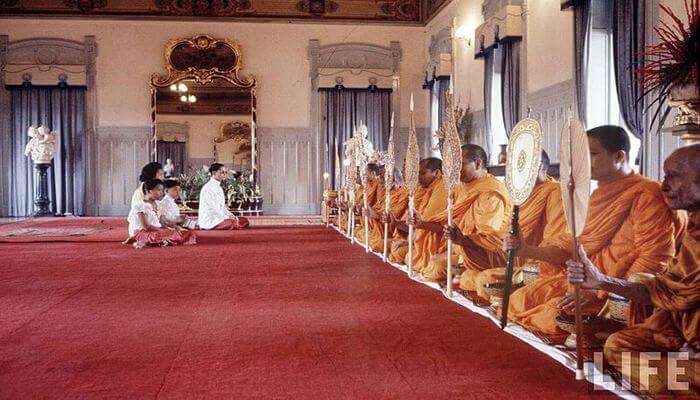 This is a public holiday and also celebrated as Father's Day. In vernacular terms, it is known as Wan Chalerm and falls on December 5th. This is a national holiday and celebrated nationwide. King Bhumibol Adulyadej is known as the longest-reigning monarch in the world who was crowned as a King on June 9 in 1946. He is the most beloved monarch who involves devotedly to the welfare of the people.
He is the most loved because he has ensured a peaceful democracy in Thailand since the time he has been crowned. This an important day and locals pay their respect and affection for the King. On this day all the homes in Thailand display Yellow flags and decorate their homes with lights. Bangkok is decorated with fantastic flower arrangements.
You must visit the Ratchadamnoen Venue on this day to watch the magnificent flower arrangement. Many religious ceremonies are conducted throughout Thailand for the wellbeing of the King. You can watch the fireworks in the evenings that fill colors in the sky. People wear yellow T-shirts and walk the streets of Thailand on this day.
People from various cities come to get a glimpse of the monarch on this day. The king died on October 16, 2016, but this day is still celebrated with great furor. The current King Maha Vajiralongkorn's birthday on July 28 is a national holiday. Alms are given to monks early in the morning on this day. Streets are blocked for celebrations in Bangkok on this day.
Festival date: July 28, 2022
Suggested Read: Here's Why Bangkok In December Is Better Than Any Other Trip To Thailand You Can Dream Of
3. Loy Krathong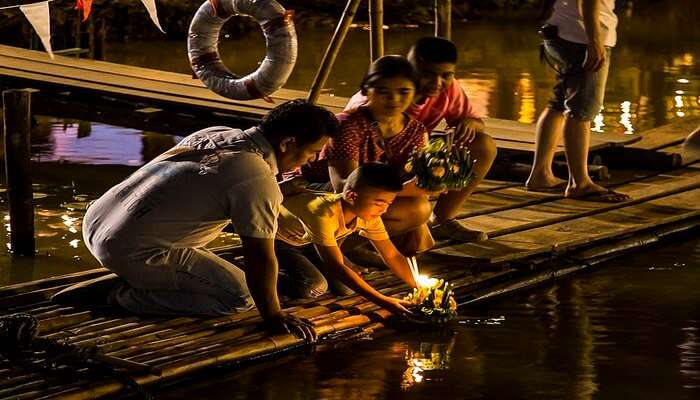 This festival is celebrated in November as the Festival of Lights. It is celebrated all over Thailand. Krathong in Thai means banana trunk decorated with flowers, incense, leaves, and candles. Loy in the Thai language means to float. These Krathongs are floated to show respect to rivers since agriculture is the main occupation in Thailand, this festival holds a lot of significance.
Pra Mae Khongra is known as the River Goddess and Krathong is floated in the rivers to show respect to her. Thai people worship this goddess and ask for forgiveness. Celebrating this festival is said to wash away misfortune in the coming year. This festival is celebrated on the Full Moon day that falls in November as per the Lunar calendar.
This festival is celebrated wherever a water body is present in Thailand. Sukhothai is the place where this festival originated and is celebrated for 5 days. This is a small town located in the north of Bangkok. You can visit this town to view colorful processions, dance performances, light and sound shows inside the Sukhothai Historical Park.
In Chaing Mei, lighted lanterns are floated in the air along with floating Krathong in the river. You can enjoy parades, fireworks, and traditional dance performances in public areas. This is a religious festival and lanterns are released after prayers. This festival usually coincides with the Krathong festival and both of these are celebrated with great furor in Chaing Mei.
Festival date: November 9, 2022
Suggested Read: Lumpini Park Bangkok: A Detailed Guide To The Inner City Haven
4. Chinese New Year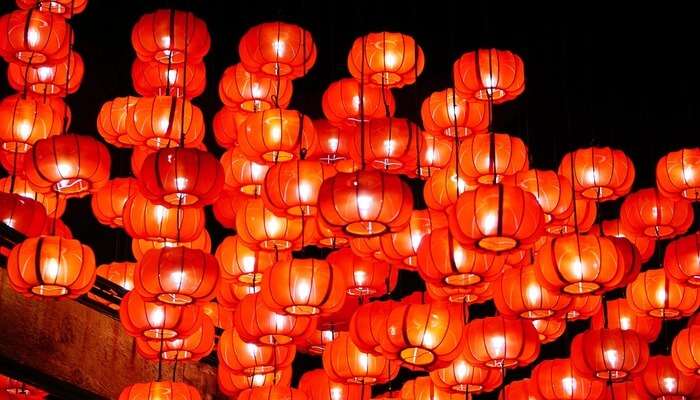 This is also known as the spring festival and celebrated as per the Chinese calendar. One day before the festival locals go shopping for buying items to offer in prayers. It is also known as the 'Spring Festival.' Colorful parades are held in the evening. You can watch the Year Dragon taking a procession to temples. Drummers and dancers grace the streets in colorful processions.
You can fascinate yourself watching the colorful dragon and dancers in the streets of Bangkok. Chinatown is beautifully decorated with lights and music. There are dance events happening all day. You will also see huge discounts on almost all the places spread across Bangkok.
The sky is filled with firecrackers in the night. You can enjoy scrumptious Chinese banquets. You will find red paper lanterns all over Bangkok on this day. The date of the Chinese New Year varies every year and is noted by a particular animal each year. It was celebrated as 'The Year of the Pig' in 2019. This festival is celebrated for 3 days. This festival is celebrated for two-three days but is not a national holiday.
Red is the color associated with this festival. People wear red clothes and hand over a red envelope that has money and trinkets to their family members. They go to temples to pray for a successful new year. Nearly 40 feet tall human pyramids are made during the celebrations of this festival.
Festival date: February 1, 2022
Suggested Read: 7 Stunning Cruises In Bangkok For A Perfect Getaway To The Vibrant City
---
Planning your holiday in Thailand but confused about what to do? These Thailand travel stories help you find your best trip ever!
---
5. Candle Festival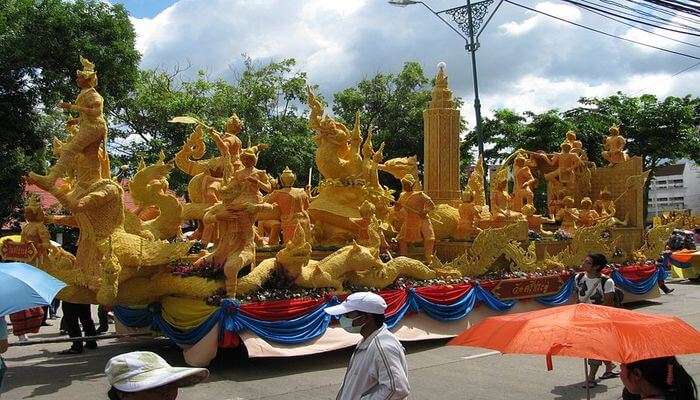 This is the most iconic festival celebrated in Bangkok and all around Thailand. Artistic candles are decorated and made. Many wax statues that depict Buddhist mythology are created for this festival. Boats are decorated with flowers and parasols ride along the riverside. Locals ride these boats to collect candles from the locals and dedicate them to the temples.
Many contests are held on this day. There are colorful processions carried out on the streets of Bangkok and other cities. Different towns and cities in Thailand have a unique way of celebrating this festival. Local and international artists participate in wax sculpting on this day to make sculptures that reach a height as tall as 20 meters.
Sculptures are made from mythological epics like Ramayana and many others. Processions are carried to temples burning candles. For a foreign tourist to view this festival it is fascinating and picturesque. They get a glimpse into this colorful festival and its rituals. Elaborate candles float parades are taken in the morning in all the towns with girls and boys performing traditional Thai dance and dressed in traditional Thai attire.
This festival is marked with many entertainment activities and cultural performances across Thailand. A few kilometers from Bangkok is the town Ubon Ratchathani which is a must-visit to witness this elaborate festival. Colorful parades fill the street and many ceremonies are carried at a large scale.
Festival dates: July 2022(TBA)
Suggested Read: 22 Exciting Things To Do In Bangkok – Thailand On A Holiday In 2022
6. Lantern Festival (Yi Cheng)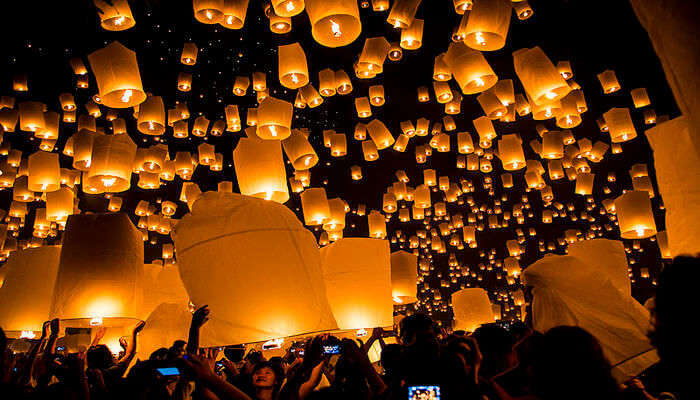 Two festivals are celebrated on the same day. One is the Lantern Festival and the other is the Loy Krathong festival. It is called Yi Peng in Thailand. Many people gather at the banks of the Peng River and release lit paper lanterns in the sky. Visit Chaing Mei during this festival as this is the best place to experience it on this day.
The view of sky lanterns looks exhilarating when released in the sky. This festival has existed since the time of the Lanna Kingdom in ancient times. In the Thai language, these floating lanterns are called Khom Loi. They are made of rice paper and the candle is attached to them. The air from the candle makes the lanterns float in the air.
It is believed that this ancient festival is a way of making your bad luck and mistakes fly into the sky. It also shows a way of paying respect to Buddha. It is believed that if your lantern does not fly or it crashes, the coming year will bring bad luck. Various venues organize this event. You have to buy tickets to these venues and enjoy the enthralling site of floating lanterns in the sky.
Tickets for this festival are sold from September and includes one lantern per person. There are many facilities offered by the event organizers such as round trip, taking pictures, etc. You are advised to follow the Buddhist dress code and etiquette to attend this event. You can buy a ticket from any local authorized agency.
Festival dates: November 9, 2022
Ticket Price: $300 per person
Suggested Read: Choose Bangkok Tuk Tuk Tour For An Experience Of A Lifetime In This City
7. Lopburi Monkey Festival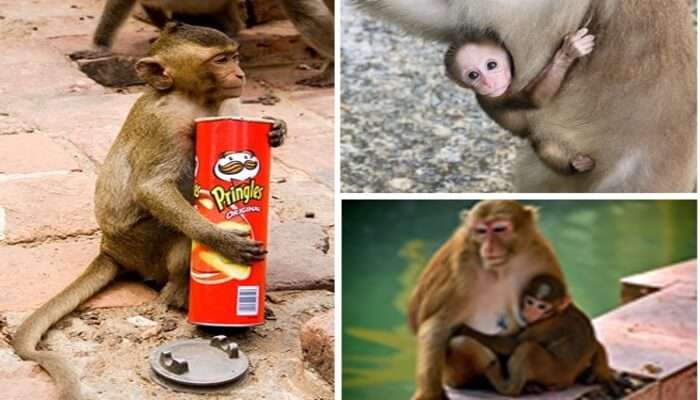 Lopburi is a province which is located a few kilometers from Bangkok and is located on the northern side of the city. It is one of the ancient cities that has many places of sightseeing, ruins, and palaces. There are many monkeys in the ruins of Khmer. Monkeys gather on this day for all the goodies and feast offered to them.
During this festival, there are many live performances of singing and dancing that include monkeys in the performances. It is said that offering food to monkeys on this day brings good luck. They are treated with a lot of respect and given treats on this day. The treats include fruits, rice sticks, and all the foods that monkeys would relish. It is also known as the Monkey Banquet and attracts tourists from all over the world to witness it. You can take a train or bus from Bangkok and reach this city in 3 hours.
You can entertain yourself with the acts of monkeys that fill this place. You are required to take precautions when traveling here as monkeys are likely to climb up upon you and snatch away your items. On this day nearly 3000 monkeys are fed at these ruins. Tons of fruits, vegetables, and other treats are placed here for monkeys to feast on.
Festival date: November 26 to November 27 2022
Further Read: 8 Best Bangkok Night Tours: Discover The Energy Of Bangkok After Sunset
Festivals in Bangkok are colorful and have unique rituals. There are many colorful processions and performances carried out during these festivals which are worth a watch. Festivals and events run throughout the year. The Lantern festival is popular amongst tourists as they can attend it in masses and click a breathtaking picture of the flying lanterns. So, don't wait and plan a trip to Bangkok for an exciting vacation.
Disclaimer: TravelTriangle claims no credit for images featured on our blog site unless otherwise noted. All visual content is copyrighted to its respectful owners. We try to link back to original sources whenever possible. If you own the rights to any of the images, and do not wish them to appear on TravelTriangle, please contact us and they will be promptly removed. We believe in providing proper attribution to the original author, artist or photographer.
Please Note: Any information published by TravelTriangle in any form of content is not intended to be a substitute for any kind of medical advice, and one must not take any action before consulting a professional medical expert of their own choice.
Frequently Asked Questions About Festivals In Bangkok
What is the most popular festival in Bangkok?
The water festival known as Songkran is the most popular festival in Bangkok.
Where is Chiang Mai located from Bangkok?
This ancient city that is dotted with ancient temples is located 700 km from Bangkok.
How is the Lantern festival different from Loi Krathong?
The Lantern Festival is celebrated for three days. Loi Krathong is celebrated for one day. The dates of both of these festivals usually coincide. Lanterns are floated in the air for the Lantern Festival, Krathong is floated in the river water for the Loi Krathong festival.
What is the significance of the sky lanterns?
It symbolizes releasing bad luck and miseries into oblivion. It is considered good luck if the lantern you release in the air disappears from sight. If the lantern crashes it is said to bring bad luck.
Can tourists attend the lantern festival?
Yes, tourists can attend the lantern festival. Choose a venue and buy tickets from a local agency to attend this event in the masses.
For how many days is Songkran celebrated in Bangkok?
It is celebrated for 4 days. Every day is marked with a list of ceremonies and rituals.
What are the best places to stay to attend the Songkran festival?
Silom, Khao San Road, Phra Pradaeng District are the best places to stay to attend this festival.
---