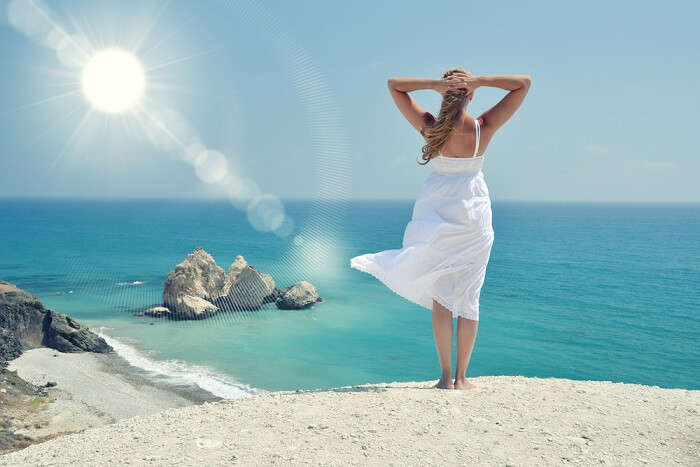 An island country and Europe's tourist hotspot, Cyprus is perfect for all types of travelers. Cyprus is famous for many things, such as its ruins, the shops, the Walled City, the literal dozens of UNESCO World Heritage Sites, the many scuba diving sites spread around the island, and many other things, another great factor of its fame are the awesome beaches spread around Cyprus. Head to the beaches in Cyprus to soak in the sun and to walk barefoot on the sparkling sand.
Top 10 Beaches In Cyprus.
Here is the list of best beaches in Cyprus that you should definitely explore while you are in the country. Keep scrolling and read along!
Aphrodite's Rock And Beach
Lara Bay
Nissi Beach
Paramali Beach
Makronissos Beach
Akti Olympion
Fig Tree Bay
Konnos Bay
Porto Pomos
Mackenzie Beach, Larnaca
1. Aphrodite's Rock And Beach

It is a quite well-known myth, that of Aphrodite rising from the ocean waves, standing on a seashell. While not a true Greek myth, it was popularised by the painter, Botticelli, who represented the Goddess of Love and Lust on a seashell. His painting was done with the background of this beach, as it one of the most stunning beaches in the world. They often say the journey is more valuable than the destination, and this is very true, as the drive to this location gets more and more beautiful with each passing mile. The water itself is just as unpredictable as Aphrodite herself, and thus not many wades out for a swim or a surf, enjoying the view from a seat on the shore. It is definitely one of the best beaches in Cyprus Paphos.
Location: Near Paphos
Must Read: 13 Frolicsome Beaches In Europe For All The Excited Beach Bums Across The Globe
2. Lara Bay

This spectacular beach is hidden within the vast Akamas Peninsula Nature Reserve, and the process of discovering it is one of the very finest experiences one can have while on the island of Cyprus. The journey itself starts with greenery on all sides, as the jungles cradle the vehicle one has to hire in order to get to this beach, which slowly and gradually gives way to the beach itself. The beach is one of the very finest on the island, as it is a deserted stretch of beach as far as the eye can see, with perhaps 1 or 2 other people on the entirety of the beach. One is encouraged to keep quiet and observe their surroundings, as they may get to witness the giant loggerhead turtles who lay their eggs here! One may very well call this one of the hidden beaches in Cyprus.
Location: Akamas Peninsula
Suggested Read: 6 Museums In Italy Across 6 Cities. Which One Will You Choose For Your European Adventure?
3. Nissi Beach

Are you one of those beach types who wants nothing but the sun beaming down full force? If so, Nissi Beach would probably be what you call paradise. Located in the already tourist-favored district of Ayia Napa, this beach is as awesome as anything gets. The sand itself is soft and white, sticking to one, with the water being a peculiar shade of blue that seems to beg for a closer inspection. But, unlike the previous beaches, this is a quite popular tourist spot and is often packed with a lot of people, who either want a tan, surf, sleep in the sun, play volleyball or rackets, or as the wildly fun people do, dance at one of the beach bars.
Location: Ayia Napa
Suggested Read: 17 Spots For Snorkeling In Europe Every Underwater Enthusiast Must Visit
4. Paramali Beach

While most beachgoers like nothing more than to pass out on the nearest chair and hope for an even tan, there are some who look upon this lazy lot with nothing but distaste. These are the adventurers, those few who are truly wild at heart. To them, Paramali Beach is probably the most fun place in the entirety of Cyprus. The reason for this is that Paramali Beach is perfect for kitesurfing. Hailed by many as quite a daring thing to do, kitesurfers can always be seen at Paramali Beach, being dragged by a boat. Quite often one can see one of these kitesurfers achieve liftoff for a few seconds!
Location: Avdimou Village, Limassol
5. Makronissos Beach

Makronissos Beach is another famous beach that one will find in Cyprus. Joining with the nearby Dome beach, it forms a large peninsula that is almost entirely beach. While it is not one of the most well-known spots, additional secrecy and isolation can be found by taking a small walk through some shrubs. The sand is soft and hot to the touch and is totally perfect for a quick nap (one should take care to mind the sun as they nap). While the water is perfect for bathing, one also finds the occasional surfer, riding the waves on their very own uniquely shaped surfing board. It is one of the sandiest beaches in Cyprus.
Location: Ayia Napa
Suggested Read: Islands In Turkey: 6 Spectacular Islands In The Europe Of Asia
6. Akti Olympion

City beaches. The very word brings distaste to our mouths, as city beaches are always filthy, polluted, and are probably cleaned once in a year. However, one city beach that is worth visiting is the Akti Olympion, originally just the sandy bank of the sea, but was regenerated and built into the massive beach it is today. Limassol entire seafront has now a quite bustling hub of activity. Water that just seems to beg one to come in and enjoy themselves, and silky sand that makes one want to lie down combine to provide the ultimate experience in luxury.
Location: Limassol
7. Fig Tree Bay

A beach that is famous among Cyprus beachgoers, a beautiful line of fig trees line the coast, and this is where the beach gets its name, Fig Tree Bay. Often called the third best beach in Europe, it is the premium beach for both adults and children, as the shallow waters are perfect for children, and adults can lie down on the beach for a nice and hot suntan. During sunset, this is one of the most beautiful locations in the land, as the sky turns blood red, and one can watch the sun go down in a blaze of glory. It is one of the best beaches in Cyprus for families.
Location: Protaras
Suggested Read: 8 Restaurants In Hungary That Can Match Any European City For Culinary Travel
8. Konnos Bay

This beach has the most beautiful water you will see in or around the island, with the seawater being a startling shade of turquoise blue that one rarely sees. The sands are like powder, fine and white as they slip between your fingers, and colorful umbrellas stretch out over the horizon as far as the eye can see! The beach is quite breathtaking, as the dazzling view often leads one to experience a few moments of silence. But if you're a man that enjoys crowds and games in the surf, be sure to visit in summer, and watch the great horde storm this beach with umbrella and ball in hand!
Location: Ayia Napa
9. Porto Pomos

The western coast of the island is truly a sight to see, as the rugged coastline cradles deep seas that seem to glow blue. Not only does one have the option of plopping down for a nap, or going for a swim (though one is advised to be careful of small rocks while swimming), one also has the option of visiting the nearby fishing village of Latchi, and watching the fishermen in action. The Porto Pomos beach is not well known but is famous as it offers solitude and silence, along with dazzling sun rays.
Location: Pomos
10. Mackenzie Beach, Larnaca

This is the true hotspot beach in the entirety of Cyprus. Offering many amazing views to see, such as the awesome white sand stretching for miles, the deep blue sea going as far as the eye can see and bikini-clad goddesses sipping on Blue Lagoons, Mackenzie Beach is just a hub of pure activity and energy. Surfers and swimmers fill the sea, while others strike up a game of rackets or the much-awaited beach volleyball game.
Location: Larnaca
Further Read: Shopping In Czech Republic: For Adding More Charm To Your Wardrobe With A European Touch
Besides being a vacation spot for those who like to visit the various ruins and castles, Cyprus is also a land of fun, as the beach is the very symbolification of fun, brought to an energetic and zest filled life. If you like crowds and playing volleyball with strangers, surfing waves that get taller and taller, or to lie down and have a nap in complete silence in the quiet beaches in Cyprus, Cyprus is the destination for you! So, pack your bags and book your trip to Cyprus right away!
---