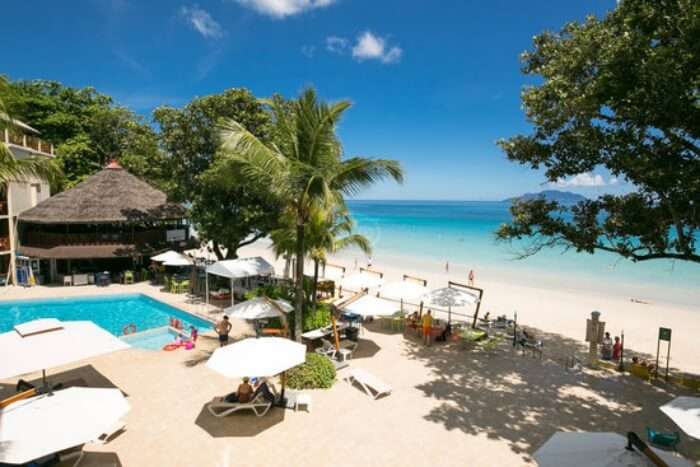 Overview
For many tourists, Mahe is the default destination in Seychelles, and Beau Vallon Bay is the ultimate choice. Beau Vallon hotels offer a relaxing and rejuvenating beach experience for people with world class amenities. Beau Vallon is arguably one of the most popular beaches in entire Seychelles. Tourists flock here for its beauty, spellbinding sceneries, several beach activities to enjoy, beautiful resorts and fantastic facilities.Hotels in Beau Vallon that are on the beach are a great choice of accommodation and the golden sands beach can be just a walk away from the accommodation. There is even a frequent bus service and the beach is easily accessible by cab. Beau Vallon offers many unique activities that guests can choose. The hotels in Beau Vallon Seychelles provide easy access to the beautiful sunny sand beaches, the shallow waters and clear azure colors of the sea. The sea is ideal for many beach activities like the shallow waters of Beau Vallon bay allow people to see the beautiful underwater scenery in its clarity. Tourists can enjoy scuba diving, snorkeling and underwater swimming in the warm waters of the beach. For everything a person seeks, Beau Vallon hotels offer that unique experience.
Special Experiences
Beau Vallon Bay is the perfect holiday destination in Seychelles. Beau Vallon Seychelles hotels are conveniently located at the most happening spots on the beach and people can enjoy a range of activities like jet skiing, kite surfing, windsurfing and water scooting among a range of other activities. Tourists can opt from a variety of excursions offered by Beau Vallon hotels and plan their day accordingly. The hotels' private balconies offer a beautiful view of the sunsets and the fine-dining restaurants to dine in along with bars and nightclubs add that icing on the top. The Berjaya Beau Vallon Bay Resort and Casino is one of the best Beau Vallon bay hotel in Seychelles. The hotels offer world-class amenities like room service, high-speed internet, and free access to all the facilities of the hotel and a casino for guest's entertainment. They are family friendly and offer child entertainment services too.
Facilities
The facilities offered by Beau Vallon hotels Seychelles are of a wide variety. The Casadini is one of the very economical and popular beach hotels here. They provide many facilities like a spa and beauty salon for in-house guests. They call themselves a Bed& Breakfast, but they offer much more than that. Conveniently located right on the beach and they serve free breakfast by the beach inbuilt shacks. Guests get the real beach feel in this hotel. Guests can enjoy their drinks in beach-side shacks while enjoying the beach activities. The resort has a private beach which is reserved only for its guests. Beau Vallon hotels are made to serve the tourists and offer the best service possible so that tourists can enjoy the best of Seychelles. Beau Vallon hotel can provide much more than tourists expect and all they need to do is ask for it. Their services are not limited to what they list, and they also customize it for their guests. If someone has a special request, even that is accommodated.
Dining
Dining in Beau Vallon is an out of the world experience. Tourists can be spoilt for choices with Beau Vallon hotel in Seychelles. There is no shortage of options here when it comes for a fine-dining experience. The Copper Pot in Beau Vallon is an Indian restaurant, and it serves extensive Indian varieties made to suit the International palate. They also have a huge variety of soups and salads to order from. La Perle Noire Restaurant is an Italian restaurant and is very authentic. The décor is also Italian with a Tuscany like feel. They serve only Italian food, so if one is craving for those delicious pizzas and pastas, then this is the right place for it. The Italian food served here is delectable and is the most authentic one can find in Seychelles. It is rated the best.
FAQs
Q1. Why is Beau Vallon such a popular place?
A. Beau Vallon offers a lot of activities and world-class service for visitors. The golden sand beaches and shallow warm waters are very appealing.
Q2. Are pets allowed in beach hotels in Beau Vallon?
A. Pets feel at home in Beau Vallon with the freedom and love they receive here. People of Seychelles have a natural love for animals.
Q3. Which beach hotels in Seychelles are the closest to the airport?
A. Coral Sand and Eden Bleu are pretty close, and there are several more close to the airport. These are popular hotels, but there are many budget hotels as well.
Q4. What cuisines are served in hotels in Seychelles?
A. Different cuisines like Creole, Italian, Spanish, Indian and continental cuisines are served. Some unique restaurants also serve Asian food like Japanese and Chinese as well.
Q5. Which are some of the best resorts in Seychelles?
A. Beau Vallon Bay Hotel, La Perle Noire, and Casadini are some of the best resorts to enjoy the stay. There are many more resorts and hotels in Beau Vallon Bay to stay that have private beaches and can offer the best service in the world.
Beau Vallon is a treat to the visitors of Seychelles in all ways. It rates first in hospitality and a plethora of attractions in and around. Boredom has no meaning here as options are plenty. The beach activities, eco treks, day trips to other islands and the nature excursions keep the tourists very busy. The golden sand beaches of Beau Vallon are very tempting, and the Beau Vallon Bay hotels give visitors a comprehensive package for their stay. This is the most popular beach destination in Seychelles, and it is packed with tourists throughout the year. Beau Vallon hotels offer the best of Seychelles to the tourists.