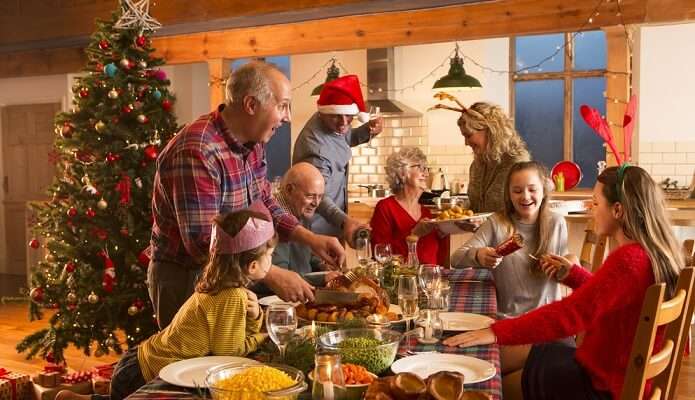 Everyone eagerly waits for Christmas vacation whether it be a kid or an elderly person. It's the season when the whole family comes together, to have some quality time. But sometimes planning how to utilize this precious time becomes difficult especially if there are kids in your family who are always more excited to explore and learn. If you've been stressing out on the same thoughts, here are some of the top ideas to go on the best Christmas vacations for families with kids this year.
1. Visit Santa Claus Village

Make your Kids fantasy come to life, meet Santa Claus and cross the magic Arctic Circle at the Santa Claus Village in Rovaniemi, Lapland. Today it's a holiday resort with extraordinary attractions, activity companies, design and souvenir shops, restaurants, cafes and hotels. This place is enjoyable for all age groups. You should definitely consider visiting it for Christmas vacation with family.
Timings: 10 am- 4pm (no entrance fee)
Things To Do: Meet Father Christmas in his office, Discover Santa Park, spend a night at the Arctic Snow Hotel, and admire the Aurora Borealis
Visit The Santa Claus Village In Rovaniemi To Celebrate The True Spirit Of Christmas
2. Explore Hershey's Chocolatetown

Have you ever watched Charlie and the Chocolate factory and wondered if places that are shown in the movie really exist, where you can eat lots of chocolate and do a bunch of fun things. Well such places exist and the one that makes it to this list is the Hershey's park that is one of the best places to celebrate the best Christmas vacations for families with kids. It is an internationally acclaimed theme park situated in Hershey, Pennsylvania where you can experience a collection of mouth- watering confections including chocolate dip treats, custom homemade ice cream and the signature handcrafted fudge. The park has many different attractions and fun rides of all ages. Definitely a great place to visit around Christmas.
Timings: Open most of the weekends (11am -1pm)
Things To Do: Visit the amazing zoo and museum at Hersheypark, go on all the different rides in the park, do some shopping
8 Best Places to Visit in Winter in USA
3. Take Your Kids to the Rocky Mountain National Park

If you want to bond your children with nature, Rocky Mountain National Park in Colorado is the best place to travel for Christmas 2021 . Being the most quiet and uncrowded place it offers some amazing experiences for children and families. It has some active wildlife and you can easily spot elk or moose tracks in the snow. The park also offers ranger-led snowshoe tours to see coyotes, moose, deer and snowshoe hares. There are also exciting opportunities for tobogganing, cross-country skiing and cross-country skiing that makes Rocky Mountain National Park an unique and offbeat place to celebrate best Christmas vacations for families with kids.
Timings: 24 hours, all year round Colorado
Things To Do: Explore Rocky's wildlife, watch the 23-minute park movie, and read with a ranger
8 Cool Things To Do In Colorado To Make The Most Of Your Trip To The US
4. Ride the Polar Express

After watching the 2004 polar express movie it became every kid's dream to ride the polar express at least once. To make this dream come to life, every winter the Great Smoky Railroad in Bryson City, N.C., transforms into the polar express. They emulate the movie in the best way by getting dancing chefs, waiters and the most important golden ticket as it's necessary to board the train. Further they take kids to witness many magical and fun things.
Timings: open on November 12 till December 31 (8am-5pm)
Things To Do: Do shopping, visit museums, restaurants and get a photo by the caboose in downtown.
Top 20 Places to Celebrate Christmas in the World
5. Enjoy Christmas Shopping

With Christmas around the corner you can indulge in a lot of shopping with family and dig into pre- Christmas treats. Amongst the best Christmas markets in the world Gendarmenmarkt, Berlin and Christkindlmarket, Chicago, USA are a must visit. As they offer some of the amazing experiences with a bit of luxury and simplicity. You can shop for Christmas gifts and decors in Christmas markets but each state and country will have their own specialty and twist. You dare not to miss any of them this Christmas.
Timings: Open during Christmas season
Things To Do: Take pictures , Eat famous food when shopping and go on rides if available.
Top 10 Christmas Markets Around The World To Visit This Festive Season
6. Have Fun in Disneyland

Disneyland in California is the most renowned tourist place that can be visited at any time of the year. But did you know that Christmas is the most beautiful time to visit the Disneyland Resort. You can be a part of its Christmas celebration with family and kids which goes on from November till January. During that period you'll be delighted at every turn by seeing the glistening castle and enchanted lands that sparkles. Christmas themed parade, fireworks and delicious food are some more things that you can witness only if you come here during Christmas vacations.
Timing: 8am – 11pm
Things To Do: watch the World of Colour water show and take pictures with santa
12 Things To Do In California: Indulge In Activities That Treasure Forever
7. Explore the Ice Skating Rinks in USA

If you are skilled at ice skating or want to explore your hidden talent then you should for sure explore the Ice skating rinks in the US with family. The place is known to have many famous Ice skating rinks but the most popular one is the ice rink in front of Rockefeller Centre in New York . If you don't want to get involved in skating then you can people watch and enjoy the great NYC experience.
Timings: Open from October- April
Things To Do: Go shopping, visit iconic attractions
8 Best Places to Visit in Winter in USA
Why stick to the regular ideas when you can do extraordinary stuff and spend the best Christmas vacations with families with kids. To bring the best out of your Christmas vacation 2021 visit the above-mentioned places with your family and kids. All these places are known for offering utmost enjoyment and therefore you are sure to enjoy like the way you have imagined. So, wait no more, check out the best tour packages offered by TravelTriangle, and embark on a memorable journey. 
For our editorial codes of conduct and copyright disclaimer, please click here.
Frequently Asked Questions about Best Christmas Vacations for Families with Kids
What are some games to play at a Christmas party?
There are many games you can play at a christmas party with family and friends like damsharas, pictionary, Board games like ludo and card games .
Is it safe to visit or travel to different countries given the current situation of Covid-19?
The tourism industry is slowly reopening, and you can visit most of the places around the world. But you need to follow all the mandatory guidelines mentioned by the government and make sure that you are taking the following precautions:
1. Wearing mask in public places
2. Maintaining 6 feet distance from others
3. Sanitizing your hands regularly
4. Avoiding social gatherings and crowded places
5. In case of any symptoms, get yourself tested urgently
When and why is Christmas celebrated?
Christmas is the day when Jesus Christ was born, it is celebrated every year on the 25th of December. It is of great religious significance amongst christian and catholic folks.