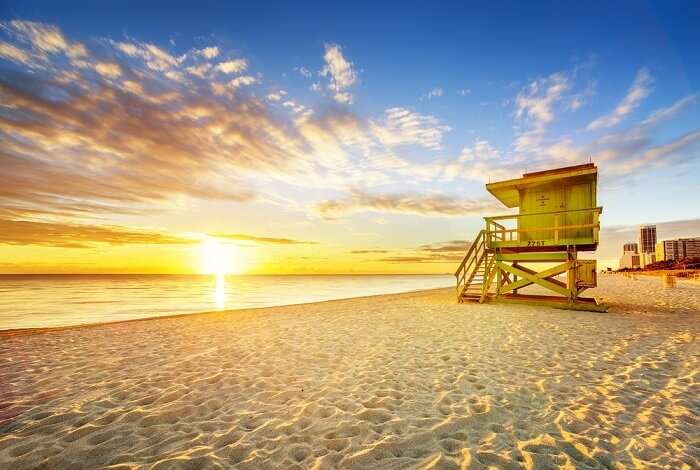 The Surfside hotels and trendy nightclubs do make Florida a must visit on your trip to USA. But, what makes it more worthwhile are these best Miami beaches, which take your breath away the moment you step on them. From picturesque views to adventure activities, there's something for everyone on these beaches!
10 Best Miami Beaches
And just to help you decide better about which ones you should definitely visit, we have worked upon a list of 10 best beaches across the city. Have a look!
Matheson Hammock Park Beach
Crandon Park Beach
South Beach
Lummus Park Beach
Bill Baggs Cape Florida State Park Beach
Sunny Isles Beach
Miami Beach – Central
Hobie Beach
Haulover Beach
Virginia Key Beach
1. Matheson Hammock Park Beach
Suggested Read: 8 Best Restaurants In Miami To Treat The Gastronome In You
Matheson Hammock Park is a beautiful 630 acre oasis in the heart of the city, which has scores of nature trails and a man-made atoll pool. Out of all the best Miami beaches, the pool on this beach is the best for kids or anyone who wants to learn how to swim. The constant cool breezes here make it a great spot for lounging and enjoying beautiful views.
Best For: Family outings and people who love to savour the scenic beauty.
Things To Do:
Kiteboarding and swimming
Take a leisure stroll and explore the nature trails
Go for native landscaping
2. Crandon Park Beach
One of the greatest park treasures and best beaches in Miami, Crandon is exactly how you might have imagined a Miami beach to be. It is lined with palm trees, has shallow waters, and barbecue and picnic tables, which make it a favorite destination amongst families. The two-mile stretch of the beach also has a park that maintains walking trails, picnic, cookout areas, and concessions.
Best For: Beach lovers looking to spend a thrilling day out.
Things To Do:
Indulge in eco-adventure tours via kayaking and snorkeling
Have fun, skating at the roller rink
Rent a cabana and have a private party
Stroll along the beach
Visit the Crandon Park Nature Center to see exotic plants, wildlife, and rare fishes.
3. South Beach
Suggested Read: 20 Beaches With Water So Clear You Would Want To Splash Right In!
Amongst all the best Miami beaches, this one definitely tops the list! Located on the east, between Biscayne Bay and Atlantic Ocean, it glitters with the charm of nightlife all day long, and attracts everyone from the rich and famous to the youth. A few celebrities like Ricky Martin, Alicia Keys and Janet Jackson have even been spotted here partying during the wee hours. While Jamie Foxx, Colin Farrell, and Mario Lopez were seen wining and dining at the restaurants here.
Best For: Party freaks or those who want to chill for the whole day long.
Things To Do:
Take a historic art deco walking tour
Experience fine Oceanside dining
Shop your heart out at the Lincoln Mall road
4. Lummus Park Beach
Image Source
This is one of the most popular best beaches in Miami. This beach is located along the Ocean Drive from 5th to 15th Street, and encompasses the experience of the South Beach Miami attractions. Due to its popularity, it's mostly crowded, which makes it an excellent spot for people-watching. To make sure your kids don't disturb you much, this beach has a mini playground right before the entrance. Once you've soaked up the sunshine, don't forget to visit the restro bars lined across the Ocean Drive.
Best For: Sports enthusiasts and people-watching.
Things To Do:
Get into a fun game of Volleyball
Sit back and watch the people around
Rent a Deco bike and explore the beach
5. Bill Baggs Cape Florida State Park Beach
Suggested Read: 30 Stunning Beaches In Sri Lanka That Will Make You Go 'Wow'!
Situated at the end of Key Biscayne, this beach is an unkempt gem. Be it a family picnic, a day of biking with your friends, or a calm solo afternoon, this is the most relaxing spot amongst all the best Miami beaches in Florida. It has a historic lighthouse, which is the oldest building in south Florida, with a cafe' that serves delectable food. Whenever you visit Miami, don't forget to visit this paradise!
Best For: Nature admirers.
Things To Do:
Take a tour of the lighthouse
Explore the native wildlife
Shoreline fishing, windsurfing, and cycling
6. Sunny Isles Beach
With pristine, white-sand beauty, situated away from the wilderness of other Miami beaches, Sunny Isles is perfect for a fun yet relaxing day. It has a plethora of cafes, restaurants, and other small eateries nearby to satiate your taste buds the moment you come out of the water. Spend your day or the entire weekend here to unwind like never before!
Best For: Experiencing water sports like diving, snorkelling, etc.
Things To Do:
Go for a swim or snorkel around to witness the beauty underwater.
Try some sushi and cocktails at the Beach Bar at Newport Pier
Lie down with your loved one and enjoy sunbathing
7. Miami Beach – Central
For some, beaches bring relaxation, and for some undying energy. If you fall under the latter, Miami Beach's central stretch is the perfect place for you. This popular area is perfect for strolling, jogging, and skating.
Not just this, but it also has sidewalk cafes, bars, and concession stands that make it a world famous tourist destination. But despite these Miami beach attractions, it still remains less crowded than the South Beach.
Must Read: 15 Unique Beaches That Aren't Just About Building Sandcastles & Collecting Sea Shells
Best For: Jogging and skating.
Things To Do:
Rent an umbrella or a beach chair, and enjoy the day in the heart of the Miami Beach
Bathe in the sun, or soak up the beauty of the turquoise water
Stroll down the beach to witness sights like the historic Fontainebleau Miami Beach hotel
8. Hobie Beach
All of the best Miami beaches have something or the other that makes them worth visiting, yet this beach still outshines them all! The moment you cross the toll booths on the Rickenbacker Causeway and reach Key Biscayne, you'll come across this famous dog-friendly beach, also an eminent place in Miami for windsurfing. A striking number of colorful sail boards can be easily spotted and bought from here. Hit this beach if you love windsurfing or want your dog to enjoy some splashes of the emerald water!
Best For: Windsurfing and spending time with your dog on the beach.
Things To Do:
Indulge in windsurfing, jet-skiing, or sailing
Take your dog around for a walk in the shallow water
9. Haulover Beach
Suggested Read: 15 Romantic Beaches In Sydney
Famous mostly for being Miami's only public, clothing-optional beach, Haulover is a great place to chill out. Unlike other Miami beaches, it offers free parking and endless leisure activities. Also, there's a gay nude beach here towards the north of the lifeguard tower. Visit here on a Tuesday night to enjoy a small food truck festival and live music.
Best For: Surfing and people who prefer nude beaches.
Things To Do:
Play a game of tennis or golf
Go for surfing or take a swim
Participate in the kite building and flying workshops
10. Virginia Key Beach
One of the most secluded yet best Miami beaches, Virginia Key Beach is the perfect place if you're looking for some 'me time' or privacy to spend a romantic day with your partner. It is located on the historic Virginia Key, which can be seen right after you cross the Rickenbacker Causeway. The picturesque beauty here captivates your mind and soul, making sure you have an unforgettable day out!
Best For: Those looking for some privacy.
Things To Do:
Go for nature board walking
Bike trail
Apart from the above ones, some other beaches near Miami which you can visit are South Pointe Park Beach, Fort Lauderdale Beach, Bal Harbour, etc. But whenever you visit, make sure you book a suitable international tour package to have the most unique and thrilling experience ever!