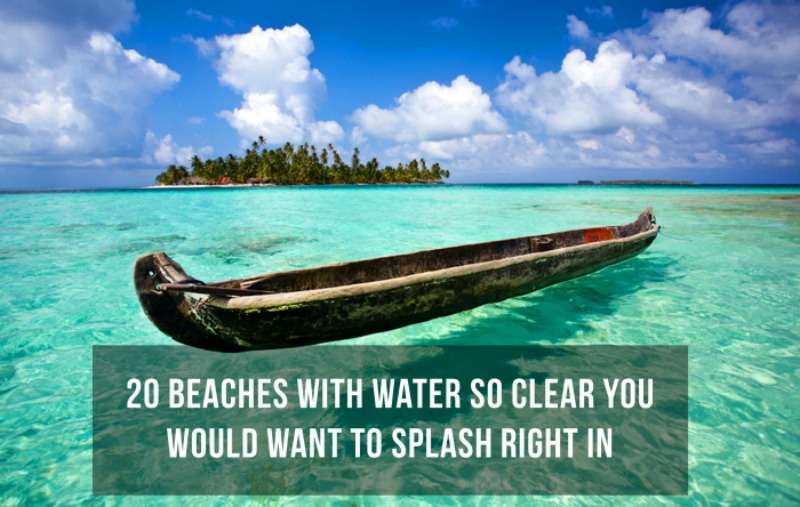 Swimming in the crystal clear water amidst the reef wildlife is purely a magical experience. Imagine yourself diving in the pristine water, exploring the under-water life.
It will surely leave you spell-bound. Moreover, you'll feel refreshed with the tranquillity of the water. So let's find out the places that can offer you the best swimming experiences across the globe.
1. The Maldives Islands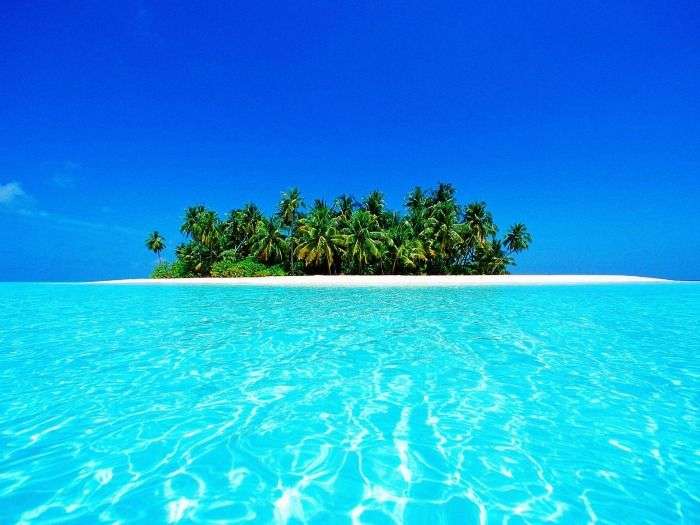 With 26 atolls, the beautiful Maldives Island amidst the Indian Ocean, offers immaculate blue water. The reef wildlife is a major tourist attraction here. So, pack your swimming kit and get ready to dive in.
Must Read: Maldives Honeymoon: An Guide for an exquisite romantic escapade
2. Wakatobi, Indonesia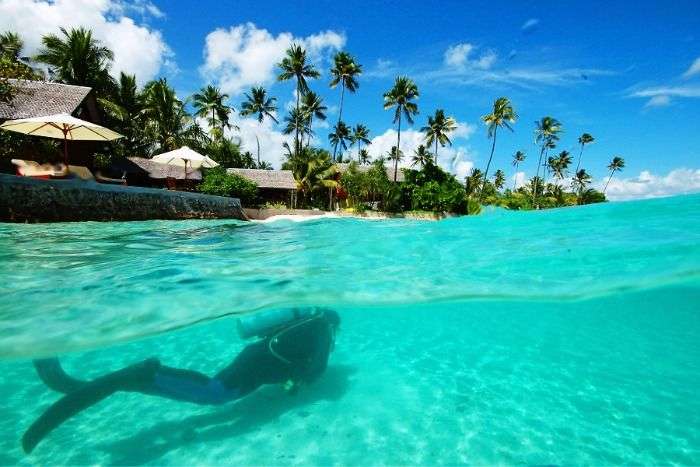 This amazing marine dive resort is the ultimate paradise for swimmers. Located at the southern side of Indonesia's Sulawesi Island, Wakatobi consists for 4 islands namely Wangi-Wangi, Kaledupa, Tomia, Binongko. For lovers of under-water life, the resort has around 750 species of coral reef and approx. 942 fish species.
Must Read: Your favorite Jeans Is Costlier Than Living In These International Cities
3. Enchanted River, Philippines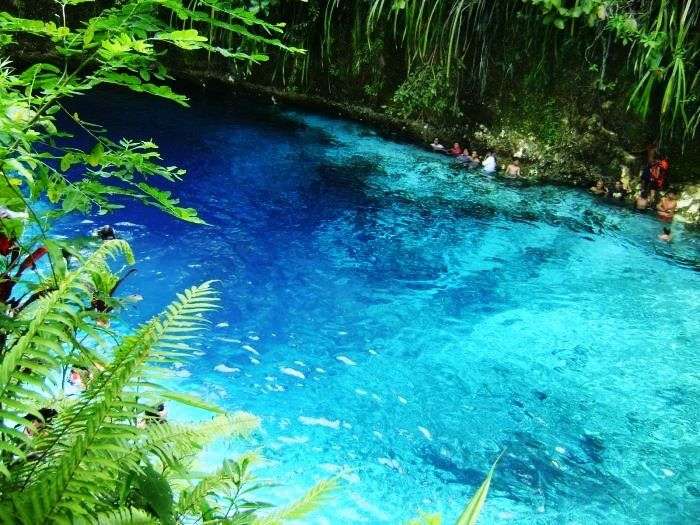 This pleasant river located at Surigao del sur, Philippines offers the most serene blue waters, home to innumerable fishes and under-water species. For swimmers, snorkelers and under-water explorers, this place is the absolute destination.
4. Redang Island, Malaysia

Located off the eastern Malaysian coast, Redang Island is among the 9 isles that form an aquatic park. This island has amazing opportunities for diving and snorkelling and you can even explore sea turtles conservation here. This exclusive tropical ecstasy can be visited through resort boats operated from Kuala Terenganu or Merang.
Must Read: Beyond Thailand: 10 Alternate Travel Destinations in Asia This Summer
5. Tobermory, Ontario, Canada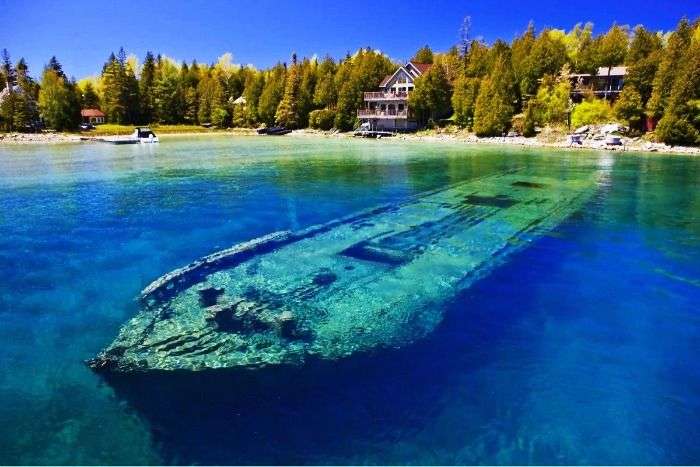 Known as the "capital of fresh water SCUBA diving", Tobermory has the Canada's first National Sea Park, The Fathom Five National Marine Park. With more than 20 old shipwrecks, this place is alluring for scuba divers and swimmers. Put your diving lessons to test here!
Must Read: 10 Real World Destinations That All Disney Lovers Must Travel To
---
Planning your holiday but confused about where to go? These travel stories help you find your best trip ever!
Real travel stories. Real stays. Handy tips to help you make the right choice.
---
6. Cayo Coco – Cuba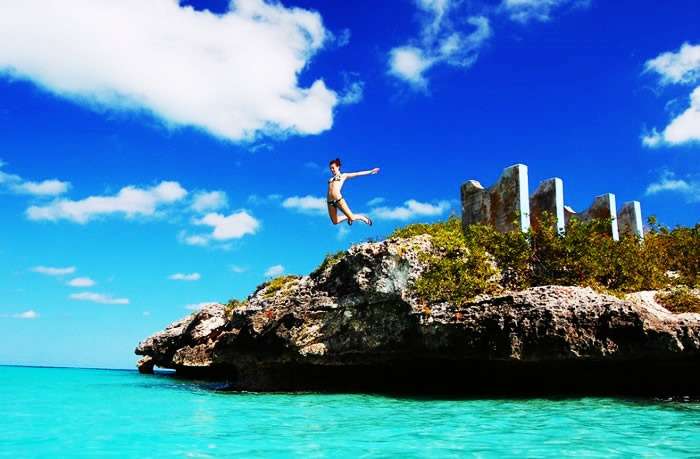 Named after local white ibis 'coco birds', Cayo Coco is one of the most beautiful islands in central Cuba, nestled near the Ciego de Avila province. With marshy lands to savannahs, this island is still inhabited by wild flora and fauna. Pristine beaches, all-inclusive resorts and coral reef are enough to attract swimmers from across the globe.
Must Read: 10 Refreshingly Insane Water-Adventures In India For Couples
7. Jenny Lake – Wyoming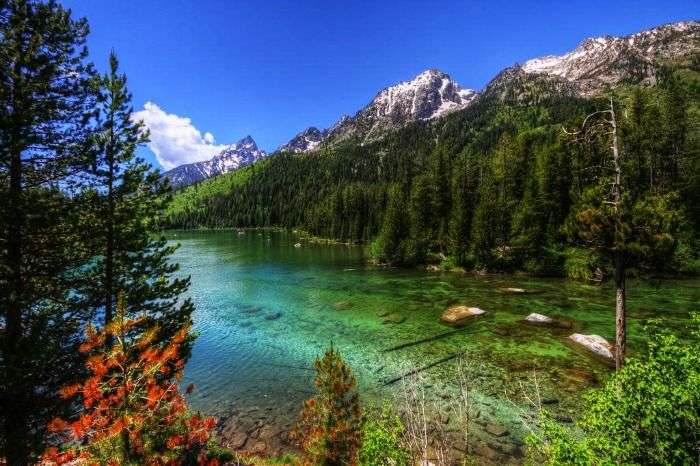 With a rich history of about 12,000 years, Jenny Lake at Grand Teton National Park in Wyoming, USA, is a great swimming place for divers. The lake is said to be 129 meters deep, formed by the rock debris pushed by glaciers.
Must Read: 15 WTF City Names That Your Geography Teacher Wouldn't Tell You About
8. Raja Ampat, Indonesia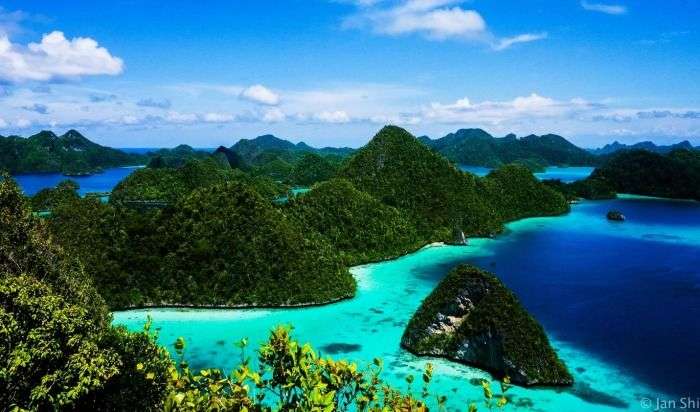 Raja Ampat, commonly known as the Four Kings, is ranked among the top 10 diving destinations across the world and tops the list of places for underwater diversity. If you have love for marine life, then check out this place, which has the most diverse species recorded so far.
9. Cayo Arena, Dominican Republic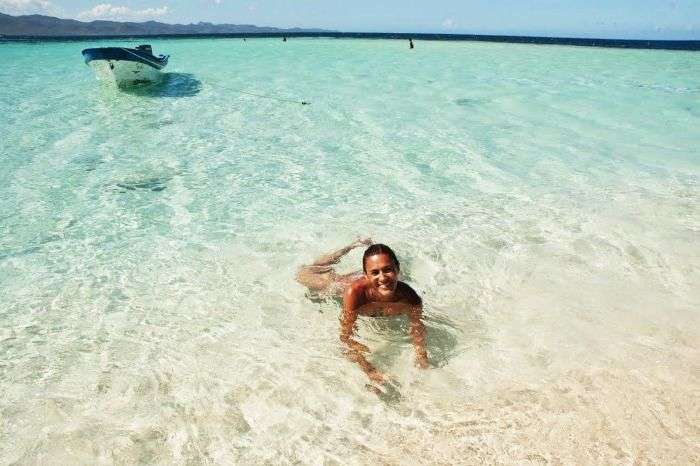 To have a spectacular marine view of the blue and green deep water, there is no place better than Cayo Arena. It is often called the 'fantasy island'. Small in size, this island offers extremely soft sand and tropical water that is best for snorkelers and divers.
10. Lake Mackenzie, Australia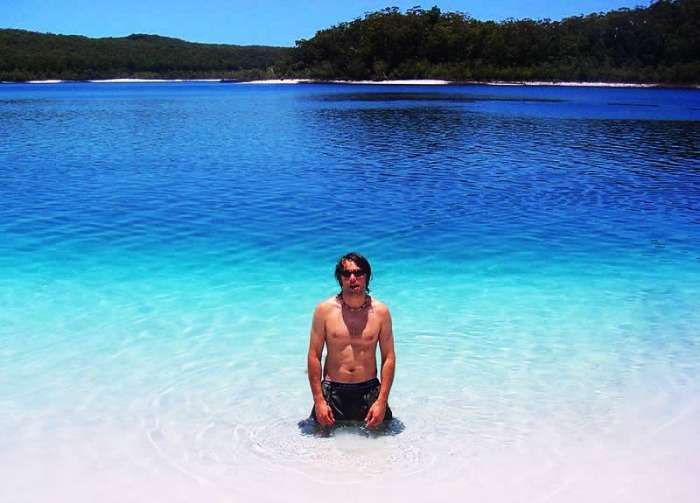 Located at the Great Sandy National Park in Queensland, Australia, Lake McKenzie is a hovering Lake on Fraser Island. This lake offers pure, unsullied water for swimmers who love to dive in serenity.
11. Linapacan Island – Philippines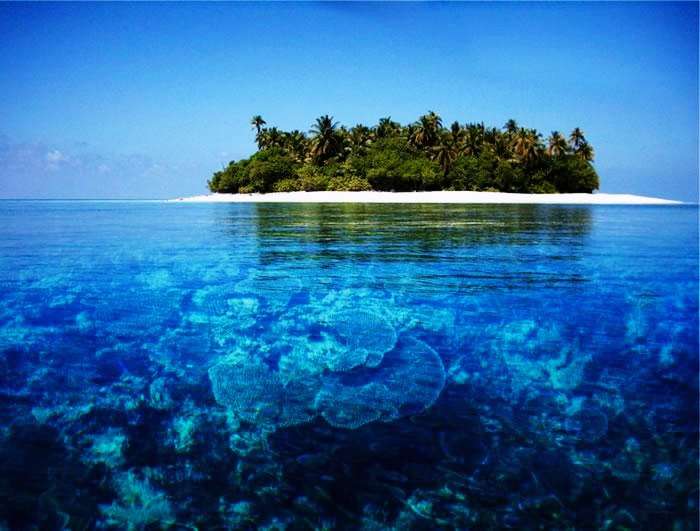 With less population, the Linapacan Island in Philippines offers the most serene and clear beaches. The water here is the purest of all. So all you divers out there can enjoy a swim in immaculate water here.
Must Read: Your Long Weekend Travel Calendar for 2015
12. Los Roques, Venezuela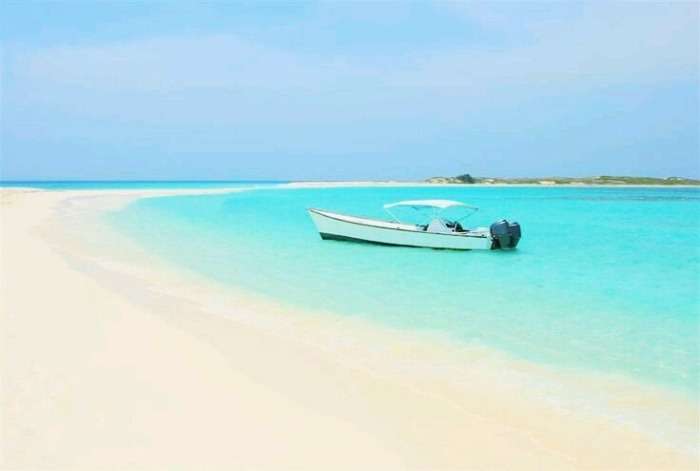 Los Roques can be rightly called the marine destination of rich and famous as it has the reputation of attracting wealthy sea lovers, especially Europeans. With private yatchs harboured inside the shallow waters, these water explorers come here to view the rich marine life and wide range of seabirds.
13. Bodrum – Turkey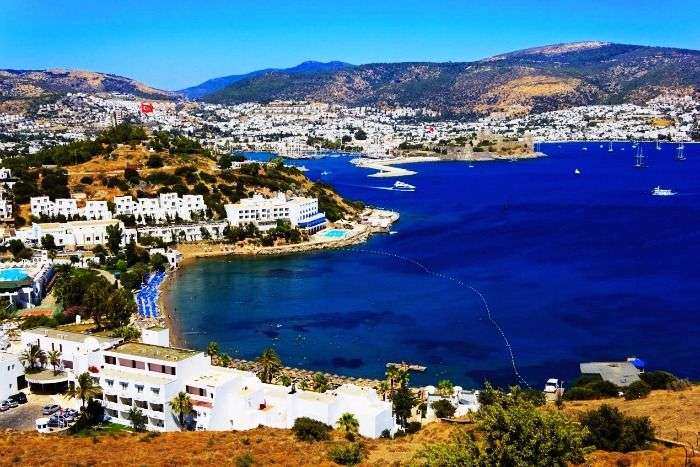 Known as the port city of Turkey, Bodrum is famous for the Bodrum Castle overlooking the marina and the harbour. With alluring charm for the divers, this marine city hosts various cultural festivals all over the year. You can enhance your underwater information at the Underwater Archaeology museum here.
Must Read: 15 Things Turkey Does Better Than Anywhere Else
14. Cala Macarelleta, Menorca – Spain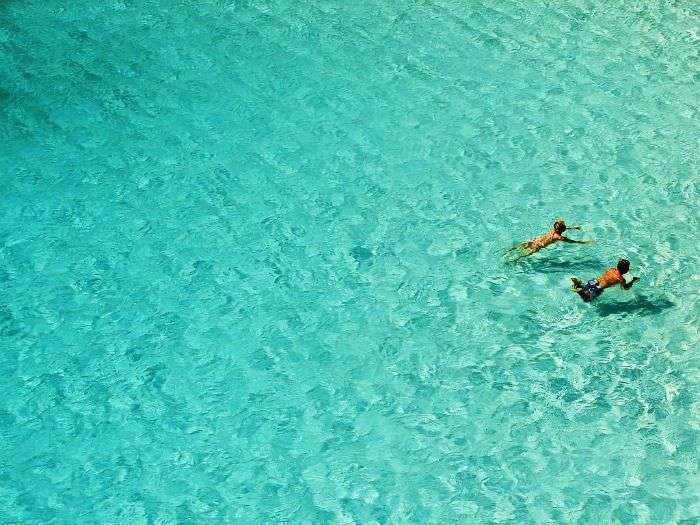 Spain – The sea here with turquoise water is quite and calm with soft, white sand all over the beach. Pine and oak trees, sheltered this idyllic bay making it a warm place to take a sunbath.
Must Read: 22 Best Honeymoon Destinations in Europe In May, June and July
15. Hurghada, Egypt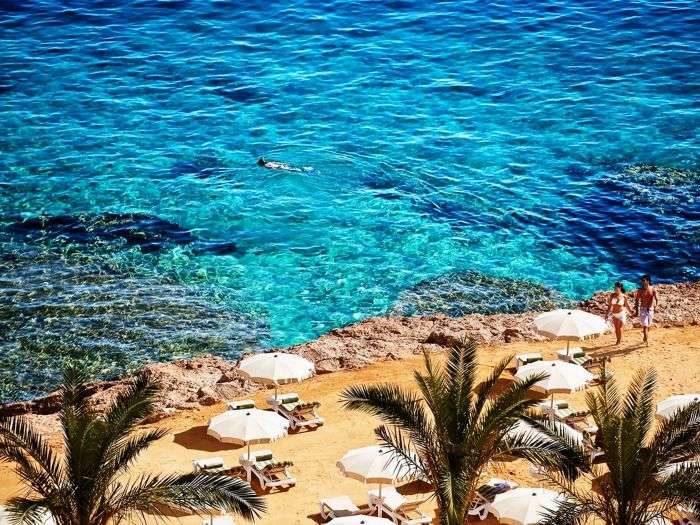 Owing to its calm water and sprawling natural beaches, Hurghada, Egypt enjoys the status of being one of the most famous destinations for snorkelers and scuba divers. If you have a fetish for measuring the length of crystal clean waters, this is the place to be.
16. Sabah – Malaysia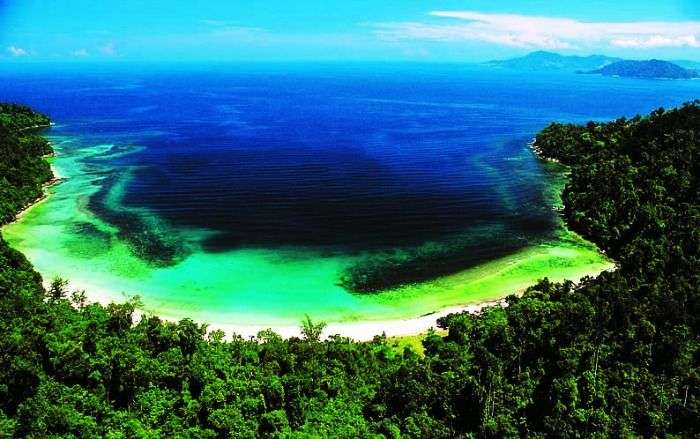 Beyond the Sabah coasts exists a large number of coral reefs and islands, including Pulau Banggi, the largest Malaysian Island. It's a major destination for divers. So make your way to Sabah, the Malaysian 13 member state.
Must Read: 28 Most Affordable Yet Amazing Beaches of South-East Asia
17. Dove Lake, Cradle Mountain, Tasmania, Australia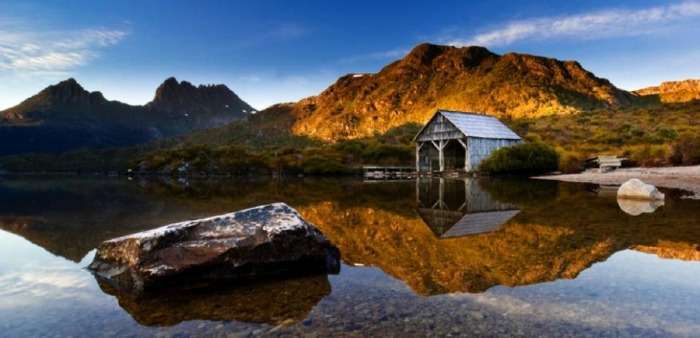 Amidst the Cradle Mountains in Tasmania, Australia, Dove Lake offers an exclusive ambiance with tussock grasses and pencil pines. The deciduous beach at the lake surrounding the blue clear water is relaxing for swimmers.
18. Bonito, Mato Grosso do Sul – Brazil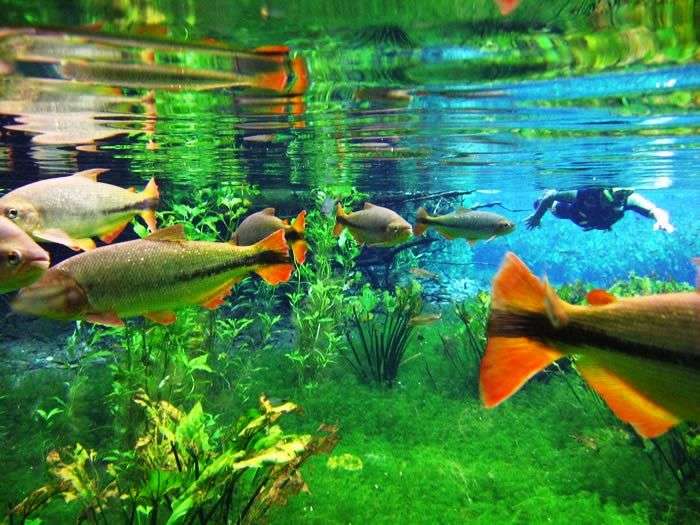 Municipality of Bonito, located in Mato Grosso do sul, the Brazilian state is known for its implausible blue water. Owing to the blue coloured water, the destination is famously known as Central-West's Caribbean. The amazing natural water filter here clears all the impurities of the water making the river extremely hygienic for swimmers.
19. To Sua Ocean Trench – Samoa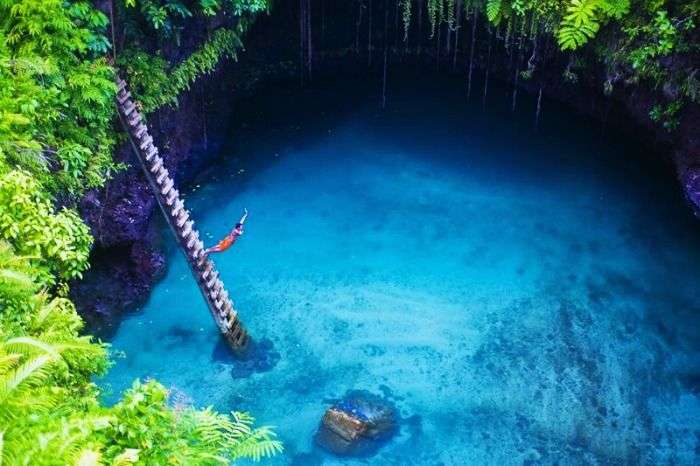 It's one of its kind swimming destination where you'll find a pool full of clear water. Access is through a ladder. Here Sua means 'big hole'. So, you can enjoy an extraordinary water experience here.
20. Panari Island, Okinawa – Japan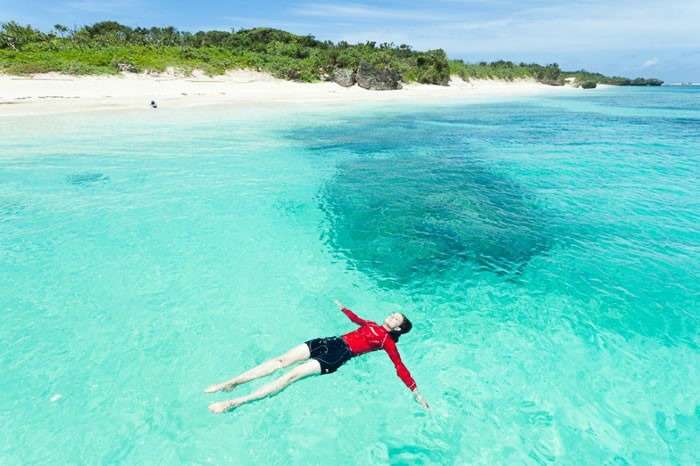 With coral and marine life as exquisite and beautiful as the Great Barrier Reef, Panari Islands is one of the most sought after destination in Asia for divers and swimmers.
Must Read: 8 Insanely Mad Vacations You and Your Partner Can't Afford to Miss
We have given you enough details about some of the destinations where you would love to go. Now it's your chance to run your mind and identify this astonishing beach that is said to house around 400 kinds of corals, tropical fishes and whale sharks. Shout out your guesses in the comments section below.
---
Looking To Book An International Holiday?
Book memorable holidays on TravelTriangle with 650+ verified travel agents for 65+ domestic and international destinations.
---