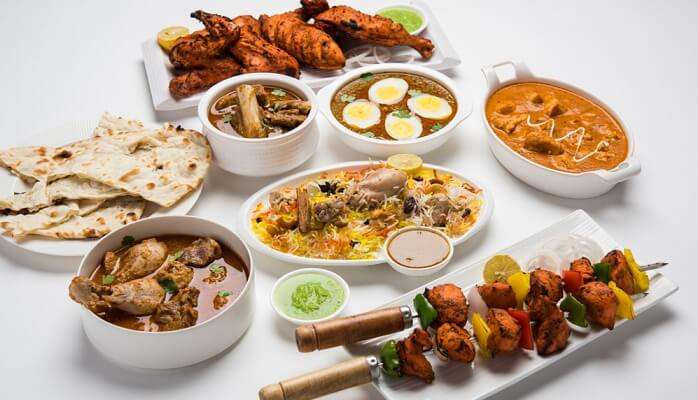 Lying on India's west coast, Mumbai is highly esteemed for its iconic modern high rises, old-world charm architecture, glamour, and vast lifestyle. From cinema to nightlife and from food to culture, the destination boasts numerous elements that make it one of the best places to visit in India. Especially for epicures who are all hearts for non-vegetarian food, Mumbai is indeed a delight. Whether you are looking are North Indian, Chinese, Japanese, Mughlai, or Korean delicacies, the best non-veg restaurants in Mumbai are always up to serve you some heavenly meals. The authentic Korean food of Heng Bok, true Punjabi delights of Persian Darbar, flavorsome seafood Global Fusion will surely calm your hungry soul. So, when you are in the city, visit these hand-picked restaurants and engage in cherishable culinary experiences.
7 Best Non-Veg Restaurants in Mumbai
If you can't get enough of your love for non-vegetarian, check out the best non-veg restaurants in Mumbai serving cuisines from all across the globe. Pick one that suits your palates.
1. Ticca Tikka

Image Credit: Ticca Tikka for Facebook
Ideally positioned in Andheri West, Ticca Tikka is famous for serving North Indian, Mughlai, Chinese, and Malwani cuisines. The warm-lit environs with wooden interiors are perfectly mingled to enhance your experience. It seems as if they have converted the luxury dining experience into an economical one with live entertainment and an eclectic blend of dishes. Adding to one's experience are the piping hot kebabs coming straight from the tandoor, flavoursome curries, and wraps. So, if you are in search of top non-veg restaurants in Mumbai where you can enjoy an extravagant dining experience, Ticca Tikka is your best bet.
Must-try food: Andhra Fish Curry, Tandoori Fish Tikka, Lahori Seekh, Dahi Chicken
Cost for two: ₹1,000
Zomato rating: 4/5
11 Places To Visit In Mumbai In Monsoon 2022 For A Rendezvous With Nature
2. Global Fusion

Image Credit: Global Fusion for Facebook
Best known for its unique buffet concept, Global Fusion features a huge spread of cuisine from all over the world. Apart from lip-smacking delicacies, what makes it one of the famous non-veg restaurants in Mumbai are the cozy ambience, live counters, well-trained staff, and synchronized seating arrangements. Established in 1993, this hub for non-vegetarian lovers is located in the city's primate location, Bandra. So, if you are seeking a place to drink and dine, Global Fusion is the right option to settle upon.
Must-try food: Baked Cheese Prawns, Prawns Teppanyaki, Sushi.
Cost for two: ₹2,000
Zomato rating: 4.6/5
3. Kofuku

Image Credit: Kofuku Japanese for Facebook
Positioned in Suburbia Mall in Bandra West, Kofuku is among the best non-veg restaurants in Mumbai where you can try some authentic Japanese delicacies. Apart from serving non-vegetarian meals, the restaurant also takes care of its vegetarian guests and serves a choice of cereals, grains, salads, and other edibles. While making a perfect place for a family dinner, the restaurant also has a dedicated menu for little ones. So, if you wish to treat your palates with some authentic Japanese flavours, stop by Kofuku.
Must-try food: Kakuni Pork, Squid Tempura, Spider Rolls, Sushi Sashimi Platter, Okonomiyaki, Super Crunchy Roll
Cost for two: ₹2,300
Zomato rating: 4.5/5
Mumbai Travel Tips: Get A Hands On How To Explore The Most Bustling City Of India!
4. Shizusan

Specializing in South Asian tastes, Shizusan is indeed a delight for non-vegetarians. The restaurant offers one to relish authentic Chinese, Japanese, Korean, Thai, and Vietnamese cuisines under one roof. Besides this, the lively ambience, comfortable seating, and a shophouse theme acts wonderfully to fulfill your experience here. For true gastronomes, it is recommended to try Satays, Korean Fried Chicken Wings, Nigiri and Maki sushi, Baos. If you want to have a drink or two, then the well-stocked house bar will surely make you spoilt for choice.
Must-try food: Cashew Chicken, Rainbow Maki, Philadelphia Roll, Maki Roll, Peanut Butter Pie
Cost for two: ₹2,200
Zomato rating: 4.4/5
5. Turban Tales

Image Credit: Turban Tales for Facebook
Want to dine-in at a Dhaba-style restaurant? If yes, hen Turban tales, one of the top non-veg restaurants in Mumbai has got you covered. Get swayed by the vibrant ambience as you gorge upon the flavoursome Indian dishes. The huge menu will allow you to feast upon luscious flavours from Punjab and North India. To conclude your meal, don't forget to order their frequently-ordered paan ice cream.
Must-try food: Reshmi Chicken Satay, Rajma Chawal, Momos, Butter Chicken
Cost for two: ₹900
Zomato rating: 4/5
10 Best Food Trucks In Mumbai Which Are A Foodie's Paradise
6. Persian Darbar

Image Credit: Persian Darbar for Facebook
Established in 1976, Persian Darbar is renowned for specializing in seafood, Mughlai, Punjabi, and Chinese delicacies. What has been captivating visitors from far and wide for the last 4 decades is its special Raan that has given the restaurant a tag of 'Mumbai's Raan King'. The skilled and experienced chefs prepare the meat quite tenderly that it will simply melt in your mouth. Interestingly, this dish is served in more than 10 varieties that will tickle your taste buds. So, if you are on the lookout for the best non-veg restaurants in Mumbai, your search ends right here.
Must-try food: Raan Biriyani, Mutton Kabsa, Mutton Platter, Mughlai Chicken, Kunafa
Cost for two: ₹1,500
Zomato rating: 4.2/5
7. Shalimar Restaurant

Image Credit: Shalimar Restaurant
Pampering its visitors with fine Mughlai cuisine for the past four decades, Shalimar Restaurant is an ideal place to dine out if you are looking for a reasonably-priced. Established in 1970, this famous non-veg restaurant in Mumbai always works upon serving the best flavours with its locally-made spices and fresh meat. With friendly service, lip-smacking flavours, calming ambience, and perfect seating arrangements, the restaurant has greatly managed to impress its visitors. So, when you get hunger pangs while visiting the best places in Mumbai, consider Shalimar Restaurant to enjoy a hearty meal with your loved ones.
Must-try food: Shawarma Pizza, Mutton Mughlai, Hyderabadi Chicken, Chicken Afghani
Cost for two: ₹880
Zomato rating: 4.2/5
10 Top Hotels In Mumbai To Let You Bask In The Lap Of Luxury
Do you live by non-vegetarian food? If yes, then you must check out these best non-veg restaurants in Mumbai where non only you'll find an array of scrumptious delicacies, but also a soothing ambience and amazing services. So, get ready to enjoy an exquisite culinary experience on your trip to Mumbai. Have a wonderful gastronomic journey!
For our editorial codes of conduct and copyright disclaimer, please click here
Frequently Asked Questions About Best Non-Veg Restaurants in Mumbai
Which are the best non-vegetarian restaurants in Mumbai?
The best restaurants in Mumbai where you will find a wide range of non-vegetarian dishes include:
1. Shizusan
2. Shalimar Restaurant
3. Pradeep Gomantak
4. Bombay Brasserie
5. Turban Tales
6. Ticca Tikka
7. Kofuku
8. Global Fusion
Is it safe to visit Mumbai during the current Covid situation?
You can enjoy safe travel if you follow all the Covid guidelines. Remain masked when in public or surrounded by people. Besides this, don't forget to maintain the required social distance and keep sanitizing your hands at certain intervals.
Which are the best rooftop restaurants in Mumbai?
The top-rated rooftop restaurants in Mumbai where you can enjoy a perfect lunch or dinner include:
1. Social
2. AER
3. Asilo
4. Rude Lounge
5. Dome
6. Raasta
7. Shalom
Which are the most delicious non-vegetarian dishes?
If you are a true non-vegetarian and wish to try the best of it, then make sure to gorge upon dishes like Sushi, BBQ Ribs, Biryani, Butter Chicken, Lasagna Alla Bolognese, Tonkotsu Ramen, and Chinese Peking Duck.
Where can I find the best South Indian delicacies in Mumbai?
Eateries like Banana Leaf, Cafe Madras, Dakshinayan, Arya Bhavan, Cafe Mysore, and South Of Vindhyas offer some mouth0watering South Indian dishes.
People Also Read:
Restaurants in Kochi Restaurants in Panjim Restaurants in Kashmir