One of the most beautiful Weekend destinations from Delhi, Dharamshala pulls travelers with its sky-soaring valleys, lakes, waterfalls, temples, and Tibetan heritage. If you are here to experience its charm, we suggest you extend your stay to visit, if not all, at least the best places to visit near Dharamshala.
And if you are still planning, nothing like it. Make sure you plan your itinerary in a way to cover the best attractions in and some beautiful places around Dharamshala. Most of these nearby beauties are easy to reach and can be covered in one day. However, some of these detours are so pretty that you could plan a complete a weekend here.
Go through the list and get planning a trip to the serene hill station of Dharamshala.
1. Triund – A heavenly trek base camp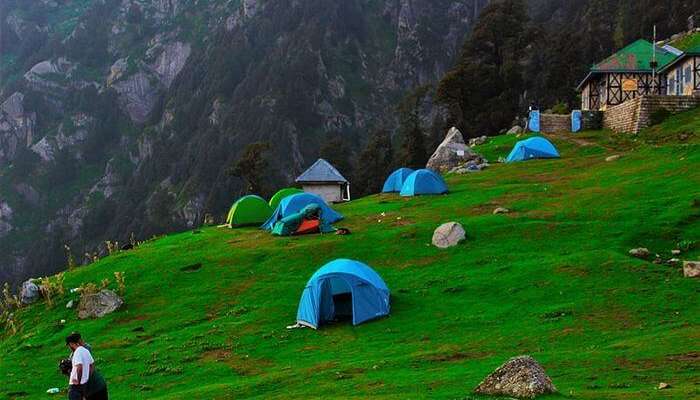 Suitable for: 1 night and 2 days
Triund is a picturesque camping spot, which makes it one of best places to visit near Dharamshala Mcleodganj. It is located close to the snow-capped peaks at a height of 2,828 meters above sea level. The trek to Triund is a moderately challenging trek that starts from Mcleodganj – a serene suburb of the hill station. If you're visiting Dharmshala in winter and looking for snow places near Dharamshala, you may get lucky here.
Distance from Dharamshala: 6 km (3 hours trek, depending on person to person)
Why should you visit Triund?
See reviews of Triund Trek
For the lovely views and spellbinding beauty that you encounter during the trek
The amazing camping experience
Stargazing at the camping site
2. Kangra Fort – Historical place with enchanting views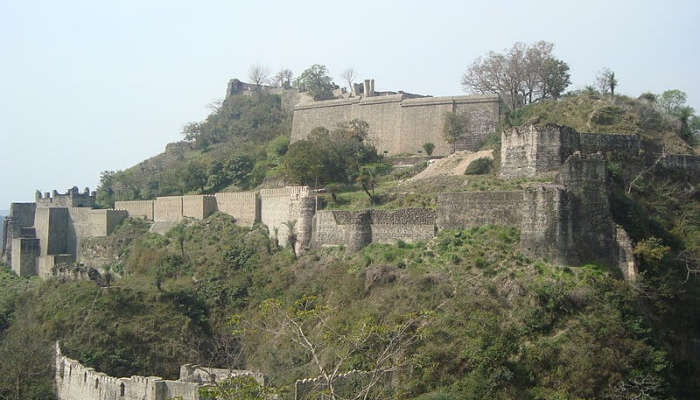 Suitable for: Day trip
One of the closest historical places to visit near Dharamshala, Kangra Fort is a remnant of valley's history. The fort is spread across 4 km and its structure has temples, mosque, palaces, and royal gateways. It dates back to a few years before 470 AD, which is the year when it was first invaded by the King of Kashmir.
The legends about this fort have also been mentioned in Mahabharata. Besides mythological mentions, Kangra Fort has been ruled by the likes of Jahangir and Maharaja Ranjit Singh before being taken over by British rulers, who took control post the Sikh War in 1846. Many years later, a devastating earthquake struck Kangra Valley in 1905 and damaged the fort. Even though it's in ruins today, it attracts a large number of tourists in all seasons.
Distance from Dharamshala: 21 km (50 minutes)
Why should you visit Kangra Fort?
See Reviews for Kangra Fort
It is one of the most famous forts of Himachal Pradesh and a part of Archeological Survey of India
If you take the audio assistance, the fort tour takes you through the fort's interesting history
The scenery around the fort is breathtaking
Must Read: 10 Fascinating Places To Visit In Dharamshala
3. Palampur – A simple town with abundance of nature's mystique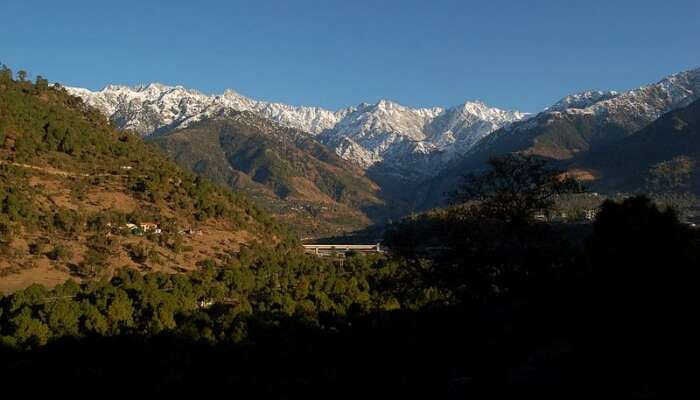 Suitable for: 1 night and 2 days
A little-known hill station and one of the best places to visit near Dharamshala, Palampur is enveloped by tea gardens and pine groves. Water streams here flow along the road, where sometimes local mushrooms crop up on the sides. The weather in Palampur is pleasant throughout the year. It gets extremely cold during the winters, it's romantic nevertheless. Palampur is one of the most beautiful  places to visit near Dharamshala, Himachal Pradesh.
Key attractions in Palampur are temples; the most famous ones are Baijnath and Chamunda Devi Temple. Also, you can indulge in activities like trekking, boating, and hang-gliding, and shop for Tibetan craft and Tangka paintings.
Distance from Dharamshala: 35 km (1 hour)
Why should you visit Palampur?
See reviews for Palampur
To relax in lush greenery and stroll the famous tea gardens; it is known as Tea Capital of Northwest India
The resorts here are a delight, specially for a much-needed break with family or with your partner
The quietude here is blissful!
Suggested Read: 10 Things To Do In Mcleodganj For A Super-Cool Retreat
4. Bir – One of India's top paragliding destinations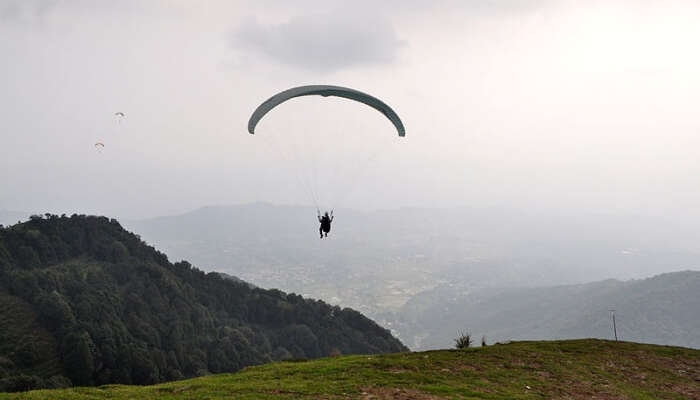 Suitable for: 1 night and 2 days
Paragliding in Bir Billing entices domestic as well as international travelers. The sport has made Bir, which is 14 km south of Billing, one of the best places to visit near Dharamshala for thrill seekers. Over the past few years, the small village has emerged to be a famous hill station in Himachal.
Besides paragliding, you can go fishing, visit the tea-garden, and or trek the nearby trails in Bir.
Distance from Dharamshala: 65 km (2 hours)
Why should you visit Bir?
Bir is one of the best paragliding destinations of India
The tea gardens here are beautiful; one can go on lone strolls in the verdant tea gardens
The peaceful monastries are perfect for meditation as well as introspection
Suggested Read: Paragliding, Bonfire, & Shooting Stars: Her Whimsical Weekend Adventure In Bir Billing Is Stealing Hearts
5. Khajjiar – A treat to the eyes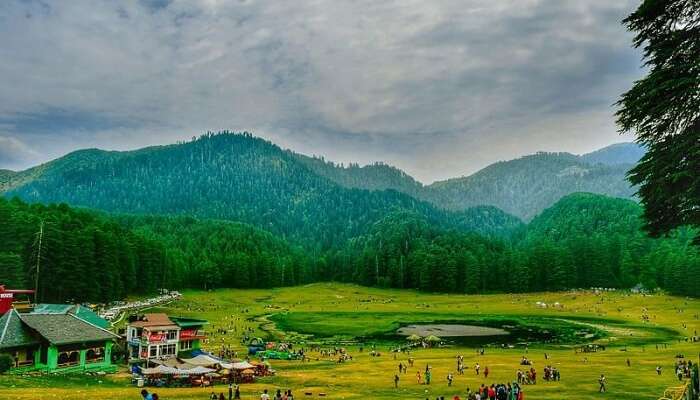 Suitable for: 1 night and 2 days
Known as the Switzerland of India, Khajjiar is where travelers come for retreat. There are activities like paragliding, zorbing, and horse riding that'll keep you out and active all day long. At the same time, if you're a leisure traveler, you can simply sit on a bench and admire the views. Lush green vegetation, cloud-kissed peaks, and a glistening lake make it among the loveliest places to see near Dharamshala.
Distance from Dharamshala: 118 km (4 hours)
Why should you visit Khajjiar?
See reviews for Khajjiar
Dharamshala to Khajjiar is a scenic drive, fringed with deodar trees
It is perfect for a day picnic
Kalatop Wildlife sanctuary is a delight for wildlife lovers
Further Read: 9 Mcleodganj Experiences For Which You Need To Leave, NOW!
Why just a weekend? Take a whole week off to explore Dharamshala and the incredible hideouts in its vicinity. With this list of best places to visit near Dharamshala, you now know what to add into your itinerary of your Himachal trip!
People Also Read:
Places To Visit Near Kerala Places To Visit Near Wayanad Places To Visit Near Delhi
Comments
comments