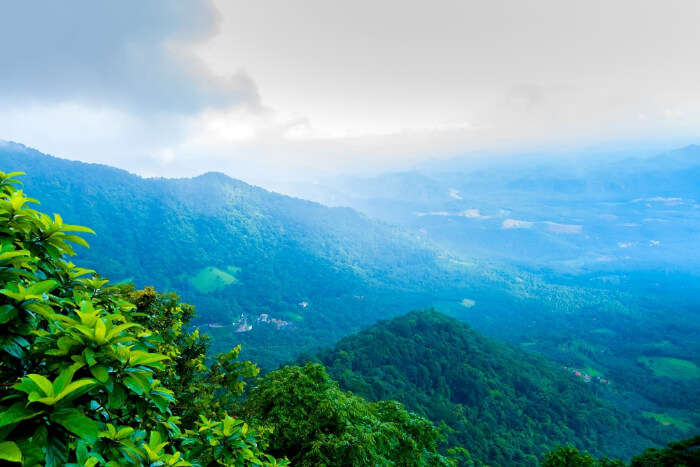 South India is vibrant and so are the enchanting hideouts tucked in the vastness of Western Ghats. Kerala being the greenest and the most vibrant of all has a lot to offer. To believe the aforesaid a trip to the best places to visit near Wayanad is highly recommended, most of which, I am sure you wouldn't have even heard of.
Kannur, Bandipur, Kozhikode, Madikeri, and Nilgiris, are a few places that encompass the best of nature and treats a nature lover with sheer magnificence. The best part is, these all destinations fall within the 150 km range from Wayanad!
Should you consider exploring these places near Wayanad, let me tell you that all of them can be covered under 3.5 hours. All you need to do is grab the keys of your car, or bike, take your backpack, and just disappear!
8 Best Places to Visit near Wayanad 
Are you looking for the best places near Wayanad? These surreal places tucked in the Ghats are truly a wonder! You got to see to believe everything written about them.
1. Thusharagiri Waterfalls Kozhikode – Listen to the Whistling Woods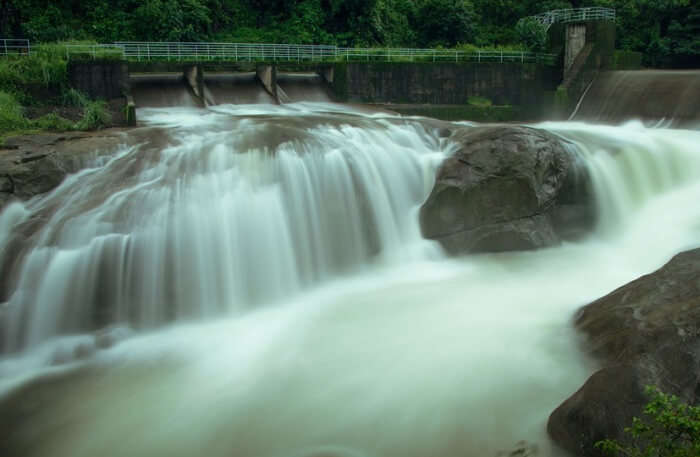 Distance from Wayanad: 49.4 km
Time taken: 1.5 h
Walk into the mystic environs of Kozhikode in the Western Ghats where Chalippuzha river separates into gushing torrents to become Thusharagiri Waterfalls. The name Thusharagiri translates to mist covered mountains, which it exactly appears like.
Earattumukku, Thanni Muthassi, and Mazhavil Chattam Falls lie in the 500 m range soon as you enter the forest area. Further, into the woods, there are a few more waterfalls and rich biodiversity around. The waterfalls never dry out and are considered as one of the lesser-heard tourist places near Wayanad.
The road to the waterfalls is a trek into the woods. To reach here one can drive all the way from Wayanad. The nearest town to Thusharagiri is Kodenchery at a distance of 11 km, which can also be reached by bus from Wayanad.
Popular attractions near Thusharagiri: Lokanarkavu Temple, Kadalundi Bird Sanctuary, Kappad beach, Beypore beach, Kozhikode backwaters, and Thamarassery Churam
Top 12 Summer Festivals In India You Shouldn't Miss In 2022
2. Brahmagiri Wildlife Sanctuary Kodagu – Perfect Day Trip from Wayanad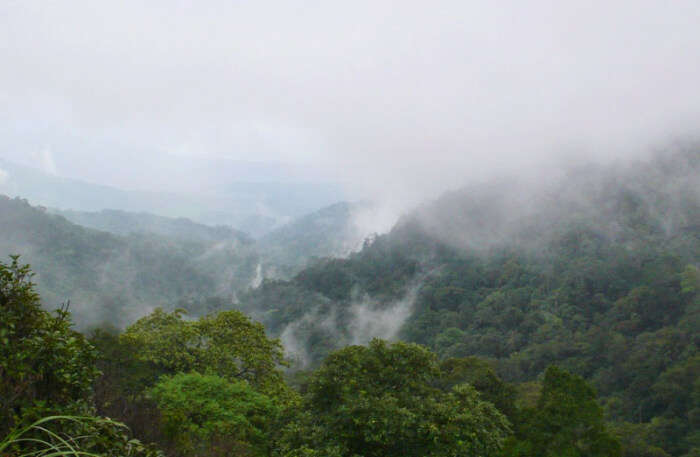 Distance from Wayanad: 50.5 km
Time taken: 1.5 h
Plan an excursion to the Brahmagiri Wildlife Sanctuary in Kodagu, one of the lesser known yet exciting places to visit near Wayanad Kerala. Good for a day trip and perfect place to explore with friends, the sanctuary has rich biodiversity and verdant peaks overlooking the park region. At 1607 m above sea level the Brahmagiri Peak is the highest point in the sanctuary region and makes for a popular trek.
With Wayanad to its south and Kodagu district to its north, Brahmagiri hills act as the border between Kerala and Karnataka. The trek to the sanctuary starts at Thirunelli. One must seek permission from the Thirunelli Forest Range Officer before starting the trek. December – February is the best time to visit and a trek here during monsoon is not recommended.
Popular attractions near Brahmagiri Wildlife Sanctuary: Thirunelli Temple, Pakshipathalam, Iruppu Falls
The Ultimate List of Adventure Holidays In India For Summer 2022
3. Vellarimala and Vavul Mala Kozhikode – Into the Wilderness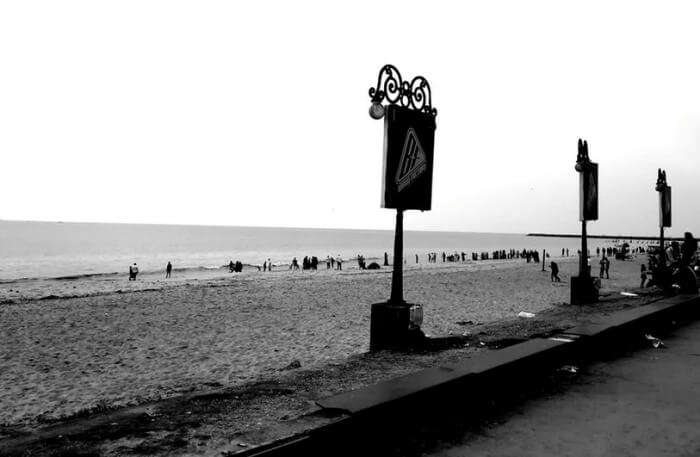 Distance from Wayanad: 61.6 km
Time taken: 2 h
Also rated as a tough climb in the South India, Vellarimala in Kozhikode is another of the popular places to see near Wayanad Kerala. Feel the crisp mountain air piercing you as clouds play hide and seek along the mountains.
To access the trek one has to reach the Muthappanpuzha village (4 km from Vellarimala base) in Kozhikode, which can be reached from Wayanad by getting down at Thamarassery while riding a bus headed to Kozhikode. The trail takes you across dense forests to beautiful landscapes. An ideal place to plan camping with friends, Vellarimala and Vavul Mala is an ideal trek for all the adventure seekers.
Popular attractions near Vellarimala & Vavul Mala: Olichuchattam Falls, Damodaran Kolli, and Kethan Paara
20 Monsoon Getaways Near Bangalore For A Scenic Escape
4. Aralam Wildlife Sanctuary Kannur – To the Unspoiled Forest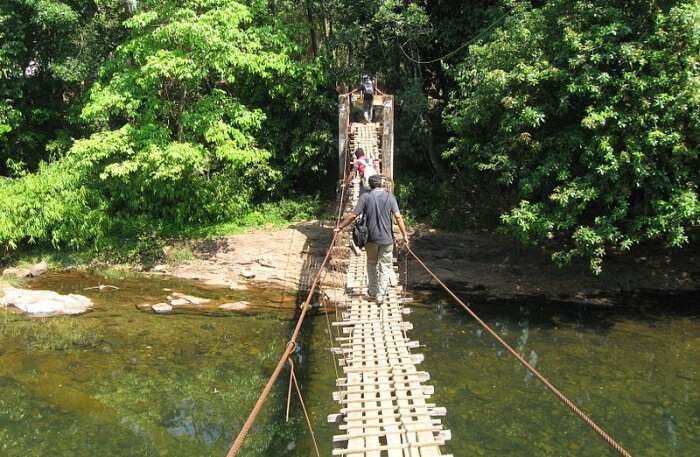 Distance from Wayanad: 63 km
Time taken: 2 h
Located on the western slope of the Western Ghats, the sprawling landmass of 55 sq. km is another of the best places to visit near Wayanad that must be on your bucket list. Containing vegetation of tropical and semi-evergreen nature, the sanctuary exhibits rich flora and fauna. Animals like elephant, gaur, sambar, spotted deer, barking deer, and Malabar giant squirrel can be spotted in the sanctuary premises. Katti Betta is the highest peak in the sanctuary region which is 1145 m high.
Iritty is the nearest town at a distance of 5 km from the sanctuary which can be accessed by a bus or a private vehicle. From there you can further hire a private cab to reach the sanctuary.
Popular attractions near Aralam Wildlife Sanctuary: Pakshipathala, Akkare Kottiyoor Maha Siva Temple, Mridangsyleshwari Temple
54 Places To Visit In Ooty In 2022 That Are Fun And Incredibly Spectacular
5. Bandipur National Park Bandipur – A Day Amidst the Best of Nilgiris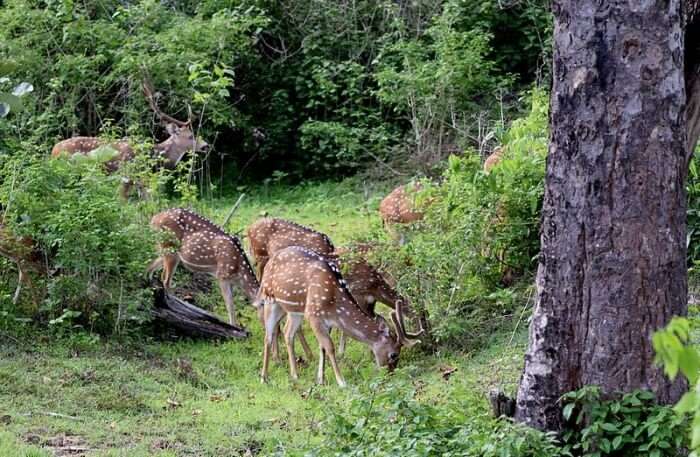 Distance from Wayanad: 83 km
Time taken: 2 h
Once a hunting ground of kings and known for its well-maintained forest area the Bandipur National Park is one of the best places to visit near Wayanad. The park region is known for the presence of big cats and elephants in the extensive forest cover that runs over an area of 874 sq. km. Located along the Mysore – Ooty highway in the Western Ghats, the sanctuary is a perfect weekend escape amid the imposing presence of mountains and rich greenery.
Along with the Mudumalai Wildlife Sanctuary, Wayanad Wildlife Sanctuary, and Nagarhole National Park, it creates the biggest biosphere reserve in India also known as the Nilgiri Biosphere Reserve. Go around, the multitude of teak and sandalwood trees await you in the midst of breathtaking natural beauty. And it's just a couple of hours drive from Wayanad. Don't tell me you haven't started planning a trip to Bandipur for the upcoming weekend already! October – May is considered as the ideal time to visit the national park.
Popular attractions near Bandipur National Park: Mudumalai Tiger Reserve, Wayanad Wildlife Sanctuary, Gopalswami Hills
6. Mahe Puducherry – Where the River Submerges into the Sea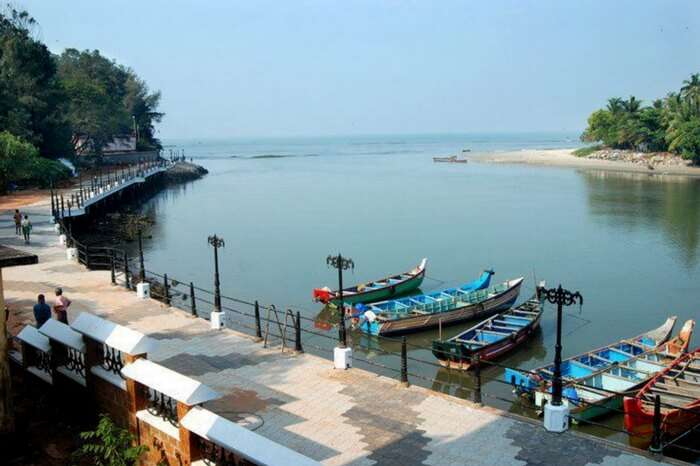 Distance from Wayanad: 94 km
Time taken: 3 h
A small town at the mouth of the Mahe river, Mahe is one of the four districts of Puducherry and is also one of the most popular tourist places around Wayanad Kerala. Once a French colony, the small town located off the west coast of Kerala is an ideal retreat for a perfect weekend. Lots of greenery around and the scenic spot where Mahe river meets the sea make Mahe a must visit.
Popular attractions in Mahe: Lighthouse, remnants of a fort, sunset, Mahe Boathouse, Thacholi Othenan's Fort, Puzhakal Juma Masjid, St. Teresa's Church, and Sree Krishna Temple
57 Best Places To Visit In Kerala For A Vacation To Remember In 2022!
7. Toda Hills Ooty – Presenting Conquerors from the Sea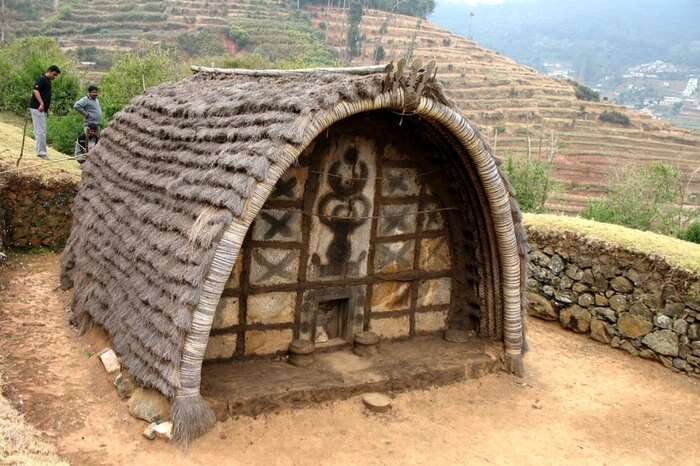 Distance from Wayanad: 113 km
Time taken: 3.5 h
A dwelling place of Toda tribes, the Toda hills is one of the oldest inhabited places in India and another of the best places to visit near Wayanad. Though the Ooty tourism hasn't been kind enough to promote them but Toda Hills must be visited when you are around. Summers are the best time to plan a visit to the place when the weather is cooler and blooming flowers can be spotted across the valley, around the hills. The unique traditions and customs of the Toda tribes are the other highlights of this place that catches a tourist's attention.
Nobody exactly knows where do the Toda tribe come from but their uncanny way of life, traditional attire, and beautiful thatched houses make theirs an ideal place to visit. A perfect getaway in the Nilgiris it is! The hills fall in the route of Western Catchment some 20 km from Ooty.
Popular attractions near Toda Hills: Sochipara Waterfalls, Aarattupara, Wayanad Wildlife Sanctuary
8. Doddabetta Peak Nilgiri – Spellbound by nature! Aren't you?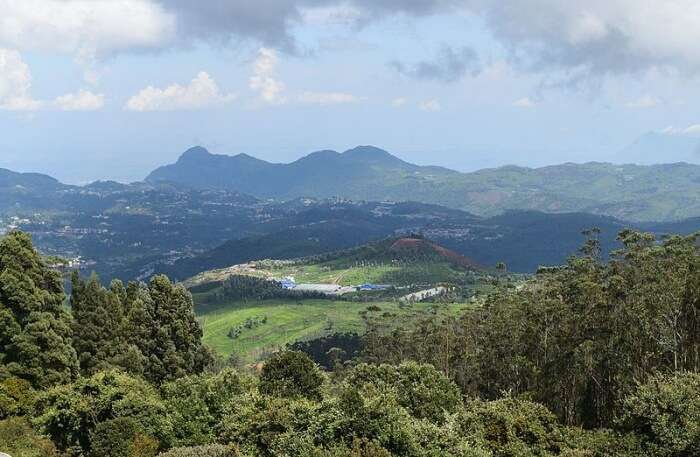 Distance from Wayanad: 118 km
Time taken: 3.5 h
9 km from Ooty by the Ooty – Kotagiri road, the peak is a biodiversity-rich area with reserve forest and stunning views around. Flaunting sweeping views, lush meadows, and towering vegetations, Doddabetta Peak in Nilgiri is one of the best places to visit around Wayanad. The 3 odd hour travel time clearly indicates that you don't need to plan big to get to this place. At 2637 m, Doddabetta is the highest mountain in the Nilgiris.
Offering a bird's eye view of the Ooty city Doddabetta is mostly covered in mist and lets you experience biting cold. Go trekking, that's the best thing to do when you are here. The Nilgiris are easily accessible by road from nearby cities by means of public transport and private vehicles.
Popular attractions near Doddabetta Peak: Government Rose Garden, Botanical Garden, Ooty Boat House
34 Wayanad Tourist Places For An Extended Vacation In God's Own Country In 2022
There's the world that encompasses the excellence of nature beyond our imagination. The Western Ghats is certainly one of them. I'm pretty sure that there will be a lot on your bucket list when you plan your Kerala trip next time.
For our editorial codes of conduct and copyright disclaimer, please click here.
Frequently Asked Questions about Best Places to Visit near Wayanad
What are the best places to visit in Wayanad for couples?
Meenmutty Waterfalls, Soochipara Falls, Chembra Peak, Banasura Sagar Dam, Ghat View Point, Muthanga Wildlife Sanctuary, Edakkal Caves, Bathery Jain Temple, Neelimala View Point, Pookot Lake, Pakshipathalam Bird Sanctuary, Wayanad Wildlife Sanctuary, etc. are the best places for couples holidaying in Wayanad.
Which are the best places to visit in Wayanad in 2 days with friends?
Chembra Peak, Banasura Sagar Dam, Ghat View Point, Muthanga Wildlife Sanctuary, Meenmutty Waterfalls, Soochipara Falls, Edakkal Caves, Bathery Jain Temple, Neelimala View Point, Pookot Lake, Pakshipathalam Bird Sanctuary, Wayanad Wildlife Sanctuary, etc. are the places in Wayanad that can be visited with friends.
How many days are enough in Wayanad?
Wayanad abodes numerous attractions and spectacular places located near its boundaries, you can plan a trip for 3-4 days for a wholesome experience.
Is it safe to visit Wayanad during Covid?
Make sure that you have completed both the doses of vaccinations and get yourself tested at least 48 hours before your departure. You need to follow all the travel guidelines mentioned by the authorities.
Which is the best month to visit Wayanad?
October to May is the ideal time as the weather is pleasant during this period and one can easily explore the top attractions in Wayanad.
How can I go to Wayanad?
One can take a flight to Calicut International Airport which is the nearest airport at a distance of 65 km from Wayanad. If one is travelling by rail, then Kozhikode is the nearest railhead as Wayanad is not directly connected by railway. One can also take a road trip from any other major city here.
What is there to explore near Wayanad?
There are a lot of places that one can visit near Wayanad like Kozhikode, Kodagu, Kannur, Bandipur, Puducherry, and more. All these places have a lot of tourist attractions and activities for one to enjoy.
Is Calicut and Kozhikode the same?
Yes, Calicut and Kozhikode are two different names for the same place.
What is Kozhikode famous for?
Kozhikode is famous for spices and is also often called the 'City of Spices'. During the Middles Ages Kozhikode served as an important port for trading Indian spices.
People Also Read:
Places To Visit Near Delhi Places To Visit Near Agra Places To Visit Near Udaipur
Comments
comments