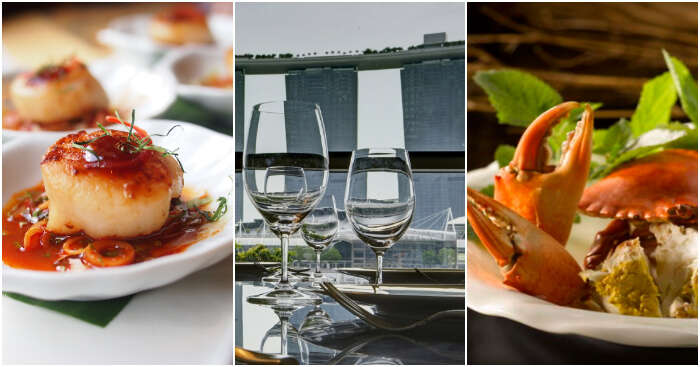 A food obsessive's paradise, Singapore has no dearth of stylish street food joints and hawkers serving flavorsome local cuisine and affordable drinks, but some occasions call for an altogether elegant and refined experience. From panoramic rooftop places to Michelin-starred restaurants, here's a list of some of the best restaurants in Singapore that give you an unmatchable fine-dining experience.
From the finest French to Japanese restaurants in Singapore
1. La Brasserie (The Fullerton Bay Hotel)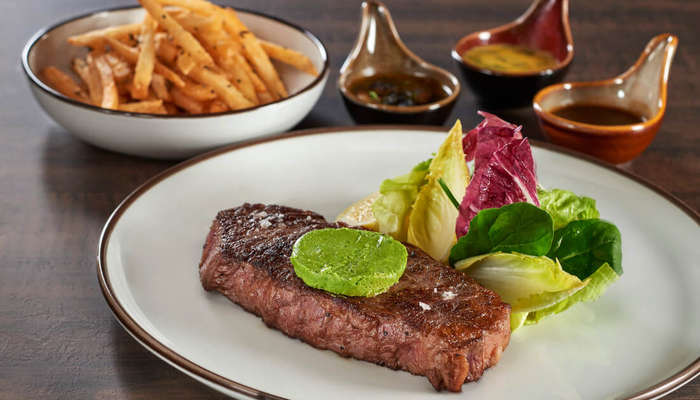 One among the top restaurants in Singapore, La Brasserie, which is an in-house fine-dining restaurant of The Fullerton Bay Hotel. At La Brasserie, one can enjoy some seriously hearty French dishes that represent the French cuisine. You can dig into some rustic mains like steak and frites, seabass fillet with roasted ratatouille, and the incredibly tender duck confit. And don't forget desserts like the 'oh-so-French creme brulee' and the rich, 'creamy chocolate mousse.'
Claudio O says "As the names suggest La Brasserie serves great French Brasserie dishes. We chose the 3 course menu option which we found to be good value. Our Group had 2 different stakes and the Burger and they were all very good. We were celebrating a special occasion and they really provided great service." Read more
Opening hours: Mon to Sun 12:00 pm-3:00 pm and 6:30 pm-10:30 pm
2. Forlino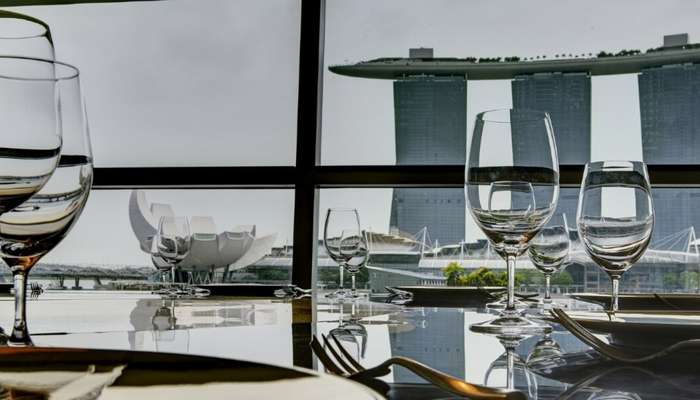 Forlino is probably the best Italian restaurant in Singapore for dine-dining. The restaurant has earned a lot of fans due to its classic contemporary Italian dishes. You can try some incredibly flavorful pasta, you must pay a visit to the place. You can try 'Spaghetti Cacio e Pepe' or a generous serving of fresh Maine lobster. Forlino changes its menu on weekly basis depending on which ingredients are the freshest.
Master Sky says "It is a rare occasion that I will give commendation of exceptional service. However, Forlino food and service are really good. Instead of selecting their set menu, they recommend you to customize your set." Read more
Opening hours: Mon to Sun 12:00 pm-2:30 pm and 6:30 pm-10:30 pm
3. Min Jiang Restaurant (Goodwood Park Hotel)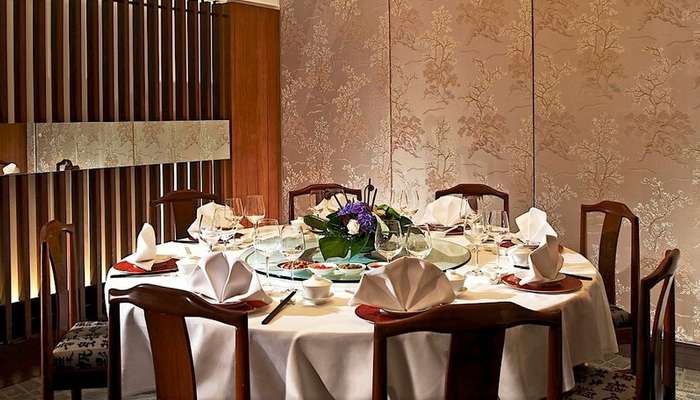 If you're craving for some peppery Szechuan and delectable Cantonese cuisine, Min Jiang Restaurant is where you should go. One of the finest Chinese restaurant in Singapore, it was built in 1982 and famous for unbelievably delicious dishes like duck pancakes and a wide variety of dim sums.
Rudola says, "If you like Chinese food, this is a must visit place. It would easily rank as one of the best in Singapore, if not the best. We were 9 including two kids and everyone felt very happy and satisfied after the dinner on the new year eve." Read more
Opening hours: Mon to Fri 11:30 am-2:30 pm and 6:30 pm-10:30 pm | Sat 11:30 am-2:30 pm and 3:00 pm-5:30 pm and 6:30 pm-10:30 pm | Sun 11:00 am-2:30 pm and 3:00 pm-5:30 pm and 6:30 pm-10:30 pm
Must Read: 10 Best Resorts In Singapore For The Real Taste Of Luxury
4. Patara Thai Fine Dining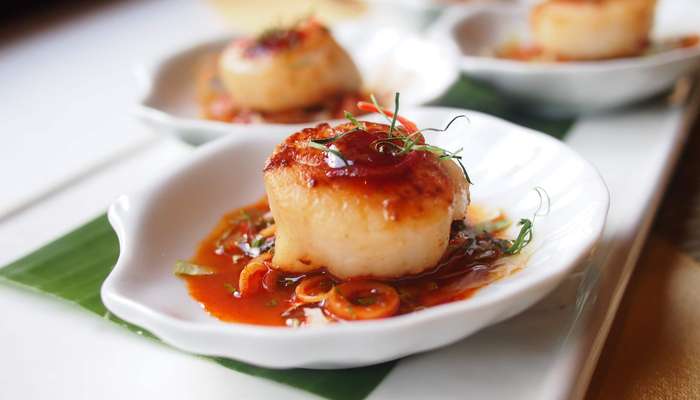 One of the most famous restaurants in Singapore, Patara Thai Fine Dining is heaven for those who want to try some unique and mouthwatering Thai food. When you visit Patara, you realize that Thai food isn't just about phad thai, green curry, and mango sticky rice. You can feast one some unique cuisines like spicy and sour prawn soup, pan-roasted lamb rack with lemongrass, mint and coriander sauce.
Divya says, "It's a little tough to find vegetarian Thai options in Singapore, never mind extensive ones like in Patara Thai. They have an entire vegetarian menu, which is mostly vegetable, not mock meat based, which is fantastic." Read more
Opening hours: Mon to Sun 12:00 pm-3:00 pm and 6:00 pm-10:00 pm
5. Crystal Jade Golden Palace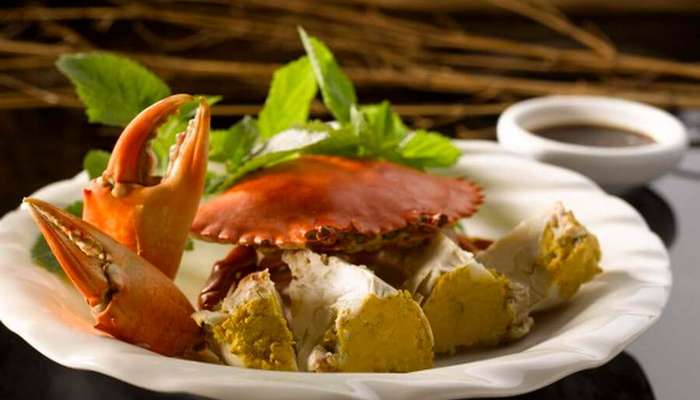 Crystal Jade Golden Palace is among the finest Chinese restaurant in Singapore offering a luxurious fine-dining experience. In Singapore, it is a household name for Chinese families when it comes to family dinners or celebrations. The restaurant serves dishes like fish noodle with king prawn, seafood with beancurd thick soup, and 'Braised Teowchew Duo Platter'. Also, Crystal Jade Golden Palace is a Michelin Star to prove its authenticity.
Haebee says "Elegant, with well trained staff who look after all your dining needs. They have nice spacious private rooms. The menu is extensive and interesting. We enjoyed their Roast Goose meat, braised goose web with mustard green.."Read more
Opening hours: Mon to Fri 11:30 pm-3:00 pm and 6:00 pm-10:00 pm | Sat 11:00 pm-3:00 pm, 6:00 pm-10:30 pm | Sun 10:30 am-3:00 pm, 6:00 pm-10:30 pm
6. Waku Ghin at Marina Bay Sands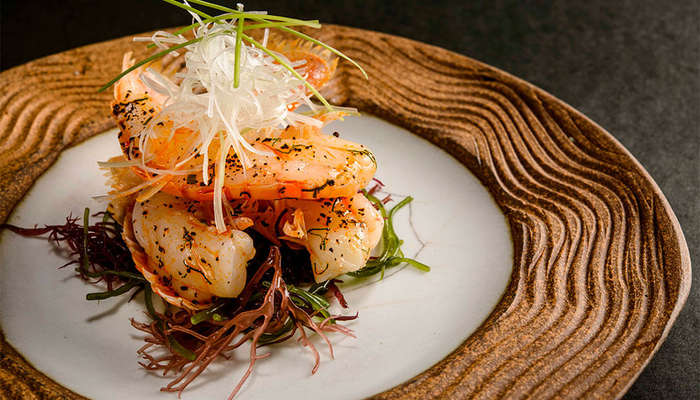 Waku Ghin started in 2010 by Chef Tetsuya Wakuda and is located at Marina Bay Sands. It is the most popular Japanese restaurant in Singapore and is known for creating premium dishes from freshest ingredients. Waku Ghin offers a ten-course dégustation menu for a maximum of only 25 guests, so you need to book in advance. The price might seem a bit high, but the experience will make you realize that it's worth every penny.
Sheep Boss says, "The standard of the food offering here is exceptional. It is a set menu which ranges across seafood. The meals are prepared in front of you. The wine list is very good. The service is excellent." Read more
Opening hours: Mon to Sun 5:30 pm to 10:30
Suggested Read: 16 Singapore Tourist Attractions Where A Wandering Heart Finds Peace
7. Joie by Dozo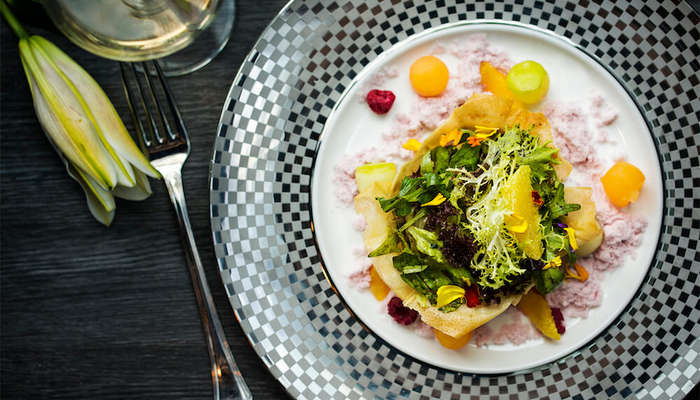 Joie by Dozo is a perfect place to take your partner on a romantic date. Modern, completely veg, and peaceful, Joie is one of the best restaurants in Singapore for fine dining. Located in the lush rooftop garden of Orchard Central, it lets you enjoy panoramic views while savoring delicious dishes.
They offer mains including pumpkin and spinach ravioli, mushroom steak, and wild rice with eggplant terrine. You can also go for vegetable sashimi on ice, the Zucchini Tower, or desserts including red wine poached pear. Even if you're a non-vegetarian, you'll be blown away by the incredible taste.
Kevh says, "What a wonderful artistic delight this restaurant is. The private Japanese type style of room within the space." Read more
Opening hours: Mon to Sun `12:00 pm to 15:00 and 18:00 pm – 22:00 pm
8. L'Atelier de Joël Robuchon at Resorts World Sentosa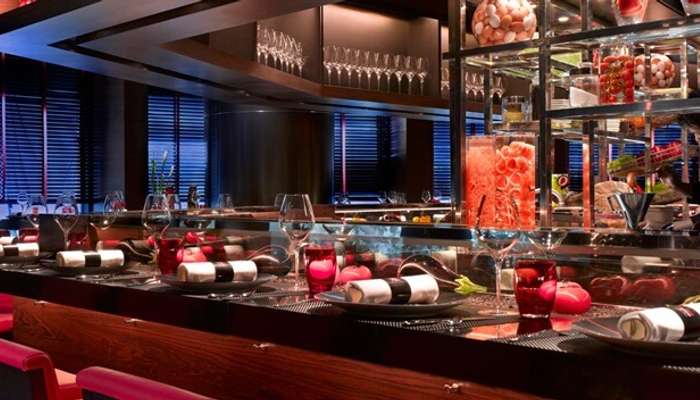 L'Atelier de Joël Robuchon draws inspiration from the simplicity of Japanese cuisine, which is combined with French techniques, and delivers dishes in an atmosphere that look exactly like Spanish tapas bar. They use a fresh seasonal ingredients from countries all across the world to make unbelievably yummy dishes. This two Michelin-starred fine-dining restaurant is probably the best French restaurant in Singapore
Jeremy says, "The food was amazing. The restaurant is a little expensive, but worth every penny. The service is great. Our waiter was very attentive to us as if we were his only diners." Read more
Opening hours: Mon to Sun 6:00 pm to 10:30 pm
Suggested Read: 10 Romantic Places To Visit In Singapore For Your Honeymoon
9. The Rabbit Stash Restaurant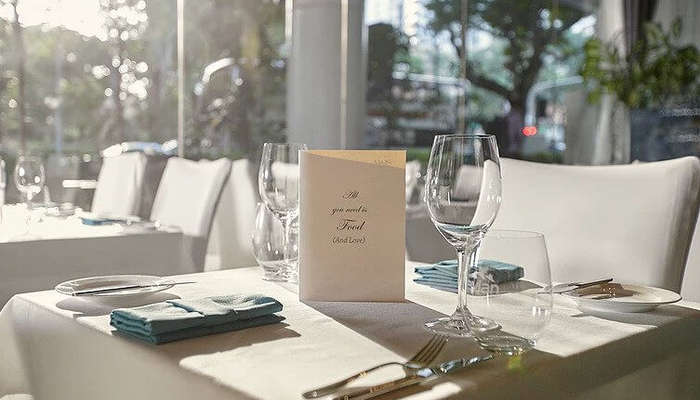 The Rabbit Stash Restaurant serve art on a plate. Their food is so Instagram-worthy that you won't be able to stop yourself from clicking those beautiful dishes on your plate. The menu of this restaurant is a combo of French culinary techniques with aromatic Asian flavors. Some unique dishes they serve include smoked anchovy with Hokkaido scallops and slow-cooked Angus beef cheek.
Andrew says, "Had an amazing 7 course dinner for s$150. Very impressive contemporary food with a slight local twist. Each dish was exquisite. Tasted fantastic and looked amazing." Read more
Opening hours: Mon to Sat 6:30 pm-11:00 pm
10. Gunther's Modern French Cuisine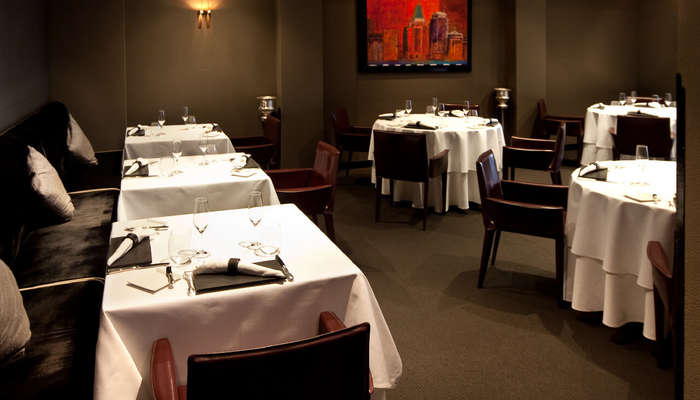 If you're looking for some French restaurant in Singapore to go on a romantic and sophisticated dinner or lunch, you can't go wrong with Gunther's. Gunther Hubrechsen established the restaurant in 2007 and won an award within two years. The restaurant is located on Purvis Street, which is the swankiest place in Singapore. Some of their offerings include cold angel hair pasta, oscietra caviar, fine apple tart " à la dragées", Havana rum ice cream, Alaskan king crab leg, chili Monte Poro.
Ting T Lim says, "Food was excellent and service was prompt. Was here for dinner some time back and back here for lunch. Down side was food took some time to reach our table and I attribute that to a big group of guests…" Read more
Opening hours: Mon to Sun 12:00 pm to 2:30 pm and 6:30 pm to 10:00 pm
Further Read: Singapore Group Tours: The Smartest Way To Get Around & Experience The City At Its Best!
---
Looking To Book An International Holiday?
Book memorable holidays on TravelTriangle with 650+ verified travel agents for 65+ domestic and international destinations.
---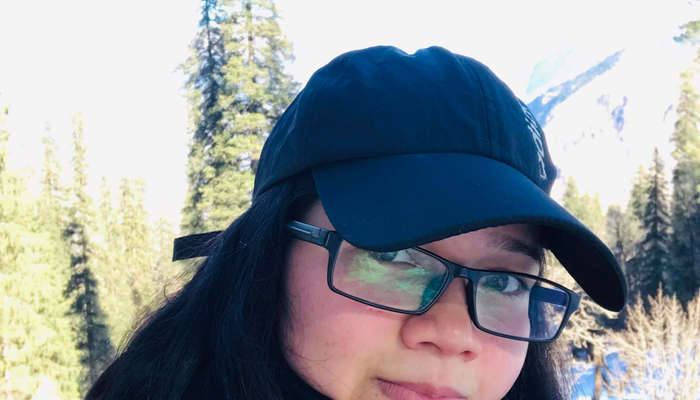 Comments
comments