With quirky and unusual bridges springing across the globe, Vietnam has now joined the list with its iconic Golden Bridge (Cầu Vàng) perched in two giant rock hands. The country opened this new attraction for its visitors in June, and since, the Vietnam Golden Bridge is amusing travelers from far and wide.
What is unique about the Vietnam Golden Bridge?
The Golden Bridge is supported by two lofty hands which look like they are sculpted out of stone. The creativity is of the extremely talented TA Landscape Architecture, which has designed this peculiar bridge. The bridge overlooks the magnificent Da Nang mountain range and one can enjoy scenic views of the Ba Na hills from atop this beauty.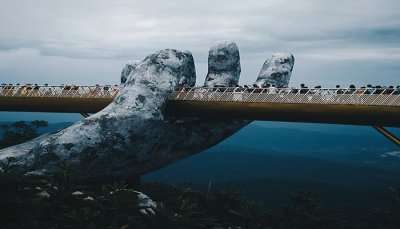 Suggested Read: The Controversial VietJet To Connect Vietnam & India By Direct Low-Cost Flights!
The bridge is at a height of 1,400 metres above sea level and its golden colour gives one a feel of walking on a silk strip in the sky. Walking across it is idyllic as it gives you the feeling of walking on a cloud! This 150 metres length of uniqueness is located in the Thien Thai Garden and adding on to this quirky architectural attraction are the beautiful purple Chrysanthemums which line the way.
Further Read: World's Largest Glass Skywalk Is High Up In China And We Can't Wait To Walk Down
Enticed to visit? Tick off this unique Vietnam Golden Bridge from your list by booking your trip to Vietnam with TravelTriangle right away.