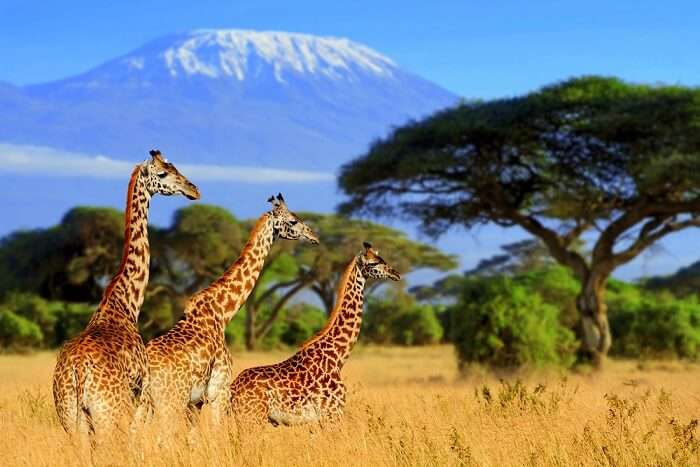 From intoxicating game drives, fierce wild beasts roaming free and untamed, to the most unique landforms to soothe the eyes, nothing beats the thrill of an African safari. Set out on a safari in South Africa that takes you on an unparalleled journey through the most mysterious and lethal jungles of the world. Whether you chase the Big Five in speedy jeeps, track wild animals through thick jungles on foot, ride majestic elephants, or tame the skies with a hot air balloon ride over herds of fearless fauna, you'll encounter such joy of watching the wild in their natural habitat as never before! Scroll down and see where all you can go to enjoy the best safari in South Africa.
Wildlife Safaris In South Africa of The Big 5
Experience the thrill of tracking Africa's Big Five – the buffalo, elephant, rhino, lion, and leopard. Most national parks in South Africa offer opportunities for game drives wherein they allow one to get the closest possible encounter with Africa's Big Five.
15. Addo Elephant National Park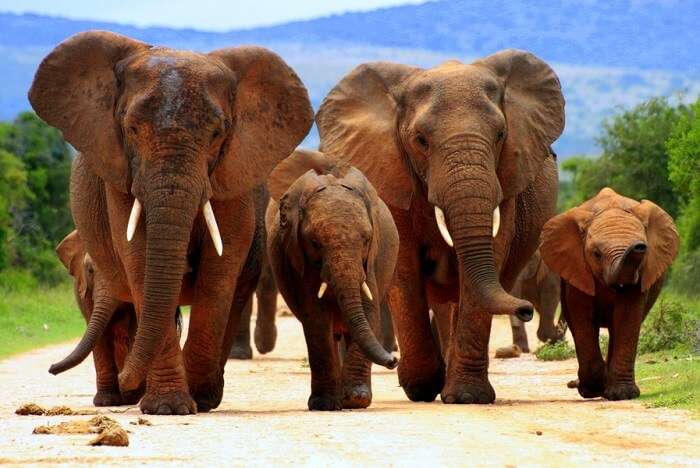 Home to Sylvester, Addo's celebrity lion, and an enormous herd of mighty elephants that can be easily spotted congregating near the Hapoor Dam of the park. Your safari will also take you on a game hunt in search of their elusive leopard. Other than these, rhinos and buffaloes can easily be seen in the open. The park has strict measures for monitoring behaviour patterns of the Big 5 so that it can ensure you're able to spot all on your tour, which is why it is the among best safari in South Africa. The park also offers Marine Eco Tour for spotting whales and sharks. So you get to see all the giants of the Earth in one tour.
Location: R335 Paterson Road, Addo, 6105, South Africa
South African safari cost: INR 1,200/- per person
TripAdvisor Reviews
Must Read: South Africa In December: Explore The Best Of This Safari Paradise In Winter 2022!
14. Kruger National Park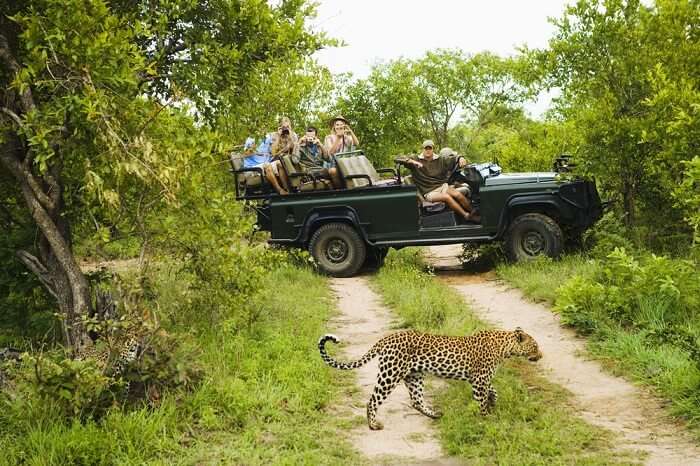 Spot the Big 5 in their natural habitat at one of the renowned Kruger National Park safari in Africa. Revel in the chance to encounter an abundance of wildlife, which means you are more likely to spot lions, leopards, elephants, rhinos and buffaloes, than in other parks around the world. So keep your fingers crossed to get lucky and spot some of them on your safari. Indulge in the immersive Wilderness Trails to get up close and personal with the park's amazing beasts. Kruger National Park offers everything from Early Morning Guided Trails, Night Safaris, camping facilities. Night Safari is a hot favorite of all wilderness lovers who visit Kruger. In a night safari, experienced guides drive you deep into the South Africa jungles to let you sneak up on its most nocturnal animals. Get the best of South African safaris in Kruger National Park.
Location: Malalan Gate, Nelspruit 1350, South Africa
South Africa Safari Cost: INR 1,500/- per person
TripAdvisor Reviews
Suggested Read: Honeymoon In Africa: Top 11 Romantic Getaways For The Best And Unique Experiences!
13. Marakele National Park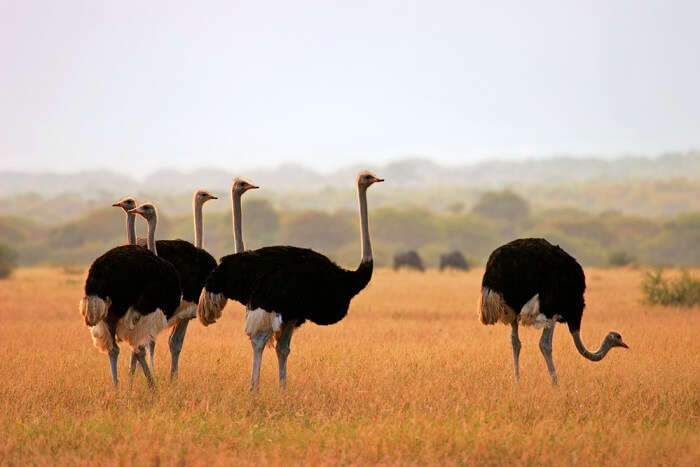 Marakele is a delightful sanctuary housing an impressive variety of wildlife. Nestled in the heart of Waterberg Mountains, the park is a must visit for all who wish to spot the Big 5 of Africa. In fact, this park is an ideal getaway from those visiting the charming cities of Johannesburg and Pretoria located close by. While here, you'll be able to spot the Tuli elephants brought into the park in 1999, other than indulging in exciting game drives in open safari vehicles across the park, or engaging in bush walks with professionally trained field guides. Strictly follow the instructions of the filed guide.
Location: Nylstroom, Limpopo, South Africa
Admission Cost: INR 850/- per person
TripAdvisor Reviews
Suggested Read: 10 Things To Do In Johannesburg That Bring Out Its Vibrant Charm
Camping Safaris: Night Safaris & Jungle Stay
Go one step further than witnessing the wild creatures of Africa – stay amidst the beasts in their natural habitat. Many parks in South Africa provide incredible night safari and overnight camping experiences to its visitors so that they can plunge into the ultimate thrill of being one with nature.
12. Camdeboo National Park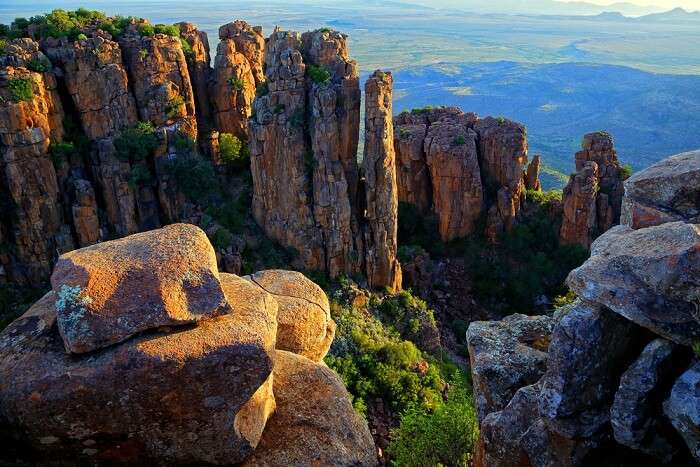 Other than a diverse wildlife, the Camdeboo Park offers unique landscapes, ecosystem, and tremendous scenic beauty. With surreal rock formations jutting out of the ground, the Karoo of South Africa features some of the greatest natural wonders formed millions of years ago. When here, tourists can indulge in night safaris and camping with a bonfire for an invigorating experience. The joy of camping in the fierce South Africa jungles is unmatched and a must for all adventure lovers. The best accommodation here is the Lakeview Tented Camp, which are four rustic and fully furnished tents designed to provide a relaxed nature experience to visitors. The double sharing tents have a braai unit, fridge, table, chairs, a communal kitchen with microwave, apart from comfortable bedding and towels. They have some of the best safari lodges in South Africa.
Location: N9, Graaff-Reinet, 6280, South Africa
South African Safari Cost: INR 480/- per person
Accommodation Cost at Lakeview: INR 1,600/- per person on double sharing
TripAdvisor Reviews
Suggested Read: Safari Honeymoon In South Africa Is About Kindling Love In The Wilderness! Are You Game?
11. Kgalagadi Transfrontier Park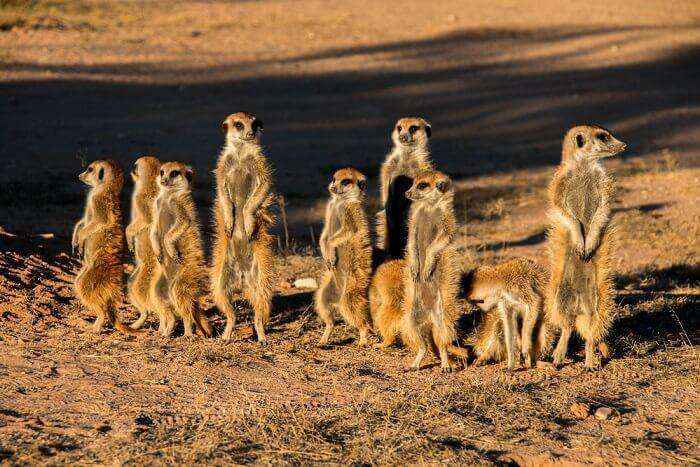 Want to spot some enormous black-mane lions, swift leopards, and sneaky raptors? Then Kgalagadi is one of the best South African safari parks to be at! Sprawling with red dunes, and rare animal species like gemsbok, springbok, eland and blue wildebeest lurking around in herds, the park is a fascinating haven for wildlife and nature lovers. Other than spotting wild beasts and witnessing the marvels of nature, one can also indulge in overnight safari tour and camping while here. The Kalahari Tented Camp at Kgalagadi is perfect for night camping and for immersing in the best of what nature has to offer here at Africa. Situated high up on a red sand dune, the tents overlook a waterhole in the dry bed of the ancient Auob River. This exclusive campsite boasts 15 desert tents tastefully decorated tents with rustic finishing, offering guests complete seclusion and the best of luxury safari in South Africa.
Suggested Read: 19 Best Places To Visit In Morocco In 2022
Location: Mata Mata, Upington, South Africa
South Africa Safari Cost: INR 1,400/- per person
Accommodation Cost at Kalahari: 4,000/- per person on double sharing
TripAdvisor Reviews
Elephant Safaris: Get close to the majestic beings
Are you too in awe of these solemn species? Then South Africa is the perfect place for you to be for a close encounter with these gentle giants.
10. Adventures With Elephants, Limpopo

A one-of-its non-profit initiative by some dedicated individuals of the Hensman family, AWE provides more than the usual 'Touch and Feed' elephant experience. It offers unrivalled intimate hands-on educational elephant interactions, Elephant Back Safaris, swims with elephants, and starlight safaris, the prime reason it's renowned as one of the best safari in South Africa. Their passionate and experienced elephant handlers will let you bank on some wonderful encounters with these magnificent beings, apart from imparting in-depth knowledge about them. Lying adjacent to the Zebula Country Club, the 300-hectare facility is an hour's drive from Pretoria and is located 35 km away from Bela Bela.
Location: R101, adjacent to Zebula Country Club, Bela Bela, Waterberg, Limpopo
Timings: 7 AM to 5 PM on all days of the week
Website | TripAdvisor Reviews
Suggested Read: 10 Enchanting Honeymoon Destinations In South Africa
9. Inkwenkwezi Private Game Reserve

At Inkwenkwezi, you can not only spot a number of wild animals like antelopes, giraffes, zebras, and other predators, but also get a chance to interact with elephants, one of the world's most amazing animals. Elephant safaris here are more of hands-on learning experiences which includes lots of one-on-one interactions with these graceful beings, something that's utterly enjoyable for both kids and elders alike. Cuddle and play with baby elephants, and ride the bigger ones while spending time at this sanctuary. Inkwenkwezi Private Game Reserve lets you to get closer to these adorable giants and know them better.
Location: Inkwenkwezi Private Game Reserve, Schafli Road, Cintsa, Wild Coast, Eastern Cape
Safari Cost: INR 3,600/- per person
TripAdvisor Reviews
Walking Safaris: Take a stroll in the Africa jungles
Explore the wondrous terrains and the fabulous diversity of wildlife in South Africa on foot! Take relaxing walks in its many national parks with professionals by your side. Walking safaris are the best way to soak in the natural goodness of Africa and spot predator tracks, insects, birds, and animals.
8. Sabi Sands Reserve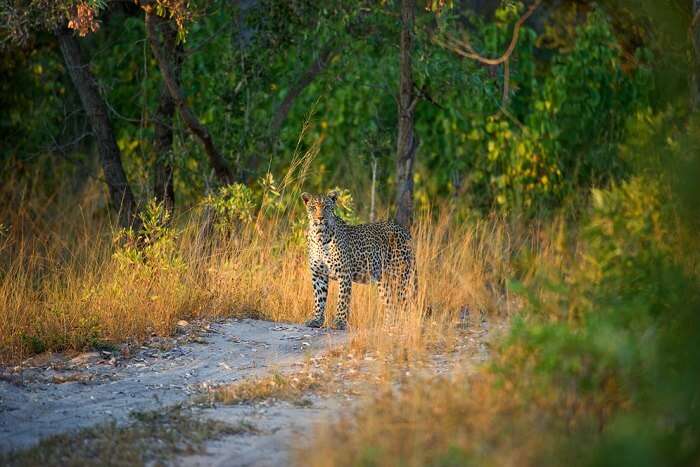 Located north-west of the Kruger National park, this enormous 65,000-hectare game reserve is home to some of Africa's best flora and fauna, which is why it is among the most excellent places to visit in South Africa for a wildlife safari. Many lodges here daily offer travelers optional walking safaris along with bush dinners and bush breakfasts, provided the weather is suitable for the same. Leopards are the main attraction here and are so accustomed to safari jeeps and cars that they pay no heed if these vehicles follow them around. And thus, you stand a better chance to not just spot a few of them, but also to closely watch their actions.
Location: Mpumalanga, South Africa
Safari Cost: INR 1,200/- per person
TripAdvisor Reviews
Suggested Read: 10 Unique Places To Visit In Namibia In 2022: Home Of Hilly Dunes & Ferocious Cheetahs
7. Sanbona Wildlife Reserve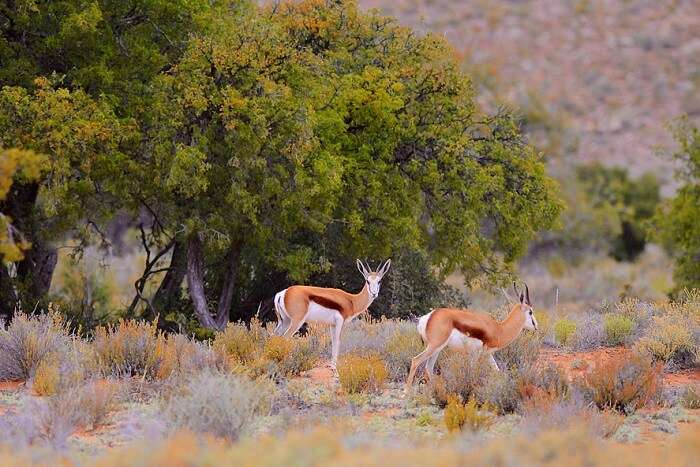 Discover the essence of Sanbona on a delightful walking safari with the guidance of your experienced rangers by your side Apart from afternoon and evening walks (depending on which animal is where), the park also conducts early morning walking trails where tourists can greet animals grazing peacefully or playing with their offsprings. Another reason why Sanbona is listed among the best safari in South Africa is because it's the first private game reserve in the Western Cape to play host to free-roaming big cats like lions and cheetahs. Sanbona has initiated a unique conservation programme to save and reintroduce White Lions in the park, a rare species that was thought to have been wiped out from jungle of South Africa. The reserve is also suited for nature lovers with its undulating mountains, lush plains, gorgeous flora, rock formations, and even rock art!
Location: R62, Between Montagu & Barrydale, Montagu 6720, South Africa
Safari Cost: INR 1,500/- per person
TripAdvisor Reviews
Suggested Read: Head To Masai Mara National Park For An Ultimate Encounter With Africa's Best
Bird Watching Safaris: Spot the winged visitors
6. Mapungubwe National Park

Mapungubwe is home to over 400 species in a relatively small area, with a remarkable mix of woodland, grassland, and water species. Since it's among the undiscovered South African safari parks, you're sure to enjoy a completely secluded safari tour and spot more birds than anywhere else due to minimum human presence. Some of the birds you can spot in this craggy landscape include – Meve's (Longtailed) Starling, Tropical Boubou, Pel's Fishing Owl, Verreaux's (Black) Eagle, Cuckoo Birds, Southern Pied Babbler, Crimson-breasted Shrike, Black-faced Waxbill, Black Eagles, Cinnamon-breasted (Rock) Bunting, Black-backed Puffback, White-crested Helmetshrike, White-fronted Bee-eater breeds, African Fish Eagle, and many more! Look close and be patient, bird watching is an art!
Location: Musina, 900, South Africa
Safari Cost: INR 850/- per person
TripAdvisor Reviews
5. West Coast National Park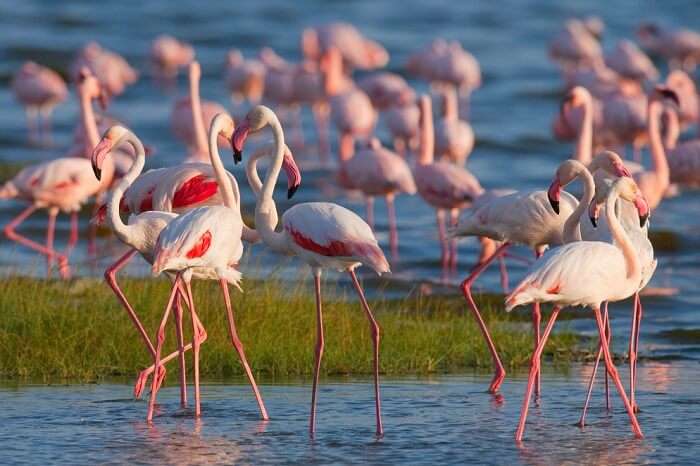 This safari ensures some of the most picturesque sites on the way. Bordering the Langebaan Lagoon which attracts an enormous influx of wetland migratory birds every year, the West Coast National Park is an invigorating bliss to the bird lovers and bird photographers of the world. Summer is the best time to visit the lagoon, as most birds have just arrived, fatigued, from their transcontinental travel. While here, one can spot birds like – Osprey, Knot, Sanderling, Curlew Sandpiper, Ringed and Grey Plover, Bar-tailed Godwit, Southern Black Korhaan, Cape Spurfowl and Grey-winged Francolin, Southern Grey, Cape Penduline Tit, Ant-eating Chat, White-throated and Yellow Canary, Karoo Lark, Chestnut-vented Tit-babbler, Bokmakierie and Cape Bunting, and more.
Location: West Coast DC, South Africa
Safari Cost: INR 725/- per person in flower season, and INR 362/- per person in non-flower season
TripAdvisor Reviews
Suggested Read: 12 Handpicked Resorts In South Africa
Canoeing Safaris: Paddle away over scenic streams
Wade in the marshy waters of South Africa and encounter big game in the form of elephants, hippos and crocodiles. A series of set-date canoe safari options are available to tourists on the upper and lower Zambezi, also the Selinda Spillway in northern Botswana. The best part about canoe safaris is that they don't disturb disturb buffalos, kudus, elands, and predators like lions and other large mammals as they gather near the shorelines. Other than animals, you can also spot a large variety of bird life through canoe tours.
4. Tamarind Canoe Safari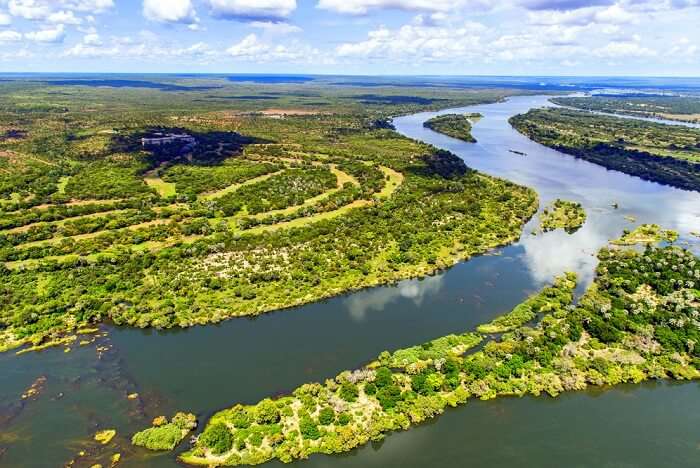 The Tamarind Canoe Safari is among the most popular South Africa tours and safaris that operates in lower Zambezi. The tour starts from the silent, deep gorges of the Kariba and takes visitors all the way down to the renowned World Heritage Site Mana Pools through the sublime Victoria Falls. The Tamarind Canoe Safari is one of the best ways to experience big game and real African wilderness. A safari through this water route lines with dense forests, gives you an opportunity to witness an altogether different side of the African wildlife.
Location: Kariba Gorge, Zambezi River, Zambia and Zimbabwe border, South Africa
Packages starting from: INR 55,200 per person
Suggested Read: 3 Days In Maldives: This Picture-Perfect Honeymoon Escapade Will Make You Jealous!
3. Selinda Adventure Trail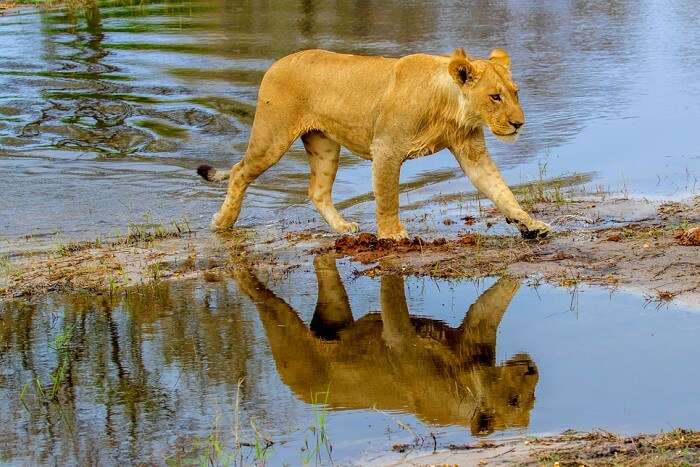 For an unmatched adventurous canoe safari, one must try the Selinda Trail with its unique canoeing and walking combination. Indulge in exhilarating activities, starting with a thrilling helicopter flight to the starting point of the tour, then walk or paddle away on the serene and scenic river for up to 20 km, carefully monitoring the flow of the water. This exclusive guided canoe tour is an outstanding addition to safari in South Africa since the waterway's creation recently in 2009 due to shifting of tectonic plates. Selinda canoe safari also provides opportunities for camping, birdwatching, and stargazing!
Location: Selinda Reserve, Botswana
Packages starting from: INR 1,00,000/- per person
Website | TripAdvisor Reviews
Hot-Air Balloon Safaris: For the aerial views of the wildlife
Fancy a balloon safari tour in South Africa? A hot air balloon ride in South Africa lets you gaze at expansive views of large volcanic landforms, rare rock formations, unique geological features, herds of wildlife, of the Game Reserves in South Africa, while you glide peacefully in your comfortable magic carpet!
2. Pilanesberg National Park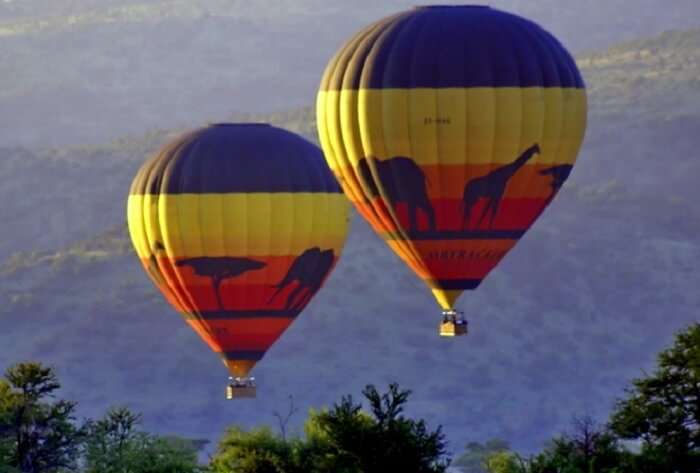 Pilanesberg figures prominently in the list of the most family-friendly South Africa safari holidays. The park is an easy 2 hours drive from Johannesburg and offers an unbearably tranquil experience of soaring in the skies to travelers. The elevated views will grant you mesmerising views of the Pilanesberg Alkaline Ring Complex (unique geological feature born from volcanic activity), and a brilliant perspective of herds of antelopes, buffaloes, and elephants. The Pilanesberg Hot Air Balloon Safari also includes welcome drinks of wine, full English breakfast, first flight certificate, and a transfer to your hotel.
Location: Bojanala, North West, South Africa
Packages starting from: INR 1,00,000/- per person
Duration of flight: 1 Hour (customisable)
TripAdvisor Reviews
Suggested Read: 10 Best Things To Do In Africa For The Traveler Who Wants It All
1. Kafue National Park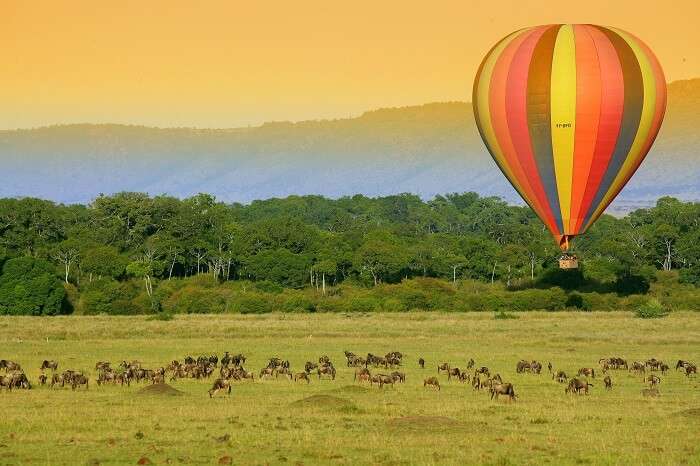 On popular demand, hot air ballooning has now kicked off in Kafue National Park as well. The skies of Busanga Plains of Zambia are now covered in colourful balloons during daytime, which is a treat to watch! It is now one of the most exclusive hot air ballooning destinations in Africa, offering complete seclusion and mind blowing bird's-eye scenic views to travelers of the park and its wild inhabitants. Post the ride, a delicious champagne breakfast is served to guests at the park's vast grasslands. The park is also known for its guided walking safaris and game drives, all of which make an excellent place for safari in South Africa.
Location: D769, Zambia
Duration of flight: 1 Hour (customisable)
TripAdvisor Reviews
Further Read: Honeymoon In Africa: Top 11 Romantic Getaways For The Best And Unique Experiences!
Excited already? Plan your trip to South Africa right away and indulge in thrilling safaris in South Africa to experience its wild side. Know of any more of the best safari in South Africa? Let us know in the comments below!
Ever wondered why South Africa is considered as the best place for a safari experience? Watch our South Africa travel video to find out!
Disclaimer: TravelTriangle claims no credit for images featured on our blog site unless otherwise noted. All visual content is copyrighted to its respectful owners. We try to link back to original sources whenever possible. If you own the rights to any of the images, and do not wish them to appear on TravelTriangle, please contact us and they will be promptly removed. We believe in providing proper attribution to the original author, artist or photographer.
Please Note: Any information published by TravelTriangle in any form of content is not intended to be a substitute for any kind of medical advice, and one must not take any action before consulting a professional medical expert of their own choice.
Frequently Asked Questions About Safari In South Africa
What is the best time to visit South Africa for safari?
The best time to visit for safari in South Africa is from May to September when the weather is just right for all kinds of safari and wildlife spotting.
How much does it cost to go on safari in South Africa?
South Africa safari prices vary from park to park and depend on what kind of safari you pick at that particular park – day, night, camping, walking, etc. The ideal price for South Africa safari tours packages starts from INR 18,500/- per person.
What animals do you see on a safari?
It would have been easier to mention what animals you do not see on a South African safari, as the list would have been extremely short! The best safari here will let you spot animals like lion, leopard, rhinoceros, elephant, buffalo, hippopotamus, cheetah, wildebeest, gorilla, giraffe, zebra, crocodile, hyenas, and more. One can also spot numerous varieties of birds like the ostrich, vultures, bustard, eagles, broadbill, sunbird, and more.