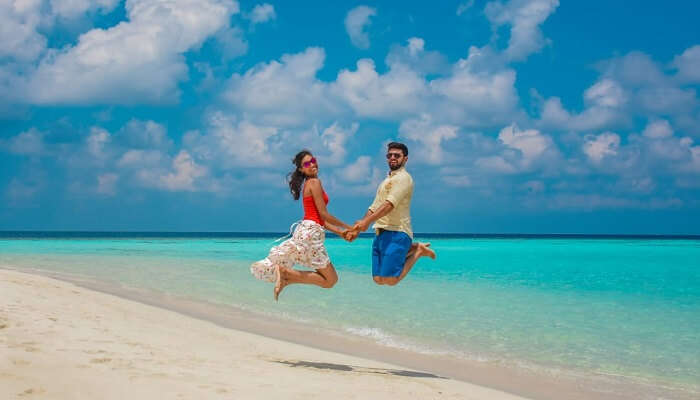 Synonymous with romance, Maldives has always managed to lure in those hopelessly in love with its gorgeous blend of turquoise blue and pearl white. Smitten by that very charm, Ankit booked himself and his wife a tailor-made 3 nights 4 days honeymoon trip to Maldives. And just as they had hoped, it was the perfect place to begin the new chapter of their love story! See what all they did to make it ultra-special right here.
It was our honeymoon and we wanted to visit a calm tropical destination to celebrate it. We mostly just wanted to relax and spend time with each other. We wanted a destination that would allow us our privacy. The Maldives, out of all other choices, appeared to be the perfect fit for whatever we wanted, and hence we picked this as our honeymoon destination and started planning our 3 days in Maldives.
Ankit's 3 days Honeymoon Trip To Maldives
Trip Type: Honeymoon
Trip Cost: INR 1,66,999/-
No. Of People: 2
Trip Duration: 3 Nights 4 Days
Inclusions: Breakfast, lunch, dinner, airport transfers, accommodation (overwater villa), guided snorkeling tour, honeymoon inclusions
Exclusions: Airfare, visa, travel insurance
Snorkeling In Maldives: Your Ultimate Guide To Explore The World Under Water In 2022
What Our Customised Honeymoon Trip To Maldives Looked Like
Day 1: Transfer to resort | Honeymoon decor in water villa with wine!
Day 2: Leisure time at villa | Swimming
Day 3: Beach walks | Photoshoot
How We Made The Most Of Our 3 Days In Maldives
Here are all the fabulous experiences that we had on our customized Maldives itinerary for 3 days for the honeymoon. Make sure you include these experiences in your too for a blissful and romantic holiday in this paradise!
The Overwater Villa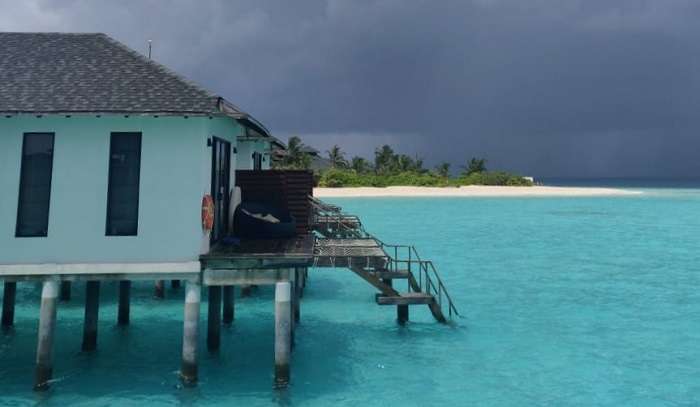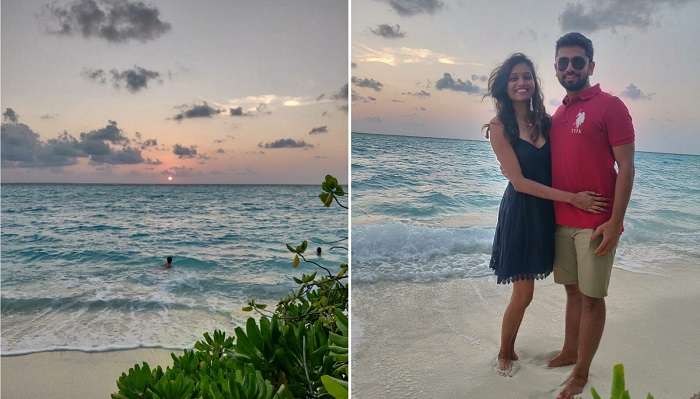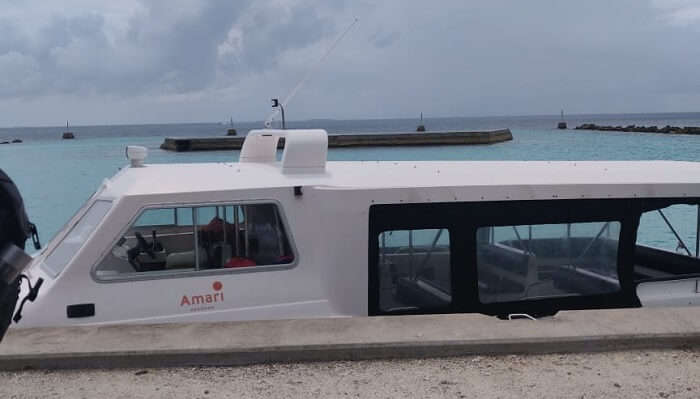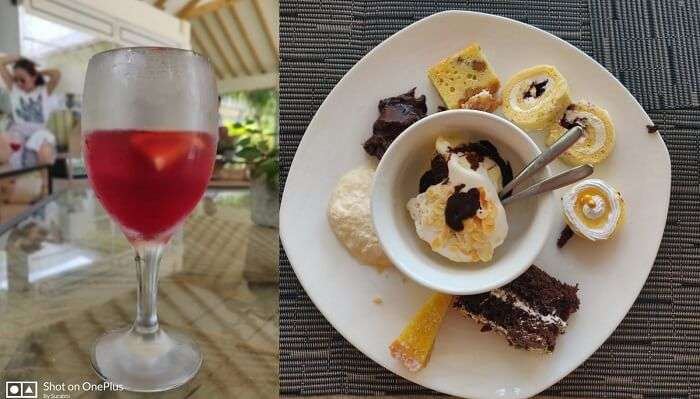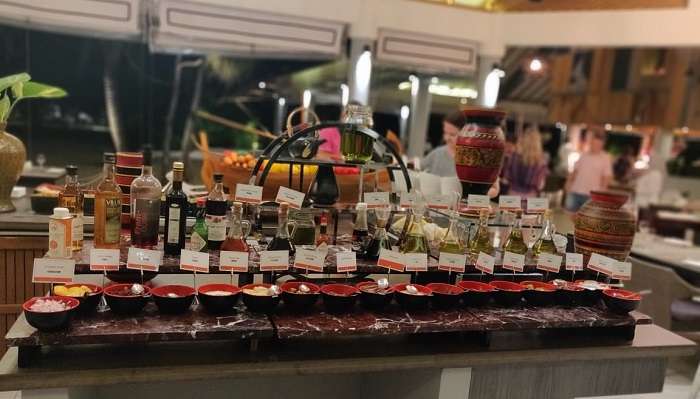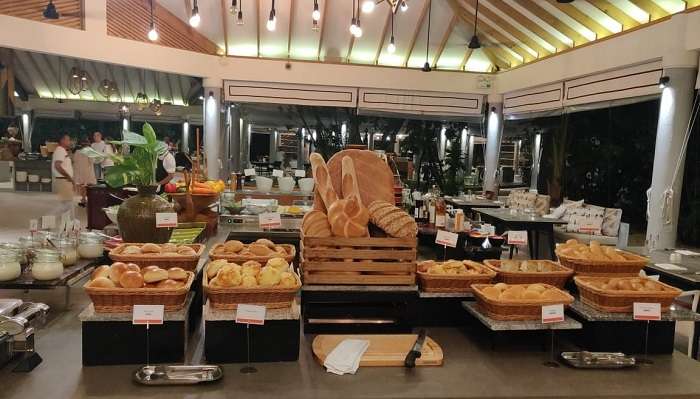 During our 3 days trip to Maldives we had stayed at the overwater villa of the Amari Havodda Resort in Maldives. The experience was out of this world! Our room opened to the wide ocean beyond it and you could either just sit back on the deck and enjoy the changing views of the skies, or jump right into the water! Even the bathroom was lavish with all possible amenities like a jacuzzi!
When we arrived for our 3 days in Maldives, we found the room had been decorated for us, which was the sweetest and most special thing for me and my wife!
Your Pocket Guide To Sultan Park In Maldives
The Photoshoot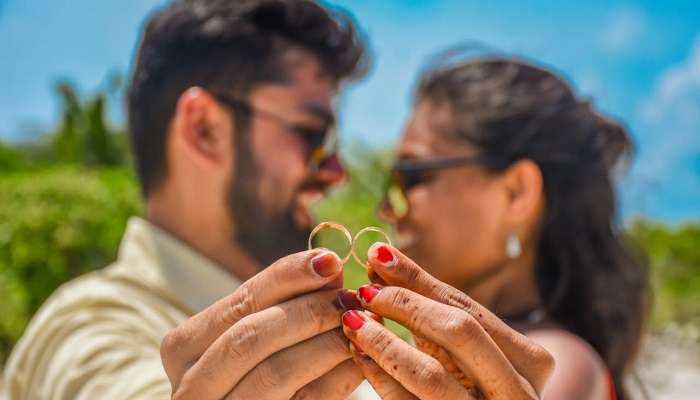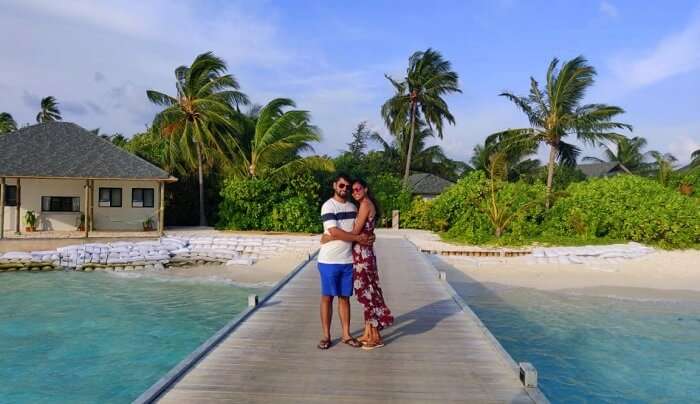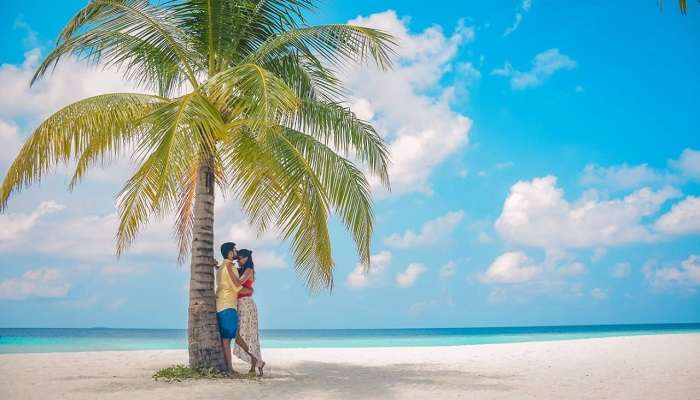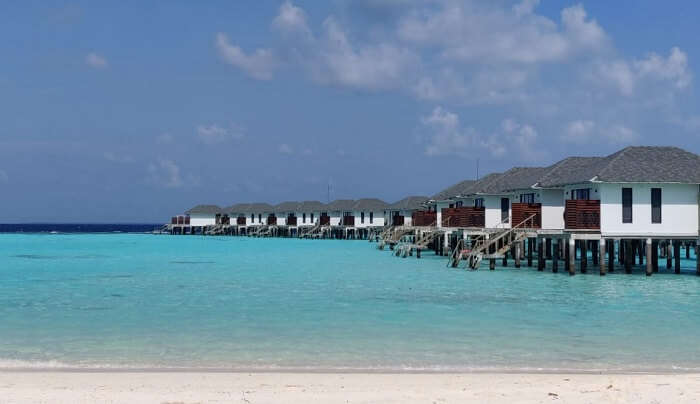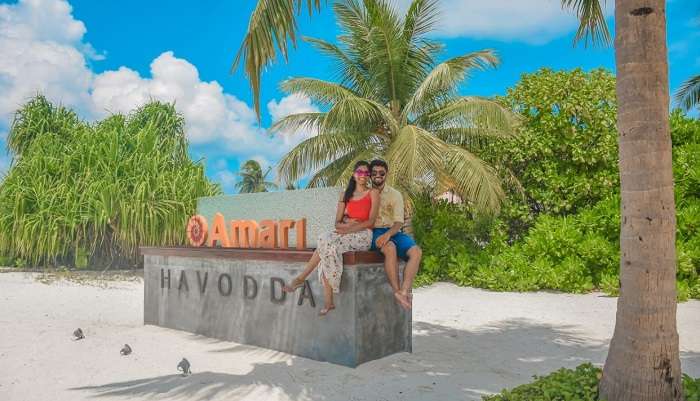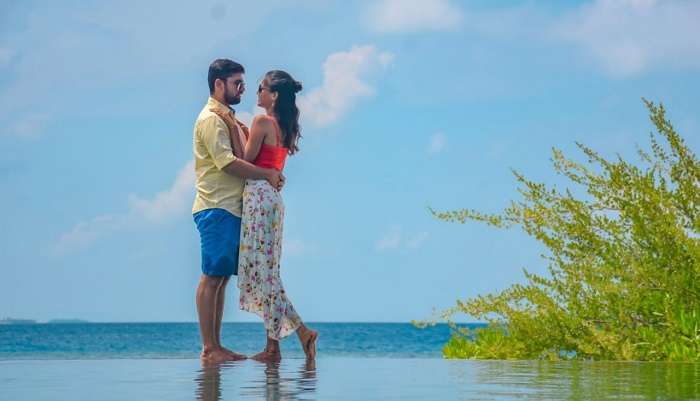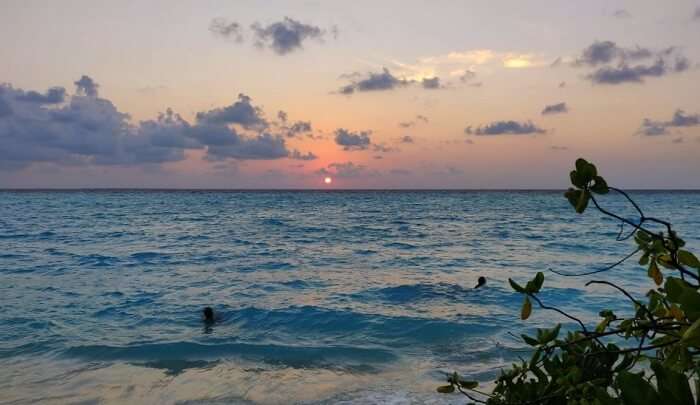 We also had a paid photoshoot there. Since we couldn't get time for a proper pre-wedding shoot before our wedding, this was one was utterly important to help us capture some memories of our wedding and honeymoon in pictures forever. And against that breathtaking, natural backdrop of the most beautiful beaches and ocean on the planet, it proved to be 10 times better than any pre-wedding shoot could ever be!
Our 3 days in Maldives is now etched in memories and on paper forever, in a manner of speaking! Imagine having your filmy romantic moments captured against a turquoise blue ocean and sparkling white sand rather than a studio, that too in HDR! Sounds lovely, doesn't it?
Island Hopping In Maldives: A Tryst With The Turquoise Waters
The Secluded Beaches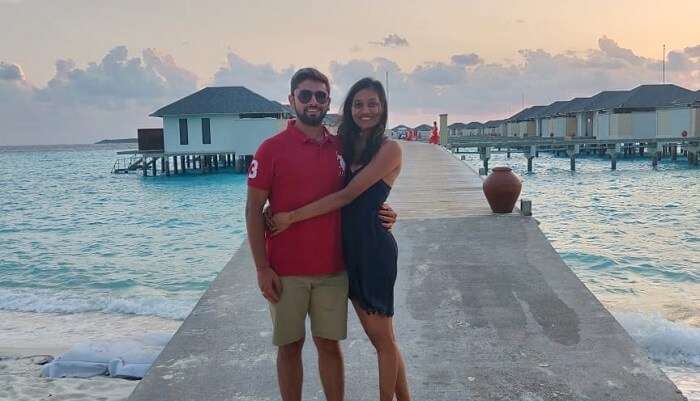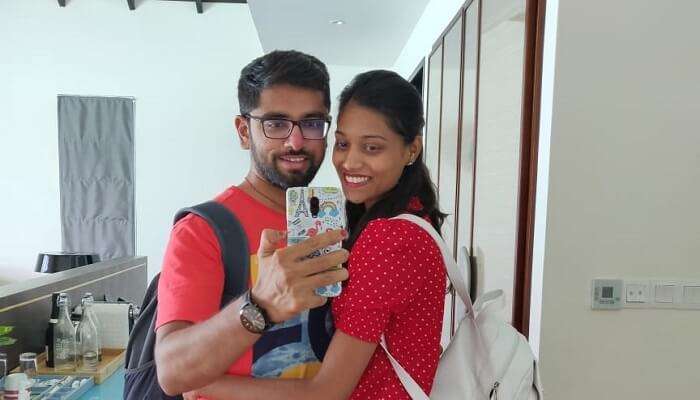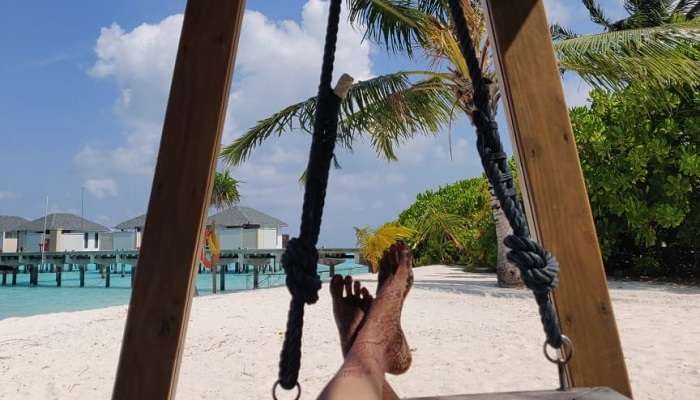 Unbelievably gorgeous is one thing, but the beaches of Maldives are also totally secluded. You won't find another soul in sight! It's exactly why it's the perfect place for a honeymoon where there's no one to disturb you and your partner for miles.
In addition to that, the Maldives weather in April was lovely! It was just the kind of weather honeymooners want on their trip. While we were strolling on the secluded beaches, it turned a little cloudy and started raining which just enhanced the beauty of the whole place, turning our walk more filmy and scenic!
6 Incredible Indian Restaurants In Maldives To Visit On Your Next Maldives Trip!
Snorkeling And / Or Scuba Diving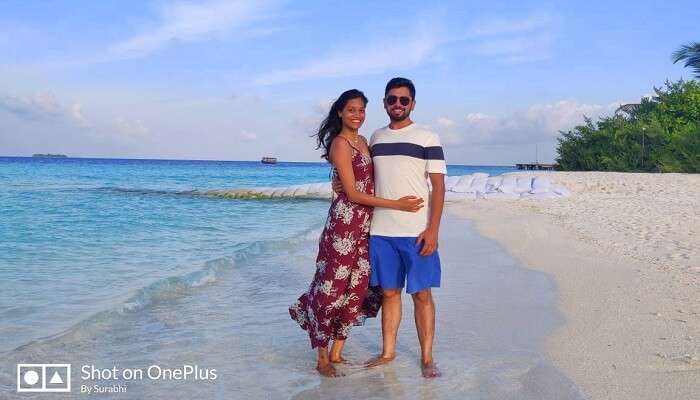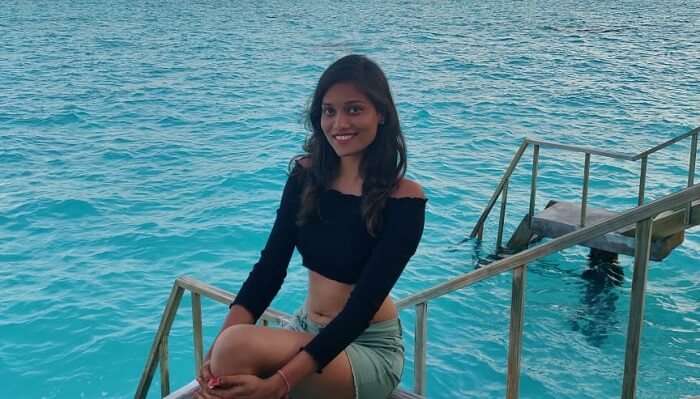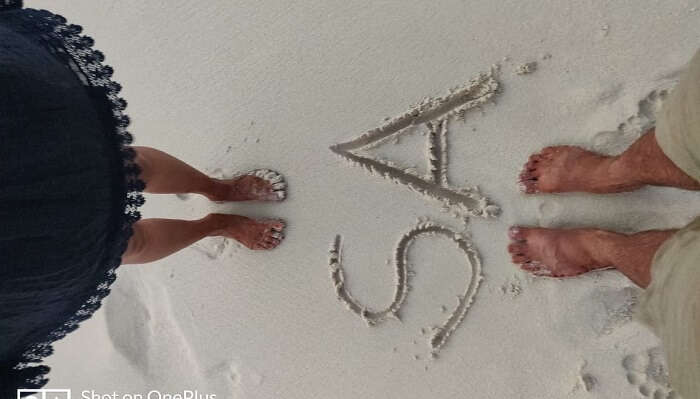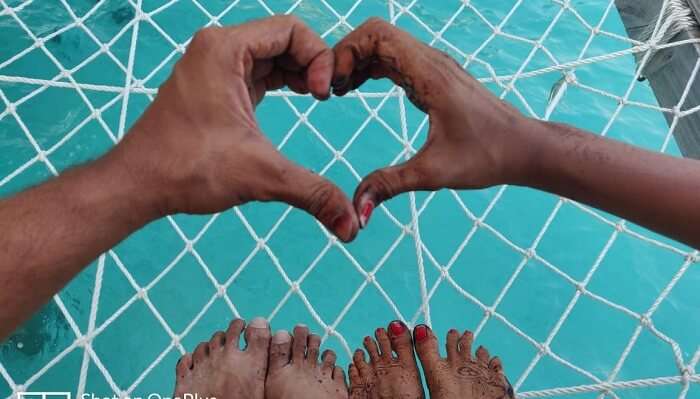 Our 3 days trip to the Maldives also consisted of Snorkeling. Though we couldn't really experience scuba diving and snorkeling in Maldives due to certain circumstances, we urge everyone else to not leave without trying it. It's an unmissable part of any Maldives trip, honeymoon or otherwise. Don't miss the chance to swim amidst the colorful, vibrant corals and marine creatures of the Indian Ocean here. And it's also among the best places for scuba diving and snorkeling since the water is crystal clear.
A Guide To Majeedhee Magu, The Dazzling Street Market Of Maldives
Why Couples Should Stay At Amari Havodda Maldives Resort
It's a huge and very impressive property. For starters, the hotel staff welcomes you warmly and makes sure of your comfort during your entire stay. The staff is super friendly and always smiling. The water villas were very well maintained and cleaned regularly. Other than the water villas, the resort has an in-house cafeteria, a boutique for buying gift items, a sunset facing bar, and also allows guests to indulge in watersports. The variety of menu in every meal was absolutely lavish and delicious, even for vegetarians. When they saw that I was struggling with the bread, they especially got me naan to eat with the veggies. And needless to mention, the view from our room was mesmerizing! We spent our 3 days in Maldives in the utmost peace and comfort.
Maldives Honeymoon: An Exquisite Guide For Your Romantic Escapade In 2022!
Some Maldives Tips For Travelers For A Hassle-Free Holiday
Carry a good sunscreen or you'll return with quite a tanned skin.
Remove all jewelry items before stepping into the water, even your rings.
Vegetarians are advised to carry munchies like dry fruits, plum cakes, biscuits, "khakra", "thepla", and "namkeen" in case you end up not liking the food in Maldives.
Opt for a packaged tour to enjoy a variety of experiences in a budget.
Stay at water villas in Maldives for an exceptional experience!
Our Honeymoon At Hurawalhi Maldives Was All About Underwater Dining & Romantic Sunsets
Our Experience With TravelTriangle
We cannot thank TravelTriangle enough for making our holiday experience so memorable and absolutely comfortable. They always kept us up to date with the process and made every bit of effort to ensure we had a hassle-free trip. This Maldives itinerary for 3 days was everything we hoped for.
Nitish's Romantic Story Of His Honeymoon Trip To Maldives Will Give You Major Goals
Common Queries We Had While Planning Our Holiday
We had quite a few doubts while we were planning our trip. Now that we're back, we would like to answer
them to help you book yours smoothly.
Which is the best month to visit Maldives?
Maldives is a year-round destination. However, it is still advised to visit it during the dry season, that is, from November to April. Out of these, December and January are the best months to visit the Maldives.
Why is Maldives famous for honeymoon?
This beautiful tropical destination offers endless romantic experiences to travelers. Couples can walk on those vast white shores overlooking the turquoise blue ocean, take a swim in the crystal clear water over bright corals, enjoy Maldivian hospitality, go scuba diving, and stay in lavish overwater villas, among other experiences. And the best, it's not crowded like other tropical destinations, which means couples and honeymooners can enjoy absolute privacy.
What is famous in Maldives for shopping?
The Maldives isn't exactly a shopping haven but one can surely buy souvenirs and mementos that will remind them of their beautiful Maldivian trip. One can head to places like the Male local market, Majeedhee Magu, Le Cute, STO Trade Centre, Island Bazaar, Centro Mall, Chaandhanee Magu, or the Nala Boutique for things like branded and local merchandise, apparels, souvenirs, and gift items.
What do people wear in the Maldives?
One is advised to wear light-colored cotton or linen clothes in the Maldives. Men can wear tailored shorts or lightweight pants with cotton t-shirts or short-sleeved shirts. Women can either wear the same (shorts and shirts) or may opt for summer dresses and skirts. For footwear, one should wear comfortable flip-flops so that it's easy to tread into the water and walk on the beach.
How many days are sufficient for Maldives?
Ideally, a duration of 5 days is enough to experience all that Maldives has to offer, including a stay in a beachside resort or water villa and indulging in activities like island hopping and scuba diving.
Baros Island Guide: Visit This Resort Island In Maldives In 2022
Whether it's 3 days in Maldives or more, this island paradise will never disappoint you and your amour! So, we hope we solved your dilemma on whether it's a good idea to pick Maldives for honeymoon. Now get to work and book yourself a wonderful holiday in the Maldives before all the good deals and discounts are gone! And don't forget to tell us all about your sweet escapade when you're back.