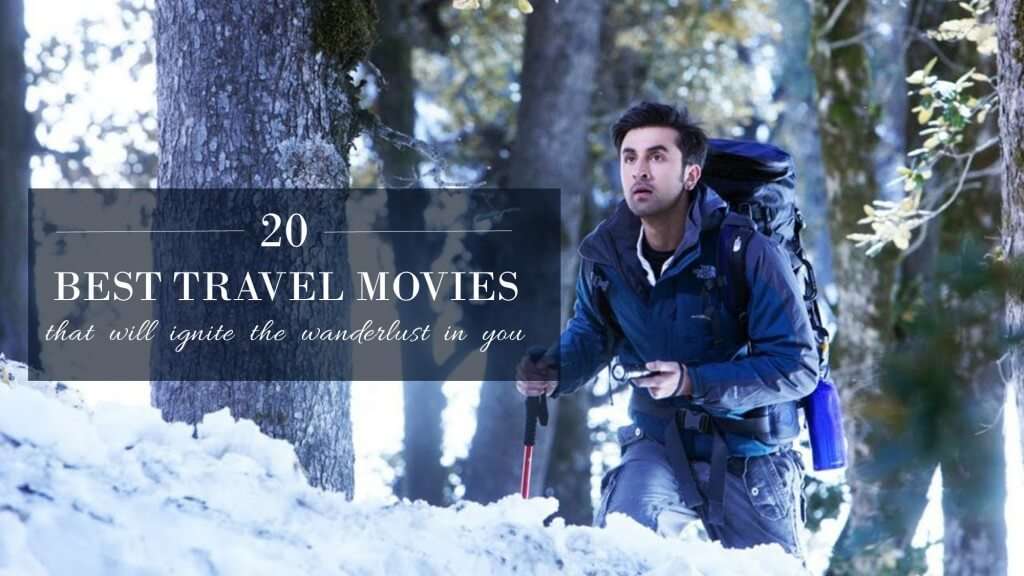 All it takes is a trigger to pull you out of your beds and inspire you to go, explore the world. And when it comes to travel based movies, you'll sure to be pumped to take a trip soon, very soon. From Goa trips inspired by Dil Chahta Hai and Manali dreams kindled by Yeh Jawaani Hai Deewani to the Euro trips inspirited by the insanely fun movie of the same name, travel movies have been boosting the travel industry for years now.
Here is a quick list of 20 best travel movies that are sure to ignite the wanderlust in you.
1. Into The Wild
Into the Wild is the true story of Christopher McCandless, who gave up his life savings for charity and hitchhiked to Alaska to live in the wilderness, soon after graduating from college. The story is about the troubles, adventures, and experiences that he faces while in the wilderness.
IMDB rating: 8.2
Cast: Emile Hirsch, Vince Vaughn, Catherine Keener, and Marcia Gay Harden
2. The Beach
The movie is about a young backpacker on a quest to find the ultimate paradise in Thailand. One day he wakes up to find a strange map to this paradise. The gorgeous backdrops of the tropical bliss definitely motivate the viewers to travel to Thailand.
IMDB rating: 6.6
Cast: Leonardo DiCaprio, Daniel York, Patcharawan Patarakijjanon, and Virginie Ledoyen
3. Euro Trip
Hooking up with strangers, jamming with the ManUtd fan club, dressing up as Pope, and fighting as robots – Scotty and his friends make the best of their memorable Euro trip. They leave no stone unturned to get Scotty to the love of his life.
IMDB rating: 6.6
Cast: Scott Mechlowicz, Jacob Pitts, Michelle Trachtenberg, and Travis Wester
4. The Motorcycle Diaries
The legendary movie dramatizes a motorcycle trip of Argentine Marxist revolutionary, Che Guevara. He took this trip while he was young and the journey gave him clarity on his life's path.
IMDB rating: 7.8
Cast: Gael García Bernal, Rodrigo De la Serna, Mía Maestro, and Mercedes Morán
5. Before Sunrise
A young American man and a French woman who meet on a train in Europe and end up spending an evening together in Vienna. The couple shares stories, jokes, and intimate moments, all surrounded by backlit buildings.
IMDB rating: 8.1
Cast: Ethan Hawke, Julie Delpy, Andrea Eckert, and Hanno Pöschl
Also Watch: Before Sunset and Before Midnight
6. The Art Of Travel
This might well be the original plot on which the National Film Award winner Queen was based. When the wedding plan of Conner Layne goes haywire, he goes for a solo honeymoon to Central America. He finds adventure with a ragtag group of foreigners, who attempt to cross the Darien Gap in record time.
IMDB rating: 6.4
Cast: Christopher Masterson, Brooke Burns, Johnny Messner, and James Duval
Suggested Read: Go Honeymooning Where The Celebrities Have Been To
7. Lost In Translation
An aging actor and a young woman befriend each other in a hotel in Tokyo. The two bond through their adventures in Tokyo. The differences in the Japanese and American cultures and their age differences is the cause of their confusion and hilarity in a strange city.
IMDB rating: 7.8
Cast: Bill Murray, Scarlett Johansson, Giovanni Ribisi, and Anna Faris
8. The Secret Life Of Walter Mitty
With his job and that of a co-worker under threat, Walter Mitty turns his fantasy into reality by embarking on a global adventurous journey that is much more extraordinary than he or anyone else could have ever imagined.
IMDB rating: 7.4
Cast: Ben Stiller, Kristen Wiig, and Jon Daly
9. Up
A Disney-Pixar animation, the film is centered on an elderly widower and a young wilderness explorer. The young explorer helps the widower to fulfill his dream to see the wilds of South America and to complete a promise made to his late wife, by tying balloons to his house.
IMDB rating: 8.3
Cast (Voiced By): Edward Asner, Jordan Nagai, and John Ratzenberger
10. The Way Back
Seven prisoners from different backgrounds attempt a near-impossible escape from a Siberian prison in winter. The escape involves a 4,500-mile trek from Siberia to India with little food and few supplies.
IMDB rating: 7.3
Cast: Jim Sturgess, Ed Harris, Colin Farrell, and Dragos Bucur
11. The Darjeeling Limited
The Darjeeling Limited is the story of three brothers who travel across India, one year after their father's funeral, in an attempt to bond with each other. Their crazy experiences together heal and rejuvenate them and put things into perspective eventually.
IMDB rating: 7.2
Cast: Owen Wilson, Adrien Brody, Jason Schwartzman, Amara Karan, and Irrfan Khan
12. The Best Exotic Marigold Hotel
A group of British retirees travel to India to take up residence in what they believe to be a newly restored hotel. Though the hotel is much less luxurious that advertised, it eventually charms them in unexpected ways.
IMDB rating: 7.3
Cast: Judi Dench, Bill Nighy, Maggie Smith, and Tom Wilkinson
13. Hit The Road: India
Hit the Road: India is a documentary about two friends from North America participating in a 12-day auto-rickshaw rally across the South-West India. The rally begins from Mumbai and concludes in Chennai.
IMDB rating: 7.7
Cast: Gor Baghdasaryan and Mushegh Baghdasaryan
Suggested Read: 8 Ways In Which 2015 Bollywood Movies Made Travel Trend On All Charts
14. A Map for Saturday
A Map for Saturday tracks the emotional arc of long-term travelers, solo travelers, and backpackers from four continents through their stories. It shows, inter alia, backpackers helping neglected Thai tsunami victims, empty Nepal guesthouses, and the ignored Brazilian stoplights.
IMDB rating: 8
Cast: Scott Erikson, Rebecca Filmer, Sabrina Hezinger, and Kate McNair
15. 180 degrees South
The movie covers the journey of Jeff Johnson as he travels from Ventura (California) to Patagonia (Chile) retracing the 1968 journey of Yvon and Doug. Johnson, after talking to Yvon and Doug and after seeing the footage of their expedition, made it his goal to climb the Corcovado Volcano in Patagonia.
IMDB rating: 7.7
Cast: Yvon Chouinard, Doug Tompkins, and Keith Malloy
16. Dilwale Dulhaniya Le Jayeinge
A young man and a woman, both of Indian descent but raised in Britain, fall in love during a trip to Switzerland. Though the second half focuses on how the guy tries to win over the girl's family, the journey across Europe (particularly Switzerland) in the first half is what inspired romantic trips to Switzerland over the last two decades.
IMDB rating: 8.3
Cast: Shah Rukh Khan, Kajol, Anupam Kher, and Amrish Puri
17. Dil Chahta Hai
Though the movie is about three college friends and their wildly different approaches to relationships, the Mumbai – Goa road journey and the title track made this road trip very popular among college students.
IMDB rating: 8.2
Cast: Aamir Khan, Saif Ali Khan, Akshaye Khanna, and Preity Zinta
18. Zindagi Na Milegi Dobara
ZNMD is about a bachelors' trip that three friends had promised to go on, should anyone be engaged. The trip repairs broken relationships, makes new ones, and includes the three adventures in Spain – skydiving, scuba diving, and the bull race – and the La Tomatina festival.
IMDB rating: 8.1
Cast: Katrina Kaif, Hrithik Roshan, Farhan Akhtar, Abhay Deol, and Kalki Koechlin
19. Yeh Jawaani Hai Deewani
Four erstwhile school friends meet on a trip to Manali. The journey, set in the picturesque backdrops of Himalayas (originally filmed at Gulmarg), brings them close. They meet again for Aditi's (Kalki) wedding and it is here that Naina (Deepika) and Bunny (Ranbir) fall in love. The Manali trip and the later life of Bunny as a cameraman for a travel show motivate one to travel across the globe.
IMDB rating: 6.8
Cast: Ranbir Kapoor, Deepika Padukone, Aditya Roy Kapoor, and Kalki Koechlin
20. Highway
The story is about a young woman, who is abducted a day before her wedding for ransom. As days pass, she begins to develop a strange bond with the kidnapper. Scenes from the road along the highways of Delhi, Rajasthan, Haryana, Punjab, and Himachal, and the picturesque views of Singla Valley in Himachal and Aru Valley near Pahalgam in Kashmir inspire the viewers to embark upon trips to these locations.
IMDB rating: 7.6
Cast: Alia Bhatt, Randeep Hooda, and Durgesh Kumar
With these 20 best travel movies you are sure to get inspired to pack your bags for the next journey. Let us know which is your favorite!

Disclaimer: These movies are based on personal preference alone. Let us know if you believe another important travel based film needs a mention in the blog.
Further Read: 10 holiday destinations to cheat from Movies