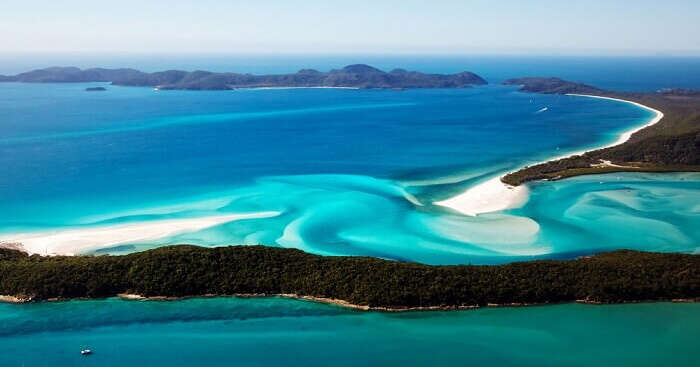 Often considered as the 'World Down Under', Australia surely has to be one of the most challenging places to live in. Despite that, there are tons of tourist places in Australia which attract millions of tourists every year. Everything about the places to visit in Australia is different, from rough terrains, to venomous wild animals, and harsh conditions.
TravelTriangle looks at some of the best places for sightseeing in Australia that are good for sightseeing and quenching an ever increasing wanderlust.
1. Blue Mountains Tour near Sydney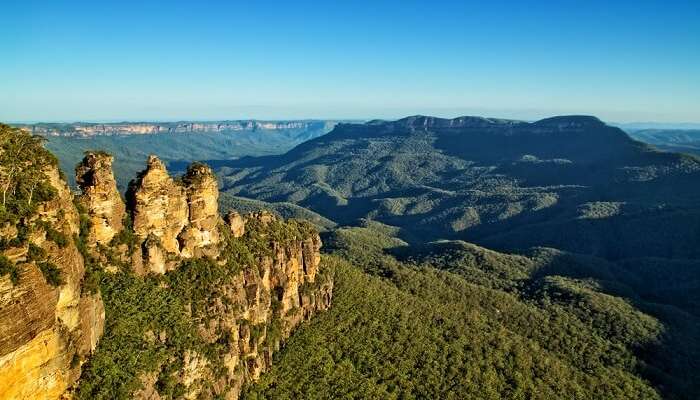 A mountainous region located in the New South Wales province of Australia, Blue Mountain range derives it's name from the distinct blue feeling it draws when looked at from a distance. A beautiful mountain range that lies 50kms from Sydney.
One of the places to visit in Australia if you wish to explore outside the big city, but with far more greenery and peace. Tourists visiting Blue Mountains on a day trip, often give in to their temptation of staying at a resort for an extra day or two. One of the popular weekend getaways for Aussies, be sure to visit the surreal landscape of Blue Mountains.
Don't Miss: Make sure you visit the Blue Mountains Yulefest. A party that happens all year round where you could have a lovely Christmas dinner, or occasional snowfall in winters.
2. Penguin spotting at Phillip Island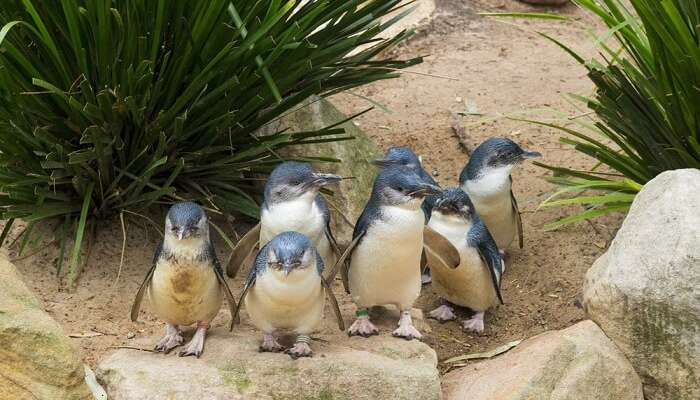 Australia being close to the Antarctic Circle, has its own advantages. A lot of penguins arrive at Phillip Island every night of the year at sunset. It is generally one of the places in Australia which, to this day, remains unexplored.
Although photography is strictly prohibited at the Penguin Parade, visitors can adopt a Penguin by paying for its protection and growth.
Timings: 9 am to 5 pm.
How to get there: 90 minute drive from Melbourne.
Don't Miss: For people who love the occassion need for speed, the Phillip Island Grand Prix circuit is a good place to do some go-karting.
3. Otway National Park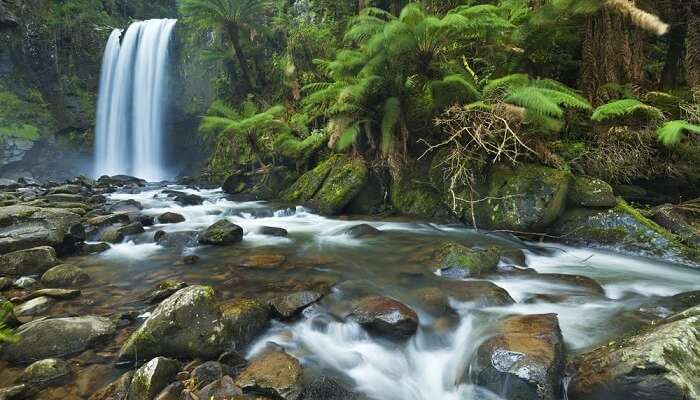 Suggested Read: Top 15 Things To Do In Australia: Scuba, Skydiving, & More
A famous national park located 162 km South-west of Melbourne, the Great Otway National Park is famous for its varied vegetation and numerous bird species. With a wide variety of places to visit in Australia covered in the park like Otway Waterfalls, spotting Koala Bears, Cape Otway Lighthouse, and Rainforest exploration by walk.
Don't Miss: Triplet Falls is one of the most scenic waterfalls in Australia. It's isolated location ensures that its serenity and special ambiance is till date maintained.
4. Great Ocean Road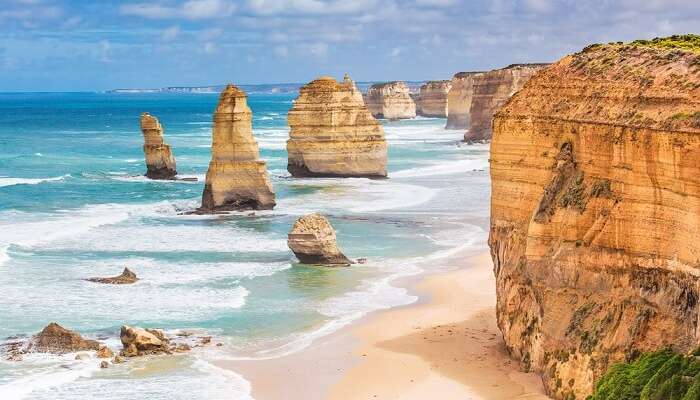 A scenic heritage drive on the south-eastern coast of Australia. The great ocean road proves to be a scenic privilege for those who love their time on the road.
The Great Ocean Road provides one of the best tourist places in Australia. Enroute you will encounter the unique natural wonder of the limestone rocks called Twelve Apostles. A 244 km road that drags along the Surf Coast and Cape Otway that will prove to be a memorable experience.
Don't Miss: Don't forget to take your cameras along as you hit the coastal road witnessing the twelve apostles. You might wanna click a few pictures and take them home, for sightseeing in Australia doesn't get any better than this.
5. Sydney City Tour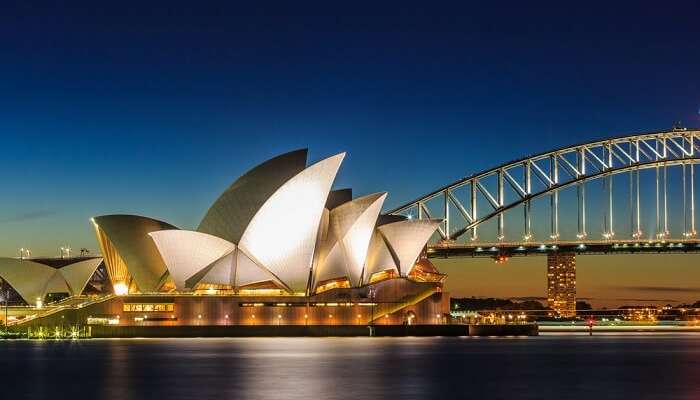 One of the most iconic places to visit in Australia, Sydney is a vibrant multicultural melting pot of the world. Blessed with fabulous architecture, iconic buildings and a rich culinary tradition, Sydney certainly is a tourist magnet.
The city is famous for monuments like the Opera House, Sydney Tower Eye, Madame Tussauds, and Sydney Harbor Bridge. Of all the urban tourist places in Australia, Sydney ranks right at the top.
Don't Miss: Seeing the beauty and cultural significance, it's natural for Bondi Beach to get all the attention. But, if you're looking for a quieter, more golden beach then Manly Beach is just the place.
6. Bondi Beach, Sydney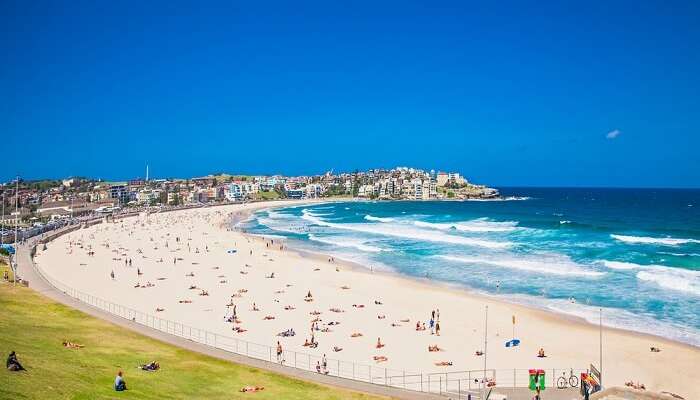 A perfect combination of Sun, surf, and sand; Bondi Beach is one of the most iconic places to see in Australia. Bondi Beach has a huge cultural significance and influence in sport. A quick escape 7 km from Sydney from the hustle and bustle of city life, Bondi Beach has become a stress reliever for the locals.
Bondi stretches for 1.1 km and the suburbs along the coastline houses famous Australian celebrities. A long term favorite of surfing backpackers from all around the globe, Bondi has eventually evolved into a big attraction for tourists of all spheres.
Don't Miss: Romantics must not miss the charming Bondi-Bronte 2.5km walk along the beach, which is also the most walked path in Sydney.
7. Great Barrier Reef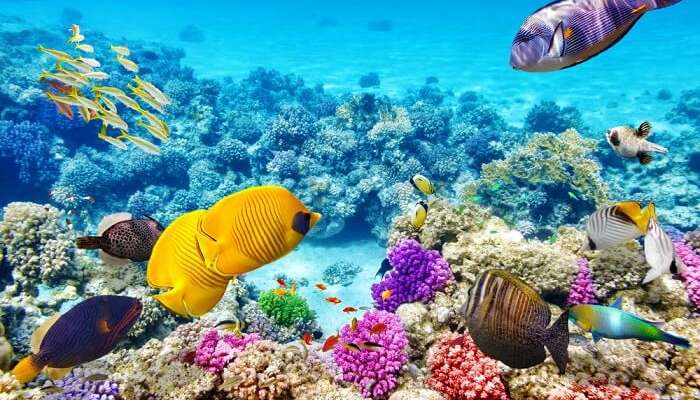 Stretching over a massive space of 2300 kilometres, the Great Barrier Reef is the world's largest coral reef system. For people who've been constantly enthusiastic in exploring marine life, Great Barrier Reef is one of the top places to visit in Australia.
There are a lot of cruises, tours and packages that specifically cater to people who want to see the magnificent coral collection. A tourist can start their tour from multiple points in the province of Queensland in Australia via helicopter, flight, boat, and cruise.
Best time to visit: June to November is generally the best time to visit as it is a dry season in the Northern region of Queensland
Don't Miss: To take a breathtaking view of the coral reefs. GBR Helicopters offers scenic flights from Cairns and Port Douglas.
8. Uluru (Ayers Rock)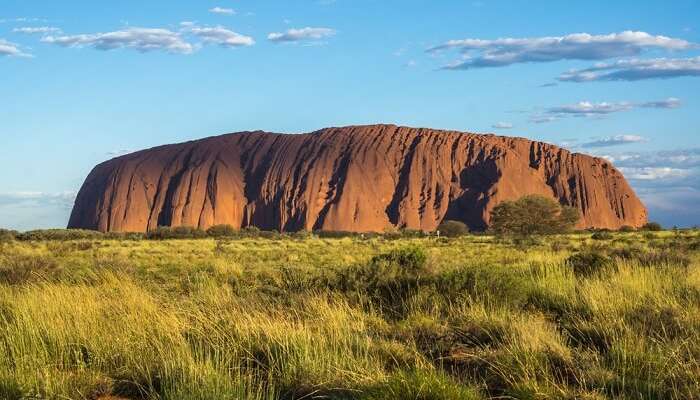 Suggested Read: Australia Through 20 Breathtaking Pictures
Uluru is an iconic and huge iconic sandstone rock formation smack in the middle of Australia which is also a UNESCO World Heritage site. It often becomes a challenge to arrive at Uluru which 335 km west of the nearest town, Alice Springs.
Uluru Rock is inside the Uluru-Kata Tjuta National Park, where there are often tours conducted for camping underneath the crystal clear night sky for some star gazing. However, being in a remote location gives in room for a lot of difficulties that tourist might face.
Things to note while visiting Uluru :
Tourists must keep themselves hydrated at all times as the weather can often get searingly hot.
Being in a remote location means, a car breakdown can go unattended for days.
Don't Miss: Watch the sunset over Uluru (Ayer's Rock) as the last rays hit the rock turning it completely orange.
9. Fraser Island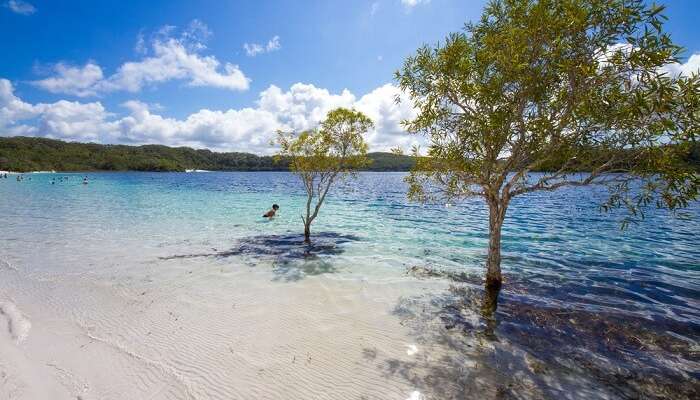 One of the most intriguing places to visit in Australia is the world's largest sand island. Located off the North-east coast of Queensland, Fraser Island is known for its serene white sandy beaches, untouched lakes, and sandy pinnacle hills.
Home to the unique dog breed called Dingoes; a close cross between dogs and wolves. The island provides yet another insight into why the wildlife in Australia is the most unique around the world.
Best time to visit: Whale watching from July to November, Bird watching from August to March, and fishing from July to October.
Don't Miss: Take a four-wheel drive to the famous Seventy-five Mile Beach and indulge in some fishing.
10. Kangaroos at Murramarang National Park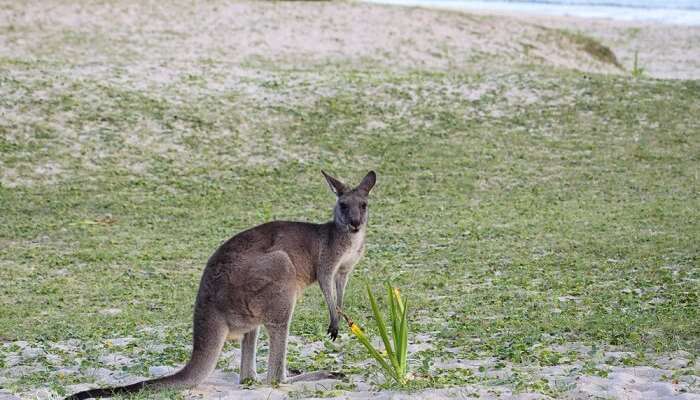 How can a visit to Australia be complete without a visit to see Kangaroos. At all the top tourist places in Australia, there is a constant need for travelers to see the hopping jitterbugs from Down Under. Situated 206 kms south of Sydney, Murramarang National Park offers a rare chance at seeing the Kangaroos on scenic locations in their natural habitat.
It is a famous park for recreational school trips which include hiking, trekking, and other adventure activities.
Don't Miss: Visit the Treasures from the Deep Opal and Shell Museum which has a wide collection of fossils, shells, and rare artefacts millions of years old.
Travel dreams come true with a vacation to Australia! Book your package to Australia and witness the best of nature and lifestyle!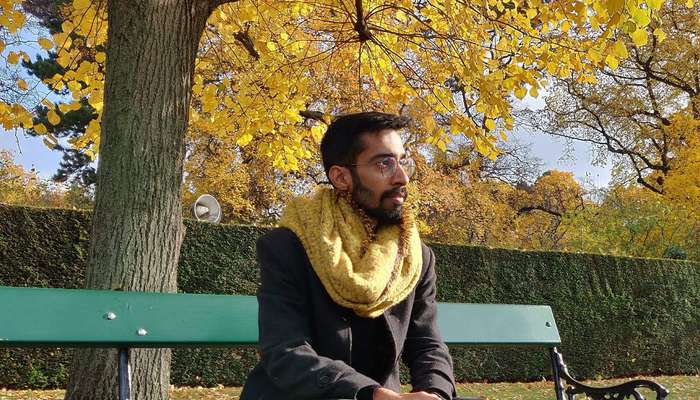 Comments
comments