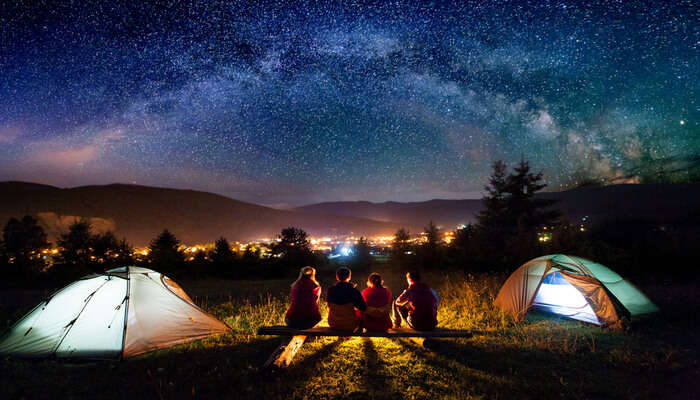 Are you frustrated with the hectic schedule of your job? If yes, then camping can be the best way to refresh yourself. In simple words, camping is an outdoor activity that provides overnight stays you're your home in a tent in a remote or hilly areas. Nowadays people prefer remote areas for experiencing the perks of camping. It also provides enjoyment to people, which increases the popularity of camping as well as those places which are remote. Bhandardara is a perfect spot for camping. It is more of a holiday resort village. It is near igatpuri which is in the western ghats of India. So, if you plan to go for Bhandardara camping then make sure to not miss out on the chance of experiencing the most adventurous time of your life.
About Bhandardara Camping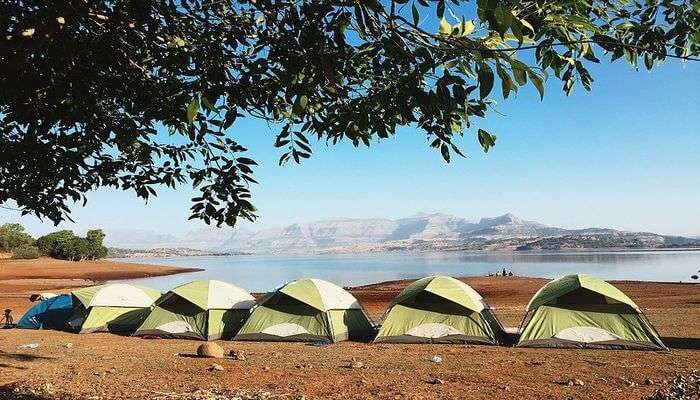 Camping is one of the most popular adventure sports nowadays. As Bhandardara is surrounded by greenery and wildlife it attracts the people very much. There are numerous attractions that one can witness during Bhandardara camping such as a serene lake, hills, waterfalls, forts, dam, and valleys. These are ideal sites for camping which provides a refreshing experience.
The campground will be at Bhandardara which is in the insides of Maharashtra and probably the darkest spot in the state. The bhandardara camping are one of its types as it provides various visual of scenic beauty. It has a minimal measure of light contamination you will observe the darkest night sky. You can also see the Milky Way with their naked eyes and recognize various stars and cosmic systems that are never unmistakable from the city.
For all astrophotography sweethearts, we'll be taking some executioner star-trails and Milky Way pictures. It's going to be a treat for your focal points. Or on the other hand, if you get worn out, you may chill in one of the open tents and submerge yourself under the sky loaded up with infinite stars.
Must Read: 6 Best Places For Water Sports In Maharashtra You Must Experience
Best Time To Go For Bhandardara Camping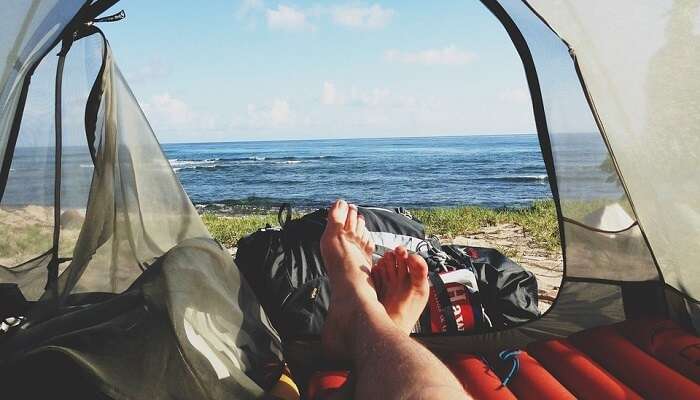 The best time to go camping in Bhandardara actually depends on the traveler himself. Bhandardara is the location that witnesses a tremendous increase in the footfall of travelers. The clear day, bright rays of sunshine falling on the trees, and the shadows created by canopies of towering trees is something that acts as a magnet for many travelers. However, the rising temperatures can turn out to be a massive hindrance in the plan. Moreover, summer brings in the dry season for waterfalls which further makes the experience less exciting.
The most ideal time to go for best camping in Bhandardara experience is during the winter season. It is during this season that one can witness nature at its best conditions. Misty tiara forming above the head, playing with the tips of towering trees, pleasant temperature at all times, and the chilly winds breezing through the atmosphere makes winter season heavenly. Those who wish to seek the surrounding waterfalls at their full should try camping during the monsoon season. This is when the falls are gushing and full. Hence, the ideal months that are best to try out camping in Bhandardara are from June and goes on till March. Make sure you carry all the essentials with you depending on the season you choose to try this wonderful adventure.
What Is Special About Bhandardara Camping

There are various memorable and characteristic spots of enthusiasm close to the bhandardara. While on their Bhandardara camping excursion, guests can move up to see the Ratangad and Harishchandragad posts. Or then again, guests can pursue the trails that lead to Ajoba and Ghanchakkar tops. The most elevated top in Maharashtra, Mount Kalsubai is 1646 m. The beginning stage for this trek is Bari Town, found 12 km away from Bhandardara. On, there is a little sanctuary situated at the summit, with perspectives on Sahyadris and Bhandardara. The hardest trio-posts in Sahyadri. A very thin Sandhan valley is on the Western side of the dam. It is one of the best spots for camping in Bhandardara, Maharashtra.
These are a portion of the accompanying attractions which are best for visiting while at the same time outdoors in bhandardara.
Bhandardara is home to Mount Kalsubai, the most noteworthy pinnacle (5,400 ft or 1,600 m) in Maharashtra.
Another vacation destination is the Wilson Dam on the Pravara Stream, which was worked in 1910. There is a generous increase in water level in stormy season at Wilson Dam.
The Umbrella Falls likewise draw guests, even though it very well may be seen uniquely during the rainstorm between July and October.
About 10 km away from Shendi Town is the Randha waterfalls.
The Ratangad fortification is around 22 km from Shendi/Bhandardara and is associated with both roadway, and ship over Lake Arthur. Bhandardara has various trekking and climbing courses, including a little trek to Ratangad post, which is come over a little lake close to the town Ratanwadi. Ratanwadi is known for its boat rides. Ratangad is a fortification arranged at the edge of ghats with various water reservoirs. It likewise directions sees all around and is said to be the most loved fortress of the Maratha ruler Shivaji.
On the Kalsubai side, at the furthest end of a 22 km roadway crosswise over woods and innate towns, is Konkankada from where there are perspectives on the fields. Harishchandragad is another close-by mountain climbing spot with old sanctuaries on top.
Suggested Read: 22 Absolutely Breathtaking Places To Visit In Monsoon In Maharashtra
Itinerary For Bhandardara Camping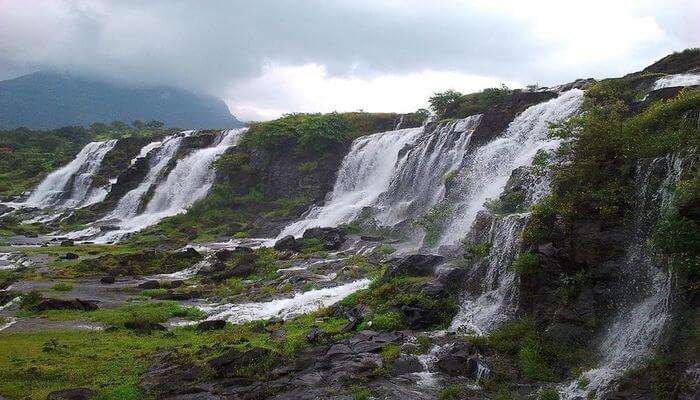 As for camping, you can schedule a plan as per the spots, but for one specific place, one night of camping is ample. You can also opt for self camping in bhandardara. Also, this experience can come at the nominal price of camping in bhandardara. This itinerary is for one night camp stay.
Day 1
Arrival at Bhandardara Campground and enjoy Bonfire
To start the experience, you should land alone at the Bhandardara campground by 5 PM.
You will be dispensed your camps post which you can take some recreation time and investigate the timberland zone around the
Bhandardara lake campground.
Return to Bhandardara camps to appreciate the campfire session with narrating, singing, and moving.
This will be trailed by a delightful supper.
Overnight at camps.
Day 2
Wake up to the lofty perspective on the lake and dawn toward the beginning of the day and get spruced up. 
After breakfast the next morning, you will settle up with the camps to bring the experience of the outdoors at Bhandardara to an end.
You can do camping on different sites. Some of the major and popular camping sites near those. Some of these are waterfalls and in the forest which can be reached through trekking or exploration. With the camping experience, you can get different recreational activities experience. Some of the attractive and mesmerizing spots for camping exploration are as follows:
Sandhan Valley
Ghatghar Kokankada
Randha Waterfall Visit during monsoon
Umbrella Waterfall Visit during monsoon
Amruteshwar Temple Ratanwadi
Backwaters around Samrad Village
Kalsubai
Ratangad Fort
Bahuli Dam
Bhavli Waterfall during monsoon
Some of the places in these are most suitable for Bhandardara camping in monsoon. While some are more preferable for camping in bhandardara at night.
Suggested Read: Top 10 Restaurants In Maharashtra For Tasting The Best Foods Of This Indian State
Location For Bhandardara Camping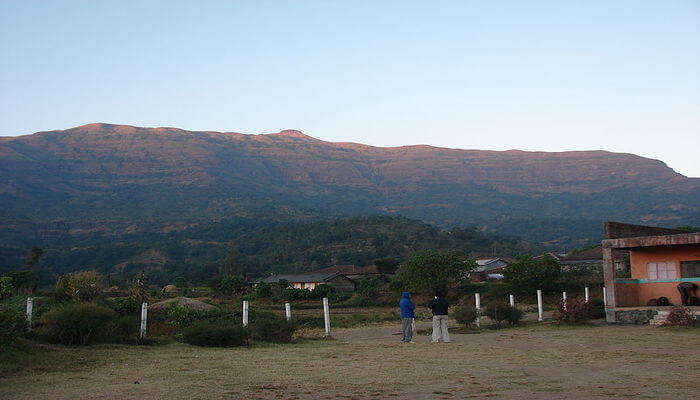 This hilly village is situated in the state of Maharashtra. It comes under the taluka of Akole. The actual location of this holiday village is located on the western coast of Ahmednagar. The nearest town to this beautiful region is Akole. The distance between Akole and this village is just 45kms.The location is not so remote, but till now this location is preferable for these recreational activities. Till now there has been not much changed in the green ambiance of this region.
Suggested Read: 35 Places To Visit In Mahabaleshwar For A Refreshing Maharashtra Trip
Operators For Bhandardara Camping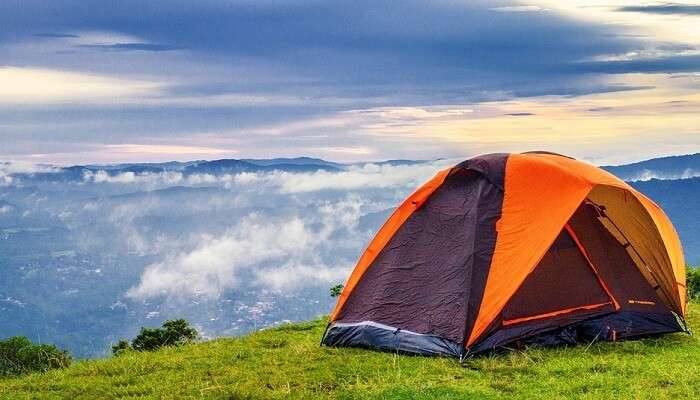 Here is a list of all the top and well-renowned operators that one can book their camping trips with. These operators take care of all the hassles for you. 
99Hikers.com, Thane 
Location: Florence House A Wing /41 Padwal Nagar Wagle Estate Thane 400604
Average Cost: INR 1500 onwards
Services: Adventure tours, lakeside camping, water sports, boating

CampinGear, Ghansoli
Location: 63, Yeshwant Society, behind Divine Hospital, Sector 6, Ghansoli, Navi Mumbai, Maharashtra 400701
Average Cost: INR 2000 onwards
Services: Camping with complete gears, bird watching, pilgrimages
Bhandardara Village Camping
Location: Ahmednagar, Maharashtra 422604
Average Cost: INR 3000 onwards
Services: Camping, bonfire, meals 
Bhandardara Campers
Location: Bhandardara dam 422604
Average Cost: INR 2000 onwards
Services: Camping with complete gear, meals
How To Reach Bhandardara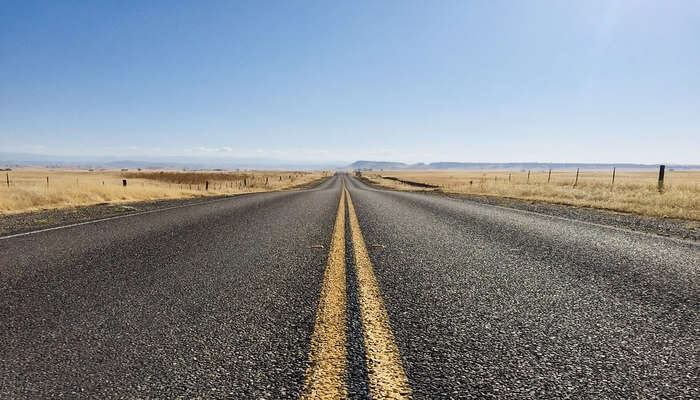 We are explaining here the approaches to reach Bhandardara according to the transportation promotion likewise from the key urban communities of Maharashtra. Those are as per the following:
Bhandardara is all around associated with different pieces of Maharashtra by streets.
By Air: The closest air terminal is in Nashik around 90 km.
By Rail:  The closest railroad station is Igatpuri which is 45 km from Bhandardara. Igatpuri is arranged on the Mumbai-Nashik rail course. From Igatpuri, you can take state transport administration or private taxi to reach Bhandardara.
By Road: Bhandardara is effectively available from all pieces of Maharashtra by the street. State roadway 44 goes through this village.
Below mentioned are some of the significant urban areas from where the Bhandardara course map is given.
Mumbai: On the off chance that you are originating from Mumbai, on national interstate 3 (NH# 3), you need to take a right turn in the wake of passing the Ghoti toll post. The good ways from Ghoti to Bhandardara are around 30 km and the street has mellow bends and curves. You and your neighborhood train as well. Get off at Kasara station from the farsighted railroad. There are various beats accessible to take you Bhandardara lakeside camp, it generally takes around 3 hours.
Nashik: From Nashik, take NH# 3 towards south up to Ghoti and take left. From here proceed on Ghoti-Bhandardara Street for around 23 km and afterward take a slight left onto SH# 44 and you will reach Bhandardara.
Sangamner: From Sangamner, it is around 63 km towards west on the SH# 44.
Pune: From Pune, Bhandardara is around 175 km. You have to take Pune-Nashik Street (NH# 50) up to Ghargaon. From Ghargaon, take left on the SH# 21 and keep driving up to Bhandardara. At Kotul, SH# 21 turns marginally left and becomes SH# 44 which takes you to Bhandardara.
Suggested Read: The Staircase Waterfall In Maharashtra: A Hidden Gem That We Bet You'd Love To Explore!
Do's And Don'ts For Bhandardara Camping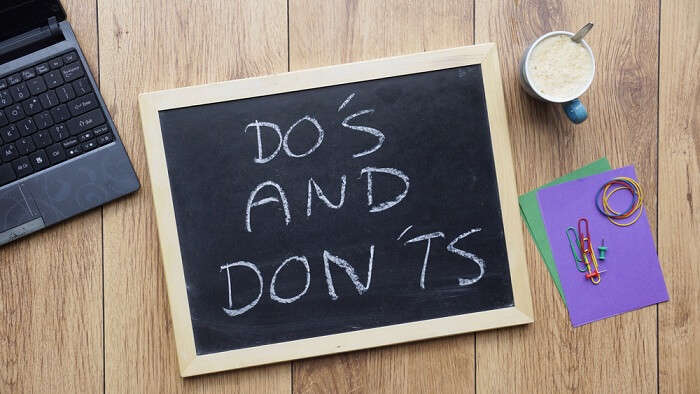 Here is a list of all the tips that will surely come handy when you are on your excursion of camping in Bhandardara. 
Carry some dry fruits/dry snacks/energy bars. These come handy and fulfill all the needs while occupying less space.
You should carry some of the energy drinks, which provide a lot of support to your eating and drinking habits.
You should carry a good and durable torch with an extra battery. It will help in any of the camping ambiguities as in camping you have to spend a whole night under the sky.
You should carry a substantial capacity backpack minimum of 20 to 30 liters.
You should carry your first aid and medicine. It will help a lot. Do not carelessly ignore them. These are the vital things that save you from any unintended possibilities.
You should carry a sun cap and sunscreen.
You should carry your identity proof as it is mandatory for some unusual checking or approval.
You should prefer to wear full sleeves and full track pant which saves you from insects, thorns, and prickles.
Rains are expected you should pack your bags by considering the possibilities of rain. You should double pack your valuables and phones in portable waterproof bags.
If you don't want to get wet at all then you should carry your rainwear.
Do not ever try to be on your own as the place of camping is not familiar. Prevent going outside or in the forest in the dark.
Do not wander on your own if you are camping with a group.
Further Read: The New Fossil Park To Open In Maharashtra Will Help You Relive Your 'Jurassic Park' Memories!
Bhandardara is a place where you can get a refreshing experience amidst nature. It rejuvenates your mind and soothes your soul. Get ready for a soothing experience while spending some time away from home when going for Bhandardara camping. So, now when you plan to visit Maharashtra make sure to go for an exotic camping experience away from the city life.
Disclaimer: TravelTriangle claims no credit for images featured on our blog site unless otherwise noted. All visual content is copyrighted to its respectful owners. We try to link back to original sources whenever possible. If you own the rights to any of the images, and do not wish them to appear on TravelTriangle, please contact us and they will be promptly removed. We believe in providing proper attribution to the original author, artist or photographer.
Please Note: Any information published by TravelTriangle in any form of content is not intended to be a substitute for any kind of medical advice, and one must not take any action before consulting a professional medical expert of their own choice.
Frequently Asked Questions About Bhandardara Camping
Is camping in Bhandarkar safe for females and children?
Yes, Bhandarkar is safe for females and children. Most people plan for family camping and you can also plan with your companion.
Do we need a medical check-up before the camping trip?
There is nothing specific medical check-up required, but to acquire prevention you should prefer normal check-up which will give you a heads up. Taking your medicine is mandatory.
Do the village people are cooperative?
Yes, the villagers are very cooperative. Even some of them provide camping sites as well as other camping equipment on a chargeable basis.
What is the financial estimate for a camping trip in Bhandarkar?
If you are residing in Maharashtra or a neighboring state, then it is just a mere amount, but if you are from far then you can expect a small hole in your pocket as it includes the fare and other expenses.
Can we take our vehicles in the camping area?
Yes, you can several camping organizers provide the camping site and all the essentials, but you have to hire or rent or commute through own vehicle.
Is there any specific camping service provider who takes care of all the essentials in Bhandarkar?
Yes, there is numerous camping service provider who takes care of every essential related to camping.
What safety precautions should we take while on the trip itself?
You should research a bit and get familiar with the spots. Keep emergency contact with yourself always on which you can rely on. There are several other precautions which are quite simple.
Are there any sightseeing options available in Bhandarkar?
There are lots of dams and waterfalls situated in Bhandarkar. In addition to that, the scenic beauty is mesmerizing.
People Also Read: