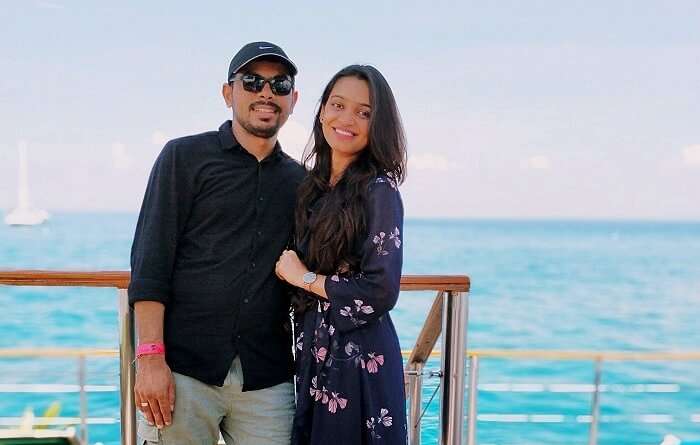 For most of the people, traveling is all about exploring the world and its beauty, but for us it is the freedom of living one's life to the fullest, each & every day. Going to new places helps us in gaining new experiences, and inspires us to push our limits. To be able to step out of our comfort zone and discover a new side of the world is a great feeling, and we want to cherish it for lifelong.
So luckily, since both of us share the same love for travel, when it came to picking a destination for our honeymoon, we finalized Bali as it had just the right kind of places and experiences that we wanted. Without thinking further, we got in touch with TravelTriangle, which was recommended to us by a friend who had also booked his honeymoon through TT and had found the package best in comparison to the other websites. With their smooth booking and planning process, they not only offered us a value for money package, but also included all the best things to do on a Bali honeymoon in our itinerary.
Here are the details of our Bali honeymoon package:
Trip Type: 6 Nights 7 Days Honeymoon to Bali
Cost: INR 1,32,500 from Shoes On Loose
Inclusions: All the accommodation, airfare, breakfast, dinner on first day, transfers from and to the airport, sightseeing and all the activities, a couple spa, and all the taxes.
Exclusions: Lunch and dinner, visa (on arrival), travel insurance, personal expenses, and anything not mentioned in the itinerary
Our Bali honeymoon itinerary:
Day 1: Arrival and transfer to Seminyak & check-in in Kunti Villas
Day 2: Relax at the villa, couple spa, and candlelight dinner
Day 3: Visit to Nusa Dua for scuba diving & parasailing, visit to Uluwatu temple, and overnight stay at Rama Beach Resort
Day 4: River rafting on the Ayung River, visit to Monkey Forest and coffee plantation
Day 5: Island tour on Bali Hai Cruise
Day 6: Visit to Gitgit Waterfall & Ulun Danu Bratan Temple, and witnessing the sunset at Tanah Lot
Day 7: Check out and leave for the airport
Best Things To Do On A Bali Honeymoon That Made Our Holiday Extra Special
1. Staying in a private pool villa
 Bali Shopping Guide: Your On-Hand Adviser To Best Shopping Experience In Bali
Our much-awaited romantic holiday in Bali kick-started when we touched down the Ngurah Rai International Airport. The view of Bali was breathtaking and it was difficult to hold our excitement now for long. We were soon picked up by our trip representative who drove us to our hotel in Seminyak.
The most special holiday of our lives deserves everything that's extraordinary and so we had decided to stay in Kunti Villas wherein our room was actually a private pool villa. Everything seemed perfect and we spent the first day relaxing and soaking in the bliss of Bali.
2. Indulging in a spa therapy & watching sunset at Kuta Beach
One of the best things to do on a Bali honeymoon is to pamper yourselves well before you begin with the adventure, and that's exactly what we did. Our Bali honeymoon package had a spa session organized for us at the Authentic Balinese SPA, which was the most soothing experience that we had on our trip. It was way too relaxing and it energized us completely for the rest of the day.
Soon after, we visited the nearby market and witnessed the sunset at the Kuta Beach. Needless to say, it was a sight worth capturing. Later, both of us came back to our villa, where a candlelight dinner was organized for us and our room was completely decorated with flowers. A day that started with pampering ended on the similar note, and our last night in the villa became even more special.
3. Scuba diving and parasailing in Nusa Dua
 Temples, Volcanoes, & Beaches: Bali Was A Stellar Honeymoon Experience This Couple Always Wanted!
On the third day of our Bali trip, we had our breakfast and checked out from the villa to leave for our tour of Nusa Dua. Amongst all the best things to do on a Bali honeymoon , indulging in water adventures in Nusa Dua is what we loved the most. Both of us did scuba diving and parasailing, of which the diving experience was absolutely heartwarming.
4. Visiting the famous Uluwatu Temple
Post our water sports session, we went for lunch to the Queens of India restaurant, and completely satiated our hunger pangs. Later, the two of us headed to the Uluwatu Temple, where we witnessed and captured its scenic beauty. It is undoubtedly one of the best places to see in Bali irrespective of one's inclination to spirituality.
 48 Hotels in Bali Handpicked For Every Budget
For this day, our stay was booked in the Rama Beach Resort, so after the temple we headed there to complete the check in formalities, after which we called it a day.
5. River rafting on the Ayung River
Our honeymoon in Bali was filled with both romance and adventures, and that's what made it so unique and memorable. Even after indulging in water sports, we had rafting included our itinerary because both of just love tasting thrill. After having our breakfast, we headed to the Ayung River for river rafting, which indeed turned out to be the most exciting part of our trip.
 20 Mind-Blowing Water Sports In Bali For The Thrill Seeker In You!
We covered a distance of 10 km with a halt in between at a place selling snacks & drinks. The whole experience became more fun as it was raining throughout. At the end, we stopped by a waterfall for some photography and enjoying the local Indonesian cuisines for lunch.
6. Visiting the Monkey Forest and coffee plantations
Our Bali honeymoon also included a visit to the Monkey Forest, which is a popular tourist attraction on the island. However, it wasn't something we enjoyed in comparison to the other experiences. But, it is a great place to spend an evening if you're a wildlife enthusiast and an animal lover. We interacted with the monkeys and even clicked a few pictures together.
60 Spellbinding Bali Tourist Attractions To Visit In 2022
Later on our way to our resort, we stopped by at the Luwak coffee plantation, where one can taste a variety of coffees for free, and even buy them. But, not the most expensive ones as they can only be bought. It was definitely an enriching experience to have in Bali!
7. Taking an adventure-filled tour on the Bali Hai Cruise
Bali Hai is famous all across the world and we didn't want to skip having a cruising experience at all. So, we had a full day tour in the Bali Hai Reef Cruise till the Nusa Lembongan Island. The cruise also took us to the pontoon and offered fun activities like the water sliding, scuba diving, mini submarine, banana boat ride, and more.
Amazing Adventure Activities: Ashu's 5N/ 6D Honeymoon Trip To Bali
Later, we also went to tour the island with the guide. Our lunch was at the cruise itself and the live music added to the whole impeccable experience that we had been having.
8. Exploring the other popular places like Tanah Lot, Gitgit & more
Last but not the least, we also ticked off a visit to the Gitgit Waterfall, Ulun Danu Bratan Temple, and witnessing the Tanah Lot sunset from our bucket list. To reach the Gitgit waterfall, we walked from the car park and through many cloves plantations and other waterfalls. It was undeniably a blissful sight.
Shopping In Bali: A 2022 Retail Therapy Guide On What To Buy And From Where!
Further, we visited the Ulun Danu Beratan Temple where we clicked a lot of beautiful pictures before heading towards the Tanah Lot Temple for witnessing the gorgeous sunset there. It was quite an eventful day, but definitely very soul-stirring.
 An Adventurous Experience On A Honeymoon Trip To Bali
We had an impeccable experience in Bali and we couldn't resist ourselves from capturing its beauty, even on our way back home. It was the perfect way to celebrate the start of our new lives and we came back with happy hearts.
High Points Of Our Bali Honeymoon
River rafting on the Ayung River, which was the most thrilling experience
Scuba diving, as we loved witnessing the underwater life
Island tour in the Bali Hai Cruise, which was completely filled with fun
Low Points Of Our Bali Honeymoon
Every day and experience that we had during our honeymoon in Bali was simply incredible, However, when we reached our hotel on day one, we had to wait a bit longer for our room due to some discrepancy in the booking, so that was a little upsetting, but we ultimately got the perfect place to stay where we had been wanting to.
Our visit to the Monkey Forest was not as great as was to the other places as it didn't turn out to be a place of our interest. Nevertheless, we ended up with some unique memories.
Tips For Future Honeymooners
Both scuba diving and rafting are the best things to do in Bali. So, do not skip them at all.
If possible, plan a longer trip and include volcano trekking in your itinerary.
Prefer staying in a villa that has a private pool so that you have plenty of privacy for spending some quality time.
Try and include the places & experiences that interest you the most first by customizing your honeymoon package with TravelTriangle.
Our overall experience with TravelTriangle was extraordinary. The Bali holiday that we had been looking forward to for so long felt like a dream come true, thanks to the smooth booking and efficient planning services. We got the perfect Bali honeymoon package and it completely glammed up our experience just the way we had desired.