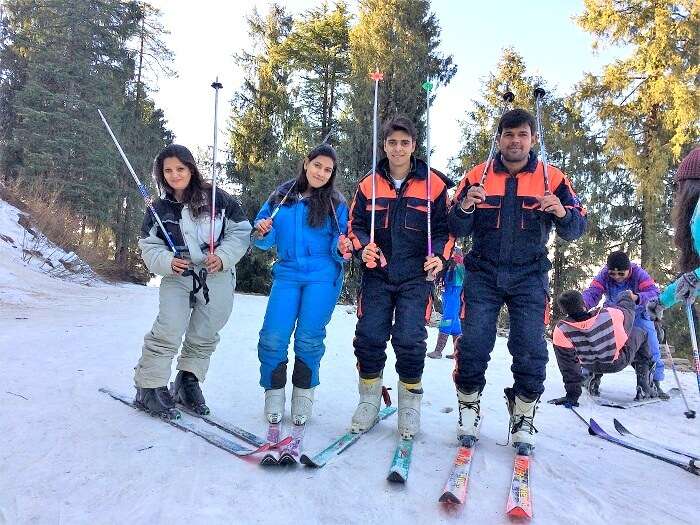 Bhupendra and his wife wanted to visit a beautiful place for their honeymoon. And Himachal Pradesh, with its magnificent mountains and mesmerizing valleys seemed like the best choice. They did river rafting, ice skating, and sightseeing across the best places in Shimla and Manali. Read on to know how their 5D/4N honeymoon trip to Manali and Shimla proved to be a magical experience for them.
The mountains were calling us since a long time. So we planned on a honeymoon trip to Manali and Shimla as both these gems of Himachal Pradesh are known for their magnificent mountains and valleys. My husband and I began looking for Himachal honeymoon packages on the internet.
My friends had suggested us to go ahead with TravelTriangle, and after visiting their Facebook page, I was convinced to give them a shot. We raised a query and soon an agent got in touch with us. He understood our requirements and got us the best deal from Diverse Tours Pvt. Ltd. Finding the deal to be value for money, we booked our trip and were sorted with our honeymoon package to Manali and Shimla.
Trip Type: Romantic Honeymoon Trip To Manali & Shimla
Duration: 5 Days and 4 Nights
Budget: INR 31,500
Inclusions: Accommodation at Shimla and Manali, Transfers, Breakfast, Sightseeing in Shimla, Kullu, Manali, White water rafting at Kullu, ice skating in Kufri and much more
Exclusions: Paid activities, if any
Day 1: A Warm Welcome by the 'Queen of Hills'

These 20 Resorts In Shimla Will Help You Plan A Scenic Escape In 2022
We took a cab from Jaipur and reached Chandigarh in the early morning hours. After taking a chai break, we left for Shimla and reached there just in time for breakfast. We had a sumptuous breakfast at our hotel and left for sightseeing tour of Kufri.

Kufri is a quaint little town in the outskirts of Shimla and is well known for snow adventure activities such as sliding, ice skating etc.
I had never seen snow in my life, so you can imagine how happy I was! We did ice skating and balloon sliding in the snow, which was a really fun experience. We stayed in Kufri till early evening post which it was time to return to Shimla.

As we were hungry, we stopped at the Mall Road for dinner. Mall Road is the most famous area in Shimla. On one side it has branded stores of clothes & accessories whereas on the other side, there are a variety of restaurants serving authentic cuisine. After dinner, we returned to our hotel and slept off.
Tip: One can really enjoy a lot here, trying out different restaurants and shopping as per convenience.
Day 2: River Rafting Fun in Kullu

19 Boutique Hotels In Shimla Near Mall Road For Comfort And Ease Of Travel
We got up early and had a quick breakfast as we had to leave for Kullu. We reached Kullu around lunch time. For lunch, we chose a roadside dhaba as we did not want to eat a lot and we had to do rafting after lunch.

Our rafting lasted for two hours and it was an awesome experience. I was really impressed with the way rafting is organised in Kullu; the coordinators are experienced people and guided us really well.

After we were done with rafting, we visited the temple which was right next to the river. We stayed there for an hour before departing for Manali which was to be our stop for night. We reached Manali by night and had dinner in the hotel. After dinner, all of us retired to our beds as we were really tired from rafting.
Day 3: The Beauty of Solang Valley

29 Amazing Things To Do In Shimla Every Traveler Must Experience In 2022!
This day was, undoubtedly, the best part of our trip. We had an early morning breakfast post which we left for Solang Valley. If you've been to Manali and you've been to Solang valley, you will understand when I say that it's the best place ever! The valley is a popular ski destination and is well known for its vast stretches of snow. The first time snow experience was in Kufri for me, and now in Solang valley, it was the second time. How lucky we were!

We played in the snow, enjoyed skiing and clicked lots of amazing pictures. We seriously did not want to leave the place but had to, as Manali town was still to be explored. We reached Manali by late evening, stopping at Van Vihar which was between Solang valley and main Manali town.
After reaching Manali, we directly went to our hotel, had dinner there itself and called it a night.
Day 4: Manali Diaries

8 Intoxicating Things To Do During Snowfall In Manali
This was our last day here, as we had to go back to Chandigarh the next day. We had an early morning breakfast post which we started our sightseeing tour of main Manali.
We first visited the Hadimba temple, dedicated to Devi Hadimba, Bhima's wife. It's a beautiful ancient temple with gorgeous interiors and it has that peaceful environment which instantly calms you down.

We stayed there for sometime post which we left for the club house. We did boating and enjoyed some delicious tea and snacks there. Later, it was time for some local shopping, and which better place to shop in Manali than the Mall road. We stayed there for good two to three hours and then came back to our hotel for dinner.

Next morning we had an early breakfast and left for Chandigarh, keeping the memories of Himachal close to our hearts.
Summarizing our honeymoon trip to Manali & Shimla, I would say that it was the perfect choice for our honeymoon. Not because of the hills or the people, but because these two places have imbibed many cultures and lifestyles that one can always find something or the other to relate to. This hills and rivers welcome you with so much warmth that it is difficult to not feel at home and at peace here.
I am very happy that we chose Himachal and thanks to TravelTriangle for planning this mesmerizing trip.
Highlights:
Kufri is not just for horse riding. One can engage in all sorts of snow activities such as skiing, ice skating. It's a must visit place
Solang valley is beautiful and needs to be visited by every traveler.
Low Points:
The only glitch was that we wanted a more comfortable car.
We really wanted to do paragliding but couldn't do, due to weather conditions.
Tips For Future Travelers:
Carry warm clothes as the weather in the hills is very unpredictable at times.
So what are you waiting for? Book a similar Himachal honeymoon tour package and experience the best of this hilly paradise with your better half.
Frequently Asked Questions About Manali Shimla Honeymoon
What is the cost of river rafting in Manali?
The total cost of rafting in Kullu-Manali ranges from INR 500 to INR 2000 per person.
Is permit required to visit Solang Valley?
No permit is required to visit Salong Valley.
Which are the top must-visit places in Manali for honeymoon couples?
These are the best places in Manali for honeymooners: – Hadimba Temple – Vashisht Hot Spring – Jogini Falls – Van Vihar – Kullu Valley – Rohtang Pass – Gulaba
What can one do in Kufri?
Popular as the winter sports capital of Shimla, there is an endless list of things to do in Kufri such as: – Skiing – Horse Riding – Visit the Himalayan National Park – Yak Rides – Visit Mahasu Peak – Kufri Fun World – Enjoy Tobogganing
Is there snowfall in Kufri?
November to March are the best months to visit Kufri when the snowfall is at its peak. Summers are pleasant, but Kufri loses its charm because of lack of snow.
What should one carry while traveling to Shimla and Manali?
These are some essentials one should pack while traveling to Manali and Shimla: – Sunscreen lotion & Moisturising lotion. – Heavy Woollen Clothing & socks. – Good rubber-soled shoes. – Personal Medication. – Camera with sufficient batteries and film/memory cards. – Dark polarized sunglasses with retainers. – Id Proofs.
Which are various foods of Himachal Pradesh one must try?
These are some must-try foods while visiting Himachal Pradesh: – Madra – Dhaam – Tudkiya Bhath – Babru – Aktori – Siddu – Bhey or Spicy Lotus stems – Chha Gosht