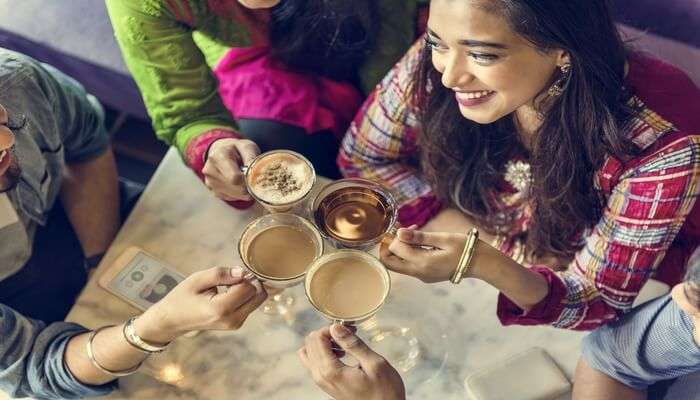 Bikaner, a city in Rajasthan is known the famous Bikaner Fort. But the city is also famous for its food, snacks and sweets. There are several cafes in the city that are popular among the locals. Get to know about these cafes in Bikaner and make sure you visit them on your next holiday in Bikaner.
Top Cafes In Bikaner
Here are the best and popular cafes in Bikaner: where you can spend some quality time with your companions during a vacation in Rajathan:
1. Cafe Green Hut
The cafe has amazing ambience and food prices are also reasonable. They have a nature-based theme and is best for spending time on a rainy day. Their Chur Chur Patty is a hit among the visitors. Oreo Pakora, Dark Fantasy Waffles, Corn Sandwich,
Location: A-231, Sadul Ganj, Bikaner, Rajasthan 334001
Timings: 11am – 10pm
Cost for two: INR 250
Must Read: 7 Restaurants In Bikaner That Serve Mouthwatering Food From Around The World
2. Laziz Pizza
Laziz Pizza in Bikaner is a part of the Laziz Pizza cafe chain that started in Kolhapur, Maharashtra. This cafe is known for its wide variety in Pizza. Some of their best pizzas are Zaikedar Tamatar Pizza, Lazizo Veg Pizza, Jannat-e-Laziz Pizza, Laziz-e-Taj Pizza, Jashn-e-Paneer Tikka Pizza.
Location: A/1, Shiva Badi Rd, Kanta Khaturia Colony, Bikaner, Rajasthan 334001
Timings: 11am – 10pm
Cost for two:
Suggested Read: Monsoon In Bikaner: A Guide To Explore The Best Of This Royal City!
3. The Noodle Foodle
This is the best place for fans of noodles and pizza. The Noodle Foodle offers a vast variety of both on its menu. Pick from Noodles Hakka, Paneer Noodles, Sweet and Sour Noodles, Schezwan Noodles, and Chilli Garlic Noodles. Margherita Pizza, Rangeela Pizza, Masala Bhaji Pizza, Vegetable Pizza are your options in this Italian favourite. Their Red Sauce Pasta is also popular amoung visitors.
Location: Sector 1, Jai Narayan Vyas Colony, Bikaner, Rajasthan 334001
Timings: 10am – 11pm
Cost for two: INR 150
Suggested Read: 10 Best Things To Do In Bikaner That Will Make Your Rajasthan Holiday One-Of-Its-Kind!
4. Strawsome
Strawsome is an 'awesome' cafe in Bikaner popular for its drinks menu. They serve one of the best tastes in coffee in Bikaner. Their collection of delicious and refreshing fruit soda is also among the must try items. Strawsome is a kid-friendly cafe so goes well with young parents.
Location: 5-E-315 First Floor,Hemu Circle,Above Goli Vada Pav, Jai Narayan Vyas Colony, Bikaner, Rajasthan 334001
Timings: 1pm – 10.30pm
Cost for two: INR 400
Suggested Read: Best Hotels In Bikaner That Will Leave An Indelible Mark On Your Desert Vacation
5. Music Addicted Pihu's Cafe
Like the name suggests, Music Addicted Pihu's Cafe is for people who share the same sentiments for food and music. At this cafe, you would get to enjoy live music performances while enjoying some delicious food items from their menu. The performances are held every week on Saturdays. Some of the best dishes from their menu are Bingo Bhel, Tandoori Sandwich and Cheese Burger.
Location: 906 Soor Sagar Dhobhi dhora, near lakhawat paatey ke pass, Bikaner, Rajasthan 334001
Timings: 11am – 10am
Table for two: INR 300
Further Read: Nightlife In Jaisalmer: What Happens In The Golden City When The Sun Goes Down
Go cafe-crawling and cover all the above listed cafes in Bikaner on your next visit to this city. And to do that, plan a trip to Bikaner with your family and friends.
People Also Read: