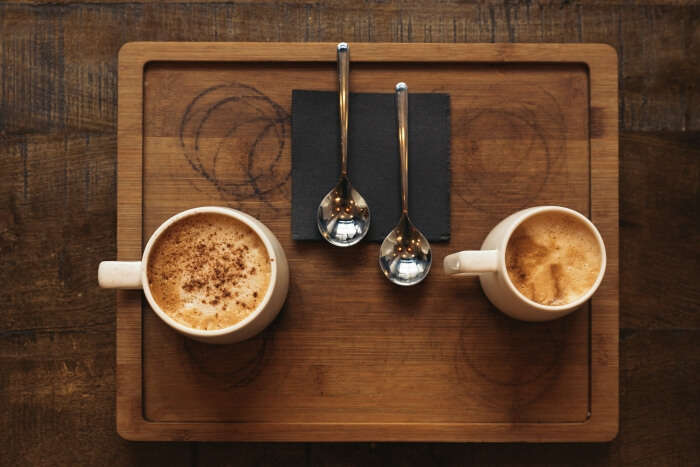 Sydney is the capital city of New South Wales, Australia, and is just the right place for cafe-hoppers to enjoy the experience the city has to offer. Many of the cafes in Sydney share their area with local design retailers to help attract tourists, and Sydneysiders get a holistic experience of shopping and a wholesome brunch in the best locations of the city. The queues are evidence of the high success of the unique cafes in Sydney.
Top 9 Must-Visit Cafes In Sydney
Apart from receiving the calories your body needs for exploring the beauty of Sydney, the cafes in Sydney offer a unique culinary experience in themselves. If you find yourself lost amidst the charm of the capital and its sea of cafes, check out some of our top picks.
1. Bourke Street Bakery
Image Source
The Bourke Street Bakery has gone a long way, starting as a dubious operation out of an old car and to a highly successful bakery/cafe chain today. Situated in Bourke Street's beautiful estate, this bakery is more like home to the local community.
Timeless, homely, small, and rustic are few words that sum up the experience of this Sydney street cafe. The cafe works on the vision of preparing comfort food for the locals to indulge in on an everyday basis. The heart and soul of the cafes in Sydney are the dishes they provide. In order to experience the raw essence of homeliness, the hearty beef pie is a must try. With a crusty puff, it is just the way grandma would have prepared. Other favorites include the ginger brulee tart, carrot walnut cake, almonds croissant, and pork and fennel sausage roll.
With sunny alfresco seating and a humble layout, Bourke Street Bakery is one of the best cafes in Sydney for brunch.
Must Read: 6 Best Hot Springs In Sydney That'll Your Soothe And Revive Your Soul
2. Devon Cafe
Image Source
Among the cafes of Sydney, Devon Cafe is located on the Devonshire Street of indie Surry Hills. The cafe is famous for its unique fusion of the West and East twists of quirks. The head chef of Devon Cafe strongly believes in food presentation and making dishes visually stimulating as people use their eyes to eat much before they take their first bite. Therefore, she pays very detailed attention to every minute aspect to provide the finest culinary experience.
The dish Breakfast with the Sakuma's offers a feel of an Asian influence in the Devon Cafe. Some of the major highlights of Devon Cafe that offer a filling fusion include the Cookies n' Cream, Porky Pig, and Devon's style Fishcake. The experience may be slightly edgy, but it is definitely among the top cafes in Sydney, Australia.
3. Porch and Parlour
Image Source
People who are in search of the best cafes in Sydney with a view will be blessed t explore the Porch and Parlour. Nestled close to the exemplary Bondi Beach, the guests of Porch and Parlour get to experience the delightful sea breeze while sitting near the open wooden frames. Apart from the cool navy tones and paint-peeling walls, the coastal maritime ambiance that Porch and Parlour provides is precisely what Sydneysiders are fond of experiencing.
Witness the all-Aussie nutritious diet by taste the Green Brekkie Bowl. It is just the right meal for a Yoga instructor. With a unique combination of Avocado, Poached Eggs, Mint, Coriander, Quinoa, Spinach, kale, and a dash of lemon, this dish is ready to take away the monotony of greens.
As with most cafes in Sydney, you will find amazing alternatives at Porch and Parlour. They include smoothies and other forms of beverages. Do try the Devil Breakfast to start your day with a bang.
Suggested Read: Casinos In Sydney: Try Your Luck At Some Of These Incredibly Amazing Australian Gamehouses
4. Cornersmith
This beautiful couple-run cafe, located in Marrickville, offers a double deal with homemade pickles. Cornersmith offers ethical and sustainable foods with a reasonable menu. The menu includes locally-sourced produce from the small-scale makers and growers. The specialty of this cafe is the housemade pickles that can be relished on plates as well as taken home.
Cornersmith is highly dedicated to their work, so much so that they organize several home food craft workshops for the common people. Cornersmith is all about practicing what they preach. The Sweet Toast, an exquisite delicacy in Cornersmith, is definitely a must try. Being a minimalist from the menu and interior, it offers an experience of the best cafe in Sydney.
Suggested Read: 6 Best Guest Houses In Sydney For A Soothing Stay Amid The Coat Hanger City!
5. Bread & Circus
Image Source
If you are looking for the best Alexandria cafe in Sydney, wait till you try Bread & Circus. It is the leading wave in Australia. However, it is not the place where you can get your quick coffee fix. No piccolo, flat white or latte is available to give you the caffeine high. But, let it not discourage you from the biodynamic and organic dishes the menu has to offer.
Try out the dreamy pumpkin, sweet potato, and chilli coconut soup, or Nicola potato salad to get an exotic experience at this wholefoods canteen. It offers an authentic suburban and grungy cafe vibe through its gorgeous interior that pays homage to the rag trade of Sydney minus the nefarious folk.
6. West Juliett
Image Source
For a pure rustic experience with coffee and food, get to explore at West Juliett cafe in Marrickville. The cafe offers beautiful outdoor seats near a broad veranda. The crowd is a mixture of joyful families and Newtown hipsters with tattoos. West Juliett provides a treat to the eyes, depending on the perspective. The fundamental brunch at West Juliett is the classic salads and poached eggs. Some of the other fabulous dishes in one of the top 10 cafes in Sydney include tahini yogurt, burnt chilli, truss tomatoes, twelve-hour pork, and so on. All these dishes are known for offering a great balance of veggies and protein.
Suggested Read: 8 Best Food Festivals In Sydney That Are More Than Just A Treat To Your Soul!
7. Brewtown Newtown
Image Source
Brewtown Newtown is a beautiful cafe, retail store, brew bar, and micro-roaster. The retail store, O'Connell St Merchants, offer chic designed apparels with several other knick-knacks. This rustic cafe is home to rich single roast coffee that provides a fabulous caffeine fix. The lunch and breakfast from the seasonal menu promote fresh and healthy eating habits. The Vegan Bircher muesli offers a guilt-free delight. The cafe also showcases freshly baked goods to tempt the customers. With a great ambiance and interior, Brewtown Newtown is no doubt one of the best cafes in Sydney.
8. The Book Kitchen
Image Source
With a history of 10 years, the Book Kitchen is an excellent place for a casual foodie. Book lovers get to access a library of cookery books. The Book Kitchen also emphasises on wine education, especially by organizing several Wine degustation dinners. The favorites of this exposed-brickwork cafe include Crispy Smoked Ham Hock and Avocado Sourdough. Rotation of seasonal dishes also helps in keeping everything interesting. Unlike the cafes with a view in Sydney, The Book Kitchen is all about providing a comfortable and casual setting.
Suggested Read: Top 10 Indian Restaurants In Sydney Which Are Famous For Their Desi Flavours
9. Bills
Image Source
This modern Australian cafe is all about western mains including brekkie staples. Bills keeps the Aussie spirit high with its generous, causal, and sunny atmosphere. With communal and extensive space tables, Bills is definitely a role model to most of the restaurants and cafes in North Sydney. Taste the flabbergasting sourdough toast and scrambled organic eggs to start your day legendarily. Another must-try would be the fluffy Ricotta hotcakes; one that people simply cannot get enough of these days.
Further Read: 6 Best Zoos In Sydney For A Closer Encounter With The Australian Wildlife Like Never Before!
With sparkling wine or refreshing Bellini, brunches couldn't have been better. These cafes in Sydney are few of the best places that offer a great mix of ambiance and food. With this guide by your side, you will surely not miss out on the marvelous brunch spots on your vacation to Australia!
---
Looking To Book An International Honeymoon?
Book memorable honeymoon on TravelTriangle with 650+ verified travel agents for 65+ domestic and international destinations.
---
Comments
comments