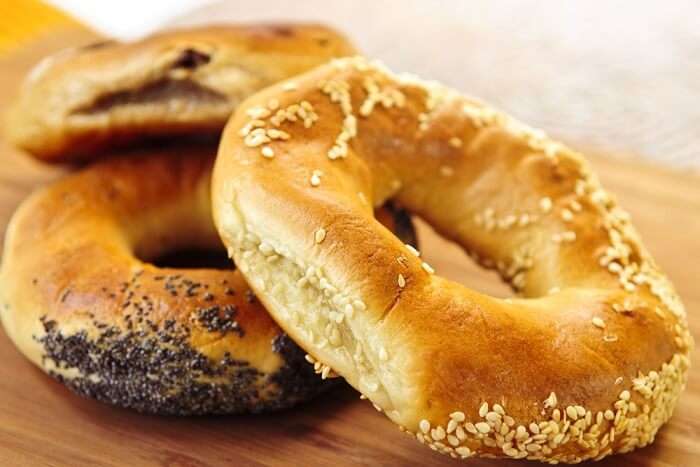 Canada is one of those countries that command a certain unique respect from foreigners, as all the different things one hears about the country, such as its unique style of food, the lumberjack stereotype, and a weather so diverse, anybody can find their own style of weather, make the country out to be far more interesting than most others.
One of the most distinctive things that we hear about Canada is its seemingly strange style of cuisine. A style that counts toppings as a big part of it, most of either decide we hate the cuisine, or love it above all others (both being decisions made without tasting even a single Canadian dish!). But, even if we proclaim we do not like this 'strange and weird' cuisine, all of us want to try it out.
We have all heard about the famous Canadian cuisine, Poutine. Often shown in TV shows and movies as a mix of gravy, fries and humongous amounts of cheese, there isn't a single one of us who doesn't salivate at the very thought of it. A Saskatoon pie may not be the most well known pie in the world, but trust me, a lot of people want to have the small slice of heaven.
Top 10 Canadian Cuisine
Dishes such as Poutine are one of the very first things any tourist worth his travelling backpack tastes, and are among the most popular food in Canada, and so we have chosen the Canadian dishes we think are the very best.
1. Poutine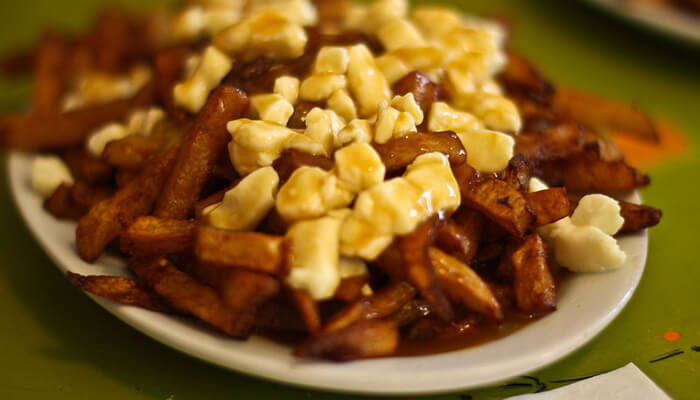 Nobody should be surprised by Poutine being at the very top of the Canadian Cuisine chart, as only a few Canadian dishes have managed to come near the massive renown that Poutine Canadian food has gathered for itself. Known as the signature Canadian dish all over the world, Poutine is a rich and awesome mix of deep fried fries, cheese curds that can make any of us salivate and a gravy that is simply to die for.
Must Read: Canada Travel Tips: For A Perfect Holiday In The Largest Country Of North America
2. Butter Tarts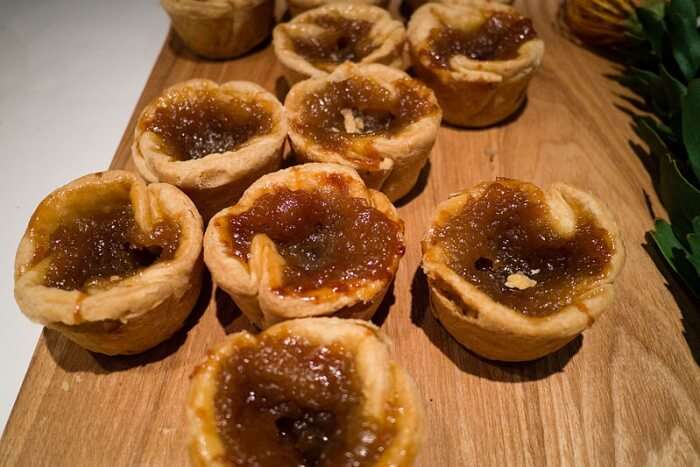 One of the more well known desserts to come out of Canada, Butter Tarts are one of the simplest and easiest things to make, as just about anybody with an oven, a boatload of butter and elementary baking knowledge can bake them. But, it's simplicity is hardly the reason for it's overwhelming popularity, as Canadian Butter Tarts melt in one's mouth while chewing, coming very close to being our top Canadian dessert. It is undoubtedly one of the very best Popular Canadian food.
3. Pouding Chomeur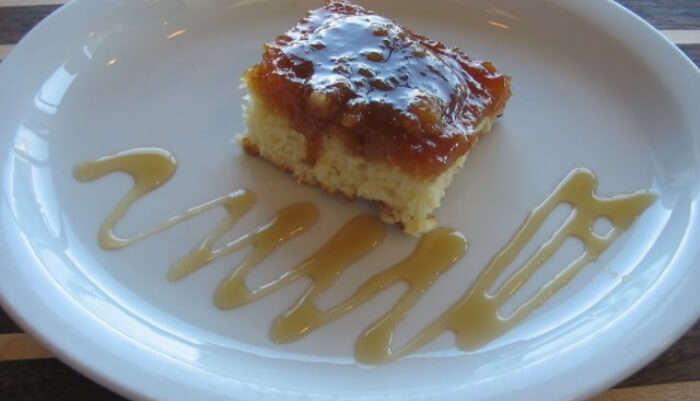 While certainly not having the worldwide fame enjoyed by some of the entries on this list, this pudding is still one of the best things to come out of Canada. Period. The name translates to 'the unemployment pudding', and like advertised, holds the capacity to cure the eater of any woes, sorrows or sadness, as there are few who would concentrate on woes rather than a glorious mix of cake batter, sweet syrup and a large dollop of vanilla ice cream. This is one of the very staples of the French Canadian Cuisine.
Suggested Read: 13 Things To Do In Niagara Falls, Canada: An Experience Below A Majestic Waterfall
4. Beavertails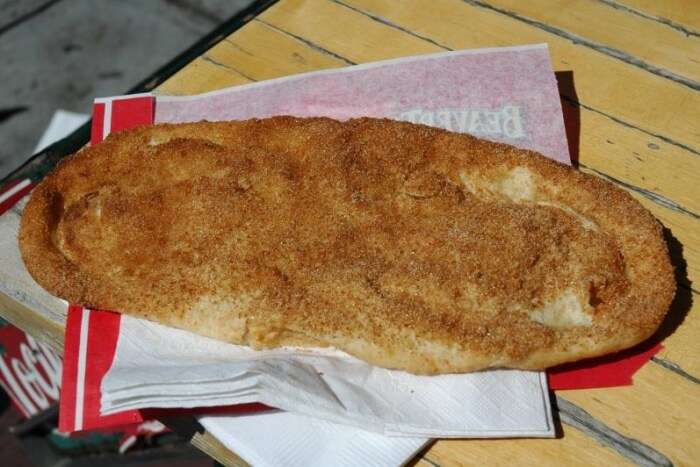 This is one of the Canadian Snack Foods. Mainly, these can be described as slices of deep fried dough, and are quite commonly made in Canada, both in restaurants and at home. By themselves, they may taste bland to most, but really start shining and become awesome when one eats covered in a sort of topping, such as Nutella, Reese's Pieces or the evergreen classic, loved by people all over the world, Peanut Butter.
5. Tire D'erable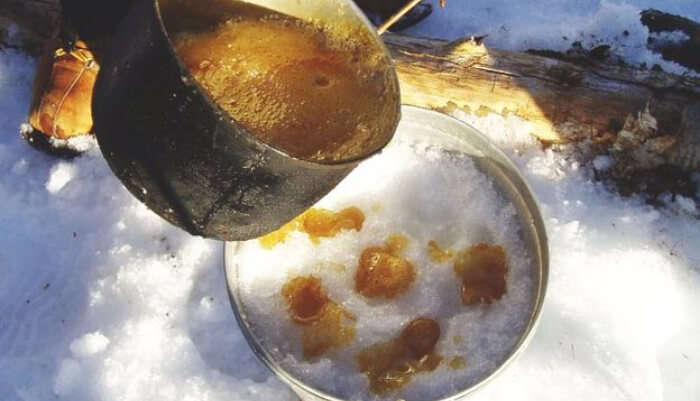 There is absolutely no doubt that when visiting Canada, eating this will be one of your most memorable events. A nationwide classic, the tire d'erable is also known by its street name, maple taffy- a name I'm sure quite a lot of us have fantasized about, from time to time. Even watching somebody make maple taffy is quite mesmerizing, as a pot of boiling maple syrup (yum!) is slowly poured over a stretch of snow, which causes the syrup to instantly harden.
Suggested Read: Festivals of Canada: 10 Unmissable Extravaganzas That Will Give Celebration A New Meaning
---
Planning your holiday but confused about where to go? These travel stories help you find your best trip ever!
Real travel stories. Real stays. Handy tips to help you make the right choice.
---
6. Nanaimo Bars

These are quite famous, as one can find Nanaimo bars just about all over the world, including Asian and European countries. They were named after the British Columbian city of Nanaimo. Even though they look quite complicated, they can be accurately described as a three layer affair: the base is a crumb layer which accounts for the crispiness, the middle layer is a healthy spread of sweet custard, with the top being a chocolate. Just the description makes one water at the mouth.
7. Montreal Smoked Meat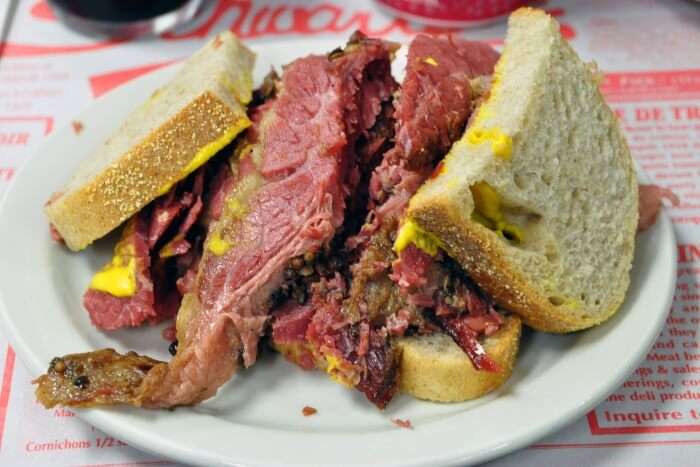 Ever seen a meat sandwich where the meat is more than double the amount of the bread? We don't think so, but Montreal Smoked Meat is served inside two pieces of rye bread, with a layer of yellow mustard in between, with the meat usually being stacked about two inches high. These sandwiches are quite common all over Canada, and are available at most restaurants that offer traditional Canadian food. Quite different than the meat sandwiches usually found all over the world, Montreal Smoked Meat is made by salting and curing a healthy, large beef brisket.
Suggested Read: 12 Waterfalls In Canada That Will Surely Mesmerize You With Their Enchanting Landscape!
8. Canadian Game Meat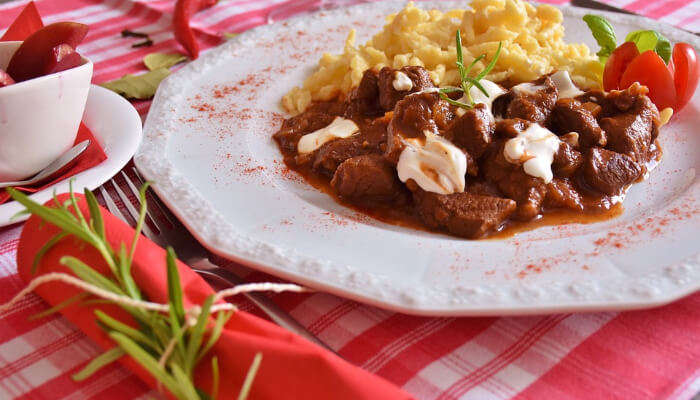 This is one of the entries on this list that one will find solely in the lands of Canada, as the type of dish made, the cut of meat used, the origin of the said meat and other large factors depends heavily on where in Canada one is, and what animals constitute the local wildlife. Often called weird Canadian food, One of the more popular and commonplace Game Meat dishes one will find is the traditional Moose taco salad- a dish that may sound weird at first, but is guaranteed to be one of the best things you will taste in Canada.
9. Nova Scotia Lobster Rolls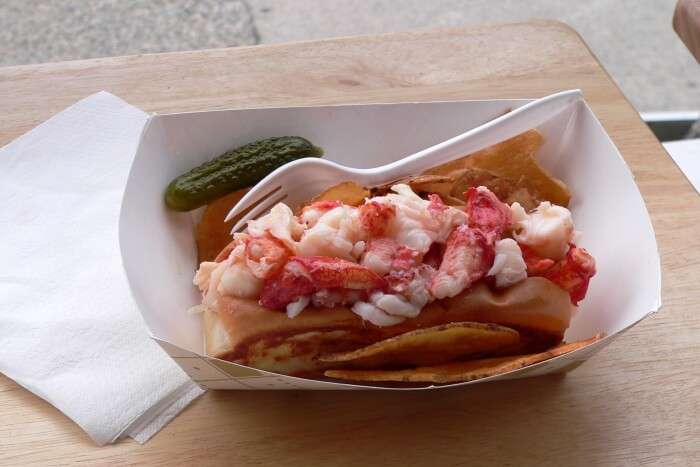 This is one of the few seafood entries on this entire list, and is so for a purpose: it is probably the most distinguished seafood dish in the whole of Canada. Seafood in Canada is largely popular, with salmon and arctic char being very popular examples. But the absolute top spot is occupied by Nova Scotian Lobster Rolls, which have managed to get to the very top by simply being the best dish. With the lobster roll itself being quite a large piece of heaven, these are often served with hot and crispy fries, topped with herbs and spices, marking them as a surreal experience.
Suggested Read: 11 Incredibly Beautiful Lakes In Canada Every Nature Lover Must Once In Their Lifetime!
10. Montreal Style Bagels

This is another one of the more snackish staples of Canada, and are often viewed as a glorious underdog that does not get even half the recognition and fame they should. These are much sweeter, packed with more syrup and tutti-fruttis and thinner than their American counterparts, a fact that makes them easier to eat, but more enjoyable, something that seems like a contrast in and of itself.
Further Read: 40 Best Places To Visit In Canada That Will Leave You Spellbound!
While it is completely true that there are many significant parts of Canadian Cuisine, there are some dishes that stand totally head and shoulders above the rest. So, what are you waiting for? Get ready to savour these best Canadian cuisine in the land that makes it unique. Pack your bags and plan your canada trip with friends and family for a vacation like never before!
People Also Read
Restaurants In Nusa Dua Ukrainian Cuisine Arizona Restaurants
---
Looking To Book A Holiday Package?
Book memorable holidays on TravelTriangle with 650+ verified travel agents for 65+ domestic and international destinations.
---