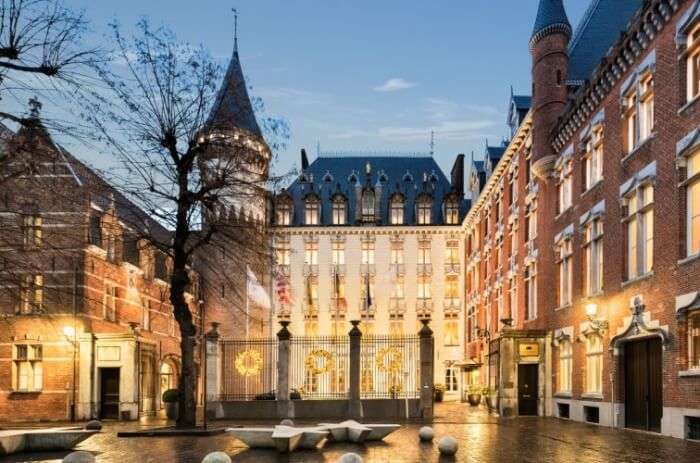 Belgium is a western European country that is known for its grand architecture. The country is home to some of the most stunning castles that can simply blow your mind. Bruges which is one of the most happening cities in Belgium can be considered as one of the best places to visit. If you are to visit Bruges then you need to make sure that you plan for a grand trip. For that, booking a castle hotel is the best thing that you can do. The city of Bruges has numerous castle hotels where you can spend your holidays. If you are confused which one to choose then give this article a read in order to find the best one.
10 Best Castles In Bruges
Bruges, Belgium is a place that is filled with castle hotels. If you are planning for a grand holiday trip to Bruges then you have every need to spend your holidays in a luxury castle hotel. You can get a plenty of options out there. But for you, we have shortlisted 10 of the best and the luxurious castles in Bruges where you can enjoy your stay to the fullest.
1. Le Château de Strainchamps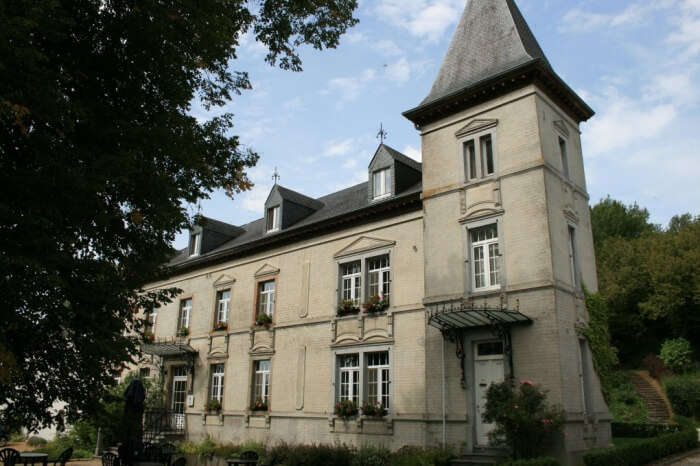 This is one of the best castle hotels that you can avail in Bruges. With real hardwood floors and spacious rooms, this castle hotel can be an ideal place to spend your holidays in luxury. In order to enjoy your stay at this grand property, you can avail all the amenities that you need. Starting from free parking to Wi-Fi connection you can have it all at this place. Enjoy the delicious breakfast served to you every morning. Here at Le Château de Strainchamps, you can enjoy a pleasant stay with luxury service.
Location: Rue des Vennes 29, 6637 Fauvillers, Belgium
Must Read: Bruges In Winter: A Detailed Guide For A Soul-Satisfying Holiday
2. Thermae Boetfort Spa and Hotel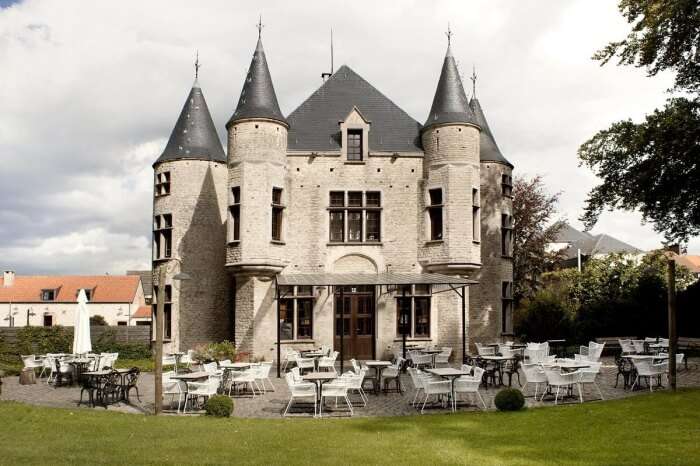 This is yet another great option that you can go for. If you are planning for a luxury stay in Bruges then this can be an ideal place to stay for you. The best thing about this castle hotel is its rooms. The castle has got deluxe rooms that are furnished with all the facilities that you need. You can also enjoy their excellent service and relax in the sauna. The castle also has a restaurant where you can enjoy great food. Overall, this property is worth a chance and is also one of the best castles in Bruges, Belgium.
Location: Sellaerstraat 42, 1820 Steenokkerzeel, Belgium
3. Lodewijk Van Male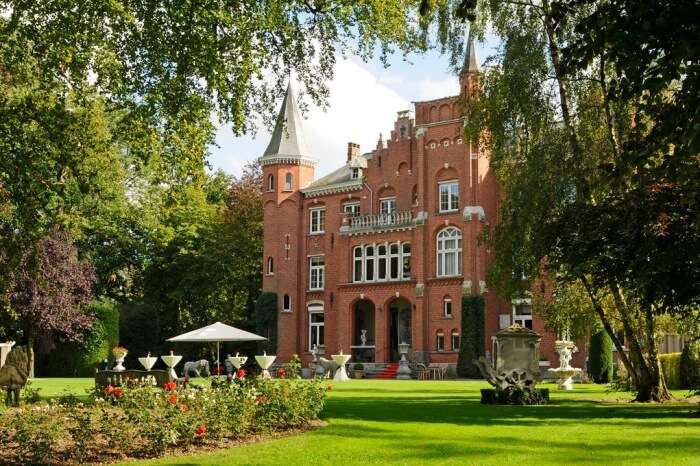 This 3-star accommodation is known to provide you with a pleasant stay with celebrity-like treatment. Starting from free Wi-Fi connection to free parking you can enjoy all of it here. The castle also has a bar where you can spend your evenings and have a good time. The restaurant at the hotel is known to serve some lip-smacking food. The rooms are also furnished with all the required facilities that are required to make your stay enjoyable.
Location: Maalse Steenweg 488, 8310 Brugge, Belgium
Suggested Read: 10 Charming Places To Visit In Bruges To Explore The Bewitching City!
4. Kasteel Gravenhof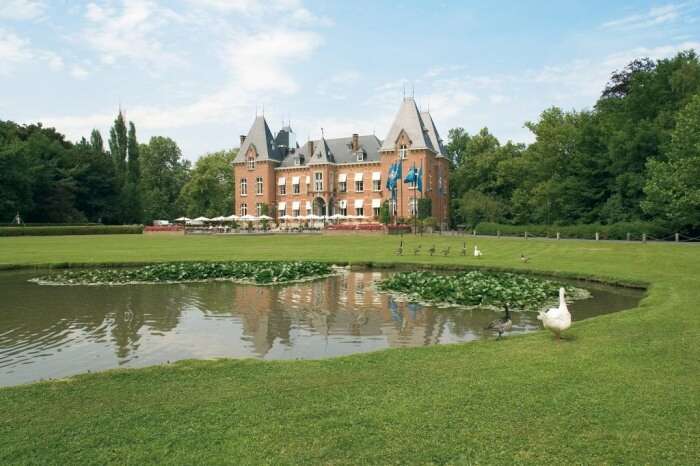 This 3-star property is an excellent way of giving a great start to your holiday. The castle includes all the amenities that you need. The rooms are air-conditioned and are equipped with private luxury bathrooms. You can also avail a variety of services as well which include laundry service, banquet room, restaurant and bar/lounge. In short, this is a great place to stay in Bruges.
Location: Alsembergsesteenweg 676, 1653 Dworp, Belgium
5. Chateau Cortils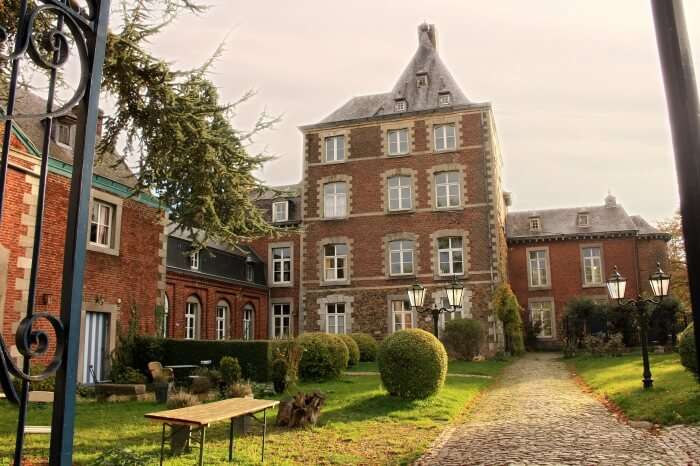 If you want to have a wonderful experience in Bruges then staying here can be the best idea. With excellent services and comfortable rooms, you can have a pleasant stay at this property. You can also visit this property along with your pets. Well, this is something that not many accommodations will provide you with. Other than that you can also avail other needed facilities like free wi-fi connection, free parking, and banquet. Each of the rooms is equipped with a refrigerator and microwave for your personal need. You can also have a good time at the tennis court of the property. It can be said that this is a great property for families.
Location: Chemin de Cortils, 4670 Blégny, Belgium
Suggested Read: 10 Things To Do In Bruges: The Tiny City Popular For Handmade Chocolates!
6. Martin's Chateau du Lac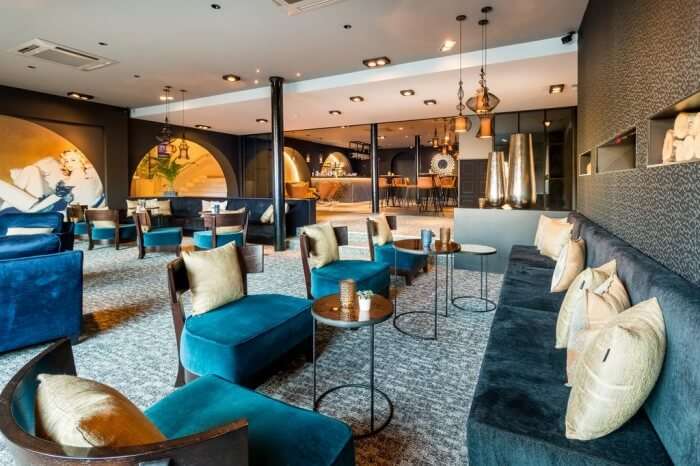 This wonderful property is located only half a mile from Brussels. The castle is actually located within a huge park that offers a lush escape into the lap of nature. You can witness the grand past of the castle in its rooms which offers panoramic views of the lake and four-poster beds. Other than that the castle also provides you with other luxuries which you can enjoy during your stay. This place is ideal for couples.
Location: Avenue du Lac 87, 1332 Genval, Belgium
7. Château de la Poste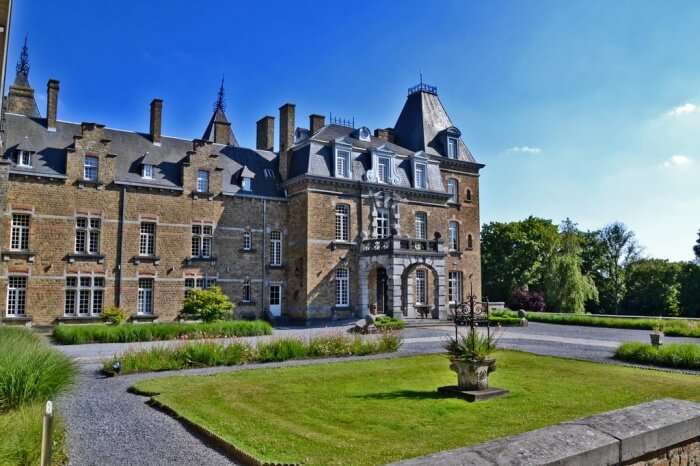 The property is located in the glowing fields of the Belgian Condroz. The castle is known to have a glorious past which you can witness from the very ambiance of it. You can enjoy a lovely view of the 42-hectare park. It also has a treehouse and a loft cube in the adjacent forest. This is just perfect for the ones who would love to spend a night under nature. This is indeed one of the best castles in Bruges.
Location: Ronchinne 25, 5330 Maillen, Belgium
Suggested Read: 10 Cottages In Belgium That'll Compel You To Pack Your Bags & Offer You An Exotic Stay!
8. Chateau d'Hassonville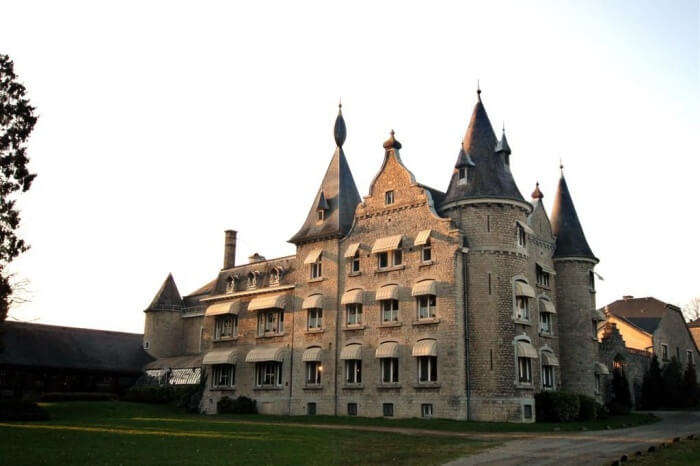 The best thing about the place is the castle's resident Chef and his team who is known to serve delicious French cuisine to its guests. If you wish to spend a luxury holiday in Bruges then this could be the ideal place for you. The numerous salons with fireplaces and sunlit veranda are going to provide you with a pleasant feel. You can also avail all the required amenities that you want within the perimeters of the castle making it one of the best in the city.
Location: Route d'Hassonville, 6900 Marche-en-Famenne, Belgium
9. Manoir de Lebioles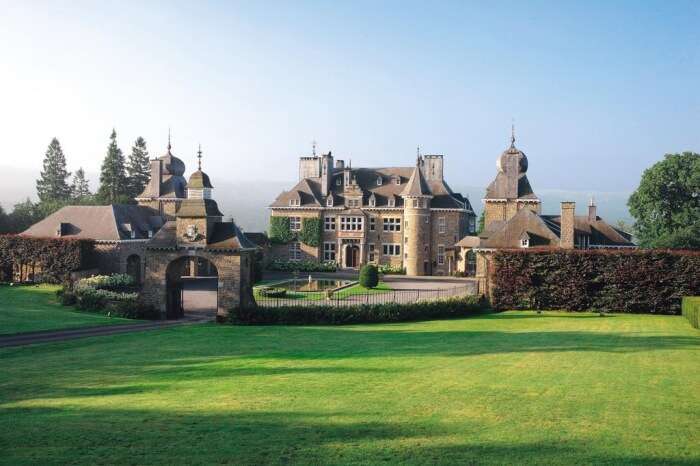 Located at one of the picturesque areas of Belgium this castle is one of the finest places you can find to spend your holidays in Bruges. This is in fact, is one of the resplendent castle, hotels in the whole of the country. From the castle you can enjoy a lovely view of nature. Not only that, but you can also avail everything that you need to spend your holidays pleasantly. One of the specialties of the castle is the gold tournaments and house concerts which you can enjoy if you visit during that time of the year. Overall, with all the facilities it is a great place to stay.
Location: Domaine de Lébioles 1/5, 4900 Spa, Belgium
Suggested Read: Belgium In Winter: 10 Reasons To Visit Cake Country When The Snow Falls
10. Dukes Palace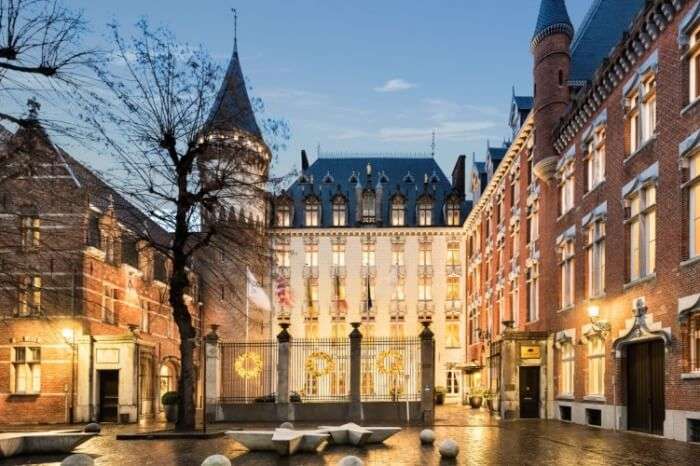 If you want to get the feel of staying in a real castle then this is the place that you should stay in. After all, this is one of the best castles in Bruges that you can come across. The castle has a medieval touch in it which makes it even more attractive to its guests. Starting from the walls to the rooms of the castle, everything has a touch of the glorious past. Along with the medieval touch, you can also enjoy all the amenities that a hotel should provide.
Further Read: Scuba Diving In Greece: 8 Places To Explore European Marine Life To The Fullest
So these are some of the best castle hotels that you can avail in Bruges, Belgium. By choosing to stay in any of these properties you can transform your whole holiday experience in Belgium. Now that you know the best castles in Bruges, Belgium it will be easier for you to choose the next place for the historical walk. And before that make sure to plan and customize your vacation to Europe with TravelTriangle.
---
Looking To Book An International Holiday?
Book memorable holidays on TravelTriangle with 650+ verified travel agents for 65+ domestic and international destinations.
---