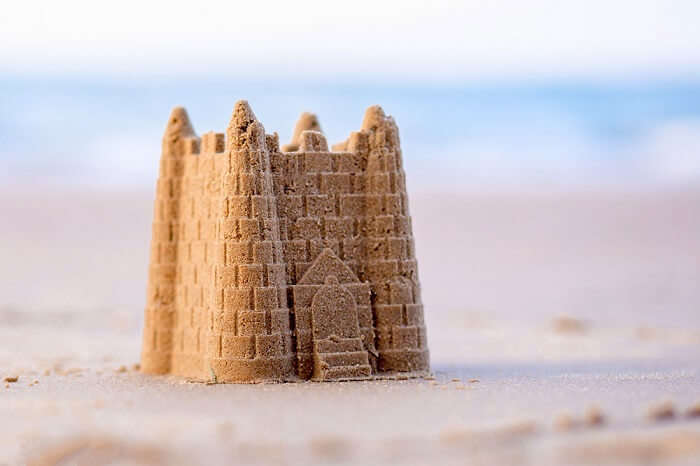 We grew up listening to bedtime stories of Cinderella's Mr. Perfect, who swooned her away to his castle or watching Rapunzel escape her tower and fall in love with Eugene, who reunites her with her parents – the king and queen of the kingdom. Now, if I ask a 20-something woman if she believes in Disney's love stories, we know what the answer will be.
But deep down, aren't we are all waiting for our "happily ever after"? And if you still believe your Prince Charming will steal you away on a white horse to his castle, Queensland is the place for you. Heads up, boys and girls! These Castles in Queensland are on every tourist's bucket list.
10 Magnificent Castles In Queensland
Too good to be true? Well, as they say, see it to believe it! Here are 10 castles in this amazing Australian city that are straight out of a Disney movie:
1. Paronella's Infamous Spanish Castle
It was the summer of 1913 when a young boy named José Paronella sailed to Australia in an attempt to build a life of comfort and content for his young bride-to-be, Matilda and himself. Paronella was determined to build his lovely fiancée the house she had dreamed of. After years of toiling, Paronella managed to find an untainted piece of land, set against the Mena Creek Falls, in the middle of the woods. He decided to head to Spain to his dear wife, but when he arrived, he found that Matilda had married someone else in his absence. Heartbroken and disappointed Paronella decided to return back to Australia. Before he set sail, he proposed Matilda's younger sister, Margarita and to everyone's surprise, she accepted! The couple got on a ship the following year, turned the untainted land into their home and lived happily ever after.
Location: Mena Creek, Queensland, Australia.
Timings: 9 AM - 7:30 PM
Must Read: 10 Best Queensland Theme Parks For A Funtastic Day Out With Your Loved Ones!
2. Brynhyfryd Castle
If you ask the locals of Ipswich about the Brynhyfryd Castle, everyone will tell you the story of the Welsh miner, Lewis Thomas, who built the property in 1886 with 600000 handmade bricks. On scratching deeper to understand what happened to the biggest residence in the town, there is a new ending each time. However, the most popular one recalls how a bunch of curious young cyclers wanted to uncover the fascinating story behind the mined estate and often took off to the isolated site. While its history continues to remain a mystery, the Blackstone Castle, as it is popularly known has geared the attention of the mountain biking community of Ipswich. If you choose to walk around the complex, do not miss the signs for old mines and open air shafts.
Location: Castle Hill Blackstone Reserve, 7 Mary Street, Blackstone
3. Castle Glen
If your idea of a "castle" is an old-school Medieval fortress with large entrance doors, stone walls and arrow slits, Castle Glen, one of the famous castles in Queensland is going to blow your mind. This modern age castle is the true representation of innovation and architecture with a solar panel system installed to carry out its everyday operations, Castle Glen knows how to go green. Back in the 13th century, the Millar family was among the comfortable commonwealth of England. However, after the death of King Alexander, the royalty was cautious of what they consumed. This is when the Millers took up the responsibility of hygiene and health of the food industry. Passed down to Cedric Millar, the current caretaker and chief winemaker of the Glen castle, is this knowledge which he blends in his jams, fruit wines and ciders.
Location: 3184 Amiens Rd, Thulimbah, Queensland
Timings: 10 AM - 4 PM (Monday to Sunday)
Suggested Read: Beaches In Brisbane: Top 10 Beaches In & Around This Lively Capital Of Queensland
4. The Castle on Tamborine
Image Source
Often described as one of the most famous castles in Queensland for weddings, the Castle of Tamborine tops our list of most unique venues for destination weddings. With stunning views of the rainforest and waterfalls, an award-winning winery and a day spa, pamper yourself at the castle on Tamborine or join the Bride's gang for her bachelorette. Enter your living room which shines as brightly as the rays of the sun with beautifully falling curtain tassels, a completely stocked fridge and a king-sized bed and a prince charming (brought by you), the castle on Tamborine is every millennials' childhood fairy tale brought to life.
Location: 274-280, Main Western Road, North Tamborine, Queensland
5. Sunshine Castle
Image Source
When Ian and Marcia Hayne, a Scottish couple first moved to Queensland in 1972, little did they realize the new land was nothing like what they had grown up in. Soon, they decided that they would build their very own castle in Queensland. Whether Marcia was a kleptomaniac is still questionable, but the vast collection of dolls in the castle is a puzzle in itself. The locals call it the "Doll Museum" as it has over 2500 dolls. The true blue owner may have passed his age of playing with them, the tiny tots who enter here are fascinated and more often than not inspired to have a collection of their own. The castles in Queensland have their own way of taking you back in time, so enjoy this trip down memory lane.
Location: 92 David Low Way Bli Bli 4560, Sunshine Coast, Queensland
Timings: 9:30 AM - 4:30 PM (Tuesday to Sunday)
Entry fee: Starting at $12
Suggested Read: 10 Best Heritage Places In Australia To Seek The Ultimate Thrill!
6. Mount Crosby Castle
"Welcome to your own 4 bedroom fortress with the open kitchen, just like how you wanted it and king size bed." With those words, Ben finished the tour of the castle he had renovated for his wife, Penelope. Until recently, the Mount Crosby Castle was on the market to be auctioned. However, 2009 brought Ben and Penelope together and they decided to make this medieval castle their home. The modern structure and amenities make it evident the couple prefers their comfort over everything yet adding to the rustic feel of the architecture is the drawbridge, which Penelope quotes is for the "visual appeal". Your Ben might not be able to afford a castle, but one can surely dream, right?
Location: 79 Sheep Camp Road, Mount Crosby, Queensland
7. Castle Rumble
While Castle Rumble is now occupied by real people, they often oblige tourists with a guided tour around their home. Built in the early 80s, the entrance is guarded by rock lions on either side with stained windows that with symmetric designs. If you are lucky, you might find Dumbledore on one of the castle windows. Try to reach the castle on a full moon night and watch the soft golden lights turn this castle into the masterpiece it is. Daniel, the gatekeeper is active on Facebook and would update you if the castle is closed, depending on the weather.
Location: 54 Gardiner Road, Brisbane, Queensland
Suggested Read: Australia Tourist Attractions: Do You Dare To Visit All These 49 Places On Your 2022 Aussie Trip?
8. Newstead House
Unlike the castles in North Queensland, Newstead House is not a fortress. In fact, it is among the most notable buildings in Australia since 1846. Home to Brisbane's iconic personalities, this classic piece of architecture is a peep into Brisbane's everyday life of the extraordinary. As the oldest surviving residence, the smell of old books fills the air, as do the creaking armchairs and dried up fountain in the front yard. If old family portraits and vintage floral printed carpets are your jazz, head to the Newstead House before the sun goes down.
Location: Breakfast Creek Rd & Newstead Avenue, Newstead, Brisbane, Queensland
Suggested Read: 11 Largest Castles In The World That You Must Visit At Least Once In A Lifetime!
9. Historic Ormiston House
For those with a sweet tooth who want to sneak out and try something offbeat, ditch the cafes and contribute to Australia's first commercial sugar industry at the Ormiston House. Grab your cup of Devonshire Tea and some cookies and let lose yourself in the sweet smell of sugar or the giggles of old tales from both - the young and old, who continue to carry the memories of the house in their happiness jar. It's open on Sunday afternoons for those who want to take a break from their travel to-do and unwind with the sea breeze.
Location: 277 Wellington St, Ormiston, Brisbane, Queensland
10. Miegunyah House Museum
Image Source
The unique blend of the detailed fortress architecture and the warm and welcoming houses of Brisbane is the Miegunyah House-turned-Museum. With the crockery set spread out on the dining table and the overcoats still left hanging, this house is truly untouched by time. If you thought your history books told stories of families, wait till you watch the wall-clock go off in the Miegunyah House.
Location: 35 Jordan Tce, Brisbane, Queensland
Further Read: 10 Most Iconic Places Near Australia That'll Leave You Absolutely Spellbound
So, whether you're the knight in shining armor or the princess in the white dress or someone who would love to take their children to the world of fairytales, TravelTriangle is here to create personalized experiences for you all! Why wait? Book your escapade to Australia right away and explore all that it has to offer. Don't forget to write to us about your fabulous holiday experience later!
---
Looking To Book An International Honeymoon?
Book memorable honeymoon on TravelTriangle with 650+ verified travel agents for 65+ domestic and international destinations.
---