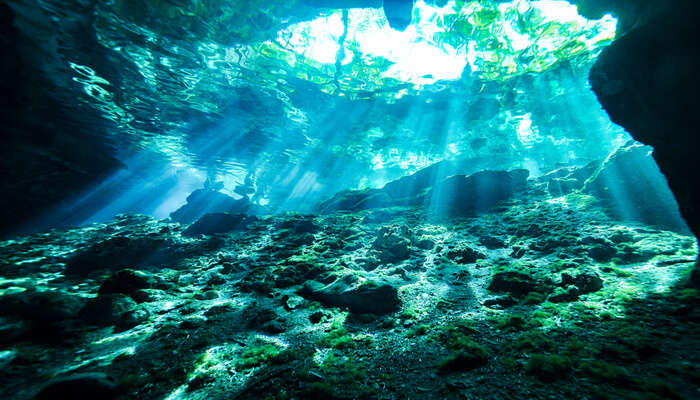 Taking a dip in the water and feeling it's refreshing cool hues all over your body is what most of you have already experienced at many places. Be it the charm of an exotic resort's infinity pool or diving from a giant cliff to swim in the serenity of the ocean in places like Switzerland and Jamaica, some experiences can never be compared to another! Here's a good news for all those looking for a new spot to soak in more bliss! The charming Cenote in Mexico namely, Chukum has a mesmerizing experience waiting just for you. Scroll down to know all about it and more!
The Exotic Cenote In Mexico: Chukum
When it's time to go all exotic, things like this fun Cenote shouldn't be left behind! Presenting more than just a warm welcome to all the visitors, Chukum in Mexico, is a 130 feet cave under the surface of the Earth comprising of stalactites, and stalagmites along with the gorgeous turquoise coloured waters for you to swim in! By making a booking in Mexico's Grand Velas Riviera Maya, which is known to be a AAA Five Diamond hotel, you can swim, relax and dine at this beautiful site below Earth's surface.
Drinks offered include tuxca, bacanora, pox and sotol at this site and while a three course meal from the top chef of the resort will satisfy all your cravings in the cave, having your favourite folks along side will help you make amazing memories at the place. A rough estimate of the overall cost of this lavish experience is about $ 7000 or INR 49,000 for as many as eight people. But since this includes transportation, and taxes too, this deal is surely a good one!
While you decide about this one, check out the list of some of the famous cenotes that will totally your mind!
Must Read: Mexico In November: Have The Most Amazing Tour To Mexico City In Winters
3 Best Cenotes in Mexico
Some of the cenotes are even too beautiful that you have to see them to believe it yourself! Soaking in more peace and calm at these sites is surely a great idea for your holiday. Check this out!
1. Cenote Ik-Kil
Ik kil cenote in Mexico is on the bucket list of many explorers, simply because of the gorgeous marine life that this place has in store. Known as a famous snorkeling spot, this site can be accessed by paying a small entrance fee and facilities here include cabins, a restaurant and changing rooms! Don't miss out on catfish while you're here.
Suggested Read: 5 Cruises In Mexico That Will Help You Explore The Latin Country!
2. Grand Cenote
Situated close to Tulum, Grand Cenote in Mexico has submerged tunnels which connect to the open-air areas. A stunning vista in itself, this place offers a perfect opportunity for limestone cave exploration and the docks available here will let you soak in some sun for sure! Besides being an access to the second largest cave system in the world, the bats hanging on the ceiling add a unique charm to your photos!
Suggested Read: 10 Spots For Snorkeling In Mexico Every Underwater Enthusiast Must Visit
3. Cenote Dos Ojos
Located between Tulum and Playa del Carmen, Cenote Dos Ojos is a fun site to explore the illuminating stalagmites as the rays hit the water. This place also acts as a popular spot for divers in terms of accessing the underwater cave which is spread across 80 kilometers! Sounds interesting, doesn't it? Well, if Mexican Cenotes near Cancun was on your wishlist too, this is the place to be for sure!
Further Read: Nightlife In Mexico: 10 Best Clubs & Bars For Witnessing The Glam With Your Salsa Frenzy Fam!
Even though there are thousands of cenotes lined up all over the Yucatan peninsula of Mexico, many of them go unexplored being less famous. Some of these places even have very minimal crowd during the on-season. So, if you wish to go offbeat on your next international vacay, we say, it's time to pack your bags and tag along all your loved ones soon!
Frequently Asked Question About Cenote In Mexico
What type of importance cenote in Mexico carries?
The charming Cenote in Mexico – Chukum imparts a great experience of swimming in a giant pool with great ambiance.
Which things combine to form Chuka in Mexico?
Cenotes or Chukum as called in Mexico is a 130 feet long cave under the surface of the Earth. It comprises stalactites and stalagmites. Gorgeous turquoise-colored water to swim is a special add-on.
Which are the three best cenotes in Mexico?
Best cenotes in Mexico 1. Cenote Ik-Kil 2. Grand Cenote 3. Cenote Dos Ojos
Why is Ik Kil cenote in Mexico famous?
Ik kil cenote in Mexico is on the bucket list of many enthusiasts, because of the unparalleled marine life experience that this place is popular for. The site is known for the snorkeling spot.
What is special about the Grand Cenote?
This place is a perfect opportunity for limestone cave exploration and the docks available here will let you soak in some sun for sure!
What is special about cenote dos ojos?
Cenote Dos Ojos is an amazing underwater cave which is 80 kilometers long.
Which is the second largest cenote in the world?
Grand Cenote in Mexico is the world's second largest cenote.
---
People Also Read