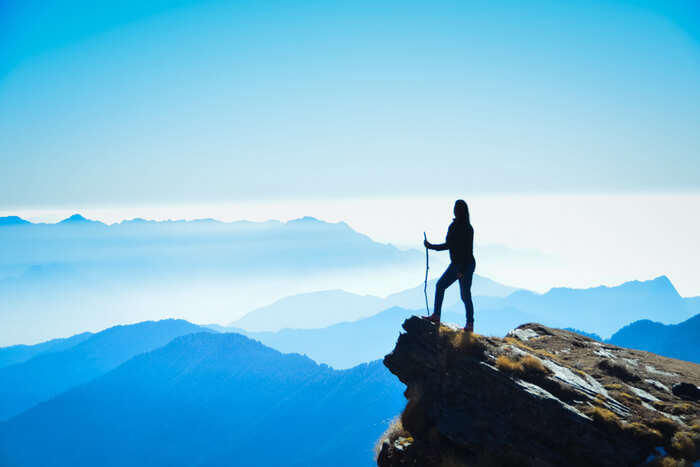 The trails of Garhwal Himalayas evoke thrill and adventure. Lofty terrains leading to the summit make for an incredible experience and the surrounding beauty leaves you enchanted. Chandrashila Trek with Chopta and Tungnath is one of the most exciting and challenging trails you can tread in Uttarakhand. Soaring up at 13000 feet, adorned with mists, coniferous, and snow, this is one heck of a trek you must take.
Right in the heart of Uttarakhand, Chandrashila Trek is a year-round adventure. Here, you walk the snow trails and live in charming campsites with some of the most scenic backgrounds. Deoria Tal, Chopta, Tungnath, and Chandrashila summit are the places that take you closest to nature and your escape, in no time, takes the shape of a memorable excursion. Walk the fudgy trail and buy yourself some of the most precious moments ever!
What's Special About Chandrashila Trek With Chopta And Tungnath

Planning a Chopta Chandrashila trek? The best part about the Chandrashila Trek is that it is a year-round trek as the level of fun, thrill and excitement are exclusive for every season. Autumn and winter treks are the most popular. If you want to fuel your inner adventurer, this trail will certainly put your strength to work. Get ready to lose yourself in the mighty Himalayas. The Chandrashila trek height is about 3,690 m (12,110 ft) above sea level and offers panoramic vistas of the famous peaks, namely Nandadevi, Trisul, Kedar Peak, Bandarpunch, and Chaukhamba peaks.
Ideal duration: 4 days; can also be covered in 5 & 6 days span
Difficulty level: Moderate
Maximum altitude: 12100 feet
20 Stupefying Winter Treks In Himalayas
How To Reach Chandrashila Trek

By air: Jolly Grant Airport in Dehradun is the nearest airport to Chopta. It takes around 6.5 hours to cover the 211 km distance from the airport to Sari Village near Chopta by road in a private vehicle.
By rail: Haridwar is the nearest railhead which is well connected with major Indian cities. Taxi and local bus options are available from Haridwar to Sari Village – the base camp for Chandrashila Trek.
By road: Private buses, government buses, and taxis all the way from Haridwar to Chopta. 200 km in a little less than 8 hours.
Chandrashila Trek Route Map
Chandrashila Trek route: Haridwar – Sari (base camp) – Deoria Tal – Chopta – Circuit (Chopta – Tungnath – Chandrashila Peak – Chopta) – Haridwar
Chandrashila Trek Itinerary

There are 2-3 suggested routes for Chandrashila Treks. The itineraries are suggested depending upon the facilities and stay preferred. Kund Camp and Sari Village both act as starting points for different routes. Also, one must understand that the route doesn't follow an order, so don't get confused with the route on the map. In case you aren't good with maps then you don't need to worry much. Either go ahead with the route suggested by your tour operator or fellow trekkers or pick the best one that I have to suggest. Taking a closer look at the trail and nature views in both routes, I suggest you take the Sari to Chandrashila route.
Day 1 – Reaching Sari from Haridwar

Sari acts as the picturesque base camp for the great trek to Chandrashila. The base camp, located in Rudraprayag district, is almost an 8-hour drive from Haridwar. Campsites, homestays, and guest houses are available for trekkers.
Sari is mostly used for an overnight halt before setting off for Deoria Tal the next day. The lofted landmass of the village and imposing mountains around are a magnificent spectacle. Keep soaking in the best.
Altitude: 6600 feet
28 Best Himalayan Treks Under 10K That You Must Include In Your Bucket List
Day 2 – Sari To Deoria Tal

The beautiful campsite of Deoria Tal is located at a distance of 3 km from Sari. The entire walk takes an elevation of almost 1300 feet and you need about 1 hour to complete it. Halfway into the route while traversing the maple forest, you come across a Hawa Ghar constructed by the forest department for the convenience of fellow trekkers. The emerald lake at 8000 feet is a beauty nestled in gigantic peaks.
During the trek, you see stretches of beautiful farmlands, ancient temples, and a few village houses. And upon reaching Deoria Tal, you find exceptional viewpoints to soothe your eyes. Overnight stay is planned in tents at the campsite near the lake.
Altitude: 7850 feet
Day 3 – Deoria Tal To Chopta

Bid adieu to Mount Chaukhamba looming into the pristine Deoria Tal Lake as you start trekking on the third day. This is the big day of Tungnath Chandrashila Trek when you further attain an elevation of 1000 feet. Further, you have to negotiate treacherous pathways cutting through the dense forest and jagged alleys. The 14 km distance from Deoria Tal to Chopta takes close to 9 hours.
The trek begins with a steady ascent followed by a rapid descent. There are 2-3 water points en route, which you find right before Rohini Bugyal, Akash Kamini Waterfall, and Bhrujgali. The trail continues leaving Forest Guest Lodge and maple trees behind.
Walking across the forest ridges and Rohini Bugyal, you find spectacular views with Himalayan birds chirping all around. Bugyal region is also known for its spectacular sunsets. Following the trail, you find tiny huts of shepherds along the mountains.
Pretty as they appear, you can stop by to interact with the locals and rejuvenate for the onward journey. After walking the entire day, you come finally reach Chopta around 5 pm in the evening. A wonderful campsite awaits you at Chopta. Don't forget to indulge in amazing things to do in Chopta before heading forward!
Altitude: 8800 feet
Go Camping In Chopta For A Lovely Weekend In The Mountains
Day 4 – Chopta To Chandrashila Via Tungnath And Back To Chopta

More adventure awaits you on day 4. Chopta Tungnath trek is one of the highlights of this circuit where the trek route surpasses the 1000-year-old Shiva temple. Sharp ascent and steep climb leads you, covering Chopta to Chandrashila trek distance of 8 km, the time taken is close to 5 hours. This route passes the iconic Tungnath Temple at 12000 feet, covering Tungnath to Chandrashila trek distance of almost a kilometer. Dedicated to Lord Shiva, this temple is located in Tungnath Range and happens to be the highest Shiva Temple in the world.
Carry adequate water and keep yourself hydrated. The Chandrashila Peak is located 1.5 km above the Tungnath Temple complex which is a 600 feet ascent from here.
From here you move towards the Upper Chandrashila base and 45 minutes from here you finally reach the summit. 360-degree views of Garhwal and Kumaon ranges await you at the top. Nanda Devi, Trishul, Nanda Ghunti, Kamet, Dunagiri, Chaukhamba, Kedar dome, Thalaysagar, Gangotri ranges, and Jahanukut are some of the prominent peaks visible from here.
Getting back to Chopta valley via the same route will take you not more than 2 hours. Overnight stay in Chopta; a few guesthouses here make your stay in the mountains comfortable.
Altitude: 12100 feet
Day 5 – Chopta To Haridwar

This is the day when you head back to Haridwar after having a great breakfast. By evening you can comfortably reach back to Haridwar Railway Station. With memories of one of the most thrilling treks in the Himalayas, you return back home.
Altitude: 7,000 feet
The Ultimate List of Adventure Holidays In India For Summer
Stays And Accommodation During Chandrashila Trek

Tents, guest houses, and lodges are available for a comfortable stay during the trek on a single as well as a sharing basis. While campsites are available in Sari, Chandra Tal, Chopta, and Chandrashila, there aren't too many lodges available in the area. Sari and Chopta have a few good guesthouses.
If you have booked your trip through a tour operator then be assured of your stays, they will take all the pain arranging stays for you. If you are planning solo, keep a tent and sleeping bag handy in your rucksack. Should you not get a stay available, you'll never feel abandoned.
Things To Pack For Chandrashila Trek

Dos & Don'ts
1. A trekking pole is a must, never move in mountains without a trekking pole.
2. Wear light and quick dry clothes; avoid jeans and other body-hugging clothes.
3. If you don't have much idea of the place never roam around without a guide, mountains are unpredictable.
4. Carry sufficient water with you before commencing the trek and keep yourself hydrated.
5. Never move without a raincoat in the mountains.
6. A good trekking shoe is a must, make sure you have the best.
7. Walk across and flat-footed while descending; always dig in your heel first while ascending. (useful in rains and snow)
8. Never take any medicine without consulting the trek guides.
7 Things To Do In Chopta For A Travel Experience That You'll Cherish Forever
Life is all about challenges faced while making it to the top, moments cherished when we make it there, and the feeling of accomplishment while heading back home! Precisely the feelings experienced when you're on Chandrashila Trek with Chopta and Tungnath. To live it, book amazing Chopta trekking tours or a customizable Uttarakhand tour package now!
For our editorial codes of conduct and copyright disclaimer, please click here.
Frequently Asked Questions About Chandrashila Trek
How much distance is from Delhi to Chandrashila?
Delhi to Chandrashila is 454 km, which takes 12.5 km to cover by road. The place is well-connected by rail and road.
What is the best time to visit Chandrashila peak?
Chandrashila is a year-round destination and can be visited in different seasons depending on your preferences. However, October to December are the best months to plan an expedition.
Can one go to Chandrashila Peak alone in March?
Yes, it is absolutely fine to travel to Chandrashila Peak in March. The winter trek is one of the highlights of Chandrashila. Occasional snowfall can also be experienced in the region. Equip yourself adequately.
What is the elevation of Chandrashila Trek?
Chandrashila Peak stands tall at an impressive elevation of about 4000 meters, and the trek to which is a total distance of about five kilometers.
How long is Chandrashila Trek?
It takes close to about 4-5 days to complete the duration of the Chandrashila trek and back. While the best time to experience this trek happens to be all year round, it is one of the best treks for those who are looking forward to embarking on moderate treks.
Is there snowfall in Chopta?
Considered to be one of the favorite destinations amongst the travelers, Chopta also happens to be one of the best places to visit during winters. From the months of December to March, the entire Chandrashila Peak, and the Tungnath Temple are drenched in snow.
People Also Read:
Tiger's Nest Monastery Trek Rara Lake Trek Mullayanagiri Trek